In Pictures: Google Street View Outtakes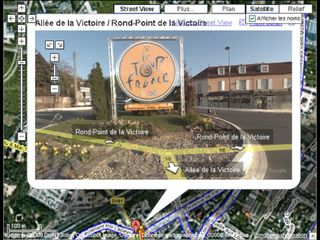 The Victor of the Tour de France
First on our Google tour of the world is a trip to France. We're focusing on the prestigious Tour de France, which in this case is taking place in every direction around this roundabout. Etampes, the starting town for final stage of the 2008 "Grande Boucle", cheered on the cyclists by placing a large placard in the middle of the Roundabout de la Victoire, which crosses the "Allee de la Victoire". Perhaps this is what gave eventual winner of the day, Belgian Gert Steegmans, that extra edge.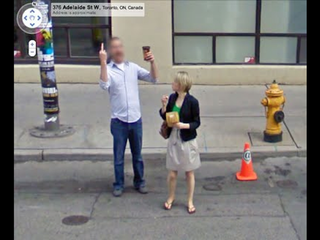 A Finger of Finesse
Everyone knows that the Google Street View cars travel all over the planet, including Canada. However, that doesn't mean that everyone appreciates them –here in Toronto, a few people decided to show their displeasure at having their picture taken without their consent in a particularly ostentatious fashion.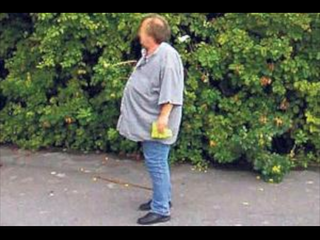 A Shocking Photo Promotes Weight Loss
Like many people, Bob Mewse was caught on camera by Google Street View. Upon seeing his silhouette on the screen, however, Bob decided that he was much larger than he originally thought. This resulted in a diet and exercise regimen and, ultimately, the loss of 98lbs. Thanks Google!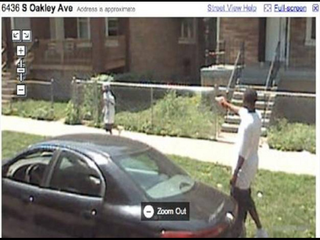 Hands up!
A child running in the street, an adult pointing a gun – this image made the rounds on the web for several weeks after it was captured by the Google Street Team. We know that the scene happened in Chicago, but no one knows the how, when, or why of what happened.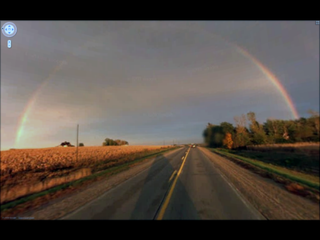 A Complete Rainbow
It's rare to see a rainbow in its entirety (that's to say, in a semi-circle). Google succeeded in capturing one and it's one of the best pictures to come from a Street View car.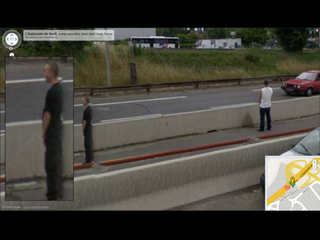 Mid-Stream
When you gotta go, you gotta go! Certain people don't even bother to hide themselves behind a tree in order to heed nature's call. Duck behind a crash barrier and ta-da: you've been immortalized by Google.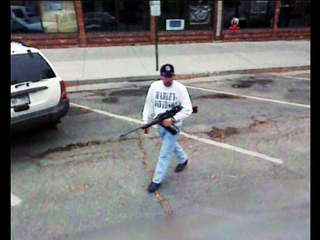 The Harley Hunter
"Hello, I would like a light submachine gun that can be carried" – "Sure! Would you like to order it or do you need it right away?" – "Oh, I think I'd like to test one as soon as possible." Yup, that's our dear ol' US of A, a wonderful country in which submachine guns are available for one and all.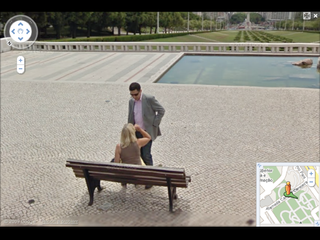 Really? In Public?
Lovers kissing on a public bench… that's nothing new. However, these two seem to be pretty darn comfortable doing a lot more than kissing in public.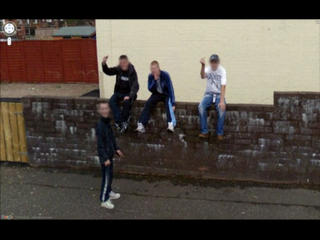 That Darn World Wide Web
Here we've got a snapshot that reinforces the stereotype that the Internet is bad for the youth of today. Four young men from Northern Ireland, instead of smiling at the camera, decided to salute the Google Car in their own fashion.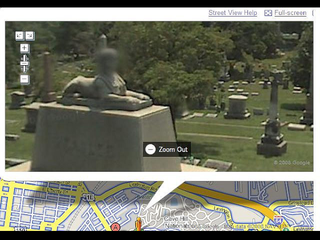 Soft Focus
Despite the fact that there are thousands of technologically related registered patents, dozens of applications and in-house software, and numerous technicians behind every kind aspect of Google, it seems that the blurred-out face system used by Google Street View has not yet been totally mastered.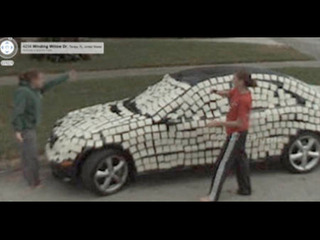 Post-it Car
What an awesomely effective prank! How do you let your neighbor know that his car is parked in front of your house? Response: by covering the vehicle with profane post-it notes of course! Laborious? Yes. Effective? Absolutely.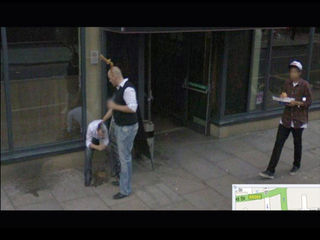 The Hangover
Here we've got a guy who's probably going to say that he's never going to drink again in the morning. Alcohol abuse is dangerous for your health, but is equally dangerous for your dignity when a photographer from Google snaps a photo at an inopportune moment. But the real question that you have to ask is: what is his friend wearing on his head?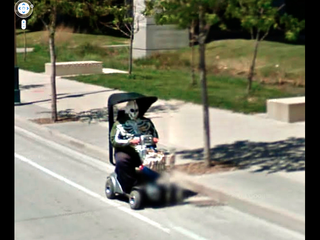 Skeleton on Wheels
A personal electric vehicle on the road isn't anything new or exciting, but why the devil is this guy dressed like a skeleton in the middle of the day? Halloween is the only viable (and not crazy) explanation.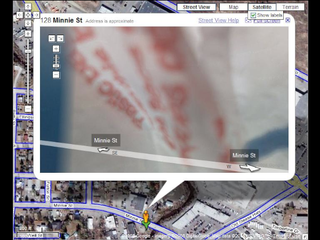 Darn Plastic
The world doesn't always appreciate Google Street View, that's the least that one can say. People use it to show how traffic is flowing, while others are a bit more radical. This image, however, is different than most - some crafty person decided to amuse themselves by covering the Google Street View cameras with a plastic bag.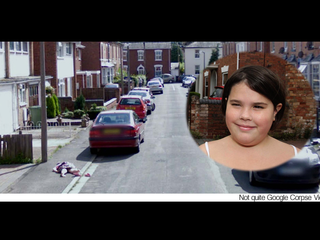 A Fake Death Immortalized by Google
Azura, a little six year old girl, was playing with her friends in the street when she decided to lie on the ground and play dead. It never occurred to her that this would spark a wave of panic in the neighborhood. When the inhabitants of the area discovered the image on Google Street View, nine months later, they immediately called the police to alert them to the presence of a corpse in their street.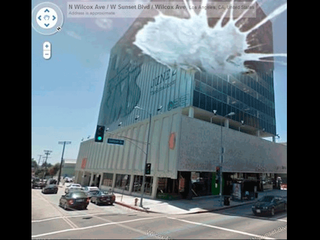 Flying Rat
Contrary to popular belief, the Google car doesn't just capture people. This bird seems to have completed his objective with stunning precision. Happily, you can still see part of the street and even some lines of traffic…sort of.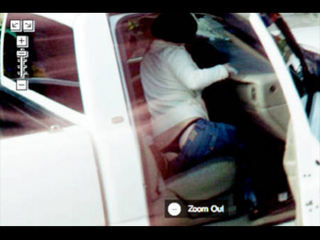 A Classy Lady
There are plenty of guys out there who wear their pants so that you can see their underwear. What many don't know, however, is that certain ladies don't want to be left behind, as evidenced by this lovely specimen.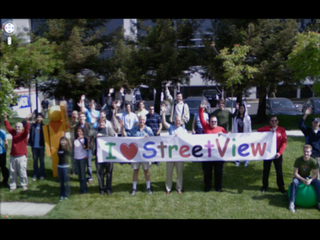 I Love Street View
The world loves Google Street View, and we've found proof! Here, an American university decided to welcome the Google Car – you can even see the little orange Google Maps man on the left!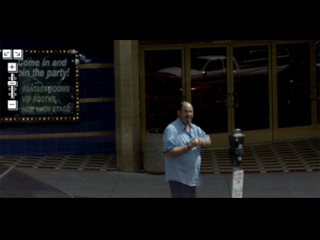 Sex Shop
This man, with a delighted expression on his face, probably would have preferred not to be captured exiting a sex shop. Although, it would almost be worse if he hadn't been in the sex shop at all and was just putting more money in the meter.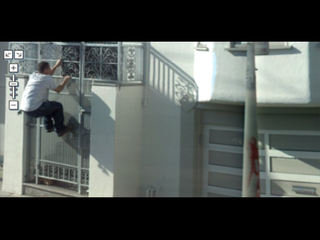 Ascent
Well that's a funny way to enter your house… unless Google Street View has just caught an attempted burglary in action.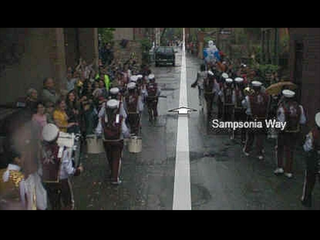 Yay! A Parade
In Pittsburg, Pennsylvania, the inhabitants really welcomed Google Street View with style – everyone loves a parade!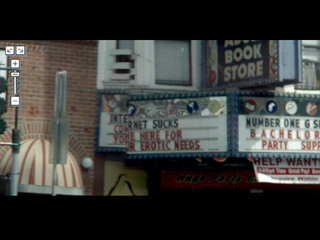 The Internet Sucks
This sex shop wasn't shy about broadcasting its opinions … and now, those opinions have been immortalized by Google Street View.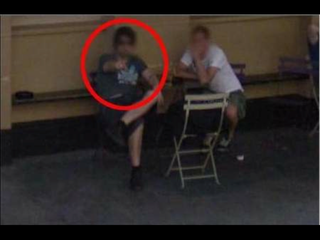 Is That…?
When stars are caught on Google Street View, fans always recognize them. Here's the leader of the group Oasis, Liam Gallagher, drinking a pint of beer after a soccer match in England.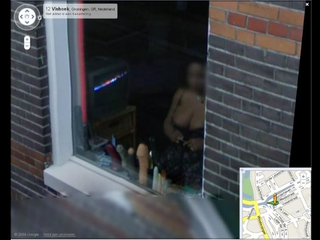 Oh My God…
And now for a photo taken in the Red Light district of Amsterdam. This prostitute shows off her equipment to potential clients by displaying it in her window.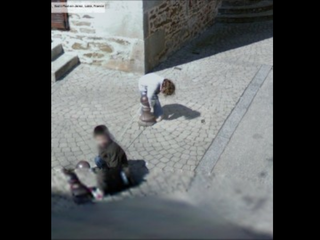 Don't Trip!
These two kids are in the middle of stringing a bit of rope between two posts in order to trip up other passers-by.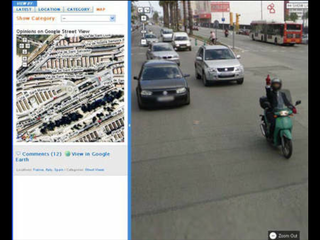 One Finger, Two Wheels
There are those whose pictures are taken without their knowledge, and those who like to let you know that they know they're on camera, like this Spanish motorist.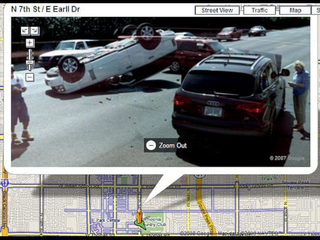 It's Just A Little Crash
Taken in the US, this photo sparked numerous reactions… mostly that this picture should be sent to each crash victim's insurance company.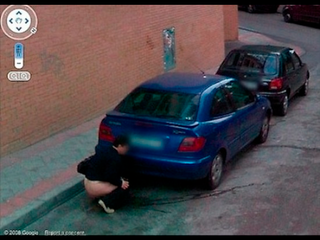 Needs
This woman thought that she had hidden herself well enough behind this car to take care of some urgent needs. Unfortunately for her, she didn't see the Google Street View camera lurking behind her.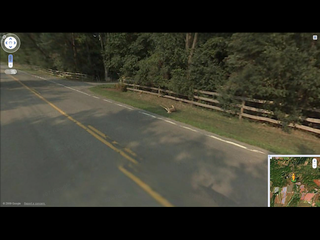 Google Killed Bambi!
Close to the town of Rush in the US, the Google Street View car ran over a doe. The images shocked many people around the world and provoked a swift retraction.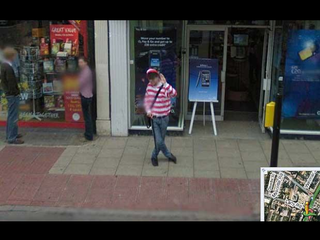 We Found Charlie!
Everyone knows "Where is Charlie": the game launched by Google Street View in many countries. It's up to you to find him amongst the other passers-by.