HDTV With Dozens of Apps, Reviewed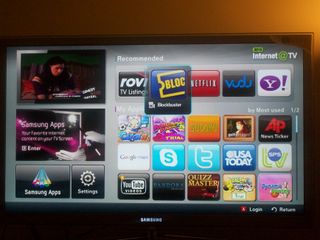 Samsung TV Apps: We Review Every Single One
At the turn of the century, HDTV was just beginning to make a substantial mark in the world of consumer electronics. Since then, there has not really been a revolution in TV technology, just the occasional incremental upgrade, until now. 3D TV is now here and is poised to make an exponentially-growing splash in the market, and alongside that, manufacturers are really tuning into Internet content directly from the TV without any sort of external set-top box, PC connection, or storage device.
One of the leaders in this arena is Samsung. It began to roll out Internet-compatible TVs a couple years ago, but only a very few gave it a second look. However, 2010 is a milestone year for the industry with a lot of fundamental changes happening, and the idea of Internet-connected TV sets is becoming popular among consumers and TV makers.
Samsung has its own dedicated TV apps platform, Samsung Apps. It is available on most of its high-end HD sets, including all of its 3D TVs and offers the promise of an expanding collection of downloadable apps. The company wants Samsung Apps to be its version of Apple's App Store. It has a long way to get there, of course, and it's probably a bit bold to go after that kind of design, but it shows Samsung's dedication to making the TV itself a full-blown entertainment device.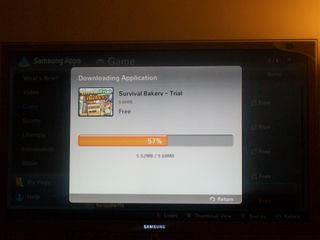 How It Works
All Samsung TVs that have a feature called "Internet@TV" have access to the Samsung Apps platform. These TVs have a special menu where users can download games and applications, and access all the apps they have already downloaded. Additionally, there is a handful of "featured" content that are automatically installed and promoted at the top of the Internet@TV menu.
At the moment, all apps are free. However, Samsung intends to set up a digital payment infrastructure sometime later this summer, allowing developers to create premium apps in the same vein as Apple's App Store and Google's Android Market.
Users can create their own accounts on the TV, and each user can customize his or her own selection of apps, and can also link their TV accounts to their accounts on Facebook, YouTube, etc., to make it easier to access relevant content.
Apps range from simple casual games to social networking apps and online video services. Because it is new and still for a niche market, it's difficult to find a lot of info on these apps, and even Samsung's own Web site is outdated, so we have tested out every single app and game available and are posting our initial impressions and descriptions of them here, in the only comprehensive Samsung TV Apps article you'll find.
As a side note, much of Samsung's promotional material advertises Monopoly as one of the headlining games available on Samsung Apps. However, on the UN46C8000 3D LED set that we tried out, one of the company's newest sets available, Monopoly was nowhere to be found. A request to Samsung for comment on this discrepancy was not returned.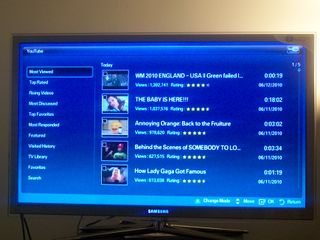 YouTube
The YouTube app has everything you would expect to find. Users can search for videos, play them back in full-screen, and bookmark videos to add to their "TV Library." Videos added to the library can be played in back-to-back succession, and users can also link the TV to their existing YouTube account to access their favorite videos.
Unfortunately, though, any sort of ad-supported copyrighted videos (official music videos, network TV content, etc) are not included in the search results, so creating a Vevo or CBS TV playlist is not possible. The app also includes special channels that showcase "Most Viewed," "Top Rated," "Most Discussed," and "Rising Videos," much like the featured videos on YouTube's main landing page.
Users cannot post comments, rate videos, or even view the existing comments from the YouTube app. And instead of rewinding or fast-forwarding through the videos, users can only jump in increments of about 20 seconds. However, for what it provides, it is impressive. The full-screen zoom does not really distort the picture at all and after watching a dozen or so videos, we did not have a single buffering problem.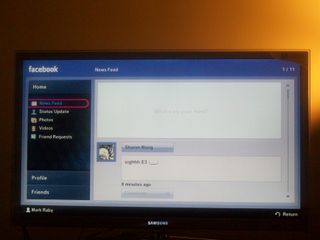 Facebook
The Samsung Facebook app is actually quite well done. It is arguably even better and more feature-rich than any of the mobile Facebook applications out there. This app requires that users link their TV account to their Facebook account (you cannot log in or out of Facebook directly from the app itself). Once that's done, users are presented to a big-screen version of their "News Feed," which probably is a bit too big for its own good. The screen will only show two news items per page, when it could easily fit at least four or five. This means users have to scroll up and down several times just to see a handful of News Feed posts, and wait for the page to refresh every time.
Regardless of that, it is easy to update Facebook status, skim through photos from friends, scroll down wall posts, and respond to friend requests all with just a few button presses from the remote control. The layout is simple, easy to navigate, and it provides instant access to all the most pertinent content on Facebook.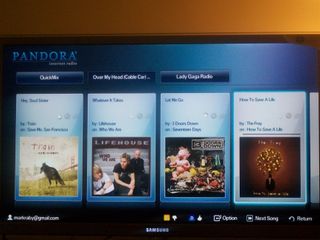 Pandora
Pandora has become one of the most popular online destinations for free music streaming, and providing a TV app is a fantastic use of the service's sweeping music license. Users must first go through an activation process to link their existing Pandora account to the TV, which requires getting an activation code from a computer.
Once activated, though, every facet of Pandora is available in this app. Users can create their own radio stations, set preferences, rate songs, and listen to an unlimited supply of free music from the comfort of the living room. Users are, of course, still subjected to Pandora's limit of how many songs can be skipped during a streaming session.
The interface is smooth and crisp. All songs display the album cover art and artist information, and extensive descriptions of why each song was chosen based on the user's preferences and listening history.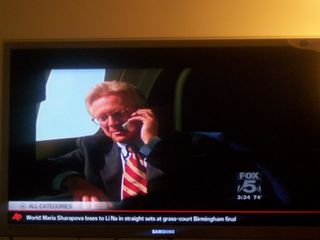 AP News Ticker
The AP News Ticker is unlike most of the other apps in that it runs in the background while users can still watch other content on their TV. Running this app brings up a ticker at the bottom of the screen, just like CNN or Fox News, displaying a constantly-updating feed of the latest headlines from the Associated Press. It is an overlay on top of the TV picture, so it can interfere with content at the bottom of the display.
Users can filter the news they receive by selecting categories such as "Top Stories," "U.S. News," "Sports," "Entertainment," and "Technology." As the headlines are scrolling across the bottom, if a particularly interesting story pops up, users can press Enter on their remote control to have the entire AP news story, along with any applicable images, pop up on the right-hand of the screen. The text is small, which isn't much of a problem on a very large TV, but it could be difficult to read on a smaller set that's on the other side of the room.
The AP app can also be set to automatically run whenever the TV is turned on. The ticker remains active even if users switch between inputs. It is disabled by pressing the remote's Exit button.
It's a really useful app, but it would have been nice to have the option of letter-boxing the screen so that the ticker doesn't interfere with the background TV content.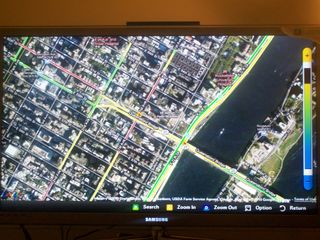 Google Maps
We're still not really sure about the actual practical point of this app. A lot of the functionality from the Web version of Google's interactive atlas has been stripped out of here. Users can search for an address (which, by the way, can take an excruciatingly long time to do with the limited remote control-keyboard input), and the map will appear. Users can view satellite images, traffic status in nearby areas, and user-uploaded photos of the region.
However, users cannot search for directions. It only allows searching for one address at a time. Additionally, there is no "Street View" option available, and users can't click on landmarks, train stations, etc, for more information like they can at maps.google.com. It may be a cool way to bring up a giant satellite image of your neighborhood, but beyond that it seems pretty useless.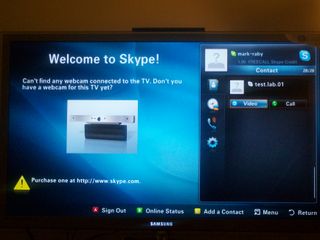 Skype
Unfortunately, without buying one of Skype's proprietary $150 TV cameras, we were unable to fully test out the Skype app. What we do know for sure is that third-party webcams and microphones will not work. There's only one camera that will work on Samsung TVs, and that's the one sold through Skype.com (Skype is also available on Panasonic TVs, which requires yet another different camera specifically made for Panasonic).
However, even without the calling functionality, we could tell that the Skype app is pretty cool. Contacts are automatically loaded upon signing into an existing account, and it is possible to change online status, edit contacts, and add contacts directly through the TV. It is also possible to listen to Skype voicemails without having the Skype camera. It is, however, not possible to do text chatting like is possible on the Skype computer application.
Users can also edit their profile, adjust video and voice settings, and enable call forwarding. Users can make calls to Skype contacts as well as any phone number, but again we were unable to test that out because of the app's hardware restrictions.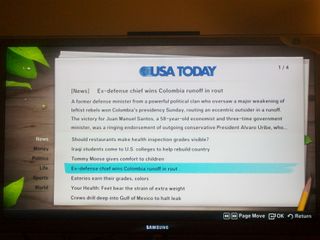 USA Today
Unlike the AP app, the USA Today app takes over the entire TV screen. That being said, the actual news content only takes up about half the screen. The rest of the TV real estate is used to make the app look pretty – there's an oak wood border with an image of tree leaves to the side, and the headlines are shown on a large newspaper image.
The headlines are broken down into USA Today's categories of News, Money, Politics, Life, Sports, and World. Highlighting a news headline shows the first paragraph of the news story, and users can click Enter to see the rest of the story. The most recent 25 stories in each category are displayed in the app.
When reading the full story, users can enlarge the text, a useful feature that the AP app does not provide. All in all, it does a good job of providing a digital version of the USA Today newspaper.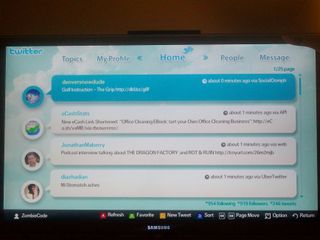 Twitter
Twitter's goal is to be on every single consumer electronic device you own, and now it's on your TV. Samsung's Twitter app requires users to link their Twitter account to their TV account. The app does not work if users do not have a Twitter account, even if they just want to browse Tweets from other users. In fact, it is not possible to search for anyone's Tweets except the users that the linked account is "Following."
It does allow users to post new Tweets and to view all the activity on their account, as well as send direct messages to "Following" users, however it is impossible to browse Twitter in all its glory. It seems like more of an oversight than anything else. There is a "Home" page that displays the most recent Tweets from random people, but there is no ability to search for specific users.
The navigation of the app, otherwise, is pretty smooth. Users can Retweet to a message, add Tweets to their Favorite list, and manage all of their own Tweets through a simple user interface.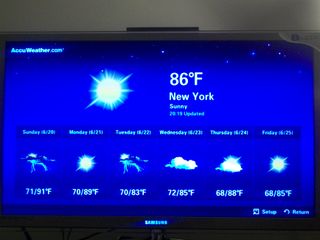 Accuweather
When it comes to weather apps, Accuweather's Samsung TV app is pretty much as basic as it gets. Users search for their country and city from a list of options. Only a select amount of cities are supported in the app; in the US, there's a total of 263 cities available. Once a city is selected, users get a basic 6-day forecast, as well as the current temperature reading and weather condition.
The forecast consists of high and low temperatures for the day as well as a graphic that denotes what kind of weather is predicted (there is no text associated with these graphics). One nice feature is that users can save multiple cities and toggle between them, but one detracting aspect is that the forecast is very lacking in detail. There's no percentage of precipitation chance, no hour-by-hour timeline, and no textual description as to the severity of the weather. It is, in short, just a very quick and basic snapshot of a weather forecast.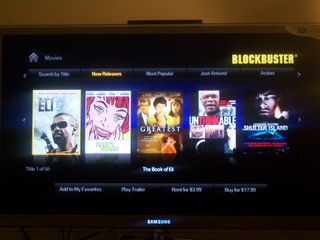 Blockbuster
With the other video-on-demand offerings from Samsung Apps, Blockbuster's app kind of falls short for one reason: its videos are not available in high definition. Although the service claims that its "DVD-quality video looks great, even on HDTVs," most videophiles will be hard-pressed to find much value from choosing Blockbuster over other video streaming apps that do have high-def movies and TV shows available.
Even the app itself is pretty bare-bones. Users can browse through Blockbuster's movie selection but the sorting options are minimal with a handful of genres to skim through. The search feature leaves something to be desired as it only searches movie titles and not actors or directors. The app's main menu also has a gaping hole in the middle that displays, "TV Shows" as "Coming Soon."
It feels somewhat unpolished and it will probably get an update in the future but for now it is not our recommended choice for movie streaming.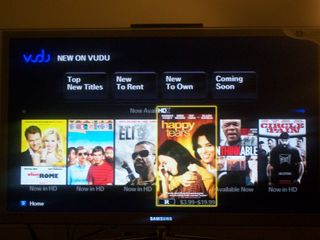 Vudu
With the largest selection of 1080p HD streaming movies available, a swath of customizable controls, and a very nice user interface, Vudu is easily the most feature-rich video-on-demand app available for the Samsung Apps platform. Users must sign up for an account at Vudu.com first and activate it for their Samsung TV, and information is shared between the PC and TV accounts.
Users can search through movies by genre, by actor or director, by title, or just look through the entire HD catalog (3,152 titles at the time of this article). Users can bring up information for each movie in their search results without leaving the search result page. Movies are available in SD, HD (720p), or "HDX" (1080p). Users can watch trailers and, for participating titles, can watch the first minute of the movie for free as a preview. The movie info screens even provide an aggregate review score from RottenTomatoes.com.
There are also parental controls built into the app to prevent children from buying a whole bunch of titles or from seeing inappropriate content. All in all, it is a very impressive app from Vudu.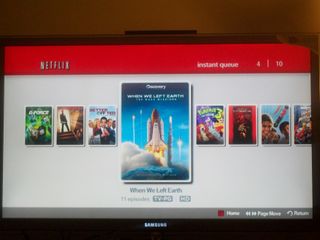 Netflix
The Netflix app is a great, easy way for users to access Netflix's library of instant streaming movies and TV shows. Of course, the app will only work for users who have a subscription to the online service, which costs at least $9 a month for unlimited streaming. Just like Netflix's service on video game consoles, the Samsung app requires users to go to Netflix.com from their computer to add titles to their "Instant Queue."
Those titles are then automatically transferred to the Samsung app, and can instantly be watched directly from the TV. There are hundreds of titles available in HD, and unlike the Vudu and Blockbuster apps, Netflix also offers a wide selection of TV shows that can be streamed. It is unfortunate that the app requires users to queue up the titles on a computer instead of searching for them directly on the TV, but all in all this is one of the most noteworthy apps available on Samsung Apps.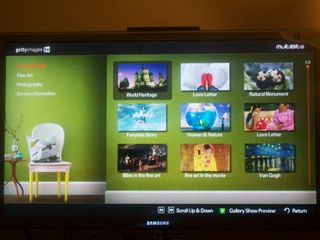 Getty Images
This app is really just an advertisement for Getty's premium photo services. It does come with a bunch of cool pictures that look really nice on a big HDTV. Or at least, that is they would look nice if the app actually had the ability to view the images in full-screen. Nope, instead it is just a "preview" of some of the stock art that Getty has collected over the years.
We really failed to get much use out of this app, despite the fact that it is one of the apps that comes pre-installed with Samsung's Internet@TV models. It has a clunky interface, unclear menu options, and all in all it is just confusing. Again, it is really just a big advertisement for Getty Images and nothing more than that.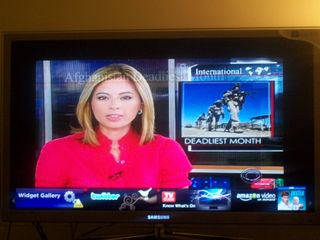 Yahoo
The Yahoo app is actually more like a collection of mini-apps. Opening the app will take users back to their full-screen TV broadcast with a "Widget Bar" at the bottom of the screen. Users can customize this bar with all sorts of apps, including content from CBS, Yahoo News, Yahoo Weather, Yahoo Finance, and even Ebay. Every widget opens up as an interlay over the screen so users can still watch TV while accessing all of this content.
Amazon's Video On Demand service is also available as a Yahoo TV widget. With this, users can browse through a selection of standard definition and high definition content. All previously-purchased Amazon video content is available retroactively on the app, so if users bought 20 movies from Amazon before buying their Samsung TV, they can still watch all of those titles through the Amazon widget.
Also, one note about the Yahoo Weather widget is that it only provides data for 5 cities: New York, NY; Sunnyvale, CA; San Francisco, CA; London; and Paris. There's a lot of stuff here, and it is nice that all the widgets can be run in the background while still watching TV. Yahoo has pledged to continue to add more widgets to the service in the coming months.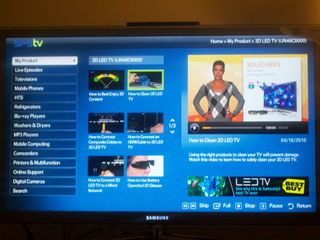 SPSTV
SPSTV stands for Samsung Product Support TV. The company has a series of Web videos and live broadcasts from Samsung.com, and those videos are available on the SPSTV app. Users can watch how-to videos for all of Samsung's high-profile products including Blu-ray players, mobile phones, camcorders, and of course TVs.
The app is programmed to recognize which TV model you have, and the main menu of the app displays a selection of videos specific to that TV. So for example, on the UN46C8000, the videos that immediately show up include "How to Clean 3D LED TV," "How to Use Battery Operated 3D Glasses," and "How to Best Enjoy 3D Content." There are several dozen videos to browse through.
The app is constantly updated with episodes of Samsung's Web show "Keep It Simple," and there is a lot of content to view here. It is a surprisingly useful and informative app.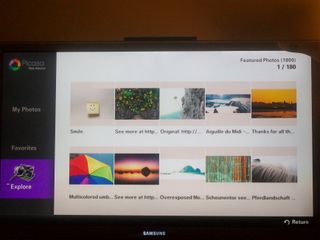 Picasa Web Albums
The Picasa app makes the process of viewing photos on a TV extremely simple, as long as users have a Google Picasa account. Users can link that account to their TV to have it automatically load up all the images in the account instantly. The photos can be viewed in a slideshow, and users even have access to all posted comments and image collections from other Picasa users.
Even if there is no linked Picasa account, users can still access the app and browse through public image galleries. Users can perform a text search to find specific images, check out all of Picasa's most recent photo uploads, or see the "Featured" galleries, which mainly consist of images put together internally by Google.
Users can bookmark photos into their "Favorites" collection, which can be accessed from the app's main menu. In short, the Picasa app provides everything that should be expected in a photo-sharing app, and it does so in an easy-to-use and graphically-pleasing interface.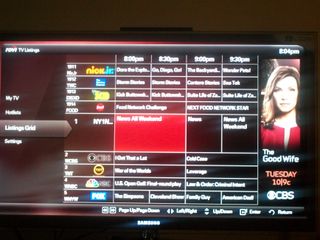 Rovi TV Listings
While it sounds like a good idea to have a TV app that displays TV listings, most users will find it rather pointless, as most cable and satellite providers have their own program guide that can be accessed while watching TV. The Rovi app requires use of the entire screen. Additionally, because this app is Internet-powered, it constantly needs to refresh which can take several seconds, instead of a cable box's built-in guide that requires almost no time to gather the exact same data.
There are some nice features here, like the option to see "Similar" programs when a particular show is selected, and special breakdowns of upcoming Family, Sports, or Movie programming. Users can also select their favorite TV channels and get a personalized program list, but again, it feels rather pointless to disable TV programming to look at a program guide when the same content is available in the digital cable box that is designed specifically for this very purpose.
Except for those rare few users who don't actually have digital content from their TV provider or hate their own internal TV guides, this might be useful, but that will be a definite minority.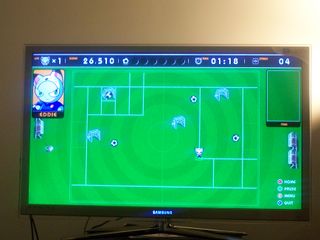 Catch It – Trial
This is one of our favorites, if not the definitive favorite, of the available game selection on Samsung Apps, even though it is just a demo. The point of the game is to "catch" soccer balls that are moving around a field, into corresponding soccer goals. This is done by syphoning off sections of the field to ensure that each goal catches one and only one ball. The more balls and goals on the field at once, the more difficult it becomes.
The "trial" version only has 5 levels, but the placement of the goals changes throughout these levels each time the game restarts. So it is possible to get a different experience from multiple playthroughs. The graphics are crisp, if a bit simplitic, and clearly takes advantage of the fact that every TV that will play this game has full HD resolution.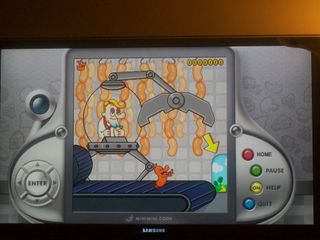 MiniGame Pack TV – Trial
This is a collection of seven simplistic mini-games. In fact, they're so simplistic that they each only use one key: the Enter button. The mini-games include jumping up clouds, slalom skiing, and boxing. They all revolve around pressing the Enter button at just the right time. They seem pretty fun; some are fairly challenging while some require no effort at all. In the cloud-jumping game, we actually didn't press a single button and we still earned enough points that the demo cut us off.
And yeah, since it is just a demo version, the game will automatically end after reaching a certain score. There's also a bunch of animal characters to select as the in-game avatar, but only one of them, a monkey, is available in the demo. One annoying part of this game is that pressing the Return button, instead of just returning to the previous menu, will close the application entirely. It will probably be difficult for most consumers to justify buying the full version of this game when Samsung starts accepting payments for premium apps.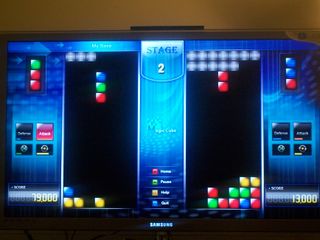 Magic Cube – Trial
Anyone who has ever played the game Puyo Puyo has essentially played Magic Cube. The point of the game is to line up colored blocks on a vertical chasm to create matching-colored chains of blocks. The block chains disappear from the area, and the goal is to keep the chasm as clear as possible before it gets cluttered by non-matching blocks.
The game is a head-to-head competition against a computer-controlled opponent, and, at least during our play-through, the computer was unnecessarily brutal, especially for the entry-level round. It would have been nice to have some sort of difficulty setting, or a single-player mode.
As this is just a trial version, players are limited to just a few rounds of the game before it automatically ends. There is a "Ranking" option in the main menu which appears as though the full version of the game will actually connect to the Internet to post high score information, but the feature is not functional in this version.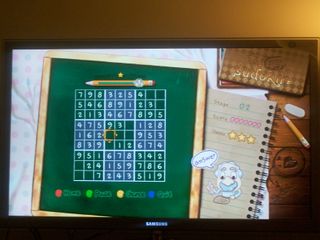 Sudoku
A Sudoku game is actually quite amenable to TV game controls, as players can just use the numbers on the remote control to fill in the values of the Sudoku grids. This Samsung version of the classic Japanese number puzzle has three difficulty settings: "Easy," "Medium," and "Hard," although we were unable to really find any noticeable difference between the "Easy" puzzle and the "Hard" puzzle. They are all 9x9 puzzles with roughly the same amount of pre-filled numbers.
Unlike other Sudoku video games, this one won't tell the players if they are right or wrong as numbers are being entered, but a notification will pop up at the end if the puzzle was solved correctly. Players can have numbers filled in automatically with a Hint button, which can be used an unlimited amount of times. So it is possible to just have the game complete the puzzle itself.
New puzzles are generated every time the app is opened, so it could keep Sudoku fans occupied at least during a commercial break or two. Unfortunately, though, it is unable to save progress, so once the app is closed, all the work on the puzzle is erased. It's probably not worth most people's time.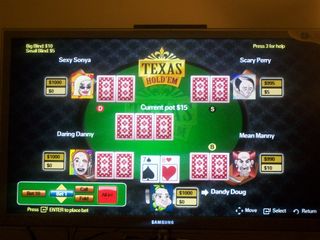 Texas Hold 'Em
If a poker show is nowhere to be found on TV, users can always turn to the Texas Hold 'Em game from the Samsung Apps store, which puts them in their own high-stakes tournament against 4 other computer-controlled opponents. Players select a character out of a bunch of wacky choices like "Dandy Doug," "Gold Digger Granny," "Dissatisfied Dora," and "Scary Perry," and then move on to wipe out all of their opponents.
Players start with $1,000 and $10 big blinds, and in typical Texas Hold 'Em fashion the blinds go up as the game progresses. Stakes can get pretty high, yet the only betting buttons available are "Bet 1" and "Bet 10," so it takes an unnecessary amount of button presses to post a bet of, say, $2,000.
There is also practically no sound, except for the occasional card-shuffling sound effect, and the game doesn't even make it really clear who won the hand. However, it does go through all the mechanics of Texas Hold 'Em in a competent way so anyone looking for a quick poker break could find enjoyment here.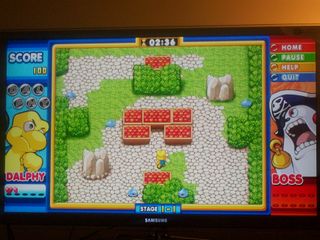 Dalphy – Trial
Dalphy is kind of involved for a free downloadable TV game. Players control a little yellow cartoon dinosaur named Dalphy, "the guardian spirit of Happy Energy," on a mission to defeat the evil "Caribbean Bear." Starting to get the picture? Yeah, it is a very whimsical game. The main mechanic involves moving Dalphy around and then shooting out little bombs to hit enemy creatures.
The enemies are spread out and move around the levels. Players must avoid getting hit by these enemies while positioning themselves in such a spot so as to take out all of the creatures. There is a story that plays out in between levels, but it is not by any means a really fleshed-out story. Players have a time limit to eliminate the creatures from each round, and after about 5 rounds the demo ends. The main menu has a "Rank" option, assumedly an online leaderboard, but it is disabled in this trial version of the game.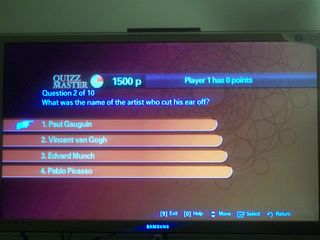 Quizz Master
This is the only game on the Samsung Apps market that allows for up to 4 players. Each player enters his or her name and then turn-based question rounds begin. As soon as a question is presented, a timer begins to count down. The quicker the answer, the more points awarded. If playing with multiple people, the questions alternate between the different players. The game ends when all players have answered 10 questions, and the scores are tallied to determine the winner.
The presentation is very minimalistic. The questions are printed in what appears to be plain Arial text, and there's a practically monochromatic brown aesthetic to the game. There is absolutely no sound or music in the game; it's really just all about trivia. We also noticed at least one typo playing through: the question asks "Which football teams are not from Europe?" However, the answer only contains one team. And even though the question asks about "football," it is actually referring to what Americans know as soccer, meaning this game was obviously developed overseas and not localized.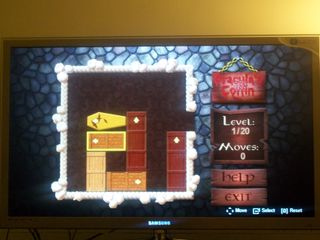 Dracula's Coffin
The object of Dracula's Coffin is to move, well, Dracula's coffin, from one end of a maze to an exit at the other end. There are boxes and obstacles in the way, though, and these obstacles can only be moved and maneuvered around in very specific directions. Players are tasked with moving everything in such a way to create a smooth path for the coffin to slide through and reach the end of the maze.
There is no sound, but the controls are easy enough to use, and it's a nice brain-buster kind of game. The in-game instructions say that players can only use a limited number of moves to complete each maze, but there is no indication of how many moves are left, and during our time with the game we never encountered the game faulting us for using too many moves. This game also has the problem that pushing the Return button will close the game and lose all the progress, without providing a warning or some sort of "exit game" confirmation.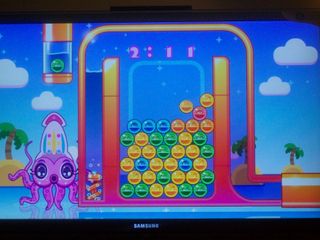 Kurakku
This is a classic Japanese strategy game in which players shoot colored orbs on top of an array of other colored orbs. The idea is to connect the new orbs with matching-colored ones in the array. Players shoot the orbs into the array with a pinball-style spring, and have a certain amount of time in which to match everything together and clear the play area.
Completing a level provides players with detailed scores and results. There is a "Story Mode" which goes through some nonsense about saving the planet, and a "Survival Mode" in which players can just play through the main puzzle mode ad infinitum. The gameplay is fairly addictive and easy to understand, and the visuals are nicely rendered, making this one of the more tolerable Samsung TV games.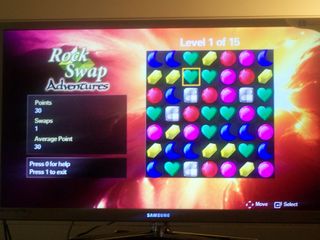 Rock Swap Adventures
Welcome to one of the most uninspired Bejeweled rip-offs ever. And hey, Bejeweled isn't exactly a very inspired game to begin with. Players arrange various shapes and blocks on a puzzle grid to create matching groups of three or more objects. It's one of the most over-used puzzle game mechanics in the entire industry.
After creating a certain number of matches, players advance to the next level. There are apparently 15 levels in total in Rock Swap Adventures, but without any sound effects or background music, and no power-ups or really anything at all to shake up the game's experience, it's unlikely that anyone would run through 2 or 3, let alone 15 levels of this game.
The game looks like something that would have been tacked on to a DVD movie, as it fails to take any advantage of the advanced technology available on Samsung's high-end TVs. Give this one a pass and don't even bother downloading it.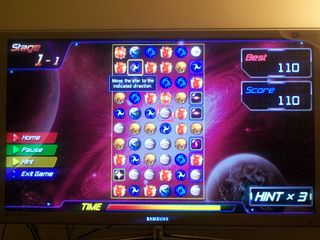 Wise Star
This is another Bejeweled clone, but this one has a twist. It is themed around outer space and mythological gods. So instead of matching gems and blocks, users arrange tiles depicting planets, black holes, meteors, etc, on a game board. By clearing out the game board, players advance to further levels, and also unlock parts of a storyline about ancient gods.
One interesting feature is that this game is the only one that actually creates save data and stores it onto the Samsung TV's internal memory. Unlike other titles that wipe out any record of the game having ever been played, every time players exit the game, Wise Star actually saves their progress and allows them to load the game back up at a later time. As a free app, Wise Star has just about the highest production value and it is a complete game instead of the other "Trial" titles. There's nice music, the story is interesting, and the game plays well. Wise Star is one of our highest recommended Samsung TV games.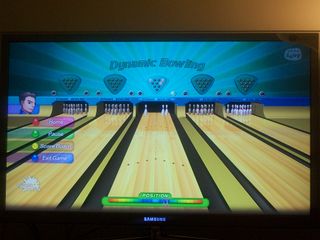 Dynamic Bowling
As a game that's just easy to pick up and get a brief burst of fun, it's hard to go wrong with Dynamic Bowling. Players can bowl a round by themselves, against someone else in the room, or against a computer-controlled opponent. Players get to select their own character (a boy or a girl) and whether they are right-handed or left-handed.
Then it's off to the lanes, where players must push the Enter button at the perfect time to set up the position of their throw, and then do the same to set the power of their throw and hope for a strike. There's some good lounge music in the background, and the visual presentation is well done. It's not a sophisticated bowling game by any stretch of the imagination, but it is fun and could actually be worth taking the time to play a round with a friend or family member.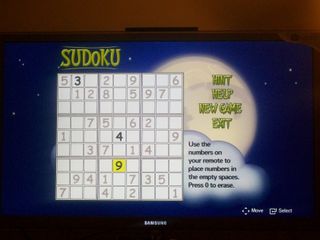 Sudoku Plus – Trial
Even though it is just a "trial" version, this game is far superior to the other Sudoku app that is available. The game evaluates players as they enter in each number, docking points for each incorrect number that is filled in. There is also a Versus Mode, in which two players take turns filling in the grids, and each player must do so every 30 seconds or they lose a turn.
The display of the game is also neat, as the Sudoku boards are presented as chalk etchings on a blackboard. This trial version appears to only have the 10 "Easy" levels available, blocking out the more difficult puzzles until a final version is available. Regardless, it's a solid Sudoku sampling, and the 2-player mode adds a very nice touch.
One additional note is the surprisingly extensive tutorial about Sudoku. There's a 16-page in-game guide that goes through not only how to operate the game itself but also about the strategy and rules of Sudoku in general. All in all it is a very well-put-together product.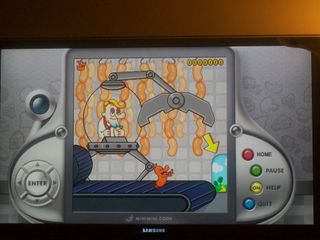 MiniMini Cook
As one of the most bizarre games available on Samsung Apps, MiniMini Cook provides quick shots of fun in a series of unusual mini-games. Under the guise of "cooking," players perform tasks such as using a crane to pick up sausages, moving pans in a rhythmic order, and collecting ingredients from a moving conveyor belt. As players successfully complete mini-games, more mini-games are unlocked.
Unfortunately, the game does not save progress to the internal TV memory, so every time players close the game, they have to start all over from scratch. Regardless, the nature of the rapid-fire mini-games and the addictive style of play make MiniMini Cook a worthy title on the Samsung Apps store. At the very least it will provide players with a few minutes of fun and then they'll move on, but at most they will find the mini-games so quick and addictive that it will become the main way to kill time during commercials.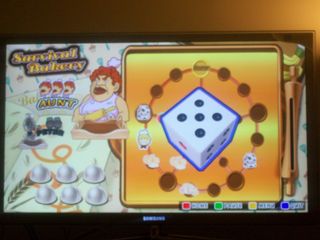 Survival Bakery – Trial
Survival Bakery is basically a very simple board game. Players are shown 6 bakery items (chocolate, cake, etc) each hidden under their own serving platter, and then they take turns rolling dice to move around a game board. The spaces on the game board correspond to the 6 bakery items, and players must try to land on all 6 items to be the first to collect all of them. At least, that is what it seems the point of the game is.
Because this is just a trial version, the game automatically ends after only a minute or so, so it is difficult to get a feel for what a full game would actually play like, but it's unique enough to have us at least mildly interested. However, if this were an iPhone app it certainly does not seem like the kind of game that most people would pay money for, so this one is likely to go into the "shelved" pile. Because of the very restrictive limits on this version, it's not even worth downloading the free demo.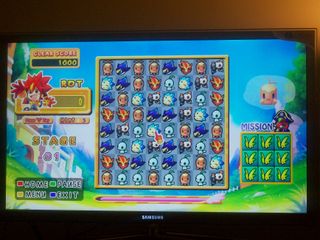 T-Crew – Trial
Hey, it's another puzzle game with cutesy anime-style characters. We're guessing most of these Samsung TV games were developed in Japan. Just a hunch. Anyway, T-Crew is another match-3 puzzle game: arrange matching pictures of little cartoony creatures into rows or columns of three or more. There's a memory twist to this game. At the beginning of each level, players are briefly shown all of the creatures in a jumbled order and then they're covered up.
Occasionally, the game will ask players to remember where a specific creature was in that jumble. If they remember correctly, they're rewarded with a lot of bonus points. The main mode is called "Story Mode," though in this brief trial there did not appear to actually be any storyline at all. Players can also just go through random puzzle grids in "Single Mode," or play in a turn-based competition against someone else in "Vs Mode." The cutesy anime aesthetic will likely be appealing to some players but also a total turn-off to others. There isn't anything too special here, but the addition of the memory challenge does make this game more interesting than similar match-3 titles.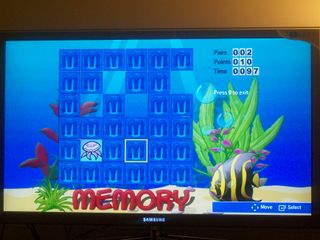 Memory
Simple game title FTW. Memory is exactly what the title suggests. It is a very basic memory matching game. Players flip over cards to reveal pictures on the other sides. Only two cards can be flipped over at a time, and it is up to the players to remember what's on the other side of each card. The game has an underwater theme so players are trying to find the pairs of shark, crab, and seashell pictures.
The game keeps track of time as players try to find all the matching cards as quickly as possible. It also keeps a running tally of how many pairs have been found so far and how many points have been earned. After all the cards have been paired up, players receive their final scores and the game is over. It is quite simply the definition of a casual game.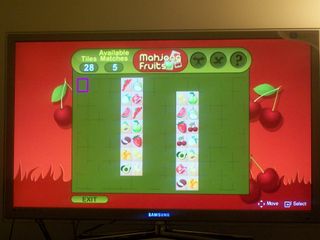 Mahjong Fruits
The classic Asian tile-matching game meets bananas and pears. Mahjong Fruits is indeed just like Mahjong except instead of the traditional Asian-designed tiles, there are pictures of fruit on the board. Players must find matching pictures that are in play to clear them from the board, with the goal being to clear the entire board.
A few special tiles are thrown in to shake things up a bit. Players can click on a Shuffle tile to mix around all the tiles on the board, while another special tile gives players the ability to match two unconnected fruits. And there are also hint tiles spread throughout. Other than that, it is a standard kind of matching game.
Compared to some of the other Samsung TV games, this one doesn't come across as impressive at all. It feels like it is using archaic interactive DVD technology instead of the much more powerful tools at the disposal of Samsung's TV platform. It is a free download, though, so players who really like Mahjong may get a kick out of it.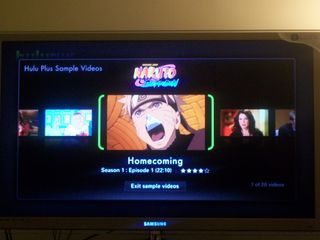 Hulu Plus
When Hulu Plus was officially announced at the end of June, there were three platforms that it was immediately available for: the iPhone, the iPad, and Samsung TVs. Much focus has been set on the Apple devices, but where Hulu Plus stands to make an even bigger impact is in the TV market. Like every single other person on the planet, we don't have a Hulu Plus invitation yet, but the Samsung app does have a collection of preview videos available.
Every video on the preview selection is available in 720p high definition, and they stream very well. Of course, we are annoyed by the fact that the videos have ads, even the 2-minute clips. However, the idea of tuning into the app for instant access to thousands of TV shows, including shows that had just aired, is very cool.
Pressing the fast-forward or rewind buttons cause the video to jump by about 15 seconds, instead of being able to skim through the video in real time. This means there is also no easy way to jump to the end or beginning, which is somewhat frustrating, especially since the app does not remember where playback ended if the video is stopped. It looks neat, but it definitely needs some tweaks to make it a worthwhile premium app.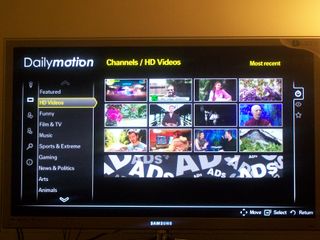 DailyMotion
The popular viral video site is now available as a Samsung app, but unfortunately it loses something in the translation. DailyMotion.com does an excellent job of showcasing the newest, freshest, and funniest videos available, but on the Samsung app it just comes across as a bunch of jumbled thumbnail icons. Users can break down the videos into categories like "HD," "News & Politics," and "Gaming," but it really has no pizzazz. Everything about the presentation here just made us want to go to the Youtube app instead.
Another problem is that the content did not appear to be fresh and new. The top video in the main menu screen when we went into the app was nearly a month old, and none of the "top videos" appeared to be any more recent. By not having a gallery of the newest videos, the DailyMotion app easily loses its sense of relevance that comes across so well on its actual Web site.
One of the promising aspects of this app is that it comes from a smaller name in the online community, so hopefully this means we'll see more independent apps come to the Samsung platform.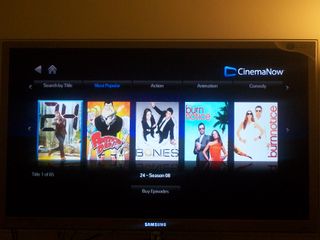 CinemaNow
The CinemaNow app has a nearly identical interface to the Blockbuster app. That's because CinemaNow is the company that powers Blockbuster's digital video distribution, and thus this app sort of renders Blockbuster's app kind of useless. The CinemaNow offers more titles, including TV show, and everything is listed at the same price.
That being said, both apps in question are on the weak side of the video-on-demand offerings on Samsung Apps. The search feature is weak and nothing is offered in 1080p HD. There is a wider selection of TV shows available here than is available on Amazon On Demand or Netflix, but other than that there is really no reason to go for the CinemaNow app when the Vudu, Amazon, and Netflix apps are also available right alongside it.