Best Cheap Tech Gifts Under $100
Here are the best affordable tech gifts
If you think you can't afford to buy fancy tech gifts for your friends and family, think again. Here are our favorite tech gifts for every kind of friend or family member, all of which cost less than $100.
Credit: Tom's Guide
Voice Originals When in Rome Alexa Board Game
When in Rome is the perfect gift for a friend who loves Alexa. Amazon's voice assistant is your host in this family-oriented two-player trivia game where you move figurines around the board and answer trivia questions about major cities around the world, collecting treasures along the way. Alexa guides you through the setup and gameplay.(Notably, the game's developers worked with residents of the cities to develop and record the trivia questions.)
Credit: Voice Originals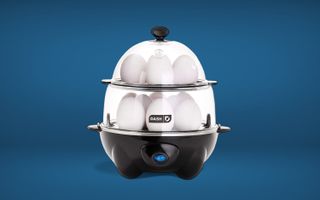 Dash Deluxe Rapid Egg Cooker
Even the best breakfast chefs don't have all the time in the world. Enter the Dash Deluxe Rapid Egg Cooker. Stick up to 12 eggs in this baby, turn it on, and they'll be hard boiled, poached or omelette-d in less than 10 minutes. You can even use this machine to steam dumplings, vegetables and other foods.
Credit: Dash
Jot Portable Battery Base For Google Home Mini
If you're shopping for a friend who owns a Google Home Mini, the Ninety7 Jot should be your go-to gift. This re-chargeable battery base will allow them to make their Home Mini portable, without sacrificing features or sound quality. Credit: Ninety7
Anker Soundcore 2
Help your friends bring their tunes to work, school, the park, a camping trip or anywhere else. Anker's water-resistant Soundcore 2 has a 24-hour battery life and excellent, well-balanced audio.
Credit: Anker
Turtle Beach Large Drift Fast Premium Gaming Mouse Pad
A PC gamer is nothing without a great mouse pad. And there's no better pad out there than the massive Turtle Beach Drift. This smooth microfiber mouse pad has a resistant back to keep it from slipping around. It also has embroidered edges to let you know when you need to reset your hand.
Credit: Turtle Beach
Lay-N-Go Wired Tech Bag
Do you have a friend who owns way too much tech? The Lay-N-Go Wired is designed to hold all the electronic accessories you'll ever need. Mesh pouches, zipper pockets and Velcro straps allow you to safely store and easily find your watch, phone, headphones, chargers, cords, SD cards and whatever else you might need.
Credit: Lay-N-Go
Google Home Mini
If you're not quite sure what to get for someone, you can never go wrong with a Google Home Mini. This cute, Google Assistant-powered smart speaker can power your smart home, answer your questions, tell you the weather, order you pizza, and most of the other things you can do with larger smart speakers. It also has decent audio, and supports a number of music-streaming services.
Credit: Google
ClearStream 2Max Indoor/Outdoor HDTV Antenna
Antennas Direct's ClearStream 2Max is a solid gift for a friend who wants flexibility where they place their antenna. It has steady signal reception and can pull in stations as far as 60 miles away — and it doesn't need to be near a power outlet, so it can handle outdoor installations.
Credit: Antennas Direct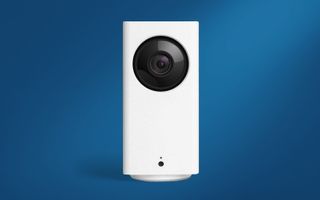 Wyze Cam Pan
Now you can buy a top-quality security camera without breaking the bank. The Wyze Cam Pan rotates 360 degrees and automatically tracks and follows motion in your house, and you can control it with your phone or Alexa.
Credit: Wyze Labs
LectroFan High Fidelity White Noise Machine
Know someone who has trouble sleeping? They may want to try out the LectroFan. It can play 10 fan noises and 10 ambient noises, to mask disruptions and promote a peaceful sleep. There are over 30 volume levels, so your friend can find the exact right volume for them.
Credit: Adaptive Sound Technologies
Logitech G502 Proteus Spectrum RGB Tunable Gaming Mouse
A good gaming mouse can make all the difference for folks looking to play at the highest levels. Logitech's Proteus Spectrum is the far and away best one. The mouse is intuitive and comfortable to use, with ultrafine weight adjustment, a smart button layout and an excellent scroll wheel.
Credit: Logitech
Anker PowerWave Fast Wireless Charging Stand
Anker's PowerWave is a nice option for a friend who wants to charge their phone while getting things done. The device is designed for the Samsung Galaxy S9, the iPhone X and the iPhone 8. The stand keeps your phone upright while it charges, so you won't miss any notifications.
Credit: Anker
Drocon X708W Drone for Beginners
It's never the wrong time to introduce your friend to drones. This drone is perfect for a kid or first-time drone user: It's easy to control and flies superfast. You can control it with a camera or your phone, and it's equipped with a camera to capture video and photos.
Credit: Drocon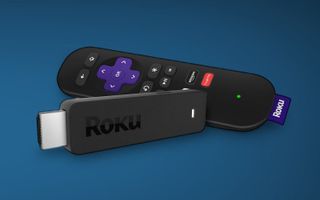 Roku Streaming Stick+
For anyone looking for an affordable streaming stick that's not too clunky, Roku's Streaming Stick+ is a great gift. You'll get a customizable, intuitive interface with full 4K HDR capabilities and just about every app you might want.
Credit: Roku
Dual Lu53
The Dual Lu53 is a great budget pick for anyone who wants to play music outside. It's a large speaker with a 5.25-inch woofer, a 1-inch midrange driver and an 0.8-inch tweeter. The Lu53 creates a massive sound to shake up the crowd at a barbecue, wedding or pool party.
Credit: Dual Electronics
Status Audio CB-1 Studio Monitor Headphones
Great audio doesn't have to cost hundreds of dollars. Status Audio's Studio Monitor Headphones offer a comfortable, lightweight fit with excellent audio quality that's comparable to a premium pair of headphones. Plus, it comes with two audio cables.
Credit: Status Audio
Philips Hue White Starter Kit
If you have a friend or family member who's looking to start a smart home, a starter kit like Philips Hue's White is the perfect gift. A kit comes with two smart bulbs and a smart-home hub for easy setup. You can use Alexa, Google Assistant, Homekit or the Philips Hue app to turn the bulbs on and off, dim and brighten them, and create scenes.
Credit: Philips
Nintendo Labo Variety Kit
If your friend has a Nintendo Switch, there's no way they won't enjoy a Nintendo Labo. The creations are easy for even the most amateur engineers to build (though some of them take a few hours). The models aren't just fun to build, however: They can work with your switch to create inventive and extremely fun games.
Credit: Tom's Guide
SNES Classic
Take a trip down Gamer-Memory Lane with the Nintendo's SNES retro console. It features a library of all your favorite old Super Nintendo games, such as Super Mario Kart, Donkey Kong Country and Contra III. It even comes with two controllers, so a friend can play with you.
Credit: Nintendo
Razer Ornata Chroma
If your friend has a Mac, and doesn't mind mechanical keys, Razer's Ornata Chroma is a comfortable keyboard for typing and gaming with ease. There's also a comfy wrist rest that you can detach if you have a smaller desk. The super-responsive keys are rubber and soft to the touch, and its RGB lighting is very pretty.
Credit: Razer
Fujifilm Instax Mini 9
A good stocking stuffer for any aspiring photographer, Fujifilm's Instax Mini 9 is a cute instant camera that's very easy to use. The device includes a number of buttons to adjust exposure, lighten darker images and rotate your lens.
Credit: Fujifilm
Amazon Echo
Even though it's far from the most expensive, the Amazon Echo is the best overall smart speaker on the market. It's powered by Alexa, who can call you an Uber, order items from Amazon and control your smart devices. It also delivers decent audio with strong bass.
Credit: Amazon
Huawei Band 3 Pro
For a friend or relative who fancies fitness, Huawei's Band 3 Pro is one of the most affordable high-quality fitness trackers you can gift. It has an accurate GPS and in-depth sleep analysis. Plus, unlike many other smart watches, it's waterproof, and can track and analyze your swim workouts.
Credit: Tom's Guide
Moment Smartphone Lens Kit
It's never been so easy to take professional-quality photos. The Moment lens will give that opportunity to any friend who has a recent iPhone, Samsung Galaxy and Galaxy Note, or Google PIxel. The kit includes a wide lens, which doubles the iPhone X's field of view; a telephoto lens, which produces sharp close-ups; a 170-degree Superfish lens; and a Macro lens that offers 10x magnification.
Credit: Tom's Guide
Anova Precision Cooker Nano
With this tiny smart device, you'll never have to worry about over- or under-cooking your meat again. All you have to do is seal your uncooked meat in an airtight bag and submerge it in heated water, and Anova will do the rest.
Credit: Anova
Back To The Roots Beta Fish Tank
If a friend or family member has always wanted a pet, but isn't ready for a cat or dog, help them start out with a beta fish in this high-tech tank. Plants that grow on top of the tank clean the water, and the beta fish's waste fertilizes the plants. (The tank comes with a coupon for a beta fish, so your friend can pick one out themselves.) Credit: Back To The Roots