This summer, we get the Google Pixel 6a vs. iPhone SE 2022 battle we've been anticipating since rumors suggested that both Apple and Google were planning low-cost phone releases for the first half of 2022. And when it happens, we'll see which phone can claim the top spot on our list of best cheap phones.
Apple's already held up its end of the bargain, releasing the iPhone SE (2022) in March. Known as the iPhone SE 3 back when it was just a rumor, this handset replaces the old iPhone SE with a 5G-ready model that boasts a much more powerful processor than before.
The Pixel 6a is the unknown factor here, though we have a better idea of what to expect now that Google's unveiled its next smartphone. Like the iPhone SE, the Pixel 5a successor gets a processor boost of its own, as Google is turning to the same chipset that powers its Pixel 6 flagships.
The iPhone SE 2022 vs. Pixel 5a battle was closely fought, and a Pixel 6a vs. iPhone SE 2022 head-to-head confrontation figures to be equally tight. As it stands the Pixel 6a has drawn first blood, but this is a battle far from over. Here's how we see the face-off going down, based on our iPhone SE tests and what Google has told us about the Pixel 6a's features.
Google Pixel 6a vs. iPhone SE 2022: Specs
| | | |
| --- | --- | --- |
| | iPhone SE (2022) | Google Pixel 6a (rumored) |
| Screen size | 4.7 inches | 6.1 inches |
| Refresh rate | 60Hz | 60Hz |
| CPU | A15 Bionic | Google Tensor |
| RAM | 4GB | 6GB |
| Storage | 64GB, 128GB, 256GB | 128GB |
| Rear cameras | 12MP | 12MP wide; 12MP ultrawide |
| Front camera | 7MP | 8MP |
| Battery size | 2,018 mAh (based on teardowns) | 4,410 mAh |
| Software | iOS 15 | Android 12 |
| Colors | Midnight, Starlight, Product Red | Sage, Chalk, Charcoal |
Google Pixel 6a vs. iPhone SE 2022: Price and availability
Apple and Google both offer high-end flagships with prices to match, but the iPhone SE and Pixel A Series phones give the two companies a chance to compete for budget-minded shoppers. It's certainly continued with the iPhone SE 2022, which undercuts the current Pixel 5a by $20 — Apple sells its phone for $429/AU$719 versus $449 for the current Pixel (which isn't available in all markets).
Google's sticking with the $449/AU$749 price for the Pixel 6a, which is good news consider the Tensor chipset upgrade. And you could argue that the Pixel 6a is a better value as you get 128GB of storage for that $449/AU$749. The iPhone SE's base model has only 64GB of storage; to upgrade to 128GB, you'd pay $479/AU$799.
The best iPhone SE deals can lower that cost. Google Pixel 6a preorders don't get underway until July 21, with the phone not reach stores until July 28.
In the U.S., you can pick up an iPhone SE (2022) from any major carrier. So far, only Google Fi and Verizon have committed to carrying the Pixel 6a.
Google Pixel 6a vs. iPhone SE 2022: Design and display
If you saw the iPhone SE 2020, you know exactly what the iPhone SE (2022) looks like. You get a Touch ID sensor on the bottom bezel and a chunky bezel up top to house the selfie cam — the same look as 2017's iPhone 8. The back of the phone features a single camera lens, just like before.
In contrast, Google is shaking things up with the Pixel 6a. For its Pixel 6 and Pixel 6 Pro series last fall, Google introduced a distinctive new look in which a horizontal camera bar stretches across the back of that phone. That design is finding its way to the Pixel 6a.
The iPhone SE 2022's familiar design means it retains the 4.7-inch LCD panel of its predecessor. And like the iPhone 13 nor the iPhone 13 mini, it's got a fixed 60Hz refresh rate — a feature Apple reserves for its iPhone 13 Pro models.
Fast-refreshing displays will remain limited to Google's flagship phones, as well, with the Pixel 6a using a 60Hz panel. So Google's phone passes up the chance to get a leg up on the iPhone, despite rumors that the 6a might have used a 90Hz screen.
At least the Pixel 6a will offer more screen real estate than the iPhone SE, as Google is equipping the device with a 6.1-inch panel. (That's actually smaller than the Pixel 5a's 6.34-inch display.) Google uses an OLED panel for the Pixel 6a, compared to the LCD screen on the iPhone SE (2022).
Google Pixel 6a vs. iPhone SE 2022: Cameras
After adding a second lens, the Pixel 5a firmly established itself as one of the best camera phones around on a budget. While Google's intelligent photo features still carry the day, the 16MP, 117-degree ultrawide camera on the Pixel 5a gives that device added flexibility. We certainly saw that when we compared the iPhone SE's camera output to the Pixel 5a..
Dual cameras return to the Pixel 6a, though Google has opted for a 12MP ultrawide angle sensor instead of the 16MP sensor on the Pixel 5a. The main camera on the Pixel 6a remains a 12MP shooter.
There's no change to the camera hardware on the iPhone SE 2022. You get a 12MP lens as before, with no ultrawide shooter to expand the kinds of shots Apple's phone can pull off. Fortunately, a better processor than the one in the 2020 edition of the phone — more on that below — powers more camera features like Smart HDR 4 for handling tricky lighting and Deep Fusion for calling out more details. The iPhone SE also supports Photographic Styles, which lets you change the look of your photos on the fly.
What you don't get with the iPhone SE (2022) is any dedicated Night mode. It's a puzzling omission, as there doesn't seem to be any technical limitation on including it. As a result, the iPhone SE struggles to keep up with phones that can take low-light photos, such as the Pixel 5a. (The photo comparison up above shows just how behind the curve the iPhone SE is.) We imagine this is one area where the Pixel 6a is going to trounce the iPhone SE (2022), especially since Google made a point of highlighting Night photography when introducing its new phone.
The Tensor chip in the Pixel 6a — which we'll get to in just a minute — enables photographic features on Google's budget phone that had been previously restricted to the Pixel 6. That includes Magic Eraser in which you can remove unwanted people and objects from a photo with just a tap. Magic Eraser's getting an update, in fact, where you can change the color of background objects to make them less distracting.
Google Pixel 6a vs. iPhone SE 2022: Performance and 5G
Normally, any performance face-off between one of Apple's phones and an Android device is a mere formality, given Apple's success at building the fastest mobile chipsets we've tested. But the Google Pixel 6a vs. iPhone SE (2022) face-off offers an intriguing new development.
Apple is certainly up to the challenge, having equipped the new SE with the A15 Bionic, which is the same chipset that powers the iPhone 13 family. That means the same processing power available in Apple's most expensive phones is also available in a $429/AU$719 handset.
iPhone SE (2022) benchmarks illustrate just how powerful this phone is, thanks to the A15 Bionic. It can keep up with the iPhone 13, meaning it easily outperforms the best Android phones — even the Pixel 6 and its Tensor chip.
But there's more to Google's Tensor chipset than performance. Google designed the chipset with an emphasis on machine learning. That, in turn, has powered some helpful new experiences on the Pixel 6 phones like live audio dictation for text messages and advanced call screening features. And that's relevant to the Pixel 6a now that Tensor silicon is officially heading to Google's new phone.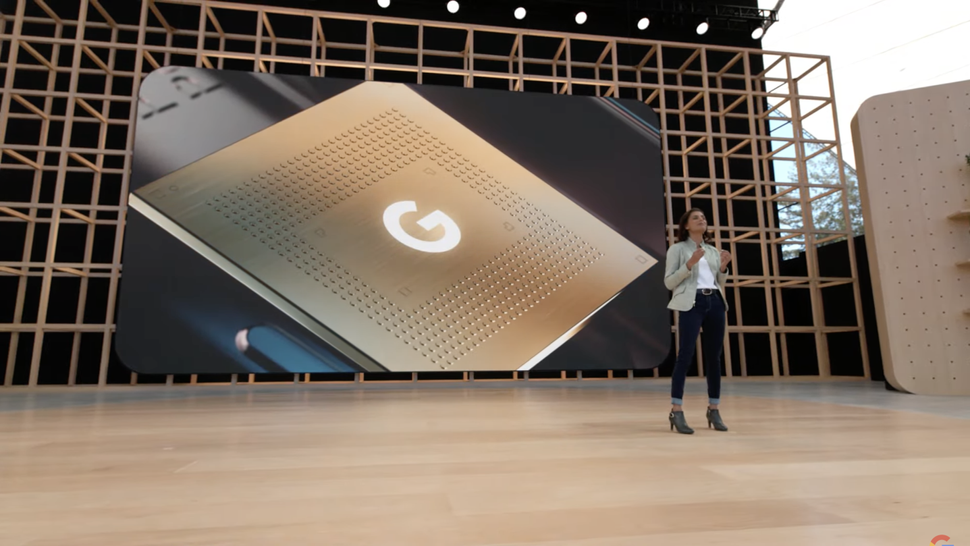 While the iPhone SE (2022) and its A15 chip should outmuscle the Pixel 6a in timed tasks and multitasking, Google's low-cost phone will rely on its Tensor engine to pull off tricks the Apple device simply can't. Besides the Magic Eraser photo-editing tool above, Google is touting features like real-time translation that occur right on your device. We're looking forward to see how this performance battle shakes down.
Regardless of which chip the respective phones use, both support 5G connectivity, though there's a caveat in the case of the iPhone SE. It doesn't support mmWave-based 5G, so it can't take advantage of Verizon's super-fast 5G connections. The phone does work with C-Band 5G, which Verizon is increasingly using to deliver faster 5G, and there's no problem with the sub-6GHz 5G networks that AT&T and T-Mobile have built out.
The Pixel 6a Verizon sells will support mmWave, though Verizon charges $499 for its version of the phone — a $50 premium over the standard Pixel 6a.
Google Pixel 6a vs. iPhone SE 2022: Battery life and charging
The iPhone SE (2022) didn't do much to improve upon the battery life of its predecessor, turning in a worse time on our battery test. We have phones surf the web over cellular until they run out of power, and the iPhone SE (2022) turned in a time of 9 hours and 5 minutes. That's not only worse than the average smartphone by nearly an hour, it's 13 minutes less than the last iPhone SE lasted.
So that's an opportunity for the Pixel 6a, especially since the Pixel 5a is only a little bit better than the iPhone SE, with a time of 9 hours and 45 minutes on our test. Despite leaks claiming a bigger battery for the Pixel 6a, Google went in the opposite direction. The Pixel 6a's 4,410 mAh cell is actually smaller than the 4,680 mAh power pack in the Pixel 5a.
The iPhone SE (2022) still charges at 20W, which is better than the Pixel 6a's 18W speed. Again, the rumors let us down here, as they were predicting faster charging speeds for the 6a.
Google Pixel 6a vs. iPhone SE 2022: Software and special features
The iPhone SE (2022) ships with iOS 15, while the Pixel 6a debuts with Android 12. Upgrading to Android 13 when the full version comes out later this year will be easy on the Pixel 6a, though you could say the same thing about the iPhone SE and iOS 16.
With the Pixel 6a, Google promises five years of security updates, but software updates are a little bit more up in the air. If it's anything like the Pixel 6, though, you should only expect three Android updates from the phone maker. That's a contrast to Apple, which offers much longer support for its phones. The original iPhone SE released six years ago can still run the latest iOS version, for crying out loud.
Where the Pixel 6a could stand out is the features that its Tensor chip enables. We'll need to get our hands on Google's phone to see what kind of experiences Tensor delivers.
Google Pixel 6a vs. iPhone SE 2022: Outlook
Past iPhone-Pixel confrontations have come down to which phone takes the better photos, but the Google Pixel 6a vs. iPhone SE (2022) face-off adds some extra factors. We'll be interested to see what Tensor brings to the mix.
The hardest part of this Google Pixel 6a vs. iPhone SE 2022 face-off will be waiting for Google's phone to arrive so that we can finally find out which phone is the best choice for bargain hunters. July can't get here fast enough.