The best Samsung phones rank among the best Android phones around, even capable of beating Apple's iPhone in some areas. Whether you're looking at a top-tier Galaxy S model, something from the cheaper Galaxy A family or cutting-edge Galaxy Z foldables, you're in good hands with Samsung.
The Galaxy S22 range launched earlier this year, and all three models — including the larger Galaxy S22 Plus and Galaxy Note-like Galaxy S22 Ultra — are excellent. However the Korean company's less expensive phones are good too, with the Galaxy A53 proving you don't have to spend huge amounts of money to get a well-specced phone.
Below we've gathered together and ranked our favourite Samsung Galaxy phones, along with our recommendations on who would be served best by each model. Read on to see what we've selected.
What are the best Samsung phones?
The Samsung Galaxy S22 Ultra is the best Samsung phone right now. It does start at £1,149 but with quad rear cameras, a built-in S Pen and one of the best displays around, you do get what you pay for with the Galaxy S22 Ultra.
For less costly options, we recommend the Galaxy S22, which offers many of the same features but in a much more compact body. There's also the Galaxy S21 FE, which is a bit dated — it's based on last year's Galaxy S21 series — but still gives you a lot of top-quality specs for the money.
If your budget is more limited, look at the Galaxy A53, which, for a budget phone, still shares a lot in common with its more expensive siblings. There's also the Galaxy A33, that costs slightly less.
On the other hand, if you want the most sophisticated Samsung phones around, go for the foldable Galaxy Z Fold 3 or Galaxy Z Flip 3. You have to make some sacrifices to allow for the phones to bend and flex, but there's no denying how versatile they can be.
The best Samsung phones you can buy right now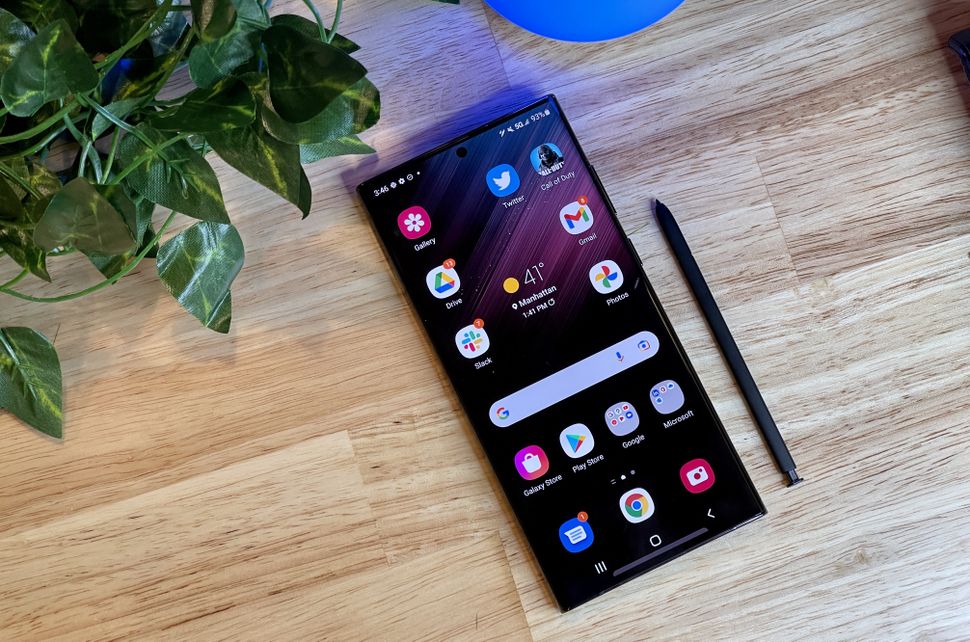 The Galaxy S22 Ultra isn't just the top of the line S22, it's also the spiritual successor to the defunct Galaxy Note series. The S22 Ultra offers four rear cameras and an amazing display like you'd expect, but now you get a built-in S Pen for doodling and scribbling wherever you go, making this a fantastic phone for productivity, photography or anything else.
Of course Samsung wants a fair bit of cash in return: £1,149 for the basic model. It's also worth noting that the base model only comes with 8GB RAM, rather than 12GB like the Galaxy S21 Ultra had. If you're concerned about performance, go for the 256GB model to get 12GB RAM, but otherwise the standard model has plenty enough power for any user.
Read our full Samsung Galaxy S22 Ultra review.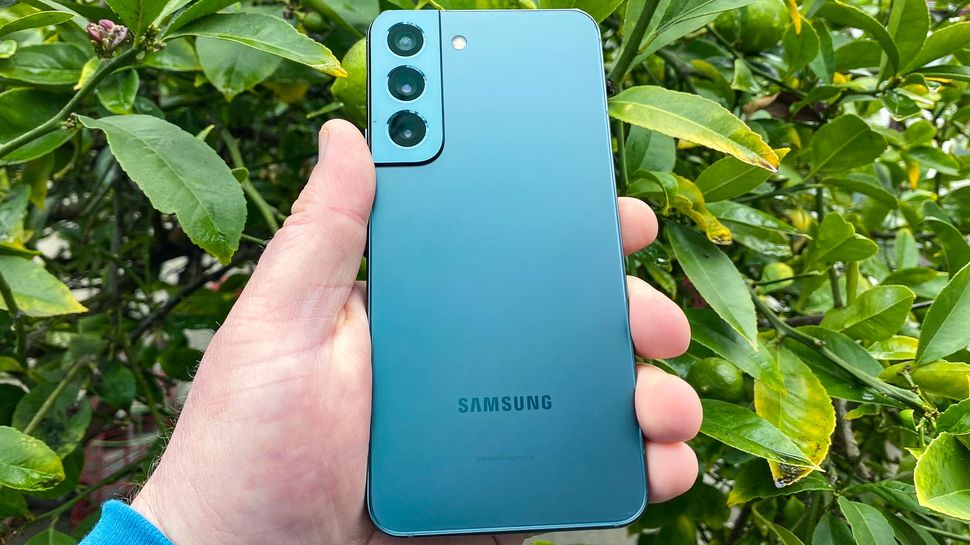 The basic Galaxy S22 is the perfect balance of value and performance, even if it can't outdo the S22 Ultra. The S22's compact 6-inch body still houses a great 120Hz display and triple rear cameras, and the same Exynos 2200 chipset as the other S22s to provide true flagship performance.
As the Galaxy S22 is a relatively small phone, you get a small battery, and on our custom TG battery test, the S22 didn't do very well at all. However if you are only a light-to-medium daily user, or have easy access to power outlets during the day, then there's nothing to hold you back from picking up the S22.
Read our full Samsung Galaxy S22 review.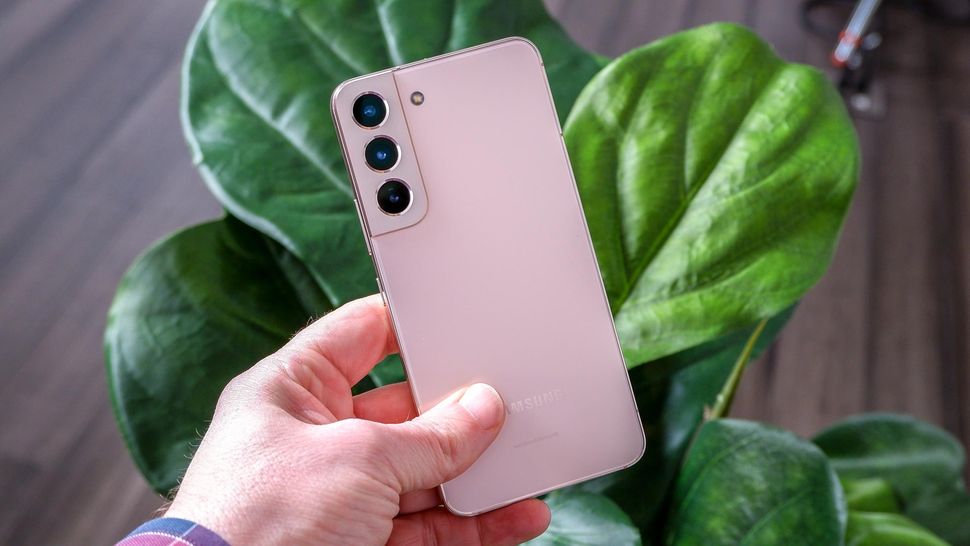 The awkward middle child of the Galaxy S22 family, the Galaxy S22 Plus costs another £180 on top of the S22 and adds a larger and brighter display, a larger battery and 45W fast charging. That may not seem like a lot, given that other S22 Plus features match what you get with the Galaxy S22.
We like the S22 Plus' cameras, particularly the new 50MP main sensor and the improved night mode. We also appreciate how this phone's display is almost as good as the more expensive Galaxy S22 Ultra's. You may find that even though it doesn't have many unique attractions, the S22 Plus is the perfect middle ground if you like a larger handset but don't mind saving money by missing out on some camera tech and the S Pen.
Read our full Samsung Galaxy S22 Plus review.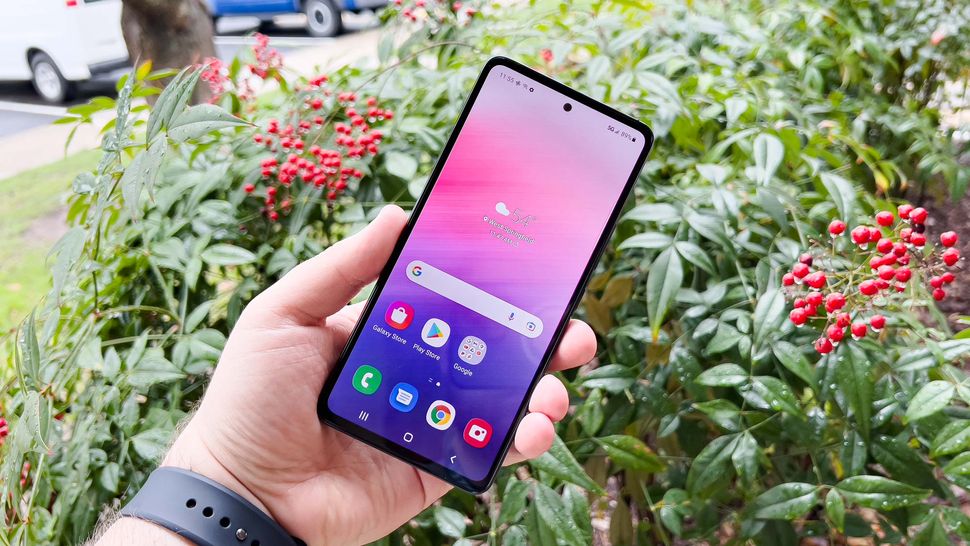 Samsung's newest mid-priced phone shows that if you like having expandable storage space or a smooth 120Hz refresh rate, you don't need to spend everything you have. The Galaxy A53 lets you in on the Samsung phone experience for a much more reasonable price than what the Galaxy S lineup commands. Given that Samsung's promised a generous four years of full updates, you can take advantage of the Galaxy A53 for longer.
As a cheaper phone though, the cameras are the A53's most lacking feature. You get four lenses on the back, but the macro and depth cameras don't perform that well. Also the chipset isn't too powerful, but that's to be expected for a phone of this price.
The Galaxy A53 would make a reliable companion for users who don't want the absolute ultimate tech on their phone, but are still after some premium features.
Read our full Samsung Galaxy A53 review.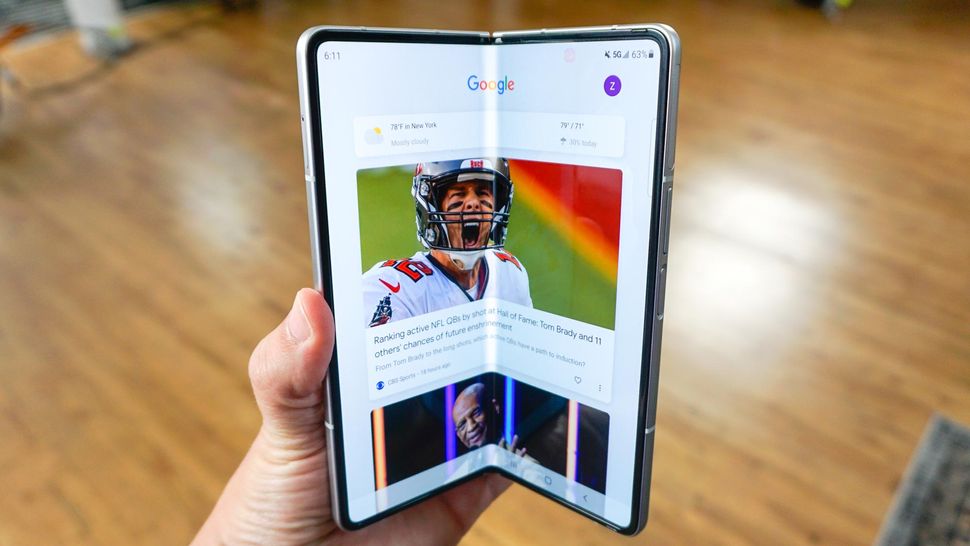 Samsung's top foldable right now, the Galaxy Z Fold 3 combines a tablet and smartphone in one like its previous versions, but now you have S Pen compatibility and more multitasking-compatible apps for even better productivity. Plus there's now a 120Hz refresh rate on the outer display and waterproofing too.
It's still an extortionate £1,600 though, and that doesn't even include a stylus. Such is the way with foldables at the moment, sadly. Samsung could do with a bit more competition among the best foldable phones to inspire it to innovate harder on future generations, but the Galaxy Z Fold 3 is still as good a foldable as you can get right now.
Read our full Samsung Galaxy Z Fold 3 review.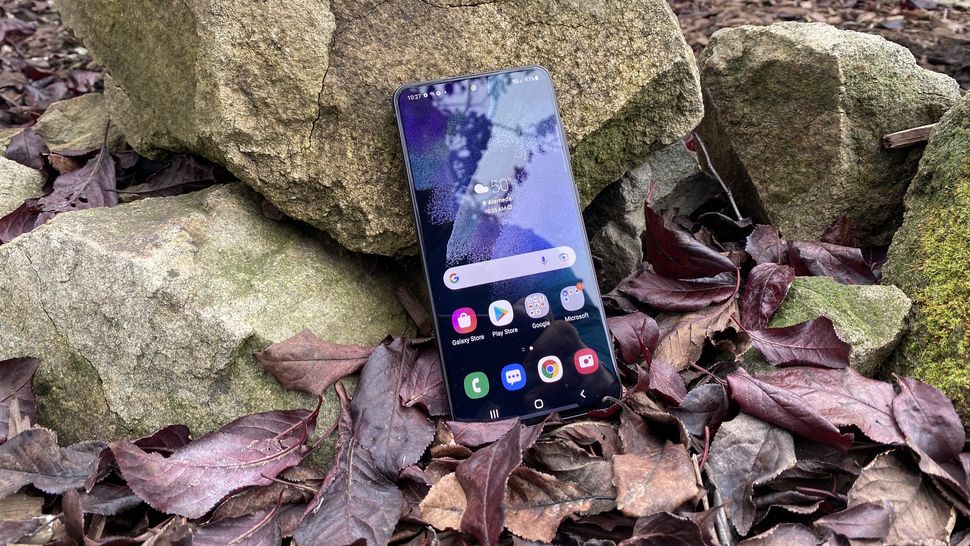 The Galaxy S21 FE shows that patience pays off. This model is based on the 2021 Galaxy S21 series, and as a result isn't as up to date with its chipset or cameras. On the other hand, it's still a flagship-grade experience, with its expansive 6.4-inch 120Hz display and triple rear cameras, but one that starts at £699 instead of £799 like the Galaxy S22.
That extra £100 gets you a lot though, so weigh up carefully whether you're better off skipping the S21 FE. If this is the extent of your budget though, it's still a phone that delivers just what you need.
Read our full Samsung Galaxy S21 FE review.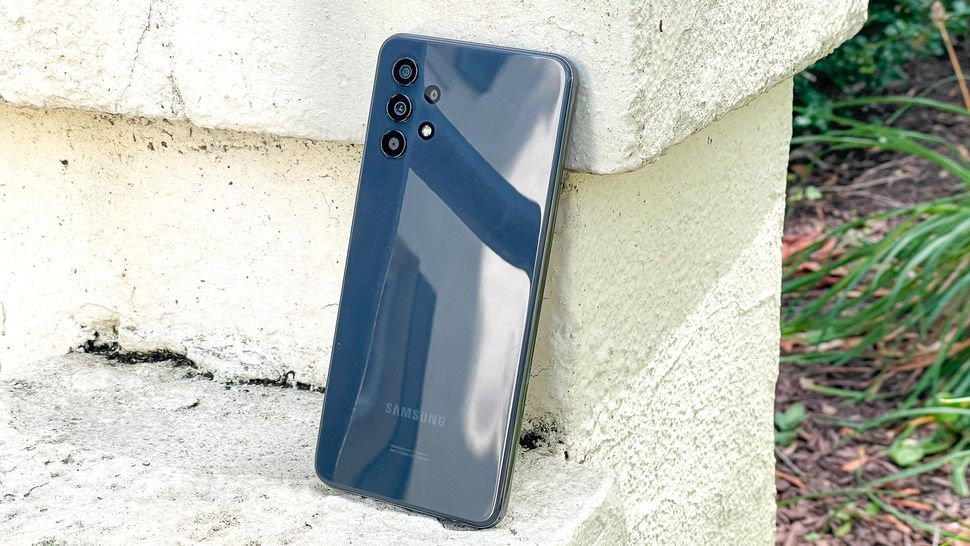 The Galaxy A32 is the oldest phone on this list at more than a year old. Until the Galaxy A33 goes on sale, this is your best option from Samsung that's cheap but still capable.
The display is only capable of 90Hz, and even worse has a limited HD resolution, but it's still large, and it means the large battery lasts a very long time. If you don't need huge amounts of storage or computing power, perhaps the A32 is all the phone you need, and one that will save you a lot of money in the long run thanks to a promised three years of OS updates. (Only the newer Galaxy A models are eligible for four years of software updates.)
Read our full Galaxy A32 5G review.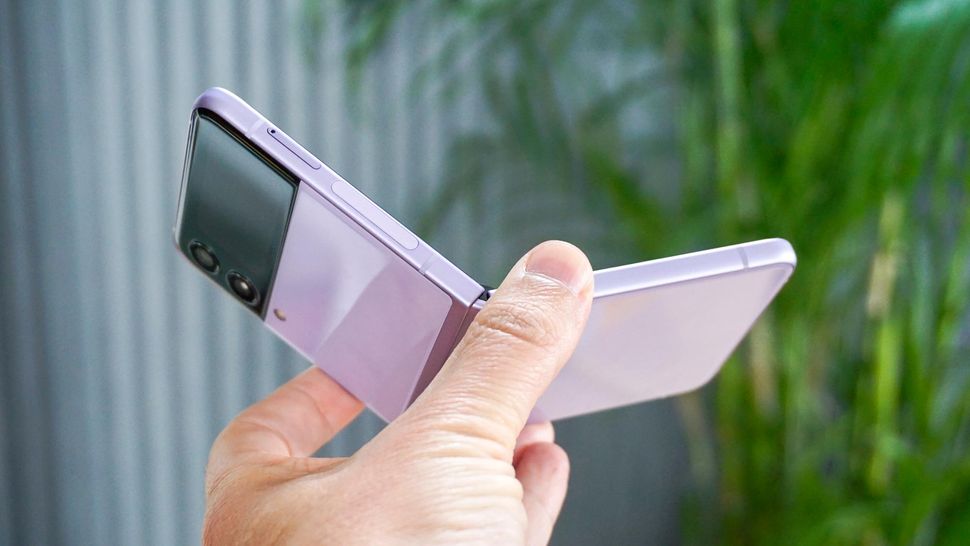 If you miss flip phones or just those that you can fit in a pocket easily, Samsung's Galaxy Z Flip 3 is what you may be looking for. The folding design already makes this phone look special, but don't forget about the Galaxy Z Flip 3 Bespoke Edition, which lets you pick different coloured parts for a phone that's truly unique.
The size comes with a sacrifice or two, specifically bad battery life and no telephoto camera on the back. But it's an improvement on the original Galaxy Z Flip thanks to a bigger outer display, a new chipset and a lower starting price. This would make a great alternative pick to the cheaper Galaxy S22 models if you aren't fussed by their traditional designs.
Read our full Samsung Galaxy Z Flip 3 review.
How to choose the best Samsung phones
The first thing to consider when looking at the best Samsung phones is how much you can afford to spend. Samsung gives you lots of options, but you will need to figure out whether you can consider the Ultra models and foldables or should restrict yourself to the cheaper FE or Galaxy A options instead.
Next, think about the sizes of these phones. The smallest of the phones on this list is either the Galaxy S22 or the Galaxy Z Flip 3, depending on how much you value a slim profile. Conversely, the largest models are the Galaxy S22 Ultra and the Galaxy Z Fold 3, with the latter providing a tablet-sized inner display when unfolded. Take into account where you want to store your phone, how easily you can handle it and how much it will eight when picking between the devices on your shortlist.
The last thing to think about is how much storage you will need for your apps, photos and such. Samsung is quite generous with base storage, as all the phones above come with 128GB of ROM by default. But if you need more on-device storage, you might need to opt for a Galaxy S22, which can go up to 1TB of storage depending on the model.
How we test Samsung phones
To find the best Samsung phones, we test the company's handsets the same way we test every smartphone we review. We run benchmarks on each phone, including synthetic benchmarks like Geekbench 5 and 3DMark Wild Life to measure graphics performance. That allows us to compare Samsung device to other phones, including Apple's iPhone. In addition, we use real-world testing that includes a video transcoding test using Adobe Premiere Rush.
In our lab, we measure the brightness of the phone's display (in nits), as well as how colorful each screen is (using the sRGB and DCI-P3 color gamut). In these cases, higher numbers are better. We also measure color accuracy of each panel with a Delta-E rating, where lower numbers are better and score of 0 is perfect.
To determine how long a Samsung phone's battery lasts, we have the phones continuously surf the web over LTE with their screens set to 150 nits of brightness. The average smartphone lasts for 10 hours, with the best phone battery life reaching 11 hours or more in our testing.
Our camera testing involves taking photos with each Samsung phone we review and comparing them to similar shots from comparable models.We take shots of landscapes, food, portraits and more, and also allow you to be the judge with side-by-side comparisons in our reviews.