Origin Hybrid Mattress Review in brief
Founded in 2018, Origin only makes one mattress (and a pillow); currently selling it in eight countries around the world. Like many of our best mattress choices, the Origin is a hybrid model, meaning it's made from a combination of foam and coils. The USP is Origin's proprietary HexaGrid orthopaedic layer. Developed over thousands of hours, with the help of orthopaedic specialists, the HexaGrid is zoned to give you more support in the centre third of the mattress, where most of your body weight is concentrated. These orthopaedic mattress features seem to work effectively – many customers comment how much the Origin has helped with their back pain.
Origin Hybrid Mattress specs
Type: Hybrid
Materials: Tencel cover, foams, coils, wool
Firmness: 6.5/10 (Origin rating), 8/10 (our rating)
Depth: 25cm
Sizes: Single, Small Double, Double, King, Super King
Trial Period: 200 nights
Warranty: 15 years
RRP: £699 - £1,100
We think the Origin Hybrid is an excellent choice for back sleepers, because of this zoned support but also because it's pretty firm. Origin rates the mattress as a 6.5 out of 10, but we felt that it was nearer an 8 on the firmness scale (and customer reviews back this up). This also means that the mattress is a fantastic choice for stomach sleepers, who need the firmness to keep their hips lifted and spines aligned.
Although the coils provide firm support, the HexaGrid and layers of wool and bamboo foam offer some nice moulding, meaning there is still some light sinkage and contouring around the body for pressure points for back and stomach sleepers. Heavier weight sleepers should also appreciate the extra layers, which will keep them cushioned and supported, with no danger of them sinking onto the coils.
Although mattress comfort is subjective, all our testers felt that the Origin Hybrid was a little too firm for side sleepers (an exception might be heavier weight side sleepers, who may feel enough sinkage). Motion isolation on the Origin was impressive, although we felt edge support could have been a little better. Hot sleepers should also like this mattress, which is packed with features to keep sleepers cool.
At full price, this mattress sits in the upper mid-range bracket, but regular offers drop it down into the lower mid-range, which is incredible value for a hybrid mattress, and undercuts many competitors. Read on for a more detailed look at all these elements in our full Origin Hybrid Mattress review.
Origin Hybrid mattress review: Price
Upper mid-range at RRP, usually discounted to lower mid-range
Very competitively priced for a hybrid
Trial and warranty are good for the price
The Origin Hybrid is an upper mid-range mattress at full price, but the brand's regular and generous offers mean you'll pay the price of a lower mid-range mattress. That's incredible value for a hybrid mattress, and undercuts many competitors.
Here's the RRP for the Origin Hybrid Mattress, alongside the lowest prices we've seen the mattress on sale for:
Single: £699 RRP (£299 on offer)
Small Double: £719 RRP (£319 on offer)
Double: £769 RRP (£369 on offer)
King: £899 RRP (£429 on offer)
Super King: £1,100 RRP (£489 on offer)
Mattress sales happen all year around, and many brands never really sell their products at RRP. We'll keep an eye on Origin's pricing going forward, but we suspect this might be the case here. Major shopping events like the Black Friday mattress deals will often deliver slightly bigger discounts.
Based on typical pricing and discounts, it's roughly in line with the Brook & Wilde Lux hybrid mattress (also excellent value) and the Emma Original all-foam mattress. It undercuts the Simba Original by over £100 on the double size.
The extras are decent, and especially at this price point. You'll get a 200-night trial (a handful of brands – Nectar, Saatva and DreamCloud – give you a full year, but others only offer 100 nights) and a 15-year warranty.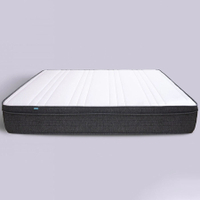 See the Origin Hybrid Mattress at Origin
The Origin Hybrid is a hybrid mattress combining foams, springs and the brand's HexaGrid for a firm and supportive finish. There are frequent and generous discounts on the mattress, which comes with free delivery, a 200-night trial and a 15-year warranty. Motion isolation and temperature regulation are also excellent. Even at full price, the Origin is reasonably priced compared to competitors.
Origin Hybrid Mattress review: design
25cm thick hybrid mattress
Design includes bamboo foam, graphite-infused foam and coils
Cover is not removable
One of the things we really like about the Origin Hybrid is the brand's commitment to using eco-friendly materials in its design (it's won a Sustainable Design award and has certified eco-friendly corporation accreditation). Starting at the top, the cover is a high-quality 100% bamboo Tencel cover. The cover also has handles, to make moving the mattress around easier, but unfortunately it's not removable for cleaning. We'd recommend you add a mattress protector that can be bunged in the wash.
Underneath the cover is the HexaGrid, designed to offer pressure relief and infused with cooling particles to keep your body temperature regulated at night. This is followed by a layer made with premium Australian wool and graphite infused foam, both of which are designed to help with cooling.
Bamboo foam sits above the antigravity springs, which are individually wrapped to provide support across your entire body. They're also well-spaced to encourage maximum airflow between each pocket spring. All the foams in the mattress are CertiPUR certified, which means they meet certain health and environmental standards.
We also really like the fact that any returned mattress is donated to the British Heart Foundation for a person in need, so there's no unnecessary landfill. The Origin Hybrid mattress is currently the brand's only mattress in the UK – in Australia and Singapore, there's the option to upgrade to the Origin Hybrid Pro.
Origin Hybrid mattress review: Support and comfort
Origin rates it 6.5/10, we think it's an 8
Best for stomach sleepers and average / heavy weight back sleepers
Some light contouring but no memory foam 'hug'
Although Origin rates this mattress as medium firm, with a 6.5 out of 10 firmness rating, we found that it slept firmer. We'd rate it at around an 8 out of 10, meaning it's particularly suited for stomach sleepers. The Origin Hybrid does a great job of keeping the hips level with your shoulders, meaning your spine is perfectly aligned, and it doesn't dip too low around the lower back, which can be an issue with some mattresses.
Both our main testers are primarily back sleepers and found the mattress extremely supportive. Our lightweight tester actually prefers a firmer mattress and thought the Origin mattress was comfortable and supportive.
The HexaGrid and bamboo foam do mould to the sleeper's body shape a little, but it's light contouring rather than anything too dramatic. The firm sleep surface is easy to change position on, with none of the slow sink-in feel of traditional memory foam, and minimal bounce.
Some lightweight back sleepers may find it a little too firm, but it's ideally suited to average and heavier back sleepers (bear in mind thought that the single and small double will only support body weight of around 15 stone, the double a combined weight of 31 stone and the king and super king a combined weight of 37 stone).
Comfortable and supportive as the Origin Hybrid is, we did feel that light and average weight sleepers will find it too firm for side sleeping. There's not enough sinkage around the hips and shoulders in this position, with the firmer coils pushing back too much around pressure points. However, the heavier weight sleepers we asked to test the mattress found it extremely comfortable in all positions, including side sleeping. (For more info, head to our guide to how to choose the right mattress for your body and sleeping style.)
We also tested sinkage by placing a 20kg weight in the centre of the bed and measuring how far it sunk in. The weight sank in by 7cm, which ties in with our assessment of the mattress as firm.
Score: 4 out of 5
Origin Hybrid mattress review: Performance
Great choice for couples, with minimal motion transfer
Excellent temperature regulation, with plenty of cooling features
Edge support could be a little better
We slept on a Small Double size mattress for three weeks, looking at all the major areas of performance. We rated it on pressure relief, motion isolation, edge support, cooling and ease of set up; all of which should help you to decide if this is the right mattress for your sleeping style. Read on for our detailed findings on each area.
Motion isolation
Motion transfer is the measure of how much movement is felt from one part of the mattress to another, i.e. whether your partner rolling over or moving in bed will disturb you. If you're a restless sleeper, a mattress with a lot of motion transfer is likely to make for a broken night's sleep.
We tested the Origin Hybrid with a simple drop test with a 6kg weight and an empty wine glass to see how well the mattress absorbed motion. We dropped the weight from around 12cm above the mattress, starting at 64cm from the wine glass. At this distance the wine glass didn't move. It was also completely stable at 25cm and only wobbled at 12cm from the weight dropping.
The Origin Hybrid provides excellent motion isolation and we'd rate it as one of our top choices for restless sleepers and their partners.
Score: 5 out of 5
Temperature regulation
We tested the Origin Hybrid with a winter duvet (tog rating 10.5) in a bedroom at around 14C during early spring. There's no doubt that the mattress does an excellent job of keeping sleepers cool, although a couple of our testers found it a bit too efficient. However, our tester who normally sleeps very hot found it kept them cool throughout the night and stayed fairly cool to the touch as well.
The Origin Hybrid has a number of features designed to keep sleepers cool. The Tencel cover helps wick away moisture and increase air circulation, whilst the HexaGrid underneath is infused with cooling particles, designed to keep your body temperature close to 18.3C (the ideal temperature for deeper sleep). Next up is graphite infused bamboo foam, which again is designed to help draw heat away from the body.
It's worth being sceptical of brands' claims around infused foams – they're common across the mattress industry, but the infusions are being added in such small quantities that they're very unlikely to make a difference to a mattress' performance. That said, some foams do sleep cooler than others, for whatever reason, and the Origin performed extremely well on that front.
It's also a hybrid, which can help with breathability, because the coils create space for air to move around within the mattress.
Score: 4.5 out of 5
Edge support
Edge support on a mattress is important as it helps us get in and out of bed, increases the sleeping area of the mattress, helps prevent premature sagging around the perimeters and allows you to sit on the edge of the bed.
We tested edge support by placing our heaviest weight onto the edge of the mattress and seeing how far it sank. The mattress sank by 10cm, which is three more than in the centre. For good edge support, you want an edge sinkage that's equal to or less than the sinkage in the middle. We also noted that the mattress was slightly firmer in the middle on each side as opposed to the corners.
While the mattress was supportive enough to sit on, particularly if we kept to the middle, the slightly differing levels of sinkage at the sides mean that you might not be able to utilise the full width of the mattress when lying on it.
Score: 3.5 out of 5
Origin Hybrid mattress review: Delivery & setup
The mattress is delivered vacuum-packed, rolled and boxed
Free shipping to anywhere in the UK
Low off-gassing
Our Origin Hybrid mattress was delivered to our front door in a shipping box, with a second box inside this. Delivery takes between two and eight days, with customers having the ability to select their preferred date and time slot on the checkout page.
As is usual with these mattresses in a box, the Origin Hybrid was vacuum-packed into a roll. To open the mattress, we placed the roll on our bed base and carefully sliced the plastic packaging open with a knife. Once it was free from its packaging, the Origin Hybrid expanded quickly. You can sleep on it after four or five hours but be aware it will take between 48 and 72 hours to expand fully, which is on the longer side for boxed mattresses.
Off-gassing, where organic chemicals and gases are released from the foam as a mattress expands, is normal and to be expected when buying a mattress in a box. The chemical-like odour that's produced can last several days with some mattresses. However, the Origin Hybrid had very little smell and this dissipated within a few hours. Note too, that off-gassing experiences will vary from person to person and can be very different even within the same mattress model.
Origin Hybrid mattress review: Customer reviews
Average rating of 4.8 out of 5 (June 2023)
Customers say the mattress helps with aches and pains
Mixed feelings about the firmer nature of the mattress
The Origin Hybrid mattress doesn't have masses of reviews from customers in the UK, but there are many more from other countries where it's sold, with an average rating of around 4.8 out of 5 across sites.
Customers are full of praise for the mattress when it comes to easing aches and pains, with many saying that their back pain was significantly reduced. Motion isolation was also praised, with one customer even managing to get back to sleep while her children were bouncing on the bed.
Nearly all the reviews mentioned that the mattress was firm and in fact the only negative reviews were about this firmer feel. However, many customers said that they adjusted to the harder feel in a very short space of time, while others added a topper to soften the feel slightly. The Origin Hybrid was also praised for its soft and plush feel – the Tencel cover and grey sides give the mattress an attractive finish.
Customer reviews are, like any review, subjective and what suits one sleeper will not suit all. This is why the trial period of the mattress is so useful, as it gives sleepers a chance to decide if this is the right choice for them.
Should you buy the Origin Hybrid Mattress?
We were very impressed with the Origin Hybrid mattress, particularly for heavier weight sleepers and those who sleep on their stomach and back. The HexaGrid does an excellent job of supporting sleepers and its zoned support means that the grid adapts to offer more support where body weight is concentrated.
Side sleepers are likely to find the mattress a little too firm around pressure points at the shoulders and hips, although heavier weight side sleepers should sink far enough into the mattress to feel supported without sinking onto the coils.
Motion isolation on the Origin Hybrid is outstanding and this mattress should be a top contender for those who are disturbed by a partner at night. It's also an excellent choice for hot sleepers, with the HexaGrid and bamboo foam infused with cooling particles and graphite respectively to help with heat regulation.
If you're a side sleeper, you might want to consider an all-foam mattress like the Emma Original. With three different types of foam, the Emma supports and cradles side sleepers at the pressure points of the shoulders and hips. For those looking for better edge support, the Eve Premium Hybrid allows sleepers to spread out and use the full width of the mattress when they sleep.
Origin Hybrid mattress review: Alternatives to consider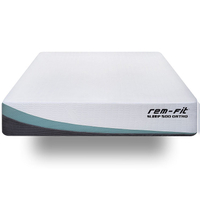 REM-Fit 500 Ortho Hybrid
The REM-Fit 500 Ortho is a hybrid mattress that combines memory foam and springs, to offer complete support and pressure-relief. Although the brands themselves rate them differently, we think it has a similar firmness to the Origin (both 8/10), and both are a great choice for back or stomach sleepers, and anyone suffering from back pain. The edge support here is much better than on the Origin, although it's a bit pricier. Head to our REM-Fit Ortho 500 review for more info.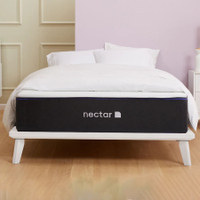 Nectar Premier Hybrid Mattress
Factoring in both brands' regular sales, this model will usually cost around the same as the Origin mattress. The Nectar is also a hybrid, but it's a fair bit softer and offers more of that distinctive memory foam 'hug'. As a result, it would be better choice for many side sleepers, as it'll provide better pressure relief around the shoulders and hips. Read more in our Nectar Premier Hybrid mattress review.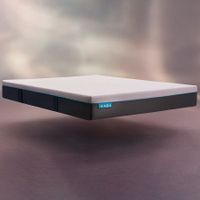 Simba Hybrid mattress
The Simba is another hybrid that's roughly in the same price bracket as the Origin. We're big fans of this popular brand's beds, and found the flagship model was very comfortable for side sleeping in particular, with strong edge support and minimal motion transfer. Read our Simba Hybrid matttress review for more info.