REM-Fit 500 Ortho Hybrid mattress review in brief
The REM-Fit 500 Ortho Hybrid Mattress is an award-winning bed-in-a-box that has a lot of appealing features. It's billed specifically as an orthopaedic mattress, with a firm, four-layer design that's designed to offer complete support and pressure-relief. We tested it out to see how it compares to the rest of the best mattresses on the market.
REM-Fit 500 Ortho specs
Type: Hybrid
Materials: Memory foam, other foams, pocket springs
Firmness: 9/10 (we rate 8/10)
Depth: 25cm
Trial period: 100 nights
Warranty: 15 years
Price bracket: Premium at RRP, usually available at mid-range
As soon as you lay down on this mattress, your joints feel supported. This makes this an ideal option for those who suffer from a bad back or anyone that enjoys an active lifestyle. While it's not quite as firm as REM-Fit says it is (we'd rate it an 8/10 rather than a 9), it'll still provide excellent support and comfort for back and front sleepers. There is some cushioning from the upper foam layers, it doesn't have much of that sink-in feel you'd expect for a memory foam mattress, and most side sleepers will find it a bit too firm for comfort.
The REM-Fit 500 Ortho mattress has brilliant side support, making it suitable for anyone who likes to be able to sleep right up to the edge of the bed, or sit on the perimeter of the mattress as they get up or get ready for the day. This is thanks to REM-Fit's high density foam walls, which help to keep the edges sturdy and stable.
One area where this mattress really stands out is its motion isolation – our testers weren't disturbed by movements elsewhere in the bed at any point. It also offers reliably good temperature regulation. One minor complaint is that REM-Fit has put the handles underneath the mattress rather than on the sides, which we made setting things up a little tricky.
At RRP this is a premium-priced mattress, but realistically you'll be able to pick it up on sale for 40% off or more, taking it into the mid-range area. There's a 100-night trial (which is fine but not great) and the brand backs all its mattresses with a 15-year replacement guarantee. We'll be expanding on everything there is to know about this mattress and taking a deep dive into all the features in the rest of our REM-Fit 500 Ortho Hybrid Mattress review.
REM-Fit 500 Ortho mattress review: Price
The brand's second-most-expensive mattress
A double is £999 at RRP, but often available around £550
With discount, this hybrid mattress sits in the mid-range bracket
At RRP, the REM-Fit 500 Ortho Hybrid sits in the Premium price bracket, but regular mattress sales knock 40% or more off, taking it into mid-range territory. Here's a look at the main UK sizes, their RRPs and the price you can actually expect to pay:
UK Single: RRP £799 (normally sells for £440-£500)
UK Double: RRP £999 (normally sells for £550-£600)
UK King: RRP £1,049 (normally sells for £575-£630)
UK Super king: RRP £1,199 (normally sells for £660-£720)
We think it's good value for what you're getting here – do factor in that hybrid mattresses that include springs (like this one) almost always cost a bit more than all-foam models. This mattress comes with a 15-year replacement guarantee and 100-night trial period.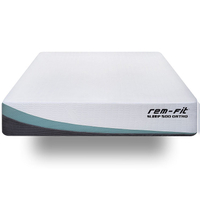 See the 500 Ortho Hybrid at REM-Fit
The REM-Fit 500 Ortho is a hybrid mattress that combines memory foam and springs, to offer complete support and pressure-relief. Its firm sleep feel makes it a great choice for anyone suffering from back pain, as well as back and stomach sleepers. There's a 15-year replacement guarantee and 100-night trial period.
REM-Fit 500 Ortho mattress review: Design
Hybrid mattress, including memory foam and tall pocket springs
Cover can be removed
Handles on the base but not the sides
The REM-Fit 500 Ortho Hybrid is a hybrid mattress that includes a mix of materials, with the aim of delivering the perfect sleep setup. Beneath the top cover is a layer of open-cell memory foam, designed to relieve pressure on your joints, without trapping body heat. This foam section is zoned to provide extra support or softness exactly where it's needed, and it's CertiPUR-US-certified too.
Beneath the foam is a tier of tall, 15cm pocket springs to help isolate movement and give a firm feel. At the bottom is a sturdy, high-density foam base, and you'll also find high-density eco foam walls around the perimeter of the mattress, offering edge-to-edge support. This mattress has a removable cover for easier cleaning, and interestingly, the brand has chosen to put the handles underneath the mattress rather than on the sides (as is more common). It's suitable for use with any bed frame.
REM-Fit 500 Ortho mattress review: Support and comfort
A firm mattress with a 9 out of 10 rating (we think more like an 8)
Excellent support, especially for stomach and back sleepers
Foams have a little softness to them, and there's minimal bounce
REM-Fit ranks this mattress as a 9 on the firmness scale. However, having tested a wide range of mattresses, we felt that the mattress was more like an 8. (Firmness is a key component in an orthopaedic mattress.)
The top two layers of memory foam add a touch of cushioning. These mould slightly to your shape, but don't create that traditional sinking memory foam feeling. Whether this is a good or a bad thing will depend on your personal preferences; it suited our main reviewer, whose preference is for a more responsive sleep surface, but others may expect a little more body contouring. There's a tiny bit of bounce, but not much.
We tested firmness by placing an 8kg kettlebell weight in the middle of the mattress to simulate the feel of a person's body sinking into the mattress. It's fair to say that the kettlebell didn't sink too much: around 1 inch in total.
One of our testers, who weighs 60kg and is 5ft 5, tends to toss between their front, back and side as they sleep. They found the mattress to be very comfortable when sleeping on their front and back, as the foam helped to keep their spine supported, along with their hips. While our second tester, who is 6ft in height and weighs around 75kg, found this mattress uncomfortable when sleeping on his side.
That tallies with what we'd expect to find. Firmer mattresses are usually a good choice for front or back sleepers, as the spine and hips need a little extra support in these positions. However, firm mattresses aren't usually the best option for side sleepers – most people need a bit more cushioning around their hips and shoulders to feel comfortable in this position.
A possible exception to this is if you're a side sleeper who's struggling with back pain – as a rule of thumb, the best type of mattress for back pain is one that's on the firmer side. Too much softness means the spine won't be supported properly.
REM-Fit 500 Ortho mattress review: Performance
Little, if any, motion transfer
Sleeps cool, with no issues trapping heat
Edge support is fantastic
We tested the double mattress and reviewed it in all aspects before, during and after having slept on it for three weeks. We rated it on pressure relief, motion isolate, edge support, cooling and ease of set up, which are all important areas to consider when it comes to investing in any mattress.
Mattresses are a big investment so you want them to last. While durability is a hard thing to comment on (especially if you are only testing the mattress out for weeks rather than years), we turned to reviews to see what other users thought.
Motion isolation
The REM-Fit 500 really outdoes itself when it comes to motion isolation. Over the course of our three-week testing period, neither of our sleepers was disturbed by the other's movements. We also assessed the motion isolation here by running some tests using a weight and an empty wine glass and – as you'll read about from the results – the REM-Fit mattress passed with flying colours.
When we dropped the weight on the mattress 60cm from the glass, 25cm away (to simulate someone getting out of bed) and 10cm away (to recreate the feel of someone changing sleep position next to us) the glass didn't topple over. In fact, it didn't even wobble. This makes this mattress the perfect match for fidgety partners, restless sleepers or those on different sleep schedules. Compared to other mattresses we've tested, this is up there with the best.
Score: 5 out of 5
Temperature regulation
While we love a sunny day, muggy nights and warm temperatures can make it difficult to get a good night's sleep. Being too warm to sleep is a common bugbear for some. However, we're pleased to report that this shouldn't be a problem when sleeping on the REM-Fit 500 Ortho Hybrid. While this mattress isn't specifically marketed as a cooling mattress, the foams used are open-cell, to boost breathability, and the tall coils create space for air to circulate within the mattress.
When placing your hand on the mattress, it feels cool at first but then slowly and surely the first layer of memory foam warms to a neutral body temperature. This is also the case when you lie on the mattress. Despite more traditional memory foam mattresses having the reputation of running hot, the REM-Fit was able to disperse heat throughout the night and keep the temperature cool and comfy.
For reference, during testing, we used a cotton duvet cover and cotton sheets. We also wore cotton pajamas. None of our testers ever had any issues with feeling overly warm on this mattress.
Score: 5 out of 5
Edge support
Along with motion transfer and temperature regulation, another important aspect of a mattress is edge support. Helping you get in and out of bed, allowing you to sit on the edge of the bed while getting dressed and meaning you can use more of the mattress without feeling like you might slide off, good edge support really is essential.
The REM-Fit 500 is equipped with high density foam walls, to bolster the edges. To really gauge how this design feature worked, we sat on the edge of the bed. We also placed a 8kg weight on the edge of the bed to visually be able to see how much sinkage occurred.
On both occasions, we felt like we were well supported, while the weight showed no signs of moving. In total the weight sank around 1 inch. This was the case even when another person laid and sat on the opposite side of the mattress.
Score: 5 out of 5
REM-Fit 500 Ortho mattress review: Delivery & setup
Mattress arrives vacuum-packed, rolled and boxed
Took around 2 hours to fully regain shape
Almost no off-gassing
There are a range of delivery options available for this mattress. You can choose a free next day delivery option if you buy before 1pm. This means the mattress will be delivered between 8am to 6pm. But if you want a white glove delivery service, and scheduled time slot, it'll cost you £50.
The hybrid mattress arrives in a box, rolled up in an air-tight plastic packaging. It weighs 38kg for a double, which is pretty heavy if you are lifting this mattress by yourself (of course, the bigger the size, the heavier it will be).
Like most bed-in-a-boxes, the mattress comes in a recyclable cardboard box, sealed up in an airtight plastic sheet. It's possible to set this bed upon your own, but it's much easier if there are two of you, and especially if you need to get this mattress up a flight of stairs and onto a high bed base.
Once you cut into the airtight packaging, the mattress starts to inflate. In total, the mattress took around two hours to fully inflate (which is much quicker than most bed-in-a-boxes), although we didn't sleep on it until 5 hours later. We were impressed to find that the REM-Fit 500 had little to no off-gassing smell, even in a small bedroom. To really test the smell, we kept the bedroom windows closed. Within two hours, the new mattress smell had practically disappeared.
One thing to note is that the handles here are on the base rather than the sides of the mattress, which is helpful if you're trying to slide the mattress sideways into a new room, but not so much if you're wanting to maneuver it flat.
The brand offers a 100-night trial, which is the short side – 200 night trials are much more common for big bed brands now – but still a good amount of time for you to make sure you get on with your choice. We're pleased to see that any returned mattresses are donated to the British Heart Foundation.
REM-Fit 500 Ortho mattress review: Customer reviews
For Rem-Fit overall, 4.1/5 star average over ~1,600 reviews (March 2023)
Reviews are via TrustPilot, and not separated by product
Looking at the reviews is a great place to head to if you want to know a collective view of all the pros and the cons a product has to offer. The REM-Fit 500 has an average score of 4.1 stars out of 5 stars from just under 1,600 reviews (March 2023).
However, it's a little unclear which user reviews were specifically talking about the 500 Ortho Hybrid mattress, as the brand collates its user reviews together on Trustpilot, rather than on each mattress page.
We tried to weave out the reviews where users had stated which mattress they were talking about. In the limited reviews we found, users rated the mattress for its ability to ease back pain, cushion achy joints and help to regulate temperature. However, it was marked down because this mattress seemed to be a little softer than they first thought. Unfortunately some reviewers also questioned the durability of the mattress after a couple of years of use. While some other buyers spoke negatively of the customer service. However, the brand seems to clear up any negative queries by responding to most reviews.
Should you buy the REM-Fit 500 Ortho mattress?
The REM-Fit 500 Ortho Hybrid Mattress is a very strong recommendation for anyone who likes a firm feeling mattress with a little bit of give, if you sleep on your front and back and if you share a bed. That's because it has brilliant motion isolation, temperature regulation, edge support and spinal alignment credentials.
We wouldn't recommend this for side sleepers, who'll likely find it too hard for comfort. Those seeking a super-firm bed might also be disappointed – this mattress is firm, but not as firm as REM-Fit markets it as being.
In terms of pricing, we'd also say it's competitively priced, especially if you wait until REM-Fit launches a sale or money off the RRP. But either way you look at it, it's a mid-range mattress that for many, will deliver a great night's sleep.
REM-Fit 500 Ortho mattress review: Alternatives to consider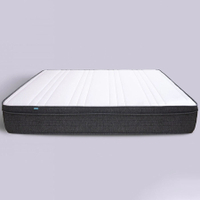 Origin Hybrid Mattress
If you're looking for a cheaper option that's still suitable for back pain sufferers, check out the Origin. This hybrid mattress combines foams and springs and we think it offers a similar firmness level (although the brands themselves rate them differently), with a sturdier section in the central third, beneath the lumbar. It sits in the lower-mid price range, so is more budget-friendly than the Rem-Fit, although the edge support is not great here. Head to our Origin Hybrid mattress review for the full low-down.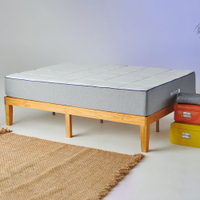 Nectar Memory Foam Mattress
Looking for something a little softer? Try Nectar's memory foam mattress which is crafted with a medium-firm sleep surface to give you some more sink. This should suit most kinds of sleepers, including side sleepers. A double will usually come in under £500 (cheaper than you'll typically pay for the REM-Fit). Be aware that as an all-foam model, this will be less breathable though, and may sleep slightly warm on occasion. Read more in our Nectar Memory Foam Mattress review.