Nectar Essential Hybrid Mattress review in brief
The Nectar Essential Hybrid is this enormously popular bed brand's cheapest hybrid option, with a design that includes both memory foam and springs. It's priced the same as the flagship all-foam model (one of our best mattress picks, which you can read about in our Nectar mattress review). For this review, we slept on a UK single mattress for three weeks, inviting a larger test panel to try it out along the way. We tested the Nectar Essential Hybrid on all major areas of performance, such as pressure relief, motion isolation, edge support, cooling and ease of setup, and we'll expand on all these points throughout the review.
Nectar Essential Hybrid Mattress specs
Best for: Back sleepers
Type: Hybrid mattress
Firmness: 6.5-7/10
Materials: Open-cell foam, memory foam, polyester, polypropylene, steel coils
Depth: 25cm
Sizes: Single, Small Double, Double, King, Super King
Weight: 22.5kg-50kg
The design includes a cooling cover, memory foam, other support foams, and a layer of springs. It's the most pared-back of the brand's springs-and-foam models (you can read more about the top-end model in our Nectar Premier Hybrid review).
In terms of firmness, the Nectar Essential Hybrid is rated as a 6/6.5 out of 10 by Nectar, although we felt it was slightly firmer and would rate it as a 6.5/7. It offers excellent support for a variety of sleepers, although we'd say the slightly firmer feel is especially well suited to back and stomach sleepers, who need good support to keep their spine aligned. Motion isolation is excellent and there's strong edge support as well, making this a great choice for couples.
Nectar is known for offering great value for money, and this mattress comes with a 365-night trial period and a Forever Guarantee. There's an evergreen Nectar mattress sale running all year round, so you can ignore that RRP. Based on the price you'll almost always pay, the Essential Hybrid sits at the upper end of the budget market or the lower end of the mid-range market (not that in general, you'd expect to pay a bit more for a hybrid mattress compared to an all-foam model). It's slightly cheaper than the Simba Hybrid Essential (again based on the discounted price you can expect to pay), but in the same ballpark.
Nectar Essential Hybrid Mattress review: price and deals
The joint cheapest Nectar UK model, but mid-range overall
Nectar has consistent offers throughout the year with up to a 50% discount
Look out for offers of a free accessories bundle as well
The Essential Hybrid may be Nectar's cheapest hybrid (and at time of writing, the pricing is actually the same as the all-foam original model), but it's still firmly in the mid-price range mattress bracket overall. The RRP of a UK double is £969, but thanks to regular Nectar sales you'll typically see the mattress with up to 50% off. Bookmark our mattress sales guide to see how this compares to what other brands are doing.
Here's the pricing for the Nectar Essential Hybrid:
Single: RRP £749, usually £375
Small Double: RRP £949, usually £475
Double: RRP £969, usually £485
King: RRP £1,049, usually £525
Super King: RRP £1,169, usually £585
If there's a point in the year where you might see even better offers, it's the Black Friday mattress deals at the end of November. These typically yield the lowest prices of the year.
Prices for the Nectar are comparable to Simba's Hybrid Essential mattress, with a double officially retailing at £899 and the Brook + Wilde Lux, whose double is also £899. Both companies also regularly offer generous discounts of between 40 and 50%.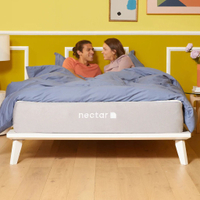 See the Nectar Essential Hybrid Mattress from £749 at Nectar Sleep
The Nectar Essential is a great choice for back and stomach sleepers, who will appreciate the firmer feel of the mattress, offering good spinal support. Nectar's 365-night trial and Forever Warranty are also pretty hard to beat. This is a mattress that will suit a wide variety of sleepers.
Nectar Essential Hybrid Mattress review: Materials
The Essential Hybrid has six different layers
Individually wrapped coils offer a fast response to pressure
Cover isn't removable
Nectar's Essential Hybrid is a classic hybrid design, as we explain in our what is a hybrid mattress guide. Although it's the brand's entry-level hybrid option, it boasts a six-layer design, with features you'll see in the best hybrid mattresses on the market.
Starting with a quilted cooling cover designed to dissipate heat, the mattress then has a layer of pressure relieving memory foam to contour to the body. Next up is a dynamic support layer that's designed to be temperature regulating, although note this is not a specialist cooling mattress.
Up to 600 individually wrapped pocket springs wrapped in support foam make up the next layer, giving responsive comfort with good edge support. The mattress is finished off with a supportive base with spring support and a non-slip base material to keep the mattress in place on the base.
The Essential Hybrid is the most pared-back of the brand's springs-and-foam models. There's also a Nectar Hybrid (which uses smaller springs and more of them, and has a base layer that's zoned to provide different levels of softness in different areas) and a premium Premier Hybrid model, which adds special 'transition' foam and an extra layer of springs.
Nectar Essential Hybrid Mattress review: firmness and comfort
A medium firm mattress with a 6.5 – 7 / 10 rating
Ideal for back sleepers, who will find their spines kept in alignment
In our opinion the Essential Hybrid is a little firmer than Nectar rates it – we'd say a 6.5 to 7 out of 10. Our main testers are primarily back sleepers but do also occasionally sleep on their sides. They both found the mattress extremely supportive when sleeping on their backs, feeling that their spines were aligned and that there was excellent pressure relief at the hips and shoulders.
Our average weight sleeper also found the mattress comfortable when sleeping on their side, but our lightweight sleeper thought it was too hard and that it caused pain in their shoulder. But this is a perfect option for all weights of back sleeper (including heavier weight sleepers) and average and heavier weight side sleepers.
Light and average weight front sleepers should also enjoy this mattress – it's firm enough to keep your hips from sinking into the bed and again keeps the spine aligned. We don't think it's firm enough for heavier weight front sleepers though, who are likely to sink too far into the mattress to feel supported.
Of course, mattress firmness is subjective and influenced by factors such as body shape, weight, sleep style and whether you share your bed with a partner. The great thing about Nectar is that it offers a 365-night risk-free trial, meaning that if you don't get on with the mattress you can return it to the brand and receive a full refund.
Nectar Essential Hybrid Mattress review: Performance
Minimal motion transfer
Edge support is good
We slept on a single size mattress for three weeks, looking at all the major areas of performance. We rated it on pressure relief, motion isolation, edge support, cooling and ease of set up; all of which should help you to decide if this is the right mattress for your sleeping style. After only 3 weeks it's impossible to make a definitive statement on the durability of the mattress, but the quality of the materials is high and we think it's likely this will be a mattress with a good lifespan.
Setup
Score 4.5 out of 5
Setup and delivery for the Nectar are pretty straightforward, although we'd recommend paying the £25 fee for Premium Delivery. With this service your mattress will be delivered to your chosen room – normal delivery just brings the mattress to your front door.
The Nectar comes with a small blue plastic cutting tool which, although it was effective at slicing through the mattress packaging, did lose its tip right at the end when we got a little too enthusiastic with our cutting manoeuvres. Make sure you cut open the plastic with the mattress positioned on your bed, as the Nectar doesn't waste any time inflating. Nectar say it can take between 24-72 hours to inflate fully, but we found the Essential Hybrid was pretty much fully inflated in around 6 hours.
Use the arrow icons to scroll through the gallery of images
Off gassing
Score: 4.5 out of 5
Nectar's Original Memory Foam mattress has a very strong off gassing smell, so we were expecting something similar with the Essential Hybrid. But in fact there was only a faint smell with this mattress and it dissipated quickly over a few hours.
Off-gassing is where organic chemicals and gases are released from the foam as a mattress expands is completely normal. For more information, read our guide on what is off gassing. All the foams in the Essential Hybrid are Certi-PUR certified, meaning they're free from heavy metals, harmful dyes and ozone depleting chemicals.
Pressure relief
Score: 4 out of 5
An important facet of any mattress is how well it supports and reduces pain in pressure points around the shoulders, back and hips. The Essential Hybrid is particularly supportive for back sleepers and light and average weight stomach sleepers, with the memory foam at the top of the mattress providing comfort and support. Responsive coils also move and adapt as you sleep. Average and heavier weight side sleepers will also find their pressure points well supported, but our lightweight tester found the mattress too firm for side sleeping and noticed some pressure build-up around the shoulders. Heavier weight stomach sleepers also sank too far into the mattress, meaning their spine was no longer aligned and pressure points built up.
We also tested sinkage on the mattress by placing a 20kg weight in the middle of the bed. The mattress sank in to 3.5", which is the same as the Emma mattress. But if you're looking for a firmer mattress, we'd recommend the Brook + Wilde Lux.
Motion transfer
Score: 4 out of 5
If you share your bed with a restless sleeper, you'll want a mattress that isolates motion as much as possible. The Nectar Essential Hybrid does a good job of isolating motion and motion transfer is minimal. You will get a little movement from the coils, but the top layer of memory foam absorbs movement well.
We tested the motion transfer on the Essential Hybrid with a simple drop test, using a 6kg weight and a wine glass (empty of course). Dropping the weight at various distances from the wine glass gives a good indication of how much motion transfer you'll get from the mattress. The wine glass wobbled at both 25 inches and 10 inches, before falling over gently at 4 inches – this was with the weight dropped from a height of around 4-5 inches. These tests mimic a person in bed moving position or getting out of bed.
Temperature regulation
Score: 4 out of 5
As we've already mentioned, the Nectar Essential Hybrid isn't a dedicated cooling mattress. However, it does a good job of keeping sleepers cool at night. This is mainly down to the dynamic support layer, where the foam is designed to enhance airflow and regulate body temperature. In addition, the individually wrapped pocket springs are well spaced to also encourage airflow.
Our hottest sleeper didn't feel overheated at night, although the mattress doesn't feel completely cool to the touch. For information, we tested the mattress with a summer duvet (4.5 tog) and a thick fleece blanket in a bedroom of around 16C overnight.
Edge support
Score: 4 out of 5
Edge support on the Nectar Essential Hybrid is good for a mid-range mattress, although we wouldn't say it's perfect. Edge support is important as it allows sleepers to spread out and use the entire mattress, whilst also giving people a solid surface to sit on while getting dressed.
We did feel supported on the edge of the mattress but noticed there was a slight slope, which could be more problematic for heavier weight sleepers. Upon testing sinkage with a 20kg weight we measured it at 4", which is only half an inch more than in the centre of the bed.
Overall the edge support on the Essential Hybrid is good, although it's perhaps better when lying on the mattress as opposed to sitting on it. However, as long as you sit back a little way on the bed, you'll be well supported.
Durability
Score: 4.5 out of 5
Although we can't fully judge the durability of a mattress after three weeks, initial signs for the Nectar are good. The mattress is made from high quality materials and is extremely sturdy in structure. And with a 365-night trial and Forever Warranty, Nectar is clearly confident in its product.
Help keep your mattress in top condition by rotating it as recommended by the brand (see our guide on how often to rotate or flip your mattress for more detail), always using a mattress protector and cleaning the mattress regularly.
Nectar Essential Hybrid Mattress: customer reviews
As well as our own experiences sleeping on the mattress, we've also looked at customer reviews to see what others think of the Essential Hybrid mattress. Reviews on the Nectar website are from TrustPilot, where the brand as a whole has a rating of 4.3 out of 5. This is for a mix of Nectar products, with over 12,000 reviews of which 72% are 5*.
The Essential Hybrid is one of Nectar's newer mattresses at the time of writing (December 2022), so doesn't have as many reviews as other products. Those reviews there give the mattress high ratings, with customers saying how well the mattress helped with aches and pains. A few reviews note that the mattress is fairly firm – some love this, some less so. It's also interesting to note that sleepers suggest the mattress needs a few weeks to 'bed in' and become completely comfortable. Mattress comfort is subjective so there are some reviews from customers who just couldn't get on with the Essential Hybrid at all.
Should you buy the Nectar Essential Hybrid mattress?
The Nectar Essential Hybrid mattress is a good all-rounder, suiting a wide variety of sleepers. Back sleepers in particular should really enjoy this mattress, which does an excellent job of keeping the spine aligned and helps to relieve pressure points. It's also a good choice for most stomach sleepers, whose hips should be kept correctly in line. Heavier weight stomach sleepers may sink into the mattress too far to feel supported. Our side sleepers also really enjoyed the Nectar, apart from our lightweight tester who found it too firm for side sleeping.
Motion isolation is impressive for a mattress containing springs, and edge support is great – meaning you can spread out along the full width and length of the mattress.
This tester also tried out the Nectar Premier Hybrid, which sits at the top end of the brand's hybrid range. Is it worth the extra money over the Essential Hybrid? For some people, maybe. We found the Essential Hybrid to be the firmer of the two, and the Premier Hybrid gives sleepers more a memory foam 'hug'. So the pricer model might be a better fit for side sleepers or anyone seeking a little extra cushioning and pressure relief.