Apple is reportedly unveiling three new MacBooks at its WWDC 2023 event, according to Bloomberg's Mark Gurman. However, don't expect the new Apple laptops to offer a significant upgrade over existing models.
The laptops in question are the long-rumored MacBook Air 15-inch, along with a new 13-inch MacBook Pro and a refreshed MacBook Air. Gurman claims the upcoming laptops will have "processors on par with the current M2 chip" instead of the rumored Apple M3 chips.
As always, we should take these reports with a healthy dose of skepticism. However, it's more than likely Apple will at least say something about MacBooks at WWDC 2023. Below, we'll go over what we've heard about the reported new MacBooks so far and what we can expect.
Macbook Air 15-inch
A MacBook Air 15-inch has been talked about for a long while and seems the most likely to appear at WWDC 2023.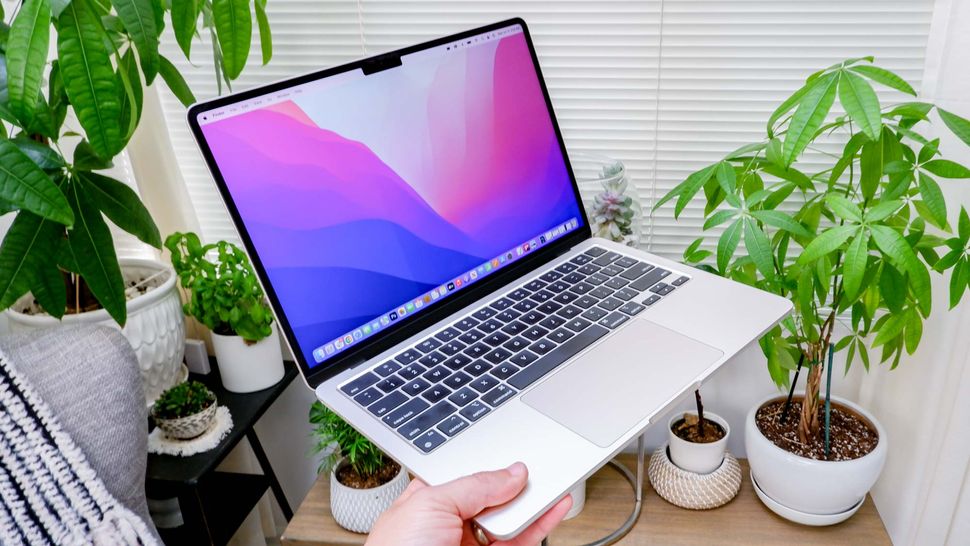 Apple has purportedly been testing the laptop's compatibility with third-party apps, something it often does ahead of a new device's release. The chip in the new MacBook Air model spotted in the logs packs identical specs to the M2 chip — namely eight processing cores, ten graphics cores and 8GB of RAM.
That's somewhat disappointing given other rumors that the 15-inch MacBook Air would offer beefed-up specs alongside a larger screen. Instead, the laptop would share the same chip as its predecessor, the MacBook Air M2. Rumors of a yet-unreleased Apple M3 chip have fueled speculation that Apple's larger version of the MacBook Air would come with an upgraded chip to match. That doesn't appear to be the case.
According to display analyst Ross Young (via 9to5Mac), Apple's suppliers have started ramping up panel production for the upcoming 15-inch MacBook Air. As we previously reported, Young said panel production began in February and started ramping up in March. Production will apparently ramp up again this month (April) before the new MacBook Air is officially announced. "We don't know the precise launch timing, but would assume late April/early May," posted Young to his Super Follows on Twitter.
13-inch Macbook Pro
Gurman said a new 13-inch MacBook Pro is in the works but didn't delve into specifics. We wish he had because we have several questions.
The MacBook Pro 13-inch M2 that launched last year packed the then-new Apple M2 Pro chip. Gurman claims the new MacBooks will also feature this chip, which makes us wonder how this 13-inch model will be different from what's currently available.
Will the new MacBook Pro 13-inch have an M2 Pro chip? Will it retain the same design as its predecessor, Touch Bar and all? If it receives a redesign to fit the current Pro line, what would make it different from the latest MacBook Air? We're not sure what to make of this laptop or how it will fit into the larger MacBook Pro lineup.
The MacBook Pro 14-inch starts at $1,999 and the MacBook Pro 13-inch costs $1,299, so at the very least it would be nice if Apple offered MagSafe charging, a sharper webcam and slimmer bezels on the 13-inch model.
MacBook Air 2023
The MacBook Air is apparently receiving an update. If this model is also sporting an M2 chip like its current iteration, don't expect much in the way of meaningful updates.
This is speculation on our part but this model might feature Wi-Fi 6E and Bluetooth 5.3. A faster 256GB for the entry-level model would also be appreciated, especially since the current model has slower speeds than the MacBook Air M1. Using two 128GB NAND chips instead of a single 256GB chip could fix this issue. These upgrades might also come to the aforementioned 13-inch MacBook Pro, but again, that's speculation.
New MacBooks: Outlook
Aside from the 15-inch MacBook Air, WWDC 2023's potential MacBook announcements don't seem all that exciting, based on Gurman's report. However, nothing is set in stone and we might get unexpected news, such as the official announcement of the M3 chip — but that isn't expected until next year.
Given how some manufacturers like Dell seem content with simply releasing refreshed laptops this year, it's not surprising Apple is following a similar course. After all, IDC reported recently that Apple laptop sales fell 40% from Q1 2022 to Q1 2023, so there's certainly less demand for upgrades right now.
Again, take Gurman's claims with the proverbial grain of salt. June 5 isn't too far off so we should hear official word about the new MacBooks soon.
More from Tom's Guide