It's possible that the 13-inch MacBook Air 2022 may have a big sibling soon, based on the rumors we've heard about a potential 15-inch MacBook Air.
A number of reliable sources, including Bloomberg's Mark Gurman (opens in new tab), analyst Ming-Chi Kuo (opens in new tab) and display analyst Ross Young (opens in new tab) have all hinted at the possible upcoming Apple laptop. According to rumors, the MacBook Air 15-inch will be larger than any MacBook Air ever released. The new notebook is expected to release in April of 2023 and pack the Apple M2 chip – and perhaps even the new M2 Pro processor.
Here's everything we've heard about the 15-inch MacBook Air. Remember that all of these are rumors and should be treated with a healthy amount of skepticism.
MacBook Air 15-inch latest rumors (March 6)
MacBook Air 15-inch release date and price speculation
Regular Apple tipster and Bloomberg reporter Mark Gurman now has the 15-inch MacBook Air tipped for a release in late spring or early summer. That means it could arrive in June, which is when WWDC 2023 is expected.
Meanwhile, analyst Ming-Chi Kuo says a new 15-inch MacBook should arrive in the second quarter (or later) of 2023, and the Bluetooth database shows a pre-release Mac using Bluetooth 5.3, suggesting an imminent appearance/
None of the rumors hint at the 15-inch MacBook Air's cost. But considering it's larger than the MacBook Air 2022, it should demand a higher price. The MacBook Air 2022 is $1,199, so we would expect a jump up to $1,399 or $1,499. For reference, the new MacBook Pro 14-inch starts at $1,999 and the new MacBook Pro 16-inch costs $2,499.
MacBook Air 15-inch design
The 15-inch MacBook Air is expected to be a larger version of the 13.6-inch MacBook Air. Specifically, the new laptop is rumored to measure 15.2 inches. As MacRumors notes, this would make it 0.2 inches smaller than the old 15.4-inch Macbook Pro. It should have thin bezels like the MacBook Air M2.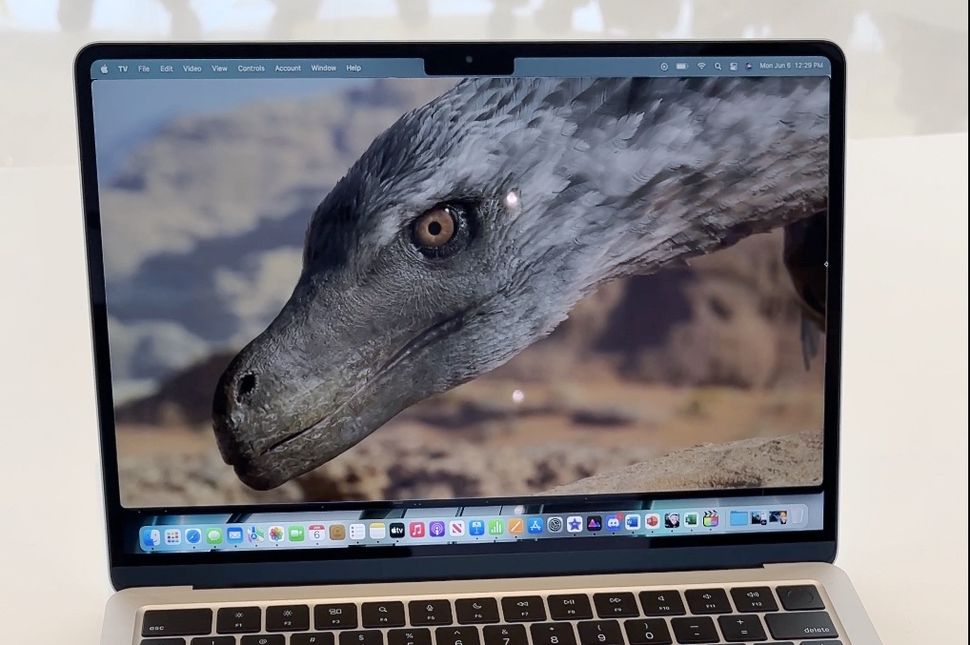 Instead of a tapered design, the new laptop should have flat edges like the new 13-inch Air and a function key row. The 15-inch notebook is also expected to have a 1080p webcam, upgraded speakers and MagSafe charging. But we would not expect an SD card slot or HDMI port like the Pros have.
The 15-inch MacBook Air will likely feature a 500-nit Retina display like the 13-inch MacBook Air. We don't anticipate a premium mini-LED as that will likely remain a MacBook Pro feature.
MacBook Air 15-inch specs
Mark Gurman has the MacBook Air 15-inch slated to come with the Apple M3 chip, an evolution of the M2 chip that'll likely offer more performance yet better power efficiency.
Ming-Chi Kuo suggested something different in that Apple may be working on a 15-inch MacBook with M2 and M2 Pro variants. It's possible this 15-inch laptop is the MacBook Air.
As for other specs, one could expect RAM to start at 8GB and go up to 16GB or 32GB at a push. Storage could start at a trim 128GB but go up to 1TB.
MacBook Air 15-inch outlook
Rumors about the MacBook Air 15-inch keep coming. Even if this new Apple laptop doesn't launch in April as reports now suggest, it seems likely it will release at some point in the future. If so, it seems like a great alternative to the MacBook Air 2022.
We're not too surprised to hear the MacBook Air 15-inch will sport the M3 chip, given how the Air could launch a year after the M2 made its debut. Could there also be a configuration packing the new M2 Pro chip? We can't say for certain, but it would be an interesting prospect.
We'll continue updating this page with any relevant rumors and news. Stay tuned!