The MacBook Air M2 is the best laptop for most people, and a better choice than the latest Dell XPS 13, even if Apple's machine is more expensive. The M2 chip outperforms the Dell's Intel CPU, and the MacBook display is more vibrant and sharper. You get more ports, too.
For
Bright, colorful 13.6-inch display
Strong M2 performance
Impressively long battery life
Against
Pricier than previous model
Supports only single external monitor
You can save as much as $400 by opting for the Dell XPS 13 over the MacBook Air, and you get a lighter laptop as part of the bargain. Dell also lets you configure the display on its machine with a touchscreen. The XPS 13 battery performs well, even if it's not as long-lasting as the MacBook Air's battery.
For
Ultraportable design
Solid display quality
Excellent battery life
Against
Middling performance
Weak 720p camera
You've got a choice when it comes to ultraportables. And our MacBook Air M2 vs. Dell XPS 13 (2022) can help you get an idea of which is the better choice for your needs.
The Dell XPS 13 (2022) is the latest iteration of the company's popular laptop line. Like its predecessors, it features an ultraportable design that makes it easy to carry wherever you go. And while this version lacks some features we've grown accustomed to, its epic battery life and low cost of entry make it a laptop worth considering.
The XPS 13 line is effectively Dell's answer to Apple's own ultraportable, the MacBook Air. Since we've reviewed the Dell XPS 13 (2022) and MacBook Air M2, we thought it would be good to compare the two laptops to determine the better overall deal for most people.
Granted, a lot comes down to whether you prefer Windows 11 or macOS Ventura. Both are solid operating systems with their own strengths and weaknesses, and these two laptops show them off to great effect. But if you're open to either and want to know which of these flagship ultraportables is the best laptop for you, read on for our blow-by-blow breakdown.
MacBook Air M2 vs Dell XPS 13 (2022): Specs
Swipe to scroll horizontally
| | | |
| --- | --- | --- |
| Row 0 - Cell 0 | MacBook Air 13-inch (M2, 2022) | Dell XPS 13 (2022) |
| Price | from $1,199 | from $799 |
| Display | 13.6 inches (2560 x 1664) | 13.4-inch FHD (1920 x 1200) 60Hz |
| CPU | 8 core M2 CPU | 12th gen Intel Core i5, Core i7 |
| GPU | 8-10 core M2 GPU | Intel Iris Xe integrated graphics |
| RAM | 8GB to 24GB | 8GB to 32 GB |
| Storage | 256GB to 2TB SSD | 512GB to 2TB SSD |
| Ports | Two Thunderbolt / USB-4, mic | 2 Thunderbolt 4 / USB-4 |
| Size | 11.97 x 8.46 x 0.44 inches | 11.63 x 7.86 x 0.55 inches |
| Weight | 2.7 pounds | 2.59 pounds |
MacBook Air M2 vs. Dell XPS 13 (2022): Price
The entry-level Dell XPS 13 configuration currently costs $799. This model packs a 13.4-inch FHD (1920 x 1200) 60Hz non-touch display, along with a 12th gen Intel Core i5-1230U processor, Intel Iris Xe graphics, 8GB of RAM and 512GB of SSD storage.
The MacBook Air M2 starts at $1,199, which is $200 more than the MacBook Air M1. The starting configuration gives you an 8-core CPU, 10-Core GPU, 8GB of unified memory and 512GB of storage. This is a premium machine, but those are good specs for the money.
On price alone, the Dell XPS 13 could be the winner for some people — especially for anyone who prefers Windows laptops. But as we'll see moving forward, there are other factors to consider besides price.
MacBook Air M2 vs. Dell XPS 13 (2022): Design
The MacBook Air M2 is thin enough to be easily mistaken for an iPad when closed, especially with the Apple logo facing out. That's how slim this notebook is. Measuring just 0.44 inches thick with the lid open, an everyday Bic pen looks chunky next to Apple's machine.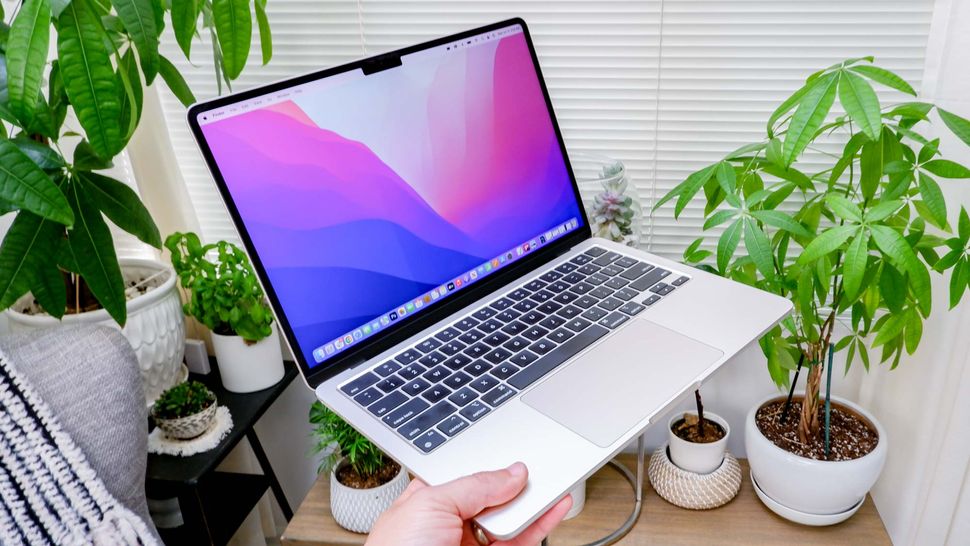 Overall, the Air M2 is 20% smaller than its predecessor in terms of volume, and yet you get a bigger 13.6-inch display. Some people aren't fans of the notch at the top of the screen, but we didn't find it too distracting in our review.
The MacBook Air's 2.7-pound all-aluminum chassis delivers a great balance of durability and light weight. We also like how Apple's ultraportable has an easy-to-grab lip on the front which makes it easy to open with one hand. The XPS 13 has no such feature, and during our review, we missed that little lip on the front of the MacBook Air M2.
Dell XPS laptops are known for being elegant ultraportable machines. That aspect hasn't been lost with the latest XPS 13. In fact, it's even slimmer and lighter than its previous iteration, which came in at 11.7 x 8.2 x 0.58 inches with a weight of 2.9 pounds. In contrast, the latest model is 11.63 x 7.86 x 0.55 and weighs 2.59 pounds. The XPS 13 isn't as thin as the MacBook Air M2, but it is lighter and has an overall smaller footprint.
The machined aluminum chassis is fetching and gives the laptop an air of elegance. Not only does it look striking, but it also feels good to hold when you're carrying it around. With the exception of a Dell logo etched on the lid, the laptop has no adornments.
MacBook Air M2 vs. Dell XPS 13 (2022): Display
The MacBook Air M2 has a bright and colorful 13.6-inch panel (2560 x 1664 pixels) for watching videos, editing photos and handling everything else you want to do with no trade-offs. Conversely, the XPS 13 has a 13.4-inch FHD (1920 x 1200) 60Hz display with a 16:10 aspect ratio. The displays are roughly the same size but their respective picture quality is what truly sets them apart.
On our brightness test, the Dell XPS 13's display achieves an average of 460 nits of brightness and hits 467 hits around the center of the screen. This is lower than Dell's advertised 500 nits, but it's not terribly far off. In contrast, the MacBook Air M2 achieves an average of 473.6 nits of brightness, though it hit 498 nits with HDR content. (The Dell XPS 13 does not support HDR.)
Color reproduction and accuracy are solid on the XPS 13. The display registered 105% of the sRGB color gamut and 74.4% of the more demanding DCI-P3 color space. (The closer to 100 on both, the better.) In comparison, the Air M2's display registered 107% and 75.9% on those respective tests. Dell's notebook has a Delta-E accuracy score of 0.18 compared to the Air M2's 0.22, with 0 being a perfect score.
Swipe to scroll horizontally
| | | |
| --- | --- | --- |
| Row 0 - Cell 0 | Dell XPS 13 2022 | MacBook Ai M2 |
| Nits (brightness) | 460 | 473.6 |
| sRGB | 105% | 107% |
| DCI-P3 | 74.4% | 75.9% |
| Delta-E | 0.18 | 0.22 |
Neither display looks bad, but the MacBook Air M2's higher resolution makes for an overall sharper, more detailed image. Granted, you can only see so much on a 13-inch display, but the higher image quality is still noticeable on the Air M2 when compared directly to the XPS 13.
The main differentiating point here is that the XPS 13 can be configured with a touch display. That might be useful to some, or completely pointless to others. Regardless, this is something Dell's laptop has that Apple's doesn't offer.
MacBook Air M2 vs. Dell XPS 13 (2022): Ports
The laptops keep things minimal in the port selection department, with both machines sporting a pair of Thunderbolt 4/USB-C ports each. This is where the similarities end, however.
The MacBook Air M2 has a MagSage power adapter which makes it easy to magnetically attach the cable connector to the system. That, in turn, helps prevent the laptop from falling if someone accidentally tugs hard on the cable. The MacBook Air also has a headphone jack if you like using wired headphones.
That last point is important as the XPS 13 has no headphone jack to speak of. You could argue that a laptop doesn't need a headphone jack due to the prevalence of Bluetooth devices. Similarly, you might believe the headphone jack had to be sacrificed on the XPS 13 in order to make the laptop this thin.
We think that argument falls flat since the thinner MacBook Air M2 retains a headphone jack. The Samsung Galaxy Book 3 Pro 360 is about as thin as the XPS 13 and it not only has a headphone jack, but an HDMI and USB-A port.
The XPS 13 comes with a USB-C to USB-A 3.0 adapter and a USB-C to 3.5mm headset adapter. That's appreciated, but we would have liked a proper headphone jack instead.
MacBook Air M2 vs. Dell XPS 13 (2022): Performance
Let's cut to the chase: The MacBook Air M2 stomps on the Dell XPS 13 in our performance tests.
Swipe to scroll horizontally
Geekbench 5.4 results

| | | |
| --- | --- | --- |
| Row 0 - Cell 0 | Single-core | Multi-core |
| Dell XPS 13 2022 | 1,596 | 6,489 |
| MacBook Air M2 | 1,911 | 8,965 |
On Geekbench 5.4, which measures overall performance, the XPS 13 hit 1,596 on the single-core CPU test and 6,489 on the multi-core. In contrast, the MacBook Air M2 scored 1,911 on the single-core and 8,965 on the multi-core test.
Swipe to scroll horizontally
Handbrake (Video transcoding)

| | |
| --- | --- |
| Row 0 - Cell 0 | Time (min:sec) |
| Dell XPS 13 2022 | 16:54 |
| MacBook Air M2 | 9:31 |
On our Handbrake video editing test, which involves transcoding a 4K video clip to 1080p, the Dell XPS 13 took 16 minutes and 54 seconds to complete the task. This is glacially slow compared to the MacBook Air M2, which performed the same task in 9 minutes and 31 seconds.
Neither machine excels at gaming when compared to the best gaming PCs. With that said, Apple's laptop performs better with games that support macOS.
Swipe to scroll horizontally
Sid Meier's Civilization VI: Gathering Storm

| | | | |
| --- | --- | --- | --- |
| Row 0 - Cell 0 | 1,920 x 1,200 | 1,496 x 956 | 1920 x 1080 |
| Dell XPS 13 2022 | 13.3 fps | N/A | N/A |
| MacBook Air M2 | N/A | 46 fps | N/A |
Getting Civilization VI to run in a comparable resolution to most Windows laptops isn't easy. The highest resolution we could get the M2 Air to run Civ VI at was 1,496 x 956, which is significantly lower than the Air's 2,560 x 1,664 native resolution. At that resolution, the Air M2 achieved an average of 40.3 frames per second (fps) in the graphical benchmark. In contrast, we registered just 13 frames per second (fps) at both 1080p and 1200p resolutions on the XPS 13 — which is effectively unplayable.
MacBook Air M2 vs. Dell XPS 13 (2022): Webcam
The MacBook Air M2's 1080p webcam is good but not great. In his review, Tom's Guide Global Editor-in-Chief Mark Spoonauer (who appears in the first test shot) noticed a yellow cast and less detail in his hair, skin and green T-shirt versus his usual webcam when on a Google Meet call.
But even if the Air M2's webcam doesn't blow us away, it's still better than the XPS 13's middling 720p camera. The webcam won't make you look horrible, but if you're anywhere with decent lighting, you should appear presentable. You can see that in the image above taken in our office. The image is grainy and somewhat washed out.
MacBook Air M2 vs Dell XPS 13 (2022): Battery life and heat
The MacBook Air M2 is one of the longest-lasting laptops for the money. On the Tom's Guide battery test, which involves continuous web surfing at 150 nits of screen brightness, the Air M2 averaged 14 hours and 6 minutes. The XPS 13 lasted for 13 hours and 11 minutes. That's not as long as the Air M2, but still very impressive.
In our standard heat test, which involves running a heat gun over the laptop after streaming 15 minutes of full HD video, we found the hottest point of the XPS 13 to be on the rear left underside of the XPS 13, which peaked at 100 degrees Fahrenheit. Generally, we consider temperatures over 95 degrees to be uncomfortable. The laptop's fans are noticeable but don't get very loud.
Apple's MacBook Air M2 is quieter by comparison since it relies on passive cooling (that is, no fans or moving parts) and performance throttling to keep the laptop cool under pressure. In practice, it works well; in our heat test, we measured a peak temp 83.5 degrees at Air M2's hottest point, on the underside of the laptop near the hinge.
MacBook Air M2 vs. Dell XPS 13 (2022): Keyboard and touchpad
The MacBook Air M2's Magic Keyboard proved swift and responsive in our testing. The key mechanisms are snappy enough, and the travel suffices as well, as we had no problem writing and editing documents during a long commute on the bus.
As per usual, the Air's large touchpad is accurate and makes it easy to perform various gestures, from pinch to zoom to showing all your open apps. Having the Touch ID button embedded in the keyboard makes logging in easy, but we wish Apple would support Face ID to make unlocking the system even faster.
We found the XPS 13's keyboard just big enough to type comfortably for extended periods. The backlit keys have good travel distance and produce a satisfying amount of resistance when pressed.
One of our favorite XPS features is the soft textured carbon fiber covering the palm rests. Unfortunately, 2022's XPS 13's palm rests are plain aluminum like the rest of the laptop. That's a major disappointment considering how the soft texture makes typing on machines like the Dell XPS 15 OLED (2022) and Alienware x14 such a joy. The soft palm rests are definitely missed.
MacBook Air M2 vs. Dell XPS 13 (2022): Bottom line
Based on all the factors listed above, the MacBook Air M2 has more going for it than the Dell XPS 13. It has a sharper, more vibrant display and more ports. Apple's laptop is also more performant than Dell's laptop, and it offers even longer battery life. Even though it has a higher starting price, the MacBook Air M2 is arguably the better laptop for most people. The fact the latest XPS 13 isn't on our best laptops list says a lot.
With that said, there are several reasons you might want to consider the Dell XPS 13 over the MacBook Air M2. Price is the main factor, as Dell's laptop costs several hundred dollars less than Apple's even if you opt for better specs. And if you're a Windows user, then Dell's notebook might be more for you. But if you want a great Dell laptop, the Dell XPS 13 Plus or Dell XPS 15 OLED are better MacBook alternatives.