Netflix Tudum 2022 recap: The Witcher season 3, Squid Game, Shadow and Bone and more
Netflix's Tudum is here to tease upcoming shows and movies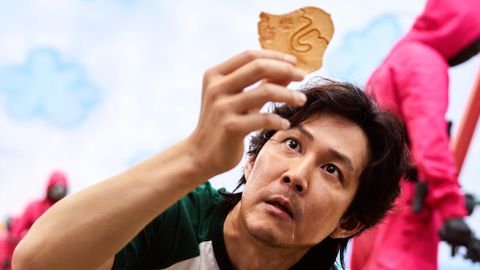 (Image: © Netflix)
Today, we watched Netflix Tudum online together to see, hear and learn more about Netflix's future. The big red streaming machine has a key spot on our best streaming services list for good reasons — depth and breadth — but it's currently lacking a little in the hype machine.
As we've noted, the Netflix fall TV schedule is lacking beyond The Crown season 5 — which will likely be a part of today's event. We say 'likely' because Netflix has been hyping up Tudum in a very particular manner, listing shows (not always including the season they'll be discussing). Want something new, but sooner? We've got everything new on Netflix this week.
For example, Netflix teased "Special cast member appearances from: Squid Game, Bridgerton season 3, Emily in Parison season 2, Heartstopper and more" in an email to the press. This way, they can say they're not disappointing anyone who expects the Squid Game cast to be talking about Squid Game season 2 (which is what we want). Instead, the cast could tell us about the making of the first season, or something else. Netflix very well may give us more, but they've yet to tip their hand on that.
Elsewhere in Tudum, we'll get the Enola Holmes 2 trailer from Millie Bobby Brown, plus an appearance from Reese Witherspoon and Ashton Kutcher, who will reveal the release date of their upcoming Netflix romantic comedy, Your Place Or Mine.
So, let's talk Tudum (the sound in Netflix's intro bumper, if you didn't figure that out) and keep it locked to our Tudum live blog for all things Netflix!
Netflix Tudum's biggest news
The Witcher: Blood Origin's release date is Dec. 25, 2022! But The Witcher season 3 isn't coming until 2023.
We got our first sneak peek at Shadow and Bone season 2.
You season 4 is split in two halves. Part 1 on Feb. 10, 2023 and part 2 on March 10, 2023.
Emily in Paris season 3 is coming December 13, and Emily's even trimming her own bangs.
The Old Guard 2 will add Henry Golding and Uma Thurman!
The Crown season 5 arrives November 9, 2022.
Director Hwang Dong-hyuk presented a Squid Game deleted scene that was meant to further reveal the Front Man's identity. We're curious about the person watching the Front Man from the street.
Refresh
Hwang Dong-hyuk, the director of Squid Game, gave the Korean Tudum live stream one of the first big treats of the weekend. This above clip was a Squid Game deleted scene, and was to provide further confirmation of the Front Man's mysterious identity — In-ho, the brother of detective Jun-ho. Here, he comes home to put a goldfish in a bowl, tying that metaphor full-circle.
Before he delivered that clip, though, Hwang Dong-hyuk thanked audiences for loving Squid Game, asked that we look forward to Squid Game season 2 and said (if the subtitles are to be taken literally) that the new season will be filled with "all-new stories." That said, we do know that the new season won't only feature new cast members, as he told the press at the Emmys that Seong Gi-hun will be seeking revenge in season 2.
The Korean section of Tudum also gave us our first look at the second batch of episodes from Money Heist: Korea - Joint Economic Area. The series, which is about another planned theft — this time at the Korean mint — takes place during a time where the two Koreas are supposed to be combined. But not all is well, as some see this as only benefitting the rich. This tense and violent clip is unnerving to say the least. Release date is TBA.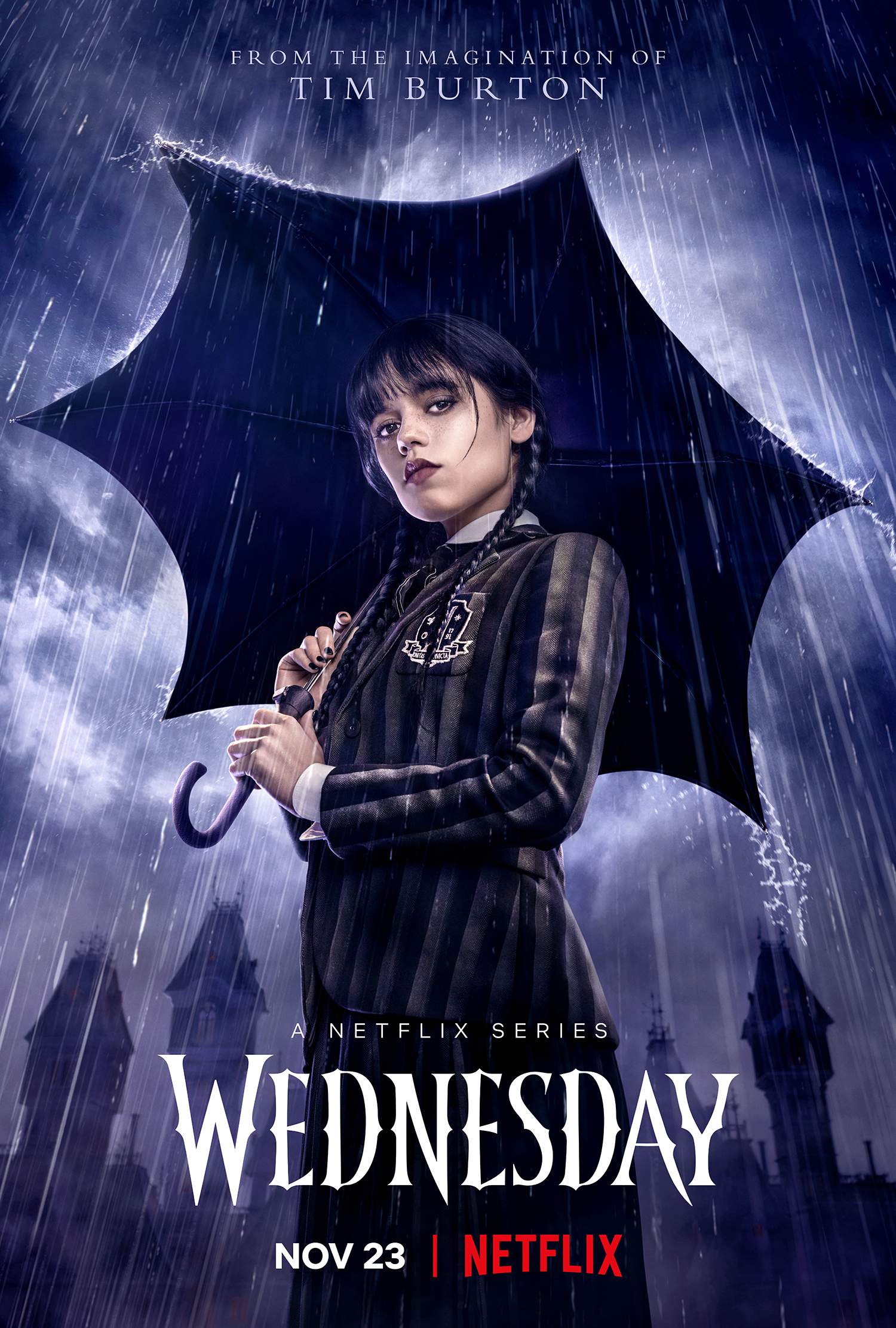 Tudum will give us a new clip from the Addams Family series Wednesday, presented by Jenna Ortega, the actress taking on the iconic goth girl character made famous by Christina Ricci. Yesterday, though, Netflix provided a Nov. 23 release date, and the above poster for the show.
Netflix also released this quote from Ortega about her character: "Wednesday is currently a teenager, and we've never seen her as a teenager before. Her snarky, snide remarks might not necessarily sound as charming when they're coming from somebody who should probably know better than a 10-year-old girl. That was a balancing act. We didn't want to make her sound like every other teenage girl, but we also didn't want to make her too ignorant. And we've never seen her on screen this much. Any other time you've seen Wednesday, she's been the one-liner, the end of a joke, she always hits it, and I think that's what people really love about her. But in this show, every scene is Wednesday. There's an opportunity to give her a bit more dimension, and she becomes a bit more of a real person, which I don't think we've ever seen before."
While we hope for Bridgerton season 3 news at Tudum, Netflix is also giving us some adjacent Bridgerton universe news. The above photo is our first look at Queen Charlotte: A Bridgerton Story, a prequel limited series. Here, we see series star India Amarteifio as Queen Charlotte. Other actors reprising their roles include Golda Rosheuvel, as well as Adjoa Andoh as Lady Agatha Danbury and Ruth Gemmell as Lady Violet Bridgerton.
The logline for the show states that it "this Bridgerton-verse prequel" is "Centered on Queen Charlotte's rise to prominence and power," and "tells the story of how the young Queen's marriage to King George sparked both a great love story and a societal shift, creating the world of the Ton inherited by the characters in Bridgerton."
The below new cast members were also included in the announcement:
India Amarteifio (Line of Duty) as Young Queen Charlotte
Michelle Fairley (Gangs of London) as Princess Augusta
Corey Mylchreest (The Sandman) as Young King George
Arsema Thomas as Young Agatha Danbury
Sam Clemmett (Harry Potter and the Cursed Child – West End and Broadway, The War Below) as Young Brimsley
Freddie Dennis (The Nevers) as Reynolds
Richard Cunningham (The Witcher) as Lord Bute
Tunji Kasim (Nancy Drew) as Adolphus
Rob Maloney (Casualty) as the Royal Doctor
Cyril Nri (Cucumber) as Lord Danbury
Hugh Sachs (Bridgerton Seasons 1 & 2) as Brimsley (older)
Tudum, much like Netflix itself, is a worldwide affair. That's why they presented a 26-plus minute presentation to fans in India. This section of Tudum broke news that Netflix is making an Indian version of Elite, its popular Spanish teen drama. It also teased Bollywood director Vasan Bala's upcoming film Monica, O My Darling.
I love how Netflix pretends Tudum is all shot in one building.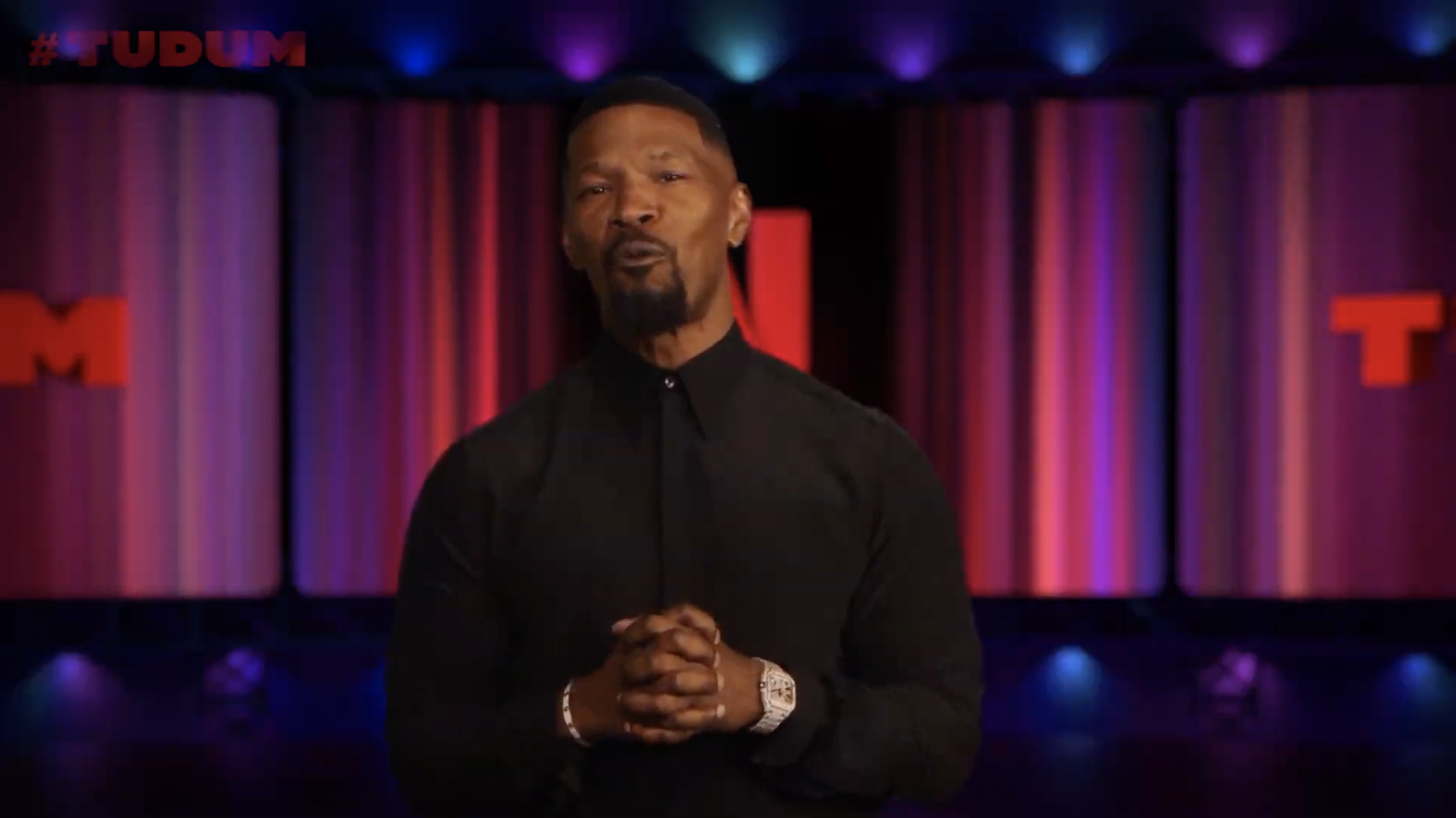 So, Jamie Foxx is the main host of the show, and he's teased Bridgerton in 5 minutes, and Millie Bobby Brown is up first!
So, the Enola Holmes 2 trailer shows Enola Holmes having started her own detective agency (while her brother Sherlock is having his own troubles). A young woman has hired her to find her missing sister, and Enola's going undercover to find her. Oh, and not only Enola seems to have heart eyes for Viscount Tewkesbury (Louis Partridge), but Sherlock's case is connected to hers.
Now, the trailer for Gal Gadot's action movie Heart of Stone. It looks like a big-budget blockbuster.
Heart of Stone is coming in 2023, and Gadot's character seems to be an adrenaline junkie of sorts.
Now, we've got Claudia Jessie (Eloise) and Luke Newton (Colin) from the cast of Bridgerton trying to draw and answering fan questions. Nicola Coughlan (Penelope) surprised them both — with the script for Bridgerton season 3 episode 1. She read a little bit of the script, and teased the question of which debutante will shine the brightest.
And, here, we've been introduced to India Amarteifio, who will be playing Queen Charlotte. OMG! Shonda Rhimes is here, to possibly give us more?
Yes, we've got an "extremely early first look" at Queen Charlotte.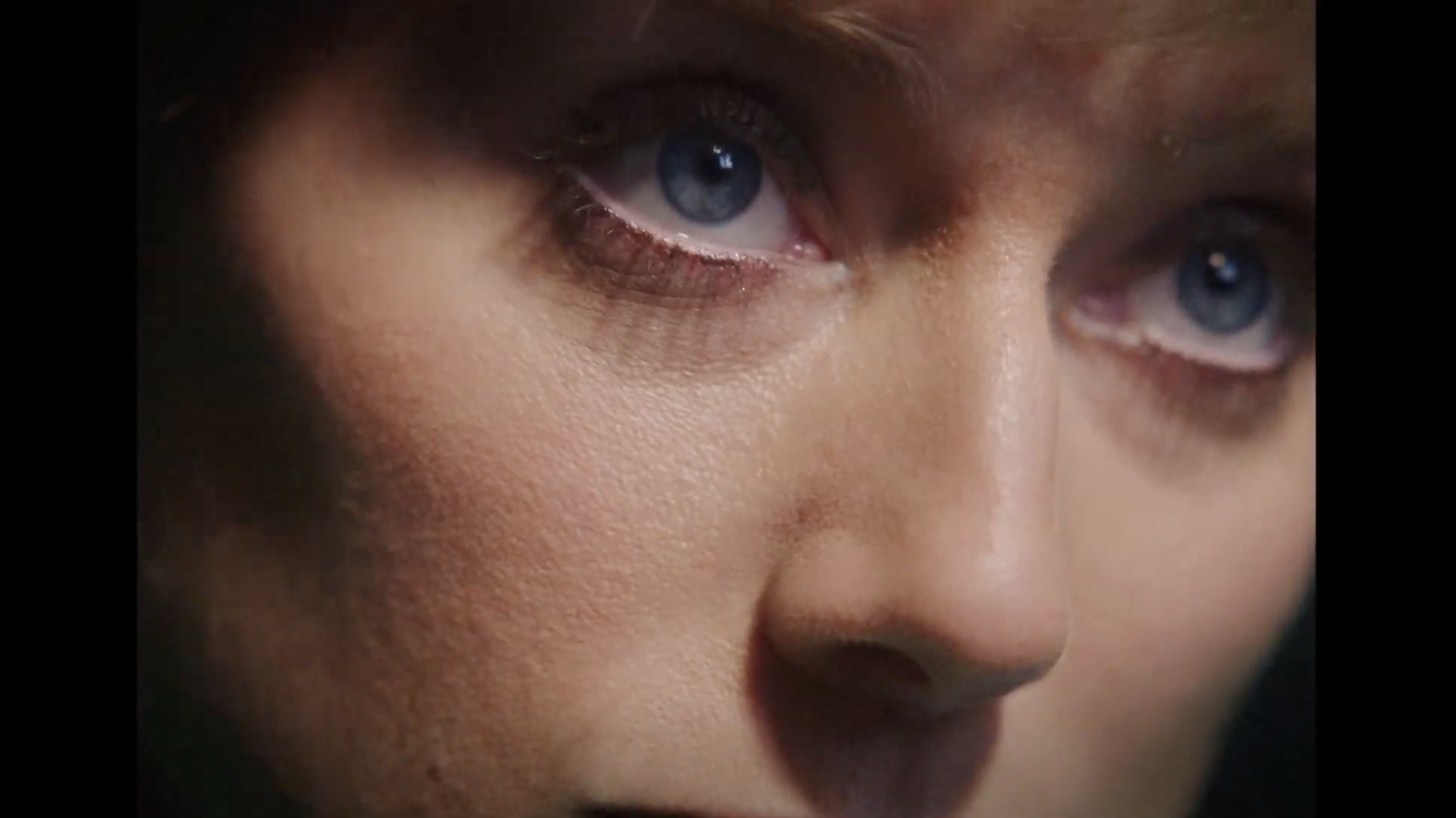 Now, it's a first look at Diana in The Crown season 5, through the lens of the press. It's an extremely brief look.
BUT WE GOT A RELEASE DATE: NOVEMBER 9, 2022!
Emily's cutting her own bangs in Emily in Paris season 3, which is coming December 21st!
In this Wednesday preview, Jenna Ortega's chemistry with Thing the hand is fantastic. She even gets him to pledge loyalty.
Boarding time! Fans of saved-show Manifest will probably be super-happy with this Manifest season 4 trailer. Passenger bodies are found, odd transmissions are heard and ... they're starting to realize what happened with the storm. "Divine consciousness" was also said.
3 Body Problem time. This adaptation of Liu Cixin's books looks to tell the history of communication with alien life.
Jason Momoa's fantasy film Slumberland (an adaptation of Nemo's Adventures in Slumberland) looks beautiful. And he has the charisma to pull most off, but there's also Dream Cops to watch out for.
Maitreyi Ramakrishnan is here to give a behind the scenes look at Never Have I Ever season 4 — which is coming in 2023. And there's going to be a wedding featuring characters you didn't see coming. Michael Cimino is joining the cast, and may be a "smouldering bad boy."
Emmy Raver-Lampman and Aiden Gallagher are here to show off The Umbrella Academy bloopers!
Wardrobe malfunctions are the name of the game for Umbrella Academy's cast, it seems. No Umbrella Academy season 4 news!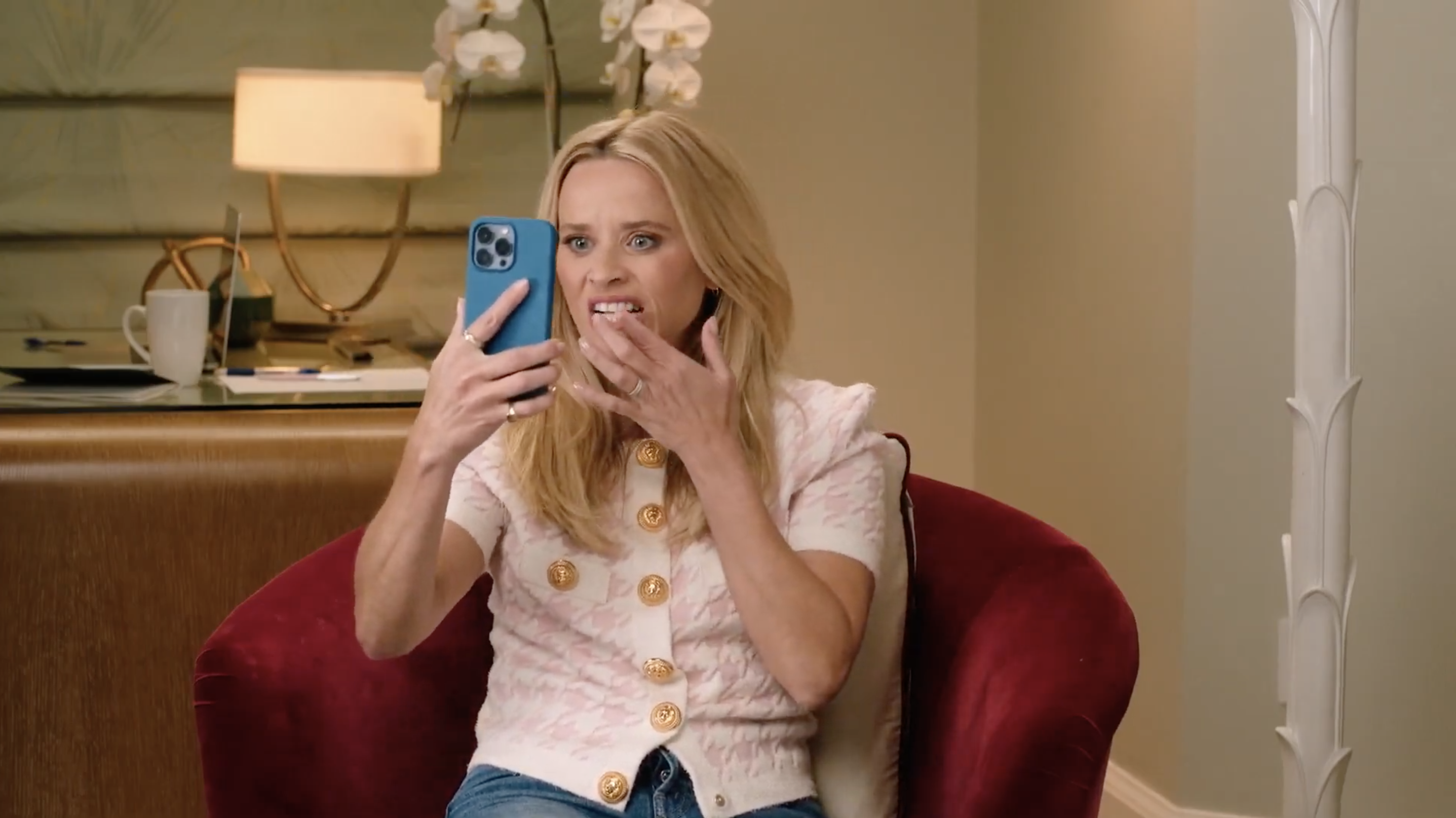 Reese Witherspoon and Ashton Kutcher revealed their romcom Your Place or Mine is coming on February 10 (right in time for Valentine's Day!).
Noah Centineo's top secret Netflix thriller series is called The Recruit, and it's coming on December 16.
Pedro Alonso (Berlin in La Casa De Papel/Money Heist) is sitting down with Álex Pina, to talk about La Casa De Papel: Berlin. It's all about love and heists.
Scott Mescudi/Kid Cudi's Entergalactic is an animated Black love story where its protagonist just took mushrooms. It looks impressive and interesting.
Stills won't suffice for that one. I am still looking for the trailer for you.
Up next, The Redeem Team is a documentary about LeBron James' Team USA Olympics basketball team. Footage includes interviews with Kobe Bryant.
This look goes heavy on a moment where Kobe Bryant didn't pull any punches on Lakers teammate Pau Gasol on the court when they weren't teammates. And many other NBA players share their thoughts on that epic moment.
Up now? Jennifer Lopez's film The Mother, which looks like a high-budget badass action movie for J.Lo that could be her version of Taken. Coming May 2023.
Okay, now it's time for You! And Joe's got a new name — Prof. Jonathan Moore — in a new locale, the UK. A bevy of new characters were introduced in rapid succession.
You season 4 is coming in two parts: with part 1 on February 10 and part 2 on March 10.
Bobby Carnevale and Naomi Watts have to deal with The Watcher, the Ryan Murphy thriller coming to Netflix on October 13. Some mysterious creep isn obsessed with their house, and all of their neighbors are suspects.
Co-stars in The Water include Jennifer Coolidge, Mia Farrow and Margot Martindale.
Minnie Driver is joining the cast of The Witcher: Blood Origin, and she says her character is critical in connecting the world of The Witcher and this prequel series.
Michelle Yeoh is here, she plays Scian in Blood Origin. We see footage of her holding a huge sword. And she's talking about how she chose her eye color as a pale green to be unique.
And we've learned Blood Origin's release date is Dec. 25, 2022!
I missed this clip earlier, but you need to see Guillermo del Toro with his props from his Pinocchio movie! The scale is amazing.
Chris Hemsworth just showed off some of 2023's Extraction 2.
Vikings: Valhalla season 2 time! This clip shows the pack on the run from warriors, who are attacking them from all sides. The numbers game looks deadly against them. It's coming in 2023.
Netflix's 1899, a series about immigrants on a ship who get "caught in a mysterious riddle" about another ship, is coming on Nov. 17.
Jamie Foxx, John Boyega and Teyonah Parris star in the sci-fi movie They Cloned Tyrone, which looks unapologetically Black and fantastic. Foxx and Parris' characters look to annoy Boyega's the whole time.
Anya Chalotra and Freya Allan are giving us a behind the scenes tour of The Witcher season 3, showing off how floating stunts look, with an exterior view of one of the show's vessels.
Our latest look at what's coming in Lupin Part 3 has our gentleman thief trying to stay alive while he's the most wanted man in Paris.
Okay, more Squid Game time ... wonder if this is the same clip they released for Korea. Looks like more than that.
Director and writer Hwang Dong-Hyuk, and stars Oh Young-soo, Lee Jung-jae, Park Hae-Soo and Anupam Tripathi are here on a virtual soundstage.
Oh, it's the same clip from the earlier show. Boo.
They're also showing off a clip from the second part of Money Heist: Korea.
Jamie Foxx is talking about the 30 Netflix games, and he's now onto OXENFREE, a critical darling that's getting a Netflix edition.
I've tried one Netflix game before. It was a puzzle game. I got over it. Supposedly OXENFREE's Netflix edition is out right now. Jamie Foxx is holding up his iPhone as he's excited, so I'm going to believe that it's on both iOS and Android.
A SpongeBob game is coming on Sept. 27, Stranger Things and Narcos are getting Netflix editions, and so is Kentucky Route Zero.
James Marsden is talking Dead to Me season 3, and he debuts what appears to be the first trailer for the new season. It looks like Jen (Christina Applegate) is finally coming clean to Judy (Linda Cardellini) so she doesn't have guilt she shouldn't have.
Tobie Donovan is talking Heartstopper, and has news about season 2. The big news here? Well, Netflix users will finally get Heartstopper character icons!
The new clip from Knives Out 2 is all about the puzzle sent out to all of the guests for Miles Bron (Edward Norton)'s birthday party. Here, we got to see a little more of characters played by Kate Hudson, Dave Bautista, Kathryn Hahn and many more. Then, we got a brief moment of Benoit Blanc (Daniel Craig).
This clip shows a bit of The Pogues' island paradise, but the return home happens shortly thereafter. In fast motion, we see that golden cross, gunfire and a beautiful sunset. It's coming in 2023.
Kerry Washington up to talk The School for Good and Evil, where students' fingers are pierced to emit a glow that shows off the power inside them. But one student, Sophie (Sophia Anne Caruso), is up to no good. And her power activation spells drama for any in their way. This looks camp as heck, in a fun way.
Okay, Hawkins hive, it's finally Stranger Things time.
Stranger Things actors — Finn Wolfhard, Caleb McLaughlin, Sadie Sink, Gaten Matarazzo and Priah Ferguson in the younger group, and David Harbour, Joe Keery and Joseph Quinn in the older pack — are being put to a quiz of trivia about their own stories from fans. It's cute.
I need more Joesph Quinn here.
And, now, Stranger Things 4 bloopers! Everyone is amazing here. But Maya Hawke and Joe Keery stole it all up front. A fair amount of Joseph Quinn, too, but it's Vecna bloopers that are the least expected.
Is this the first time I've ever heard Finn Wolfhard's real voice?
Get the Tom's Guide newsletter!
Instant access to breaking news, the hottest reviews, great deals and helpful tips.
Thank you for signing up to Tom's Guide. You will receive a verification email shortly.
There was a problem. Please refresh the page and try again.