The hunter becomes the prey in You season 4 part 1. The hit Netflix drama brings back serial killer/stalker Joe Goldberg for more murderous sprees. He is hiding out in jolly old England under the fake name Jonathan Moore.
You season 4 part 1 on Netflix
You season 4 part 1 begins streaming Thursday (Feb. 9) at 3 a.m. ET / 12 a.m. PT / 8 a.m. GMT / 7 p.m. AEDT on Netflix.
You, one of the best Netflix shows, has tracked Joe from New York City, where he murdered Guinevere Beck and several others, to Los Angeles, where he fell for Love Quinn and discovered she was just as unhinged as him. When she got pregnant, they got married and moved to the suburban nightmare of Madre Linda.
In season 3, Joe and Love welcomed a baby boy, Henry, but they simply could not stop adding to their body count. Their tense marriage ended explosively (literally) and Joe wound up in Paris, searching for his latest stalking target, Marienne.
However, it seems his time in the City of Love doesn't last. Joe, now called Jonathan Moore, is living in London and teaching literature as a college professor. He's got a new circle of acquaintances to possibly terrorize and kill. And as the You season 4 trailer indicates, Joe becomes the target for a mysterious stalker himself!
Here's what you need to know to watch You season 4 part 1. Plus, scroll down to watch the trailer.
When does You season 4 part 1 come out on Netflix?
You season 4 part 1 premieres on Netflix on Thursday (Feb. 8) at 3 a.m. ET / 12 a.m. PT / 8 a.m. GMT / 7 p.m. AEDT.
The first part consists of five episodes. You season 4 part 2, also made up of five episodes, drops March 9.
You season 4 part 1 trailer
The You season 4 trailer kicks off with Joe aka Professor Jonathan Moore being questioned about why he's in London. Then, it provides a glimpse of Joe finding Marienne, his librarian obsession from California, who fled to Paris. But it turns out the City of Love isn't very welcoming to Joe and he's forced to start over in a different city.
"Heartbreak is always a catalyst for a new path," Joe muses. He finds a job as a university lecturer, but as usual, becomes embroiled with a set of complicated acquaintances. And of course, someone catches his interest ...
You season 4 cast
The cast of You season 4 is led by Penn Badgley as Joe Goldberg, a stalker and serial killer. He also goes by the alias Jonathan Moore.
Also returning is Tati Gabrielle as Marienne Bellamy, a former librarian and Joe's most recent object of obsession. She is a single mom who fled to Paris after learning of Joe's nature.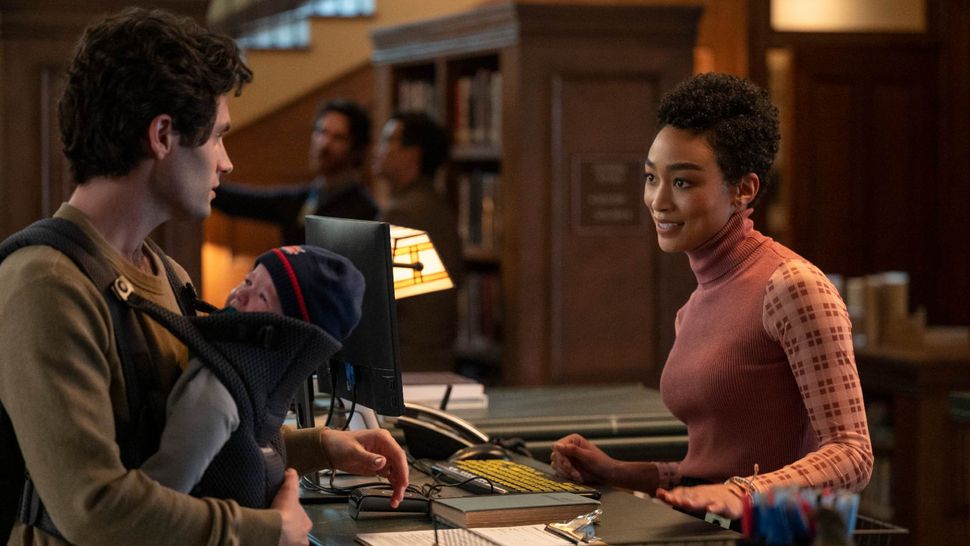 You season 4 will feature many new faces:
Stephen Hagan as Malcolm, a literature professor
Charlotte Ritchie as Kate Galvin, an art gallery director
Lukas Gage as Adam Pratt, a wealthy American who owns the private club Sundry House
Tilly Keeper as Lady Phoebe, a rich British socialite from an aristocratic family
Ed Speleers as Rhys Montrose, a successful author and budding politician
Amy-Leigh Hickman as Nadia, one of Joe's students
Aidan Cheng as Simon, an artist and the son of a Chinese tech mogul
Niccy Lin as Sophie, an influencer and Simon's sister
Ben Wiggins as Roald Walker-Burton, an aristocratic scion
Ozioma Whenu as Blessing, a Nigerian princess
Eve Austin as Gemma, a socialite
Dario Coates as Connie, an aristocratic scion
Sean Pertwee as Vic, Adam's bodyguard
You season 4 plot and story possibilities
You season 4 will pick up some time after the events of season 3, which ended with Joe living in Paris under the fake name Nick. He has been searching for Marienne and her daughter, believing they fled to the City of Love.
"The whole You team is excited to explore new, dark facets of love in season 4," creator and showrunner Sera Gamble told Deadline.
However, Netflix teasers and trailers have revealed that Joe is currently living in London. Perhaps he couldn't locate Marienne ... or maybe he did and she met the same deadly fate as his previous romantic targets. Now, he's crossed the Channel to take on the Brits.
Gamble told TVLine, "I would be excited to do a European season. I think that would be so fun. One of the questions we always ask on this show is, What pool of privileged douchebags do we want to throw Joe into next? And there are a lot of untapped pools around the world, if you just leave the borders of the United States."
And there's still the open question of his son, who's back in Madre Linda. Joe will undoubtedly feel tremendous guilt about leaving his son in the same way his own mother left him.
"I think it will shape him from this moment forward," Gamble told E! Online. "And even his exact plan of when and if he would return for his son is something that [the writers] will...come together and talk about for hours and hours and hours between snacks."
The other major question is whether Joe will ever face real repercussions for all the killing he's done. "[We] like thinking about the possibility that he'll be punished," Gamble noted. "We frequently end up spinning out just these theoretical conversations about what the most fitting one would be. Should he be killed? Oh no, that would be too easy. Should he be in jail?"