This week's Google October event should showcase the next generation of Pixel smartphones and smartwatches. Made by Google is set for October 4, meaning the countdown for new Pixel hardware is nearly at an end.
Based both on rumors and precedent, we expect the Google Pixel 8 and Google Pixel 8 Pro will headline Made by Google. It's also confirmed that we'll see the Google Pixel Watch 2, the company's second attempt at a Pixel-branded smartwatch, as well as a formal release of Android 14, Google's latest major software update.
Even with the event so close, we expect a few more leaks and rumors to surface that could provide answers to the lingering questions we have about Google's hardware releases. Below you'll find everything you need to know about Made by Google 2023, from event details to the latest information on all the expected devices.
Google Event: Latest News and Rumors
When is the Google October event?
Google sent out the official invitations for Made by Google on August 30, more than a month before the scheduled October 4 event date. According to the invitation, the Made by Google keynote kicks off at 7 am PT / 10 am ET / 3 pm BST.
As was the case for Made by Google 2022 and Google I/O 2023, we expect the event to be broadcast live on the Google Store website and the Made by Google YouTube channel. It will likely run for at least an hour, giving Google's product execs time to go into detail.
Be sure to check out our guide on how to watch the Made by Google event for more details.
Google Pixel 8
The Google Pixel 8 has been the subject of several recent leaks, with a number of renders and videos revealing what the smartphone might look like. From what we've seen, the Pixel 8 might have rounder corners and transition to a flat display. Otherwise, the phone seems to maintain the horizontal camera bar used since the Google Pixel 6.
But the display could be quite different compared to the Google Pixel 7. It could come with a smaller and brighter display measuring 6.17 inches, down from 6.31 inches. A rumored 120Hz refresh rate upgrade would also be big news for the entry level Pixel, since the Pixel 7 currently features a 90Hz display (which is the same as the Google Pixel 7a.)
The Pixel 8 will pack Google's next-gen Tensor G3 chipset. Leaks say the Tensor G3 will be based on the Exynos 2300 with a G5300 5G modem, while a separate report from claims that the Tensor G3 chip will receive a significant performance boost.
In terms of Pixel 8 colors, a wallpaper leak and alleged marketing renders suggest the phone should arrive in hues called Jade, Peony, Haze and Liquorice. The device will ship with Android 14 and 8GB of RAM, and was believed to start at $599 with 128GB storage. But a newer rumor suggests a price hike could happen.
Google Pixel 8 Pro
The Google Pixel 8 Pro and standard Pixel 8 will probably have a lot in common in terms of Android 14 software and Tensor G3 chipset performance, but there are some ways the Pixel 8 Pro will be more premium, too. For one, the ultrawide camera will allegedly move from a 12MP sensor on the Pixel 7 Pro to a 64MP on the Pixel 8 Pro. The Pixel 8 will probably stick with the 12MP sensor, while both devices will likely sport a 50MP main lens.
The Pixel 8 Pro's display is set to remain the same at 6.7 inches, but with the panel measuring one millimeter narrower with Google moving to a flat display. It should get the same 120Hz refresh rate as the regular Pixel 8 as well.
The same colors leak mentioned for the Pixel 8 above suggests the Pixel 8 Pro is coming in Jade Liquorice, Porcelain and Sky options. It's possible that the phone could finally get a matte finish on the back glass too, just like the Pixel Fold. We expect the phone to pack 12GB RAM and start at $899.
Google Pixel Watch 2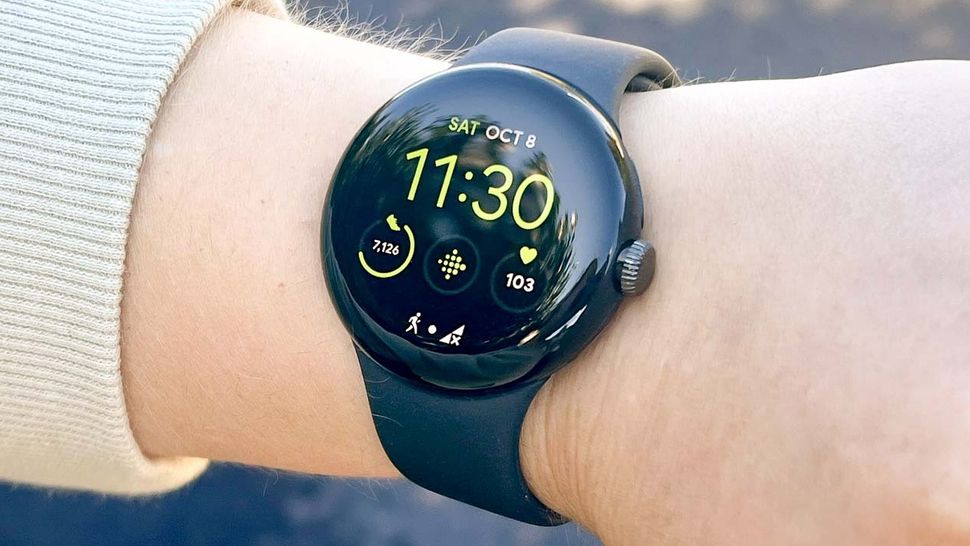 In addition to the Pixel 8 family, Google is likely to launch the Google Pixel Watch 2, a follow-up to the first Google Pixel Watch. We've seen a handful of ways Google plans to improve the Pixel Watch the second time around.
According to a report, Google may be swapping the stainless steel frame for aluminum, and that Fitbit may be powering a new "Coach" workouts feature with the device. We've also heard that the Pixel Watch 2 could receive a sizeable battery upgrade by swapping Samsung Exynos chips for Qualcomm's latest (and more efficient) Snapdragon W5 Plus silicon.
There's plenty on our wish-list for the Pixel Watch 2, perhaps the top request being a second size option. The debut Pixel watch only came in a 41mm size, which is too small for some users. We'll have to see how an additional size impacts price, though. For reference, the Pixel Watch started at $349, going up to $399 for LTE support.
Android 14
Normally, Google's already announced the latest version of Android is stable and ready for roll-out before its October product announcements. But this year we may see Android 14 appear at the same time as the new Pixel phones and Pixel Watch.
Because of an alleged delay in Google's launch plans, it now seems Android 14's arrival will be folded in with the refreshed Pixel devices. So even if you don't plan on buying one of Google's newly-announced products, you may still see updates like new wallpaper options, accessibility settings and other quality-of-life changes coming to your phone in the next few months, depending on how your phone's manufacturer plans to dole out its version of the Android 14 update.
More from Tom's Guide