The Google Pixel 8 Pro isn't far off launching, with its expected launch date coming October 4 at the Google event. Along with the Google Pixel 8, the Pixel 8 Pro could be a potential best phones candidate, taking on the top handsets from Samsung, Apple and more.
Last year's Google Pixel 7 and Google Pixel 7 Pro are still fantastic phones, but are showing their age compared to the latest Galaxy S23 models, and the upcoming iPhone 15 series. But hopefully, with camera upgrades, an updated design and new Pixel-specific software rumored to be on the way, the Pixel 8 Pro will reinforce Google's status as one of the world's top smartphone makers.
Read on for all the rumors on the Pixel 8 Pro, updated regularly with the latest news and leaks.
Google Pixel 8 Pro: Latest news (updated September 29)
Google Pixel 8 Pro: Release date and price
Google has announced a Made by Google event for October 4, and this is where the Pixel 8 Pro will be announced. Last year, the Pixel 7 Pro went on sale precisely a week after its reveal, which would mean we could see a Pixel 8 Pro release date of October 11.
The one big price leak we've had for the Pixel 8 Pro so far says it'll increase to $999. The $899 price of the Pixel 7 Pro was very competitive, so Google reducing this advantage could mean users are tempted by the similarly priced iPhone 15 Pro or Samsung Galaxy S23 Plus instead.
Google Pixel 8 Pro: Design
We can expect a few noticeable changes to the Pixel 8 Pro's design. Leaked renders from OnLeaks show that while the phone will still measure 6.7 inches like the Pixel 7 Pro, the Pixel 8 Pro will use a flat display instead of a curved one, which would change the look and feel of the phone.
The display will be a little under the QHD that the Pixel 7 Pro offers according to one source, but will still offer more pixels than the basic Pixel 8. The Pixel 8 Pro screen should also be getting brighter, going from a 1,400 nits rating to 1,600 nits, the same source says. This was later clarified to be the Pixel 8 Pro's HDR brightness, with its peak outdoor brightness apparently measuring a whopping 2,400 nits thanks to a new "Super Actua" display system.
Google's signature rear camera bar looks to be sticking around, as we can see in OnLeaks' renders as well as others showing off Google's new case designs. But one difference from the previous Pixel 7 Pro is that there's now one single glass section covering all three cameras, rather than two separated ones. Google's not trying to hide its phone from the public, evident in how the company gave everyone a sneak peek in a video posted to YouTube.
We have some info on possible Pixel 8 Pro color options, thanks to leaked wallpapers, as well as a Pixel 8 Pro image leak from Google itself. These suggest we'll get black, white and blue options to pick from this year, dropping the Hazel option available on the Pixel 7 Pro. These colors were seemingly confirmed when the Pixel 8 Pro was leaked by none other than Google through its 360-degree online simulator, as well as in later unofficial render drops.
Leaked images suggest that the Pixel 8 Pro may also follow the Pixel Fold's example, and offer a matte glass finish — instead of the glossy back glass we've had for the past few years.
While it's hard to confirm from the renders, there's a chance that the Pixel 8 Pro will be an eSIM-only phone, like we saw with the U.S. version of Apple's iPhone 14 series last year. You may have to ditch your physical SIM card if you've still got one and want to use the Pixel 8 Pro.
Google Pixel 8 Pro: Cameras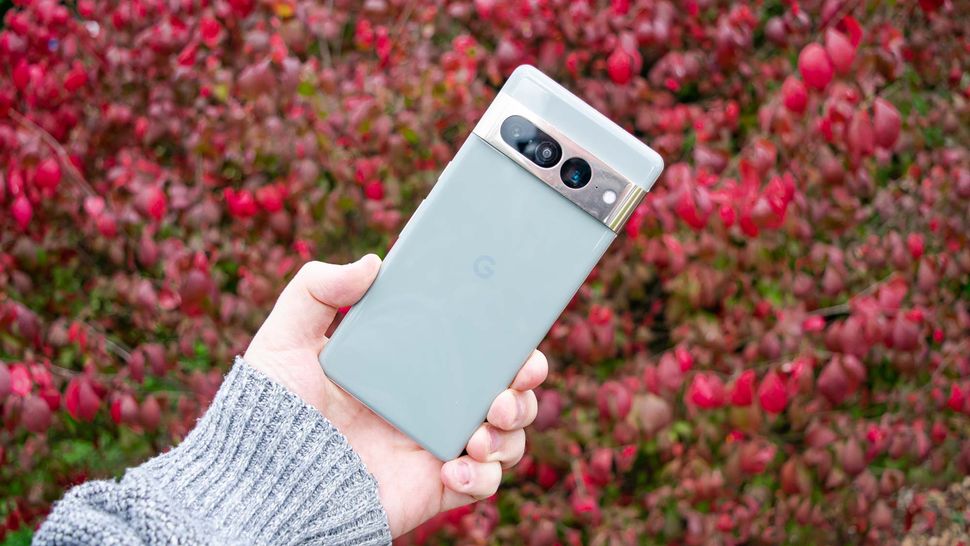 Photography is always a strong point of any Pixel phone, and to keep itself in the running for best camera phone, Google's apparently making some big changes to the Pixel 8 Pro. We should see not only an updated 50MP main camera capable of capturing more light and recording 8K video, but also a 64MP ultrawide camera like the Pixel 7a has.
Google may also be adopting staggered HDR for the Pixel 8 series' photos. This should make a difference to photo quality when shooting images in awkward lighting conditions.
As for other software trickery, the Pixel 8 series could be getting a Video Unblur feature, building on the Photo Unblur feature that debuted on the Pixel 7 series. The code for this was already found in Google Photos, so it stands to reason that the Pixel 8 and Pixel 8 Pro would be the phones to first show it off.
The weirdest thing we've heard is that Google could add a temperature sensor to the Pixel 8 Pro's rear camera array. No, not a color temperature sensor, a sensor that will supposedly tell you how hot or cold something is. It would certainly be a unique ability amongst other smartphones if it's a genuine feature of the new Pixel.
Google Pixel 8 Pro: Performance
Google's been using its own chips for the past couple of Pixel generations, so we're anticipating a Tensor G3 will power the Pixel 8 Pro. This chip is thought to be based on Samsung's Exynos 2300 platform, which could mean that Google lags behind in raw power compared to rival phones once again.
The Pixel 8 Pro could be equipped with 128GB of default storage, which could look a little stingy if the next iPhone and Samsung Galaxy flagships start at 256GB as rumored. But since the Pixel 8 Pro will likely cost less, maybe buyers won't mind having less space for photos and apps, or would be happy splashing out a bit more money to upgrade the storage.
Google Pixel 8 Pro: Battery and charging
Unfortunately for the Pixel 8 Pro, it could be getting a slightly smaller battery than the Pixel 7 Pro had. This is not what we want to see from a phone in a family known for weak battery life, but fingers crossed that Google's making the Pixel 8 Pro run more efficiently overall.
For powering up, we've heard the Pixel 8 Pro will have the same wireless charging speed as the Pixel 7 Pro. There's no sign of if anything's happening with the 30W wired charging yet, though we wouldn't mind something faster to keep up with Samsung's 45W charging standard for the Galaxy S23 Ultra, or even OnePlus' 80W standard on the OnePlus 11.
Google Pixel 8 Pro: Software
The Pixel 8 Pro will run Android 14, Google's latest version of Android. The newest flagship Pixels are always the first phones to get the next big Android update, and we don't expect that to change this year.
What could be changing though is Google's support window. We've heard it could offer five years of full updates to the Pixel 8 Pro, up from Google's current three years of major updates and five years of security updates. That would make the Pixel 8 Pro an even better value proposition since it would continue to get new features up until 2028 at least.
Google Pixel 8 Pro: Outlook
The upgrades tipped for the Pixel 8 Pro look to be fairly substantial, comprising of new cameras, a better chipset, and fresh software features all wrapped in an updated design. If Google keeps the price of the Pixel 8 Pro aggressively low, then it again has a strong chance of making it onto our best phones list.
But we can't help but notice that the changes we've seen so far don't address some of the outgoing Pixel 7 Pro's biggest flaws. The chipset is still likely to be less powerful than what you'll get in a new Samsung Galaxy or iPhone, and we really hope the battery is not getting smaller.
Whatever happens, the Pixel 8 Pro should be one of the most important phone launches of 2023, so it's worth paying attention to.
More from Tom's Guide