If you have an abundance of cookware in your kitchen but limited storage, you'll need to know these seven space-saving ways to organize pots and pans.
Much like having one of the best cutting boards, our trusted pots and pans are an essential tool for making delicious meals. Trouble is, they come in all different shapes and sizes, they can often be tricky to store away neatly. And if you have a compact kitchen, or lack cabinet (or countertop) space, these clever space-saving hacks can make all the difference.
What's more, knowing how to organize pots and pans will make it easier to find exactly what you need, and can also double your space in a small kitchen . Plus, you no longer have to delve in at the back of a cabinet to rummage through a messy pile of pots. So, if you want tidy cookware, these space-saving hacks will organize your pots and pans, and make cooking a breeze!
You might also want to know these 7 space-saving hacks to organize kitchen cabinets to make kitchen tasks far easier and quicker. And here are 7 clever ways to store baking sheets.
1. Hang a pot rail on the walls
A popular space-saving hack is to wall-mount iron rails to hang your pots, pans or utensils. These racks usually come with 12 or more hooks to display your cookware. What's more, it's easier to just grab-and-go, and you can either hang them above the stove, or along any wall space. You can choose from different styles like this Wallniture Cucina 16" Wall Mount Kitchen Organization ($18, Amazon), to suit your decor and uplift your kitchen.
Alternatively, you can attach a ceiling pot rack designed for smaller kitchens. These are sturdy, practical and can free up countertop space. However, be sure to read the installation guide carefully before fitting.
2. Utilize floating shelves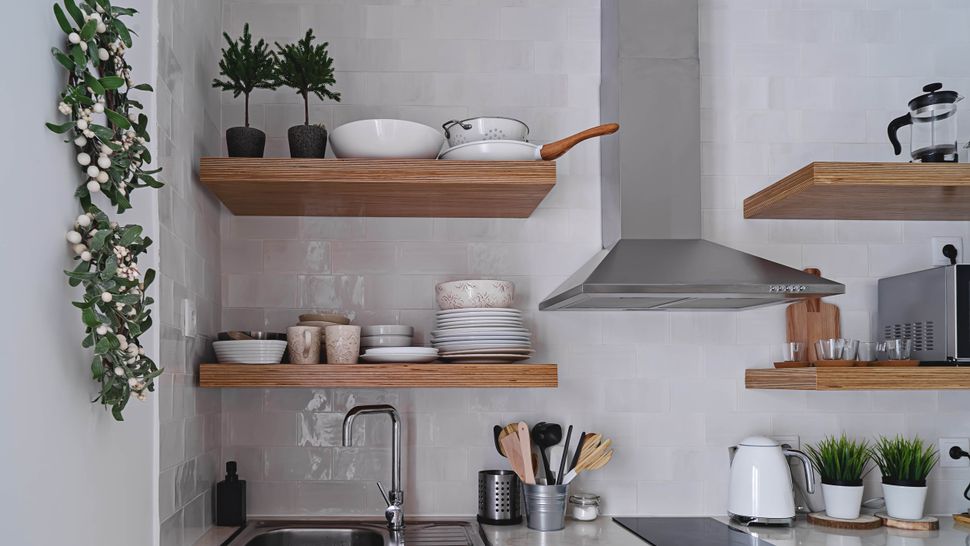 Another option is to install floating shelves. This is ideal if you're tight on countertop or cabinet space, and can make a great feature in your kitchen. Depending on how strong your walls are, floating shelves can be used to display pots, pans and other cooking utensils — just make sure they are easily accessible.
In addition, if you have awkward nooks or corners that are unused, make use of the space with corner shelving much like this Miratino Corner Wall Shelf ($29, Amazon).
3. Install a pegboard
If you prefer to utilize wall space, pegboards are another great way of displaying pots and pans. Designed for small spaces, these metal pegboards are ideal for hanging pots, pans, lids, utensils and other tools. In fact, you can hang a variety of accessories at once, so that everything is within reach.
What's more, they are easy to install, clean, and a creative addition to any kitchen. Just check the weight and capacity of the pegboard to ensure it's right for your needs, and space. Typically, these come with accessories for you to custom fit your cookware like this Wall Control Kitchen Pegboard Organizer ($79, Amazon).
4. Door-mount pot lids or use racks
While we often stack pots inside one another, lids can be a hassle to store. More often, they just end up in a cluttered, untidy pile in the cupboard. A great space-saving solution is to door-mount lid holders, so it frees up cabinet space. You can find adjustable holders to suit your dimensions, or racks that can hold up to six lids.
If you're out of door space, you can also invest in expendable lid racks like this ROOHUA Pot Rack Organizer ($23, Amazon), to keep them neat and tidy.
5. Try rotating corner storage
For those with deep corner cabinets, it can often be a struggle to reach those heavy pots shoved right at the back. Installing rotating shelves is a practical solution, and saves space. These rotating, kidney-shaped shelves have low sides so it's easy to see and reach your large pots and pans without fuss. Just be sure to buy the right diameter and height to suit your base cabinet. There are plenty available online at an affordable price, such as this DOWELL 24" Kidney Chrome 2-Shelf Lazy Susans Kitchen Base Cabinet Corner Organizer ($95, Amazon).
6. Add hooks under overhead cabinets
If you prefer not to drill holes into your wall, or want to decorate without annoying your landlord, you could just add hooks under existing shelving. Simply attach hooks under overhead cabinets or shelving for clutter-free surfaces. Just be sure that you have a strong enough shelf to hold the weight of any pans hanging underneath. Plus, you don't want to damage your cabinets, in which case you'll probably need to know how to paint kitchen cabinets to transform them.
7. Stack up pots and pans in an organizer
Another simple storage solution for heavy-duty pans is a tier rack. These are designed from sturdy materials to support heavy, or cast iron pans or skillets. Such pan racks can hold up to five pans, and can either be stored vertically or horizontally in cabinets. If you're short on space, you can always place them on countertops, which is a great way to display your favorite cookware.
Pan racks such as this Cuisinel Heavy Duty Pan Organizer, ($25, Amazon), can hold up to 50 pounds for things such as cast iron skillets, and griddles. Alternatively, if you have unused space in your kitchen, you can opt for standing pot racks such as this Old Dutch 60-Inch Cookware Stand ($55, Amazon), to save you space.
---
Knowing how to declutter your kitchen can make all the difference in making a small room look bigger. Or if your home lacks natural light, here's how to brighten a dark room for top tips and tricks. Plus, check out these 7 space-saving ways to organize shoes in your entryway and 7 kitchen storage mistakes you're making right now.