The moment we walk through the front door, we often throw our shoes into a cluttered heap. But if this starts to pile up, you could benefit from these space-saving ideas to organize shoes in your entryway.
Not only will this reduce unsightly mess and give you more space, but organized shoe storage can spruce up your entryway to impress guests. After all, the entryway is the first thing we see when we enter a home, and can speak volumes about us.
In addition, suitable shoe storage will make everybody's favorite footwear easier to put away properly and find, without the need for decluttering your home all the time. So, if you want to keep your collection in check, here are 9 space-saving ideas to organize shoes in your entryway to suit any home, lifestyle and budget.
Before organizing your footwear, you might want to know how to clean Ugg boots without ruining them, or how to clean white shoes to get them looking brand new. Plus, here are 5 home extension mistakes to avoid, according to an expert.
1. Vertical shoe rack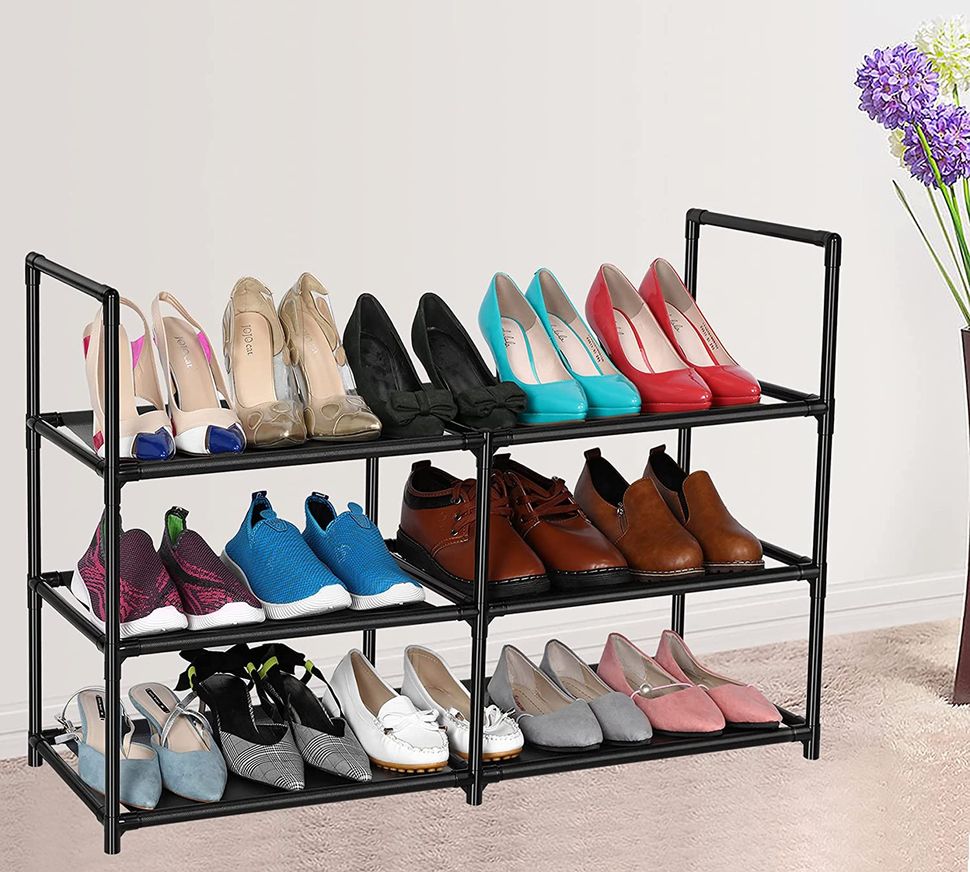 Shoe racks are the most practical and functional way to store shoes. However, if you have a narrow or small entryway, invest in a vertical shoe rack instead. This will allow enough room for your shoes, without taking up much floor space. It's also advisable to opt for a rack with adjustable shelf heights to accommodate boots, stilettos or various footwear styles.
Depending on your needs, vertical shoe racks start from 5 tiers right up to 10 tiers, such as this FIDUCIAL HOME 10 Tiers Shoe Rack ($23, Amazon), that can hold up to 25 pairs of shoes. You can also find corner, vertical shoe racks to better suit your entryway space.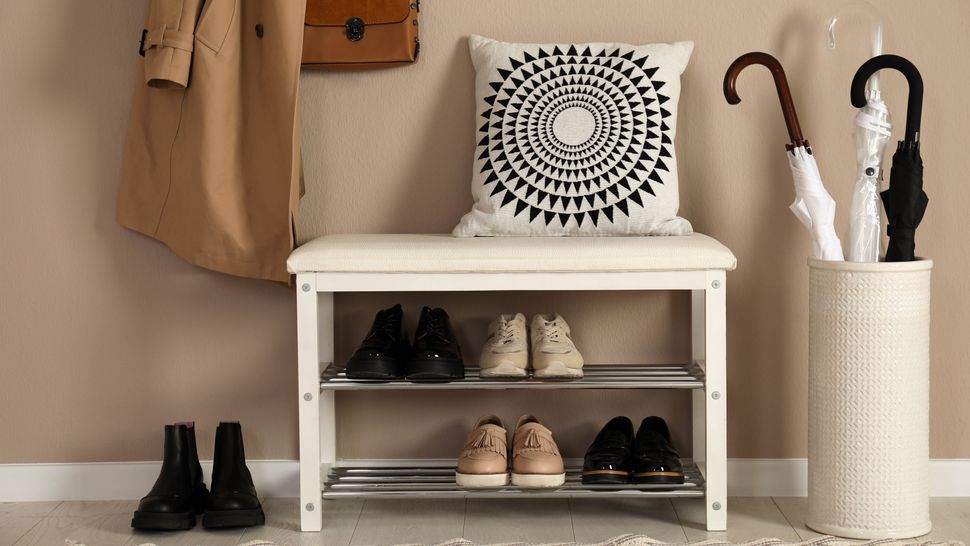 A storage bench is a great multi-functional storage that also doubles up as a comfy seating area to put on shoes. Shoe benches come in a variety of designs and sizes like this Finnhomy Entryway Shoe Rack with Cushioned Seat ($59, Amazon), that also makes an attractive feature in the entryway.
If you don't have much space however, you can also invest in ottomans or trunks to suit your home, that are multi-purpose, and easy to move around.
3. Shoe cabinets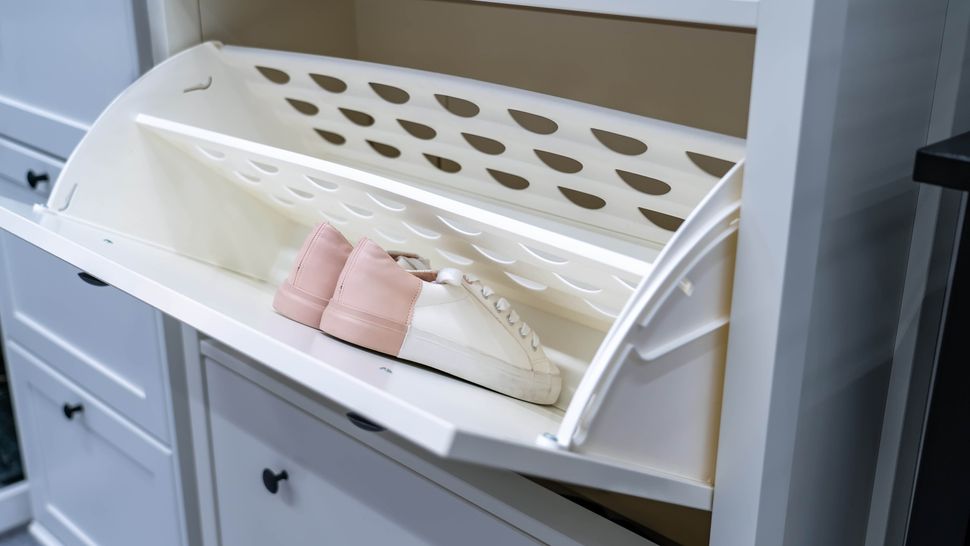 Cabinets are handy if you don't want your footwear on display, and kept out of mind! These are particularly handy if you have a large family, and you want to keep everyone's footwear organized and in their rightful place. You can place them along walls,or behind doors to hide away the clutter.
Depending on the style of your entryway, you can opt for modern, slimline cabinets or wooden designs to match your interiors. For instance, this Iwell Storage Cabinet ($102, Amazon), is an attractive way to store shoes, and blends in nicely with decor.
4. Over-the-door racks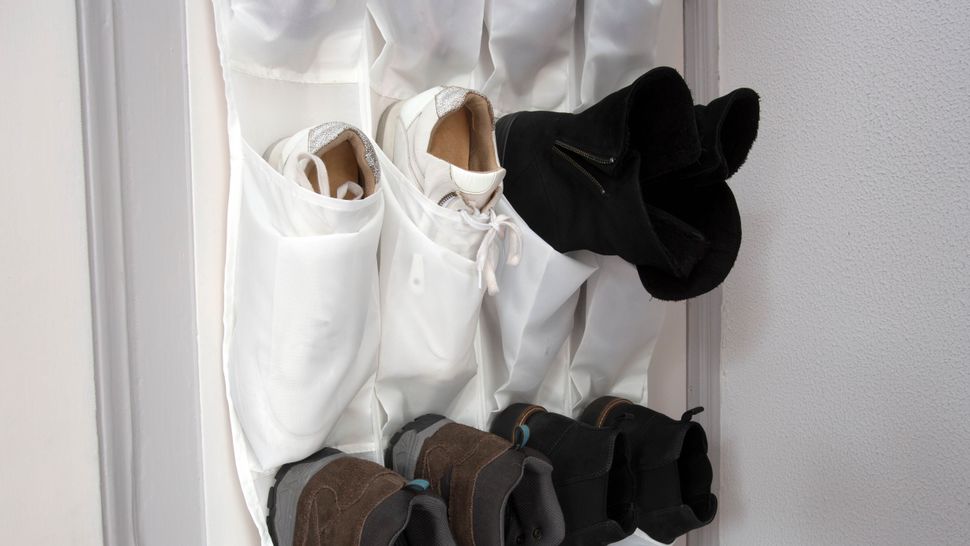 For small apartment dwellers, over-the-door racks are a functional way to organize shoes. These are designed to mount easily over doors of any thickness, and have protective, felt pads to avoid any damage (ideal for renters). While these may not be the most aesthetically-pleasing, these shoe racks are practical space-savers, with different tiers to suit short or tall footwear.
In any case, if you did want something out of sight, you can invest in hanging shoe storage organizers to place inside entryway closets or wardrobes. We can recommend this Gorilla Grip Shoe Holder Rack for Over the Door ($11, Amazon), designed to be odor-free and dust-resistant.
5. Wall-mounted shoe rack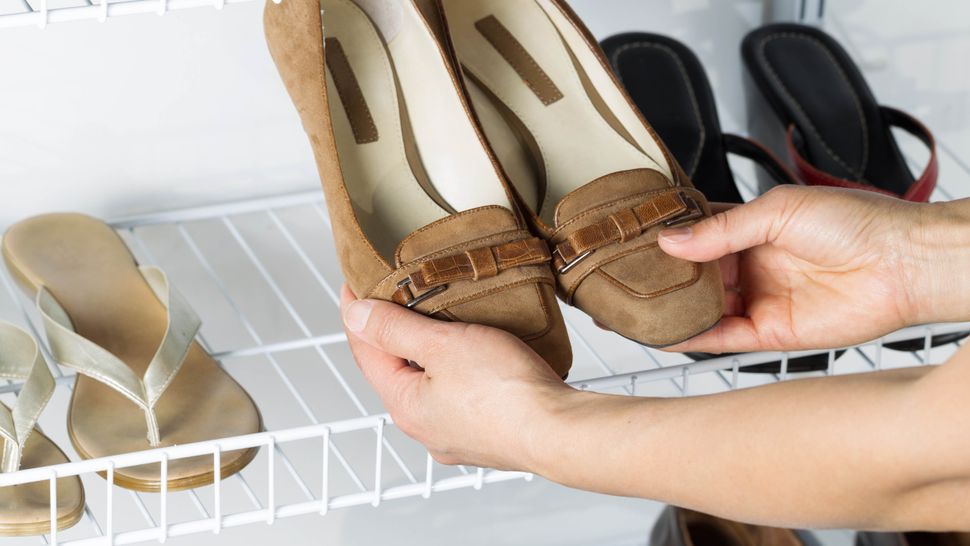 Similarly, you can opt for wall-mounted shoe racks to optimize the floor space in your entryway. These racks are easy to install, and can be positioned at a height that is convenient your family. You can find designs with gliding shoe racks, shelves, and integrated wheels. If you have narrow walls though, you can buy adhesive, hanging mounts like these Sticky Hanging Strips ($16, Amazon), which can also be used on a door.
Alternatively, you can simply install large coat hooks or pegs to keep your footwear flush against the wall. If you want to get creative, there are plenty of wall-mounted ideas on Pinterest such as floating shelves, stainless steel rods or using boot hangers.
6. Shoe cubbies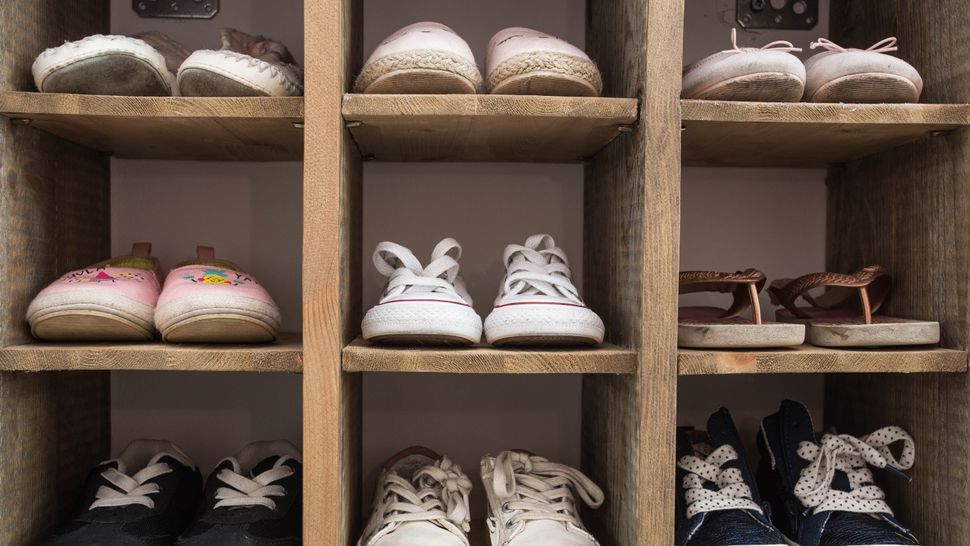 Storage cubbies are another great way for keeping footwear in order, and looking tidy. Each cubby allows you to see your shoes clearly, making them easy to locate and put away. This is especially handy for children who can quickly put their shoes neatly away in their own spaces.
You can even find stackable cubby organizers like this C&AHOME Plastic Shoe Rack ($42, Amazon), so you won't have the issue of shoes being piled on top of one another. If you didn't want everything on show however, you can buy stylish, storage boxes with customized labels to fit neatly into the cubby holes.
7. Shoe bins or baskets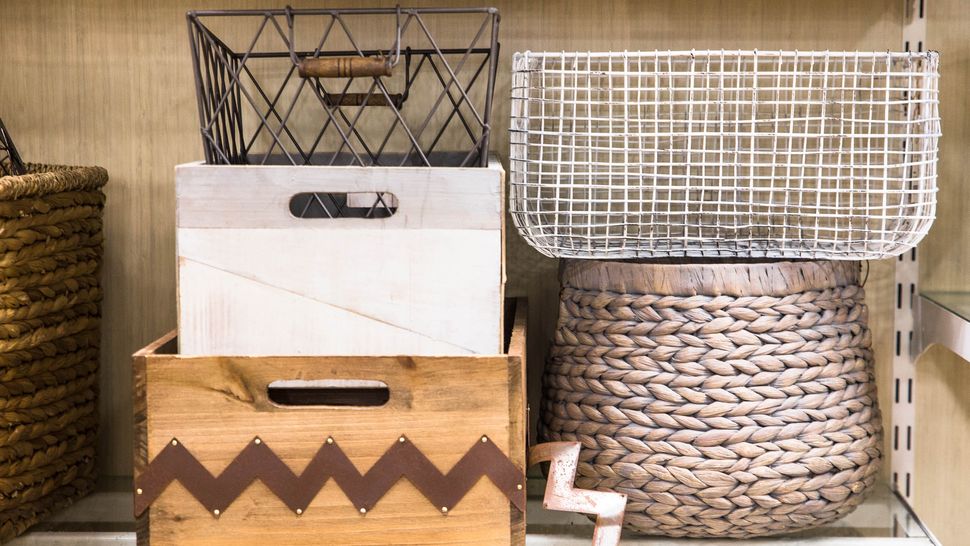 If you have a tiny entryway that often gets cluttered, shoe storage bins or baskets allow you to keep your shoes easily accessible by your door. You can find transparent storage bins that generally stack, or you can use other decorative containers like crates. The on-trend, seagrass or woven baskets like this Mkono Woven Storage Basket ($25, Amazon), tend to be durable and can add warmth, and a cosy feel to a space.
8. Stackable shoe boxes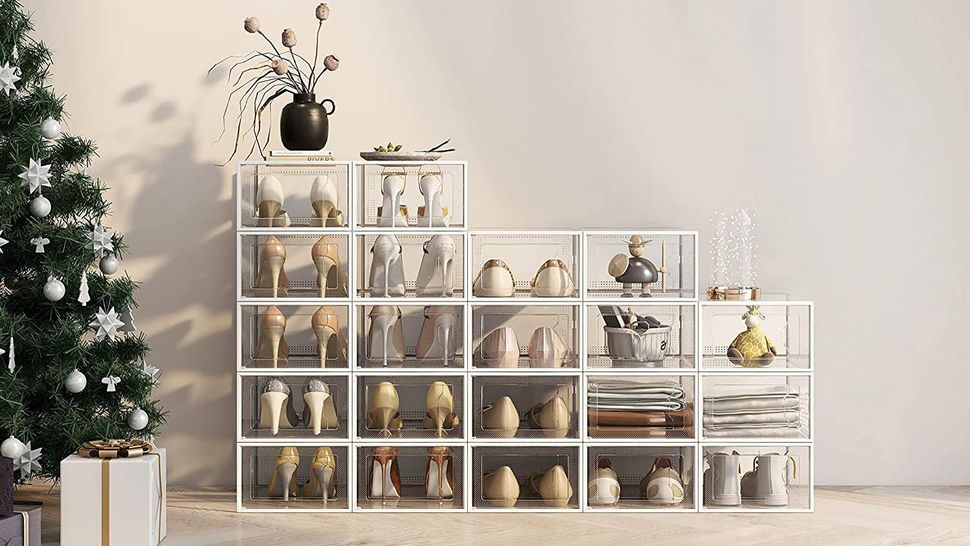 If you want to show off your shoe collection, invest in transparent, drop-front shoe boxes. These transparent cases are stackable, easy to use, and will showcase your collection in style. In addition, most boxes come with ventilation holes to eliminate bad odors, and keep your footwear fresh.
You can find different styles or large or extra large sizes available, like these SEE SPRING Large 12 Pack Shoe Storage Box ($39, Amazon), to organize your shoes.
9. Rotating shoe rack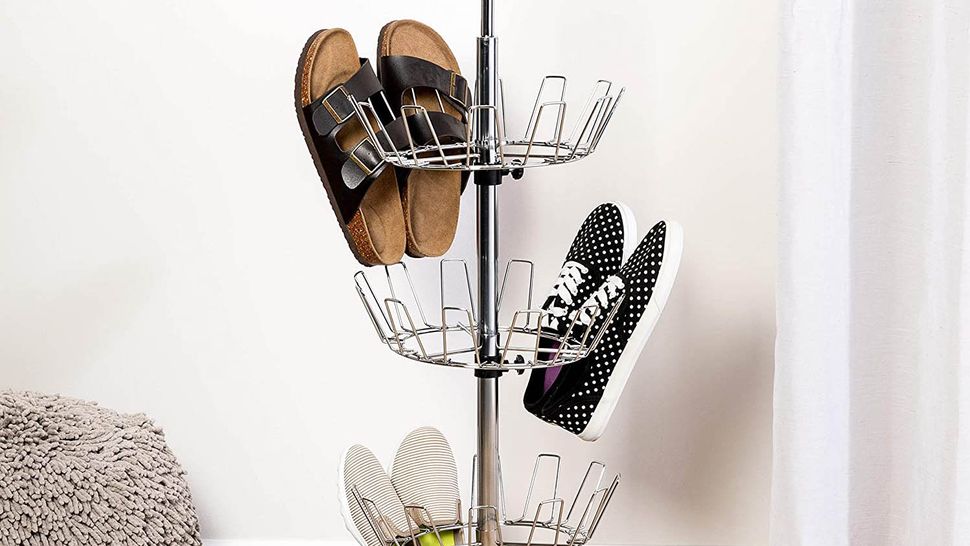 If you want a hassle-free way to see your shoes, a rotating shoe rack is a great choice. Ideal for small spaces, these 360-degree, rotating racks can make it easier to find and store your favorite footwear. You can either place it on the floor or in some cases, hang it up with a portable hook.
In addition, these come in either a two-tier, three-tier or four-tier rack, and each level can be adjusted much like this Honey-Can-Do 3 Tier Chrome Shoe Tree ($35, Amazon), to suit your various footwear styles. What's more, some models are foldable, so you can easily move it around the home, or even take it with you on trips away.
Where is the best place to store shoes?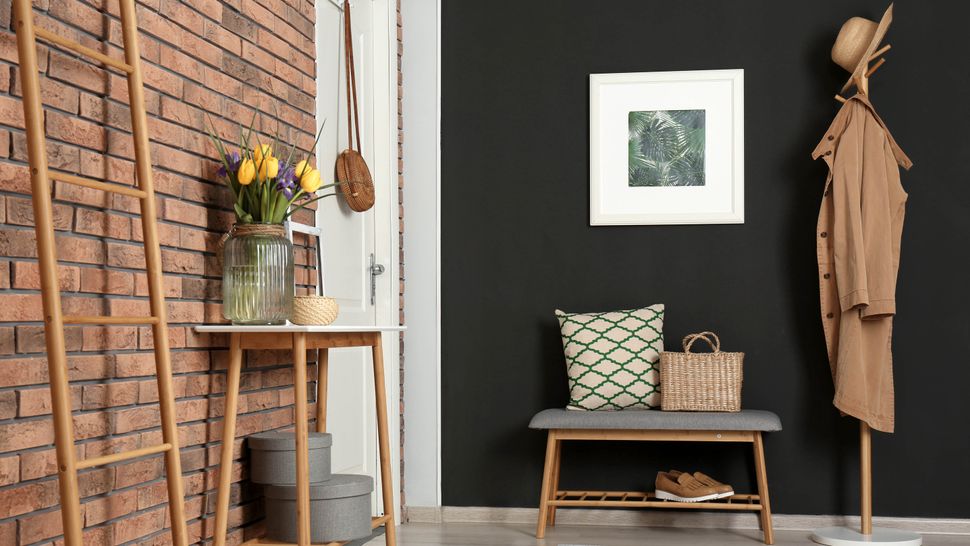 According to experts, shoe storage space should be located at the main door you use to enter and leave your home. In theory, the closer the shoes are to the door, the less space you'll need to walk through the home with dirty footwear before removing them.
In any case, this keeps the entryway looking more organized and less cluttered, providing you don't make these 5 decluttering mistakes!
---
Knowing how to clean every room of your home will also help to create a clean, minimalist space. Plus, if your home is compact, here's how to make a small room look bigger, 7 kitchen storage mistakes you're making right now and how to brighten a dark room for top tips and tricks.