If you've noticed green, sponge-like patches appearing in your grass, you'll need to know how to get rid of moss in your lawn. While it looks harmless, moss is one of the most common of lawn weeds, and an indicator your grass isn't in good shape.
Typically, moss thrives in poor lawn conditions, such as damp soil, excessive shade or in compacted soil. While moss might be welcome in certain parts of your yard — there's no way grass is going to grow under that oak — you might not want it in other areas.
Alongside these five signs that your lawn needs urgent repairs, it's important to remove moss immediately to keep your lawn healthy. If left untreated, the moss will quickly take over and crowd out the grass completely.
While lawn maintenance can be time-consuming, it's not that hard to remove moss, and prevent it from coming back. All you need to do is find out what is causing the moss to develop, and change the conditions of your lawn. Best of all, it will only take a few easy steps, and plenty of TLC afterwards.
So, if you want a moss-free garden all year round, here's how to get rid of moss in your lawn and keep it green.
Once you've mowed your lawn, here are 7 clever ways you can reuse grass clippings.
1. Rake and scarify your lawn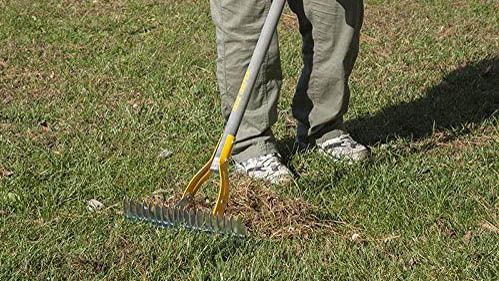 Typically, moss is shallow-rooted, so you may be able to remove it by simply raking your lawn or scraping it out from the grass.
Ideally, using a bow rake or even a leaf rake will successfully pull the moss from the soil. You can even use a rake by hand using a spine-tine lawn rake, and it's easier when the lawn is moist from light rain or even from watering your lawn. Hand rakes such as Garden Guru Stainless Steel Hand Rake ($19, Amazon) only have a few long, pointed tines, but these make it ideal for digging in a small area.
However, if you're dealing with a more extensive moss problem, you can remove moss while dethatching your lawn. This is usually done by fitting your lawn mower with a dethatching blade in order to pull up thick layers or clumps of dead grass smothering the surface. This method of raking is also known as scarifying, and removes both moss and thatch (dead grass) from your lawn to allow it to breathe and be healthier.
If you see bare patches in the lawn after raking, you can learn how to plant grass seed, and get a greener yard. In any case, grass shouldn't be seriously damaged from raking as they have longer roots.
2. Aerate your lawn
Another main cause of moss is heavy soil compaction that prevents water, air and essential nutrients from reaching the grass roots. Aerating the lawn will relieve compaction, and allow better air circulation in the soil.
Typically, aerating a lawn involves puncturing the ground with either a spike or core lawn aerator. Spike aerators literally have long spikes that puncture the ground as you pass over it. While core aerators, pull up 'cores' of soil as they work, leaving them on the surface. By aerating the soil two to three times a year, this will help to discourage moss growth and allow for healthy grass all year round.
You can purchase aerators at your local garden centre or online like this Walensee Lawn Spike Aerator ($31, Amazon). If you have a large yard however, it might be worth renting a mechanical aerator.
3. Improve light levels to lawn
Moss tends to develop excessively in shaded areas, or where there is low-light for long periods. One method of preventing moss is to improve light levels over the lawn. You could do this by cutting back overgrown bushes, trees or tall hedges to open up the yard. You don't want anything hanging over the lawn, that will block out essential light.
Depending on the type of grass, and climate, most grasses do well with at least six hours or more of direct sunlight each day. There are some shade-tolerant grasses that can thrive with only three or four hours. By increasing the sunlight levels, this will help to eliminate moss growth and improve the health of your lawn.
If you do have mostly shaded areas however, you can grow certain shade-tolerant plants, shrubs, or flowers that thrive well. These include perennials such as rhododendron, pachysandra, and ajuga.
4. Make a DIY moss solution
While there are plenty of commercial moss killers available, you can also make your own non-toxic remedy. Simply mix one to two tablespoons of mild dish soap with one gallon of lukewarm water in a garden sprayer. Then, pour the mixture evenly over the moss.
Leave on for at least 24 hours to a couple of days, and you'll see signs of the moss turning yellow and eventually drying out. This will make it easier to rake out and remove. If not, keep reapplying the dish soap and water solution, until it kills the moss. Another solution is mixing baking soda to two gallons of water, before applying it to the moss. What's more, these homemade solutions are quick to do, and safer to use around children and pets.
If you want to know more, find out the 10 things you didn't know you could clean with baking soda.
5. Use a commercial moss killer
If you're after a quick-fix solution however, you can simply buy moss killer. Experts recommend buying a targeted product containing iron sulfate or ferrous ammonium sulfate, and always follow the mixing instructions stated on the packet.
Usually in granule form, such products often need a couple of applications, and can take a few weeks until you see results. Also, remember to take extra caution when using around children or pets, and always handle with one of the best gardening gloves. Bear in mind that not all chemical products are effective, and you'll still need to deal with the causes of the moss problem.
More from Tom's Guide