Sony's new flagship noise canceling wireless earbuds have pretty much everything we hoped for, with several upgrades headlined by an all-new Sony V2 audio processor that enables powerful Bluetooth 5.3 connectivity, stronger sound, and even better active noise cancellation. There's an updated Headphones Connect app too, offering even stronger customization and adaptive sound features.
For
Outstanding sound quality
Strong noise cancelation
Exceptional functionality
Excellent level of control
Against
Smaller earbud size affects eartip seal and fit
Battery life remains the same as predecessor
Flaky 360 Reality Audio personalization set up
Apple's next-gen AirPods Pro 2 bring significant upgrades to the popular original to take performance to the next level. Externally, they look pretty similar to the first generation, but battery life has been increased to offer 6 hours on a single charge from the earbuds and a further 30 hours from the wireless charging case. Not only are the earbuds IPX4-rated, but now too is the case itself.
For
World-class noise cancelation
Volume controls right on the stem
Dolby Atmos spatial audio
Improved battery life
Against
Audio performance needs finessing
Lackluster call quality
Lanyard costs extra
If you're shopping for the best noise-cancelling earbuds, the Sony WF-1000XM5 and AirPods Pro 2 are two of the top options to chose from. Both pack advanced noise-cancellation and excellent audio performance into convenient designs that are perfect for commutes, productivity, exercise and everything else in daily life.
Ahead of the official reveal on July 24, we conducted a full Sony WF-1000XM5 review and found that the earbuds are nothing short of excellent. With ample upgrades over the Sony WF-1000XM4, the XM5 arrived ready to respond to the Apple AirPods Pro 2, which debuted in September 2022.
But which wireless earbuds are right for you? Here's how the Sony WF-1000XM5 vs. AirPods Pro 2 compare in terms of specs, design, performance, battery life and more.
Sony WF-1000XM5 vs. AirPods Pro 2: Specs compared
Swipe to scroll horizontally
| | | |
| --- | --- | --- |
| Row 0 - Cell 0 | Sony WF-1000XM5 | Apple AirPods Pro 2 |
| Price | $299 / £259 / AU$499 | $249 / £249 / AU$399 |
| Wireless charging case | Yes | Yes |
| Chip | V2 | H2 |
| Battery life (rated) | 8 hours | 5.5 hours |
| Water resistance | IPX4 | IPX4 |
Sony WF-1000XM5 vs. AirPods Pro 2: Price and availability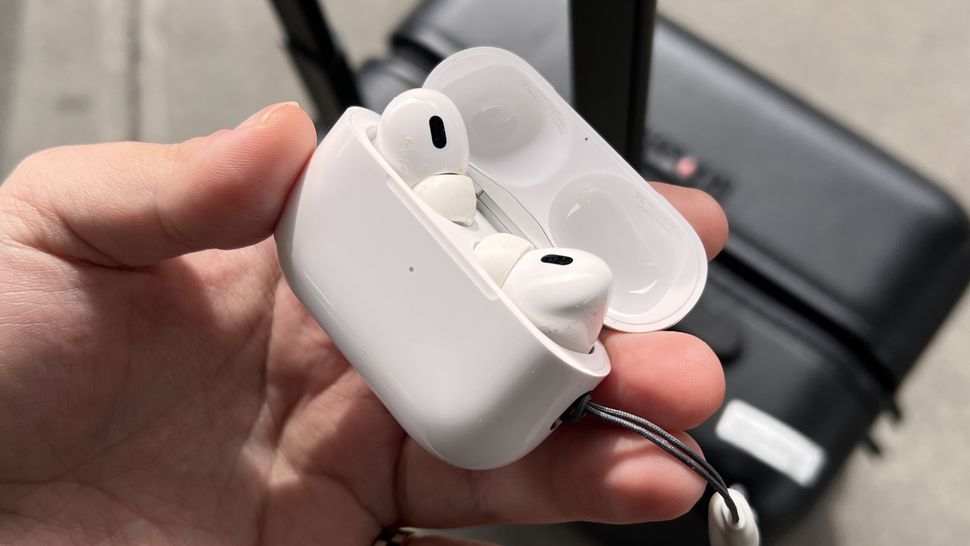 The AirPods Pro 2 are available now for $249 / £249 / AU$399, while the WF-1000XM5 are available as of August for $299 / £259 / AU$499. This means both are far from the best cheap wireless earbuds — you're spending big for premium performance.
Right now, you can pre-order the Sony WF-1000XM5 wireless earbuds from Sony for $299 / £259 / AUD $499. They will ship between July 26 and July 27 for those who pre-order now. The WF-1000XM5 come in black or silver.
We recommend bookmarking our coverage or the best AirPods deals and best headphones deals pages to stay notified of the latest wireless earbuds sales. At least for now, the AirPods Pro 2 will be more affordable than the XM5, which should be considered if you're on a budget.
Winner: Apple AirPods Pro 2
Sony WF-1000XM5 vs. AirPods Pro 2: Design
Sony prioritized condensing the WF-1000XM5, which are 25% smaller than the previous-gen XM4 earbuds. That said, the buds maintain a traditional form, donning a simple rounded shape with a protruding eartip. From the included collection of four foam tips, with a new XS option, you can find the size that allows for the best seal.
While the design of the AirPods Pro 2 buds themselves aren't much different compared to the original AirPods Pro, Apple's earbuds also come with XS-sized tips for the first time. The stemmed design is synonymous with AirPods at this point, but the addition of a lanyard loop and speaker unit at the bottom are welcome.
For both earbuds, IPX4 sweat and water resistance means they can withstand splashes of watch and sweat, so you can use either as running headphones. Perhaps a bigger differences to consider is that the XM5 come in black and silver color options, while the AirPods Pro are only available in white.
Winner: Tie
Sony WF-1000XM5 vs. Apple AirPods Pro 2: Controls
The XM5 and AirPods Pro 2 each have distinct touch controls for audio playback. The AirPods Pro 2 are controlled with taps on the buds and sliding your finger on the stem for volume changes. On the XM5 buds, tap commands can be assigned to individual buds and have the familiar single, double, and triple taps or long press method.
In terms of voice activation, the AirPods Pro 2 are summoned with a "Hey Siri," which. You can also have Siri send incoming updates via Announce Messages and Announce Notifications. Sony's earbuds are compatible with Google Assistant and Alexa, so you have a bit more flexibility for voice commands.
As part of a recent software upgrade announcement, the AirPods Pro 2 are getting one of Sony earbud's best features. Called Speak-to-Chat on the WF-1000XM5, Conversational Awareness on AirPods Pro 2 will detect when you start a conversation and automatically lower your playback volume. The WF-1000XM5 takes it one step further with Head Gesture controls, which lets users to accept incoming calls by shaking or nodding their head thanks to built-in motion sensors.
Winner: Sony WF-1000XM5
Sony WF-1000XM5 vs. Apple AirPods Pro 2: Sound quality
When it comes to performance, the Sony WF-1000XM5 are pretty much as good as its gets in its price range. The deep level of detail and large frequency range makes for an engaging listening experience. Plus, with up to 20 different ambient listening levels, you have full control over how much ambient noise you want to let in and block out.
For the AirPods Pro 2, you can control numerous EQ presets on iOS. Meanwhile, Personalized Spatial Audio successfully analyzes your ears and head to create a personalized profile that optimizes 3D effects.
If you're interested in LDAC codec support over wireless Bluetooth 5.3 available for the best audiophile headphones, only the XM5 have what you want. We've found that Sony's Digital Sound Enhancement Engine (DSEE) for upscaling lo-fi recordings works as advertised, too.
Winner: Sony WF-1000XM5
Sony WF-1000XM5 vs. Apple AirPods Pro 2: Battery life
While the battery life of earbuds will vary based on the features you use and how loudly you listen, the Sony WF-1000XM5 average 8 hours of listening with ANC on and 12 hours with ANC off. The charging case can hold up to 24 hours of total charge.
Apple increased the battery life between the AirPods Pro 2 vs. AirPods Pro. Now, a full charge holds gets you 5.5 hours of listening with ANC, and 30 hours total with the charging case.
Both charging cases offer with wireless charging and quick charging features, but the AirPods Pro 2's case supports more charging solutions, including MagSafe and compatibility with Apple Watch chargers.
Winner: Sony WF-1000XM5
Sony WF-1000XM5 vs. AirPods Pro 2: Outlook
Swipe to scroll horizontally
| Header Cell - Column 0 | Sony WF-1000XM5 | Apple AirPods Pro 2 |
| --- | --- | --- |
| Price and value (5) | 4 | 4 |
| Design (15) | 12 | 15 |
| Controls (10) | 9 | 8 |
| Sound quality (25) | 24 | 22 |
| Active noise cancellation(20) | 19 | 18 |
| Call quality (10) | 8 | 8 |
| Connectvity (5) | 4 | 4 |
| Battery life (10) | 9 | 6 |
| Total score (100) | 89 | 85 |
The Sony WF-1000XM5 and Apple AirPods Pro 2 are two of the best wireless earbuds you'll find now. They fall within a similar price range, and offer similar results for performance and noise cancellation.
It's important to note that the AirPods Pro 2 are designed for the Apple ecosystem, whereas the XM5 play nice with both iOS and Android devices via Bluetooth.
We will say that the XM5 are more audiophile-friendly, while the AirPods Pro 2 comfort and controls can't be beat with Apple devices.
More from Tom's Guide