The Google Pixel Watch 2 is expected to be revealed at Made by Google on October 4 with upgrades that improve upon the first-generation Google Pixel Watch. But how exactly will the Google Pixel Watch 2 vs. Pixel Watch compare?

Google has kept some of its Pixel Watch 2 plans under-wraps until the official launch, but we can make some educated guesses based on recent rumors, as well as what Google itself has confirmed. It seems that compared to the Pixel Watch, design changes and new features could target those who held off on getting the debut model.
Since the Google Pixel Watch is currently one of the best Android smartwatches and among the best smartwatches overall, we're certainly eager to see what Google has planned for the Pixel Watch 2. Here's how the Pixel Watch 2 vs. Pixel Watch might stack up according to rumors and latest news ahead of Made by Google 2023.
Google Pixel Watch 2 vs. Pixel Watch: Price and availability
The original Pixel Watch cost $349 (£339 / AU$549) for a GPS + Bluetooth-only configuration, while the LTE-compatible version costs $399 (£379 / AU$649). It launched officially on October 13, 2022.
It seems the Pixel Watch 2 will arrive almost a year later to the date, with a rumored release date of October 12 following a reveal during Made by Google 2023. We haven't heard any evidence that the Pixel Watch 2 price will change, though there's a rumor that if you preorder a Google Pixel 8 Pro from Google, you'll be able to get a Pixel Watch 2 included at no extra cost.
Google Pixel Watch 2 vs. Pixel Watch: Design
The Pixel Watch design is round and rather minimalistic. It features a circular design with a 3D glass dome that creates a raised effect, though you'll still notice the display has a rather thick bezel. On the side, the Pixel Watch has a digital crown and single side button, with both serving navigational functions.
We don't expect Google to change the overall appearance of the Pixel Watch 2, though we are hopeful that might introduce a second size besides only 41mm. While the 41mm Pixel Watch proved comfortable and discreet, it didn't suit those with larger wrists.
Even if it comes in just the one size, Google could try to make the Pixel Watch 2 more comfortable by switching form stainless steel to aluminum casing. Aluminum is known for being lighter than stainless steel, even if it isn't quite as durable.
Google Pixel Watch 2 vs. Pixel Watch: Features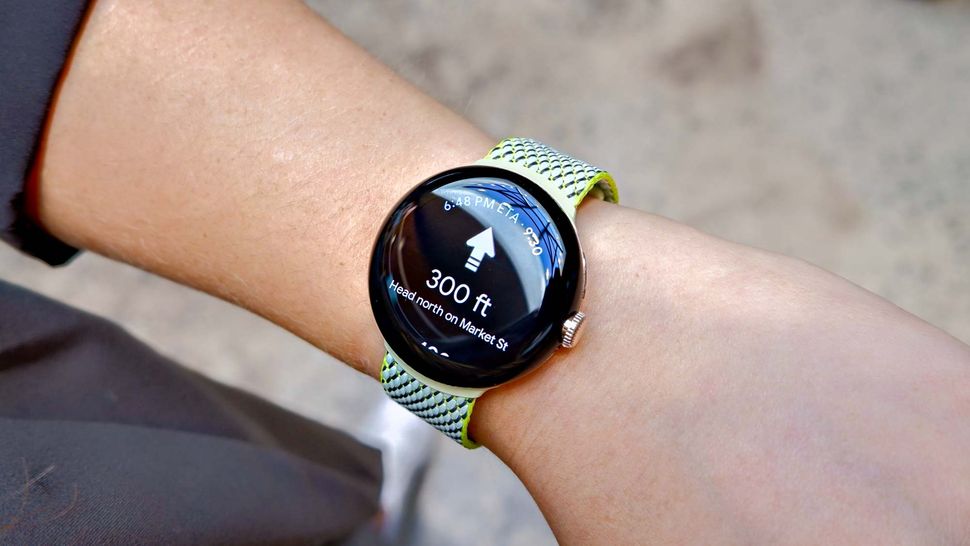 A rumor from by 91mobiles suggests that the Pixel Watch 2 will receive several upgrades to health and fitness tracking. Fitness tracking should still be powered by Fitbit, but now it'll reportedly bring the Fitbit Sense 2's stress-detection feature to Pixel Watch 2.
The site also claims that the Pixel Watch 2 will feature a "multi-path" heart rate monitor, capable of more robust and accurate heart rate tracking, especially during workouts. Speaking of workouts, the Pixel Watch 2 will allegedly auto-detect 7 different kinds of workouts and implement pace training for select workout styles.
We've heard the watch could also include personal safety improvements, too. In addition to emergency car crash detection, the Pixel Watch 2 is believed to come with some kind of safety check-in feature.
Otherwise, the Pixel Watch 2 will come with Wear OS 4. Not only will it support all the native Google apps we saw on the original Pixel Watch, but it should be compatible with a number of third-party apps as well.
Google Pixel Watch 2 vs. Pixel Watch: Processor and battery life
Rumor has it that the Pixel Watch 2 will drop the Samsung Exynos 9110 in favor of the newer Qualcomm Snapdragon W5 Plus. The W5 Plus packs more transistors, improving power efficiency.
As a result, the Pixel Watch 2 could have a better battery life than its predecessor, hopefully lasting for more than a day with normal use. That said, another rumor suggests that the Pixel Watch 2 will have the same 24 hour battery life as its predecessor.
Google Pixel Watch 2 vs. Pixel Watch: Outlook
Considering Google has confirmed the Pixel Watch 2 is coming on October 4, it's not long until we know how exactly it'll compare to the original Pixel Watch. Although we thought the Pixel Watch made a strong case as a version 1.0 device, there were definitely ways we thought it could improve.
The Pixel Watch 2 will be announced on October 4, during the Made by Google event. Here's how to watch the Made by Google livestream so you can follow along with all the company's hardware announcements.
More from Tom's Guide