If you're a gamer, Black Friday is the best time to save big on consoles, games and accessories. For those who are Team Sony, there is no shortage of amazing Black Friday PS5 deals. Currently, you can get one of the best PS5 headsets for a nice discount.
Right now, the SteelSeries Arctis Nova Pro Wireless gaming headset is on sale for $309 on Amazon. That's certainly not in the price range of the best cheap gaming headsets, but you're still saving $40 off the original $349. Considering how much we praised this device in our SteelSeries Arctis Nova Pro Wireless review, we think this lower price is well worth it — especially if you own a PS5 or one of the best gaming PCs and best gaming laptops.
Editor's note: There is an Xbox version of this headset, but it's currently not on sale. We'll update this post if that peripheral receives a discount.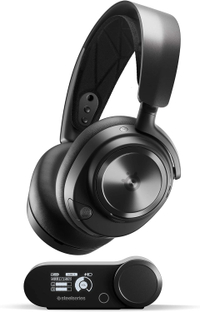 SteelSeries Arctis Nova Pro Wireless: was $349 now $309 @ Amazon
The SteelSeries Arctis Nova Pro Wireless is an impressive evolution of the company's signature gaming headset. The DAC is robust, the sound quality is a cut above the rest of SteelSeries' lineup and it's compatible with PlayStation consoles (PS4 & PS5) and PCs — even if you can only pair it with two of them at a time.
In our review, we said the SteelSeries Arctis Nova Pro Wireless represented the biggest risk the company had taken in years. The SteelSeries Arctis 7 was one of the best wireless gaming headsets we've ever tested, and since then, SteelSeries has made only slight tweaks to the formula. The Arctis Nova Pro Wireless is something wholly new. It features a new chassis, new headband, new button layout, new digital audio converter (DAC) and new software functionality.
Like its predecessors, the Arctis Nova Pro Wireless sounds great, feels comfortable and offers many extra features to play with. From Bluetooth connectivity to active noise canceling, the Arctis Nova Pro Wireless has quite a few features that the Arctis 7 didn't, and they run the gamut from "mildly useful" to "indispensable."
That said, the Arctis Nova Pro Wireless isn't for everyone. It's a high-end headset for moderately serious audiophiles and its DAC can be very complicated. Moving the headset between systems isn't a seamless experience, and the ANC isn't nearly as effective as advertised. All of this was reflected in its original price, but thankfully, this Black Friday deal knocks it down to just above $300 (which is admittedly still pricey).
Overall, the Arctis Nova Pro Wireless is a great redesign for a beloved headset. This deal might not last until Black Friday, so act fast before stock runs out.