Best PS5 headsets: Quick Menu
1. The list in brief
2. Best overall
3. Best designed
4. Most stylish
5. Best for comfort
6. Best for PC gaming
7. Best multi-platform
8. How we test
9. How to pick the best for you
Finding the best cheap gaming headsets doesn't mean you have to hugely compromise on audio quality or microphone response. You just need to be a little streetwise with what you buy. That's where the experts here at Tom's Guide come in to help you out.
While high-end audio may require a substantial cash splurge, when it comes to gaming, there are plenty of affordable headsets out there that get the job done just fine. You can still get strong audio feedback for pinpointing enemies in first-person shooters or easily enjoy the soaring orchestral tracks in the likes of Elden Ring. Even microphones on cheaper gaming headsets can deliver clear audio, too.
As we've put all of the following headsets to the test, you can rest assured you won't end up with a flimsy set of cans with a lackluster mic. So read on for our picks for the best cheap gaming headsets you can currently buy.
Here's a quick overview of the best budget gaming headsets you can buy right now based on our testing and reviews.
The quick list
The best cheap gaming headsets you can buy
The best overall cheap gaming headset
While the microphone may get in the way and isn't be best around when it comes to carrying sound, the HyperX Cloud Stinger II is one of the top cheap gaming headsets around.
The headset offers a comfortable fit thanks to its large ear cups and padding, but the overall design is flimsy, which is a tad disappointing. And thankfully, the ear cups sit around the ear rather than press against them, which makes for a headset that you can wear for long gaming sessions.
Solid overall sound quality and initiative controls on via a dial on the ear cups, makes up for the few shortcomings of the HyperX Cloud Stinger II.
Read our full HyperX Cloud Stinger II review.
The best designed cheap gaming headset
The SteelSeries Arctis Nova 1 delivers nearly everything that's great about the rest of SteelSeries' excellent Arctis line at just $60. This headset packs a simplified version of SteelSeries' signature sleek headset design, with soft fabric earcups and the same rich drivers you'll find in higher-end Arctis models. We found the Arctis Nova 1 dependable for just about every game genre.
With its retractable mic and handy 3.5mm connection, it makes the perfect gaming companion whether you're on the road with your Switch or at home with your PC. While it doesn't offer the same bevy of bells and whistles as its pricier siblings, the Arctis Nova 1 offers some of the best performance you can find at this price range.
Read our full SteelSeries Arctis 1 review.
The most stylish cheap gaming headset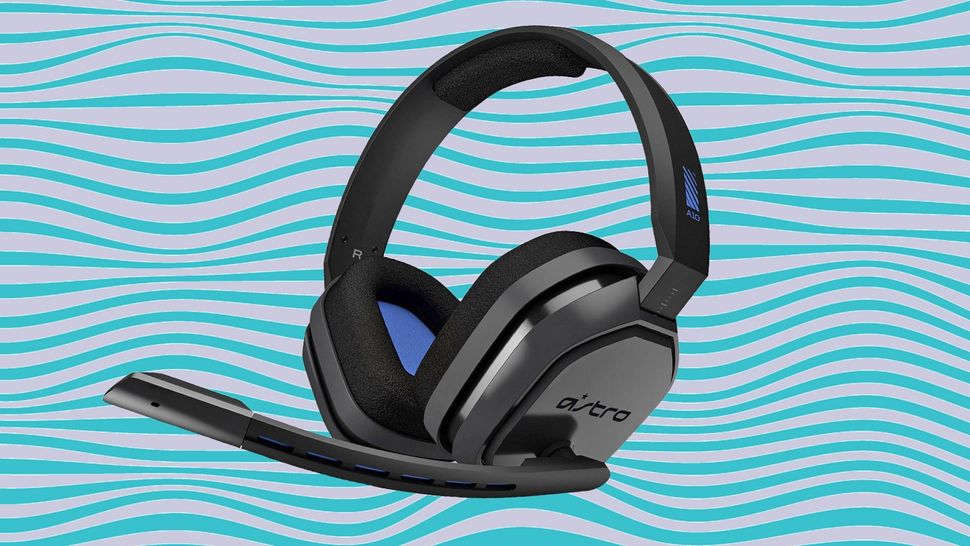 You don't have to spend a lot to get impressive audio from a gaming headset, and the Astro A10 is proof of that. For less than $50 you get a headset that borrows some design flourished from its more expensive sibling, with a decent amount of sturdiness to match its style.
More to the point is that that sound is superb for how affordable the headset is. The Astro A10 has a punchy low-end response yet also handles treble with a concise crispness. Add in a lightweight frame and memory foam earcups and you've got a great cheap gaming headset. Just be aware that the fit might be a little snug for some.
Read our full Astro A10 review.
The most comfortable cheap gaming headset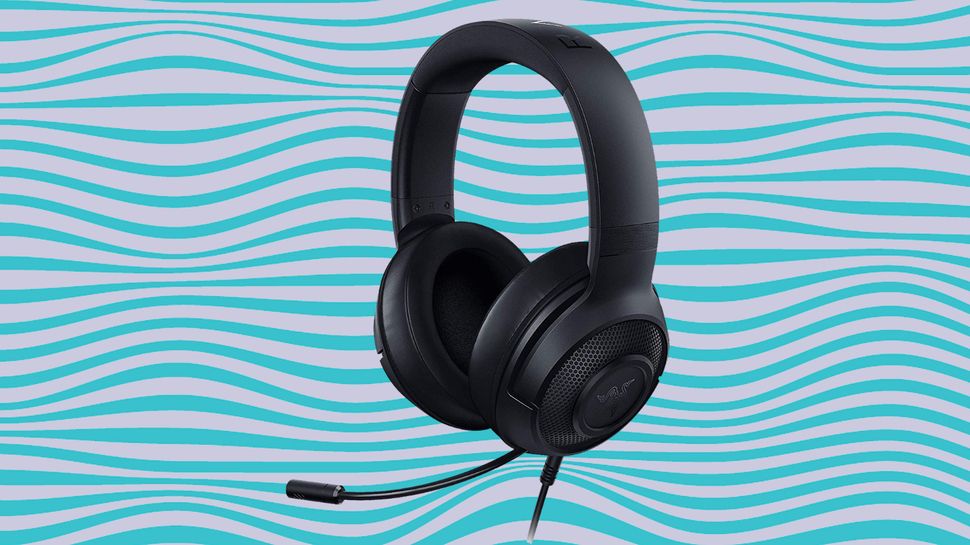 The Razer Kraken X is a very solid budget headset, packing good sound into one of the best-looking designs that Razer's produced yet. A far cry from the bulky chassis of previous Razer headsets, the Kraken X is sleek, subtle and lightweight, with leatherette ear cups that are comfortable to wear for hours on end.
The headset's 3.5mm connection works seamlessly with consoles and PCs, and offers well-balanced sound for competitive and immersive games alike. We wish the headset had better music performance and a removable mic, but this is a great overall gaming headset for the price.
Read our full Razer Kraken X review.
The best PC cheap gaming headset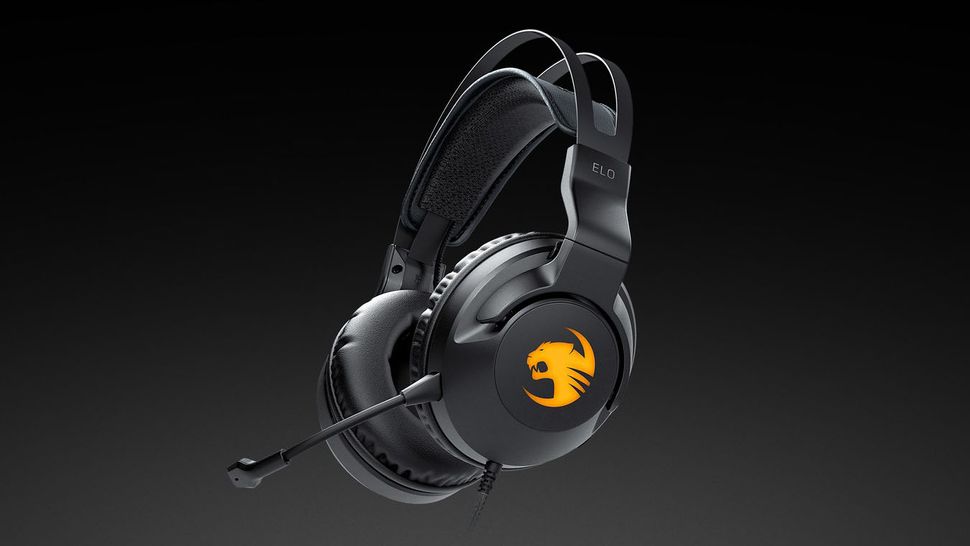 Like other models from the PC accessory brand, the Roccat Elo 7.1 USB is a fairly priced, reliable gaming headset with solid audio performance. Dialogue comes in loud and clear, while gunfire, explosions, and other rumbling effects sound loud and clear during intense action gameplay. This headset also doubles as an adequate pair of headphones that delivers superb treble and vocals. The Roccat Swarm software lets users pick from different audio presets for different gaming genres, switch between stereo and surround sound, adjust mic sidetone, and select different voice-changing filters.
You'll want to be mindful not to wear the Elo 7.1 USB for too long since it doesn't sit comfortably on the head; it's very narrow and thin. The mediocre mic doesn't bring much to voice chat either, due to distortion issues.
Read our full Roccat Elo 7.1 USB review.
The best multi-platform cheap gaming headset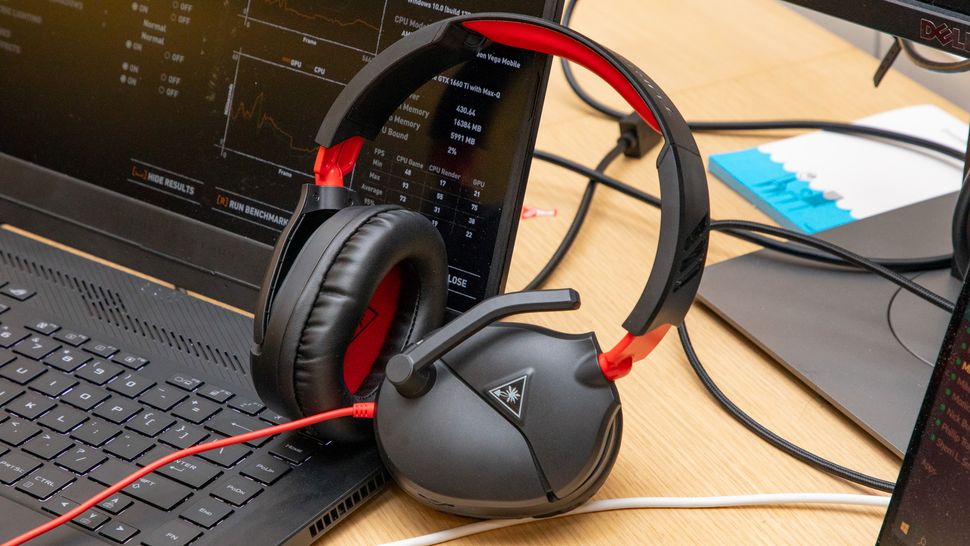 PC or PS5? Nintendo Switch or iPhone? The Turtle Beach Recon 70 is available for use on every current gaming platform, and in different colors. Comfort is a huge selling point, as each ear cup provides enough room and breathability for ears to rest pleasantly, as well as a proper fit to prevent slippage. Not all sound effects sound sharp, though we found the detailing on gun shots and footsteps to be impressive. You can also use the Recon 70 for music listening, but don't expect it to replace your standard pair of wireless headphones.
The mic also works well for communicating with other players via multiplayer, though moving it is disruptive since it vibrates every time you flip it into one of the predetermined positions. Aside from the attractive colorways, there isn't much to the design either, which feels chintzy.
Read our full Turtle Beach Recon 70 review.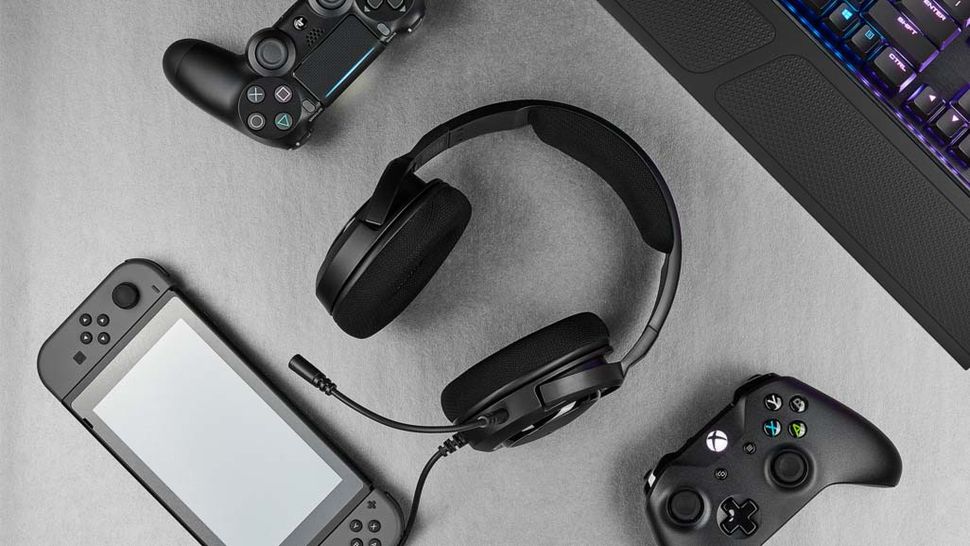 For $30, the Corsair HS35 does everything you need it to do to enjoy multiplayer gaming sessions online without bleeding your wallet dry. The drivers on these bad boys handle booming sound effects like explosions and loud rumblings with precision, while also delivering clear stereo separation to hear enemy fire during combat missions. A lightweight and pliable design ensure long-term comfort for hours on end. Being able to position the mic anywhere you need it or detach the mic stalk when it isn't required offers some convenience, depending on your needs.
Some will argue about the headset's foibles, including the weak mic and lack of USB connectivity. Then again, these are forgivable drawbacks when talking about an affordable, fully functional, and competent model like the HS35.
Read our full Corsair HS35 Stereo Gaming Headset review.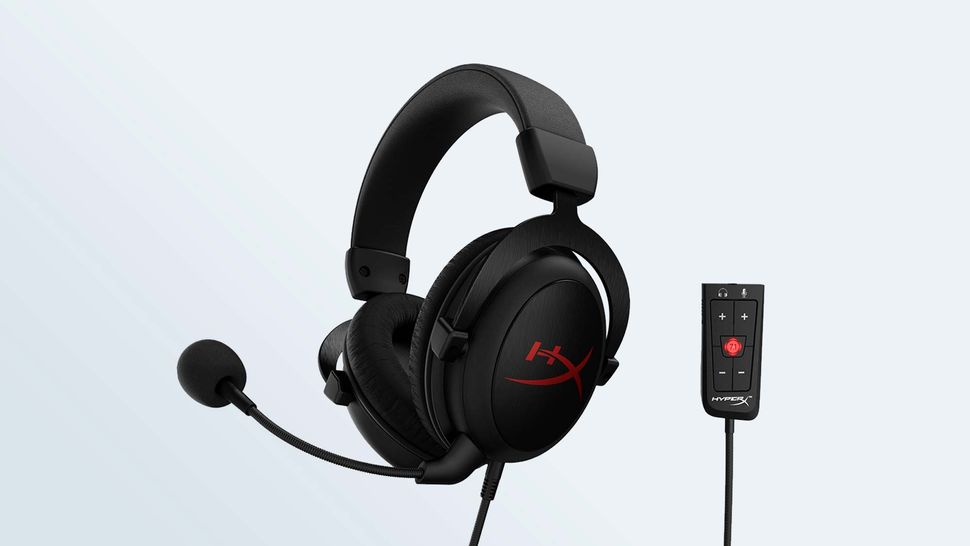 The HyperX Cloud Core 7.1 is a refresh of the HyperX Cloud Core II, one of the best cheap gaming headsets around. Like its predecessor, this headset touts comfortable leatherette earcups, intuitive inline controls and impressive overall game audio.
The Cloud Core 7.1 also supports virtual surround sound, making it easier to hear enemies better in competitive games and get more immersed in narrative adventures. The headset has a convenient removable mic, and it has both 3.5mm and USB connection options for use with any game console, PC or mobile device.
Read our full HyperX Cloud Core 7.1 review.
At $99/£89 the Sony Pulse 3D Wireless headset isn't the cheapest gaming headset around. However, it not only works with the PS5 but also with PCs as well, adding a degree of versatility into the headset. Add in compatibility with Sony's Tempest 3D Audio engine and you've got a rather impressive gaming headset for under $100.
Not only does the headset look rather good with a black and white color scheme matching that of the PS5, but it also delivers some solid audio, You'll hear all the bangs, pop, creaks, screams, and more in all manner of games, with the 3D audio letting you pinpoint where enemies are by sound alone. But the headset also does a decent job when it comes to music and movies.
It's also pretty comfortable, with decent cushioning and a sturdy headband that works for long gaming sessions. There's no active noise cancellation and some of the controls on the earcups aren't the most intuitive. But we'd still say the Sony PlayStation Pulse 3D Wireless Headset is an essential PS5 accessory.
Read our full Sony PlayStation Pulse 3D Wireless Headset review.
How we test the best cheap gaming headsets
How we test the best cheap gaming headsets
In order to determine what the best cheap gaming headsets are, we use every model we review with a variety of games and genres. We generally test headsets with shooters to get a sense of directional sound for competitive games, as well as RPGs and action/adventure titles to evaluate more immersive, cinematic audio.
We also test all gaming headsets with a variety of music to see how well they double as everyday headphones. Additionally, we evaluate the quality of each headset's microphone via sound recordings and real-world play sessions.
How to choose the best cheap gaming headsets
How to choose the best cheap gaming headset for you
There are a handful of key factors to consider when looking for the best cheap gaming headset for your playstyle. Here are some things to know before you buy.
Compatibility: Most of the best cheap gaming headsets connect via 3.5mm jacks, meaning they will work with just about any platform including PS4, Xbox One, Switch and PC. Some headsets only connect via USB for PC and PS4, though, so keep an eye out for that.
Don't expect wireless: You're almost never going to get a wireless gaming headset for less than $60, so be ready to deal with cables. If you want to splurge for a wireless set, check out our overall best gaming headsets recommendations.
Consider your comfort: Most cheap gaming headsets have either faux leather or soft fabric earcups. The former is very comfortable and does a good job sealing sound in, but can get hot over time. Fabric cups are usually very lightweight and are better to wear for long stretches, but you won't always get the most immersive sound.