We've made it to (almost) the end of the year – and waved goodbye to another Black Friday weekend. That doesn't mean the best deals have gone up in smoke, however. Get your hands on one of the best VPNs I've tested – Surfshark, for a fraction of its usual price. It's one of the biggest VPN deals I've seen in ages, and it's available from November 9 to December 4, 2023.
With a Surfshark Starter subscription, you'll have access to its feature-packed VPN for a minuscule $1.99 a month ($53.73.) Surfshark is even throwing in an extra 3 months of coverage for free.
If you fancy checking out Surfshark's other tools, and saving some money in the process, you can check out Surfshark Alert, Search, and Alternative ID with a One plan at $2.69 a month ($75.32), and get an extra 4 months free.
The One+ plan is Surfshark's crown jewel and comes with the Incogni tool that'll remove your information from dodgy brokers on your behalf. You can try it for yourself for $3.99 a month ($115.71) and enjoy an extra 5 months for free.
Fancy learning more about these Cyber Monday VPN deals? Check out the details below: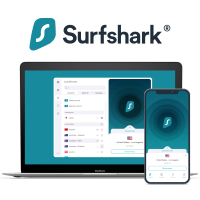 Surfshark | 2 years + 3 months free | $1.99 a month
Save 80%: Discounts like these don't come around every day, so you'll want to act fast to pick up a discounted Surfshark subscription for a fraction of the usual price. Whether you want a Starter, One, or One+ plan, you'll be able to save some money just in time for the holidays.
Each plan is covered by a handy 30-day money-back guarantee, so you have plenty of time to take the service for a test run – but remember, the deal is only available until 4 December, 2023.
Surfshark plans – which one to choose?
When it comes to combining speed, ease of use, and security, few VPNs do it as well as Surfshark. It's a standout service that's ideal for unblocking Netflix, and other streaming platforms, and ensuring that your browsing sessions stay private thanks to its tough encryption and no-logs policy.
Surfshark expanded its offering to include more than just a VPN, however. With the One plan, you'll have access to Surfshark Alert – designed to notify you the moment it spots your info in a data leak. Surfshark Search is a great search engine alternative that doesn't use ads or trackers, providing organic results, and Alternative ID can even spin up a brand new digital identity for you, complete with an email address. The One+ plan includes the Incogni service, which takes all the stress out of removing your information from the clutches of data brokers.
Subscribe if:
✔️ You want real value for money: Surfshark is one of the best cheap providers on the block, and packs a ton of features, and robust security, into plans that will fit nicely into any budget.
✔️ You want a streaming companion: during my recent tests, Surfshark was able to unblock most in-demand streaming platforms, including Netflix, BBC iPlayer, and Amazon Prime, so you won't miss a thing this holiday season.
✔️ You want a full security suite: Surfshark is known for its awesome VPN, but its extra tools ensure that your privacy is protected from all angles – whether that's data leaks, data brokers, or pesky ads and trackers.
In the world of VPNs, when you think value for money, you think Surfshark – the provider is my favorite cheap VPN and a great all-rounder. Other premium providers can be pricey, but Surfshark manages to pack top-notch security, speeds, and unblocking power into budget-friendly plans – and you'll even get unlimited simultaneous connections to play with. That means that one plan is enough to keep you, and your friends and family, secure, no matter what device you're using.
Surfshark is one of my top picks when it comes to performance, too. It sits in the #2 spot in my fastest VPN rankings, and managed to max out my connection with speeds of 950 Mbps during my most recent tests. That's seriously impressive, and means you'll have no trouble streaming in 4k, torrenting, hopping into video calls, or gaming online – you can even leave Surfshark running in the background without noticing a huge impact.
If you're always combing through the newest releases on Netflix, the good news doesn't stop there. Surfshark is a fantastic Netflix VPN, and able to unblock the UK, US, Canadian, and Australian libraries with ease. You'll basically never run out of content again – even if you spend most of the holidays bundled up with your favorite movies. A huge network of 3,200 servers in 100 countries comes in handy, too, when you need to hop across digital borders to unblock geo-restricted sites, services, and apps.
Security is any VPN's main concern, however, and Surfshark excels in this area, too. It's an audited no-logs provider that isn't interested in handing over your data to dodgy third parties, and the handy kill switch will swoop in to cut your internet connection if it detects that the VPN has dropped. In addition to leak protection, Surfshark can also route your connection through two servers instead of one, for an extra layer of security, with its Multi Hop feature.