Tis the season of Black Friday sales, and right now there are plenty of Nintendo Switch deals to save big on gifts for any gamers on your list. While bundle deals are fairly common, it's rare to see the Nintendo Switch outright discounted, and that goes doubly so for the swanky Nintendo Switch OLED.
Right now, you can snag the Switch OLED for only $299 at Walmart. That's a whopping $50 off its usual retail price. This is now the lowest price we've ever seen for the Nintendo Switch OLED.
You'll need to act fast though. That's because this refresh of the original Switch system is a highly desirable upgrade that takes just about everything that was great about its predecessor and kicks it up a notch.
Update: The retailer Monoprice had the Switch OLED for $289, but that sold out. However, the Switch OLED is on sale at Walmart right now.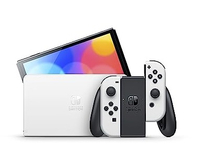 Nintendo Switch OLED: was $349 now $299 @ Walmart
The Nintendo Switch OLED is an upgraded version of the hugely popular handheld/home console hybrid. It sports a gorgeous 7-inch OLED display, a wider adjustable kickstand, a wired LAN port in its revamped dock, and an increased 64GB of internal storage.
As you might have already guessed based on the name, the biggest upgrade is the gorgeous OLED display. The best Nintendo Switch games look truly stunning on this brighter and more vibrant display. Beyond that, the 7-inch OLED display is a little bit larger than the 6.2-inch screen you'll find on a standard Switch or Nintendo Switch Lite. Games like The Legend of Zelda: Breath of the Wild and Mario Odyssey look gorgeous on the Switch OLED, as the larger screen renders crisp images with vibrant colors and deep blacks.
In our Nintendo Switch OLED review, we noted that it "sports a gorgeous screen, an improved kickstand and lots of storage space." But while we labeled it "an easy recommendation for first-time Switch buyers," it's a bit of a harder sell for current Switch owners at $50 more than the standard model and $150 more than the pared-down Switch Lite.
That's what makes this deal such a steal, as you can get the souped-up OLED model for much less than usual. Make sure to follow our Nintendo Switch Black Friday deals coverage for more discounts.