Discounts on the Nintendo Switch and its library of stellar games aren't always easy to come by. That's what makes Black Friday Nintendo Switch deals such a perfect opportunity to pick up Nintendo's wildly popular hybrid handheld/console and a game or two. And this year, the Nintendo Switch bundles are better than ever.
You don't need to wait for the big day either to score great savings. Retailers like Amazon, Walmart, Best Buy and more have already rolled out plenty of Black Friday Nintendo Switch deals to offer hardware bundles and incredible games for less than the usual retail price. Some of the best Nintendo Switch games are on sale too, including Mario Kart 8 Deluxe, The Legend of Zelda: Tears of the Kingdom and Mario + Rabbids: Sparks of Hope.
Be sure to check out our Black Friday deals page for all the best discounts from the sales season. We've also rounded up discounts for plenty of non-Nintendo gaming products in our Black Friday gaming deals hub.
Black Friday Nintendo Switch deals — Quick links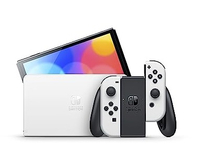 Nintendo Switch OLED: $350 and receive a $75 gift card @ Dell
We rarely see discounts on Nintendo's latest console, but right now Dell is throwing in a $75 gift card with your purchase of a Nintendo Switch OLED. This upgraded version sports a gorgeous 7-inch OLED display, more internal storage, a wider adjustable kickstand, and a revamped dock featuring a wired LAN port.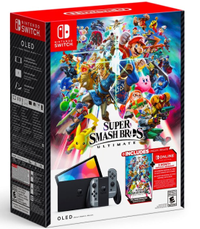 Nintendo Switch OLED (Smash Bros. Ultimate Bundle): $349 @ Best Buy
If you've already got your heart set on a Nintendo Switch OLED, this bundle also throws in Super Smash Bros. Ultimate and a three-month subscription to Nintendo Switch online to play it competitively. Just try to remember to take it easy on the newbies, would you?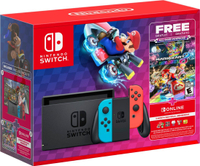 Nintendo Switch (Mario Kart 8 Bundle): $299 @ Best Buy
Best Buy has one of the best Black Friday Nintendo Switch deals out now. For $299, this Mario Kart 8 Bundle comes with a Nintendo Switch console, a digital copy of the full Mario Kart 8 Deluxe game and three months of Switch Online membership. That's the same price as the console normally costs on its own. Break it around the holidays if you think your relationships can survive a Blue Shell or two.
Price check: $299 @ Amazon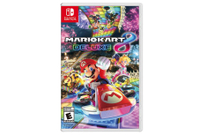 Mario Kart 8 Deluxe: was $59 now $43 @ Walmart
Or if you already have a Switch, you can snag Mario Kart 8 Deluxe on its own for a steal right now. Walmart and Amazon are offering the standalone game for $43, or $16 its full retail price. Race against up to 8 players in a colorful mad dash to the finish line.
Price check: $43 @ Amazon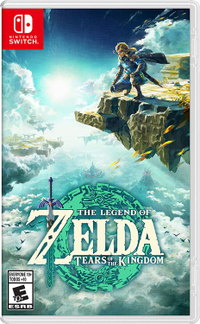 The Legend of Zelda: Tears of the Kingdom: was $69 now $62 @ Amazon
Tears of the Kingdom is the highly anticipated sequel to Breath of the Wild, and it doesn't disappoint. Step back into the world of Hyrule, and embark on Link's most perilous quest to date. You'll need to master new abilities such as Ultrahand and Fuse to unravel the mystery of what happened to Princess Zelda and defeat the sinister Ganondorf.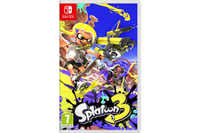 Splatoon 3: was $59 now $49 @ Amazon
You're a kid now. You're a squid now. In this latest entry in Nintendo's colorful competitive shooter series, venture into the sun-filled Splatlands with brand new playstyles for Inklings and Octolings alike. Face off against other players in 4x4 ink-splattered online battles, team up for the Salmon Run co-op mode or work your way through the solo Campaign.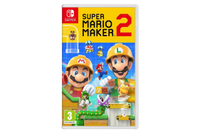 Super Mario Maker 2: was $59 now $39 @ Walmart
If you've ever wanted to construct your own Mario courses rather than just play them, Super Mario Maker 2 is the game for you. Play, create and share your courses with the world and dive into a full single-player story as well. With thousands of user-created courses already available Super Mario Maker 2 offers a nearly endless supply of new content. And it's the perfect game if you want to flex your creative muscle rather than just play.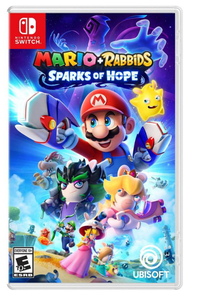 Mario + Rabbids Sparks of Hope: was $59 now $14 @ Amazon
The sequel to 2017's Mario + Rabbids Kingdom Battle, Sparks of Hope once again sees our favorite plumber and the rest of the Mushroom Kingdom teaming up with zany Rabbids. This time the unexpected allies are venturing into the stars for an intergalactic adventure. Offering colorful strategy combat and plenty of planets to explore, Mario + Rabbids Sparks of Hope is truly one of the Nintendo Switch's lesser-known gems.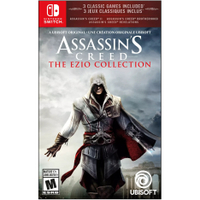 Assassin's Creed The Ezio Collection: was $39 now $14 @ Best Buy
If you're not in a Mario mood, Best Buy's offering a steep discount on the Assassin's Creed The Ezio Collection. For just $14, more than half off the bundle's full retail price, you get Assassin's Creed II, Assassin's Creed Brotherhood, and Assassin's Creed Revelations, as well as all their DLCs and two short films. If you missed the Assassin's Creed hype train the first time around, this is a great bundle to take a leap of faith on.