It's a great week for gaming deals. On the one hand you have 4th of July sales, which are for the most part all live right now. Additionally, you have Prime Day 2023, which is also right around the corner. That makes now a great time for surprise deals.
For example, right now you can get the PS5 God of War Ragnarök Bundle on sale for $499 at Amazon. That's a $60 savings and $10 lower than the previous all-time low price for this PS5 package. It's the best PS5 deal we've spotted to date and practically a must-buy for any gamers looking to invest in a brand-new console. We don't foresee this getting cheap during any upcoming retail holiday, so secure yours now before stock runs out.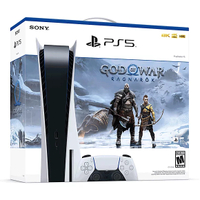 There was a time in the not-too-distance past when just scoring a PS5 at its regular price was considered an achievement. For more than two years, Sony struggled to meet the demand and PS5 restock tracking was a daily activity for many. Fortunately, the flagship console is now much easier to purchase and we're now even seeing discounts on PS5 bundles.
In our PS5 review, we labeled it "the future of console gaming", and that's an assessment that rings as true right now as it did back in November 2020 when it first hit store shelves. And the PS5's popularity is showing no signs of slowing down. Earlier this year the PS5 had more Q1 sales than any video game console in history, which is no small achievement when you're competing with the likes of the Nintendo Switch and Xbox Series X.
The PS5 is a phenomenal gaming machine packing seriously cutting-edge hardware, Its flagship component is the lightning-fast SSD that has practically made loading screens a problem of the past, but you shouldn't overlook its excellent DualSense controller either. This premium pad includes inventive features such as haptic feedback and adaptive triggers that do an excellent job of ratcheting up your in-game immersion.
This Amazon deal includes a digital copy of God of War Ragnarök. This sequel to 2018's God of War reboot currently ranks at the very top of our roundup of the best PS5 games, and it's a stunning game that takes full advantage of the PS5's power. In our review, we called it "worthy of the gods" and praised just about everything from its cinematic storytelling to its engaging combat.