Having trouble deciding which robot vacuum to purchase? Let our robot vacuum buying guide help.
There are myriad robot vacuums available at a variety of prices that can help you with the tedious chore of cleaning your floors. Whether you've got carpet or hardwood, or a small zoo's worth of furry friends, there's a robot vacuum to suit your needs. Many of the robot vacuums available today are chock full of convenient features that take the hassle out of keeping your home clean. From scheduled cleanings to dustbins that empty automatically, there are plenty of models to choose from.
We've compiled the following guide for those of you who are stuck on how to start shopping for a robot vacuum. And if you want the short end of it, here are some quick tips to start you off.
Editor's Note: The Tom's Guide Awards 2021 for smart home devices have been announced, and the Roborock S4 Max has won the Best robot vacuum overall award! Head to the smart home devices awards page to see all the winners and recommended runners-up.
Quick tips for buying a robot vacuum
Start by surveying your home. Is there hardwood or carpet? How thick are your carpets? How many levels does your home have? Do you have pets that shed a lot? Does your cat kick her litter out of the box? These are factors to consider when shopping around for a robot vacuum for the first time.
Decide on your budget. Robot vacuums prices vary widely. You can spend less than $200 or more than $1,000. However, be prepared to do without some popular features in models in the lower price tiers — like home mapping and WiFi connectivity.
Do you want an app with that? The newest robot vacuums work in conjunction with apps that make it easier to control and schedule cleanings. Many models will map your home and allow you to clean specific areas with a tap on the app.
Robot vacuums use varying methods of navigation. Lower-end models gently bounce off of walls and furniture, cleaning in an unpredictable pattern. Mid-range and high-end robot vacuums clean in a predictable pattern, typically aided by laser or optical sensors.
Some models clean better than others. Not all robot vacuums have the same suction and cleaning power. Some are better at picking up pet hair from carpets, while others might perform better on hardwood or vinyl.
Why do you want a robot vacuum?
This is the future, and we have robots doing it all: Cars that drive themselves, drones that navigate the sky and robot vacuums that find their way around furniture. A robot vacuum keeps things relatively clean and saves you the hassle of hauling out the heavy canister vacuum every time a bowl of peanuts falls on the floor.
Though robot vacuum technology has advanced a lot recently, you'll probably still want to keep a traditional vacuum cleaner around for deep cleaning. Robot vacuums are great for daily tidying-- picking up stray crumbs, cat litter, hair of all types, dust bunnies and everything else that finds its way onto your floors. They're suited for office spaces, too, because the last thing you want to worry about when you're on deadline is why the floor is covered in sprinkles. They're also great for roommates as it means there's one less chore to split up.
Many robot vacuums can be scheduled to run as often as multiple times a day, and some app-enabled robots allow you to watch their progress as they clean. If you're concerned about allergies or dust, you can also find models that empty the on-board dustbin into a larger bin in the base — minimizing your exposure to dust.
Robot vacuum buying guide: How big is your house?
First things first: Consider how big your house is before you start browsing the Amazon aisles. Some robot vacuums, like the iLife V3s Pro, work better in small environments like apartments and townhomes, while models like the Roborock S4 Max are better-suited for spaces of up to 2,000 square feet with multiple rooms and multiple floors. Your pick will mainly depend on the size of your dwelling.
You'll also want to figure out how much room you have under the furniture for the robot vacuum to pass through. Robot vacuums like the iRobot Roomba i3 are 3.6 inches tall and likely can't fit under a couch, At just under 2.85 inches tall, the Eufy Robovac G30, for example, has an easier time navigating through tight spaces.
Do you have carpets or hardwood?
Most robot vacuum models can easily handle cleaning both carpets and hardwood, but some are better at cleaning one or the other. Higher-end robot vacuums such as the Roomba S9+ can accommodate rapid surface changes by ramping up power whenever carpet is detected, and then throttling back down when it senses hardwood. Rugs should also factor into your buying decision. You might find that lower-end models will get caught up in tassels.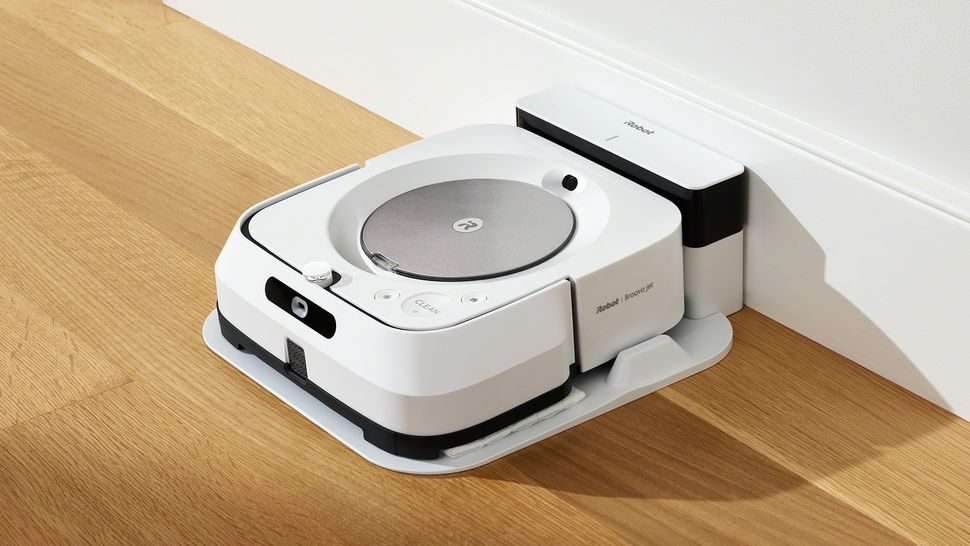 If you're just looking for hardwood maintenance, you can go as cheap as the $118 iLife V3s Pro, as it does very well with cleaning pet hair off hardwood floors. If your floors are vinyl and tile, and you're hoping for some mopping help, there's the iRobot Braava jet m6, which is specifically made for dusting and washing floors using a spray nozzle. (It's tops on our list of the best robot mops).
We've tried so-called hybrid robot vacuums that can both vacuum and mop, but found the trade-offs rarely justify the price and don't actually make the tasks any more convenient. The one exception is the Roborock S7, which is the first robot vacuum/mop we've tested that performs both jobs well.
Do you have cats or dogs (or any other pet that sheds)?
Thankfully, many manufacturers make robot vacuums that are suited for cleaning up after pets. Models like the iLife V3s Pro, the Roomba S9, and the Roborock S4 Max scored the best in our robot vacuum lab tests, picking up nearly all pet hair on both hardwood and carpeting. And if you suffer from allergies, these robot vacuums have high-efficiency filters to help eliminate allergens that are hanging in the air.
Of course, the downside to having a robot vacuum clean up after your pets is that you'll also have to make sure you plan for frequent maintenance. Things like the roller brush, side brushes and filters will eventually wear out and need replacing. And even if you just want a robot vacuum to help with kitties that scoot their litter over the side, you'll need to remember to empty out the dustbin frequently so that it doesn't overflow. Don't want to think about it?
There are now several robot vacuums available with self-emptying dustbins such as the iRobot Roomba i7+, the Roomba i3+, the Ecovacs Deebot Ozmo T8, and the Shark IQ. Some manufacturers allow you to purchase the auto-emptying bases separately, so you can upgrade if you decide it's a feature you'd like.
Do you want a "smart" robot vacuum?
The internet is a glorious thing that helps keep us connected, not only to other people but also to our appliances. Most robot vacuums now offer companion apps for your smartphone that give you full control over your bot wherever you are. Even vacuums that don't support mapping, such as the iRobot Roomba 675, are connected to your home's WiFi and controlled via an app. While features vary by manufacturer and model, most robot vacuum apps allow you to start and stop the bot, schedule cleanings, and increase or decrease suction intensity.
If a robot vacuum has app capabilities, it often means that it also offers Amazon Alexa or Google Assistant integration. If it does, you can enable its voice-command capabilities by enabling the skill and saying "Roborock, start cleaning!" and the vacuum will get going.
There are still a few entry-level robot vacuums that come with a remote instead of connecting to an app. While you'll save some dough, it could be a hassle to use all of the vacuum's features if the remote goes missing. At the very least, all robot vacuums include an onboard start/stop button.
Hybrid robot vacuum/mops aren't great
There are more than a few robot vacuums that also have a mopping feature built in, which is in theory a great idea: A single device to clean both your carpets and your hardwood floors. However, the models we've tested didn't excel at one or both functions.
So far, our favorites are the Roborock S7, the Roborock S6 MaxV, and the iLife V5s Pro. The V5s Pro was inexpensive and great at vacuuming, but was a poor mopper. Yes, it'll cost more, but if you want a robot mop, it's worth investing in a dedicated device. For smaller homes, the iRobot Braava jet 240 ($179) is a simple, affordable dedicated mopping bot.
Battery life isn't a huge concern, unless you have a huge house
Here's the thing about robot vacuum battery life: It only matters to a certain extent. Throughout all of our robot vacuum testing, nearly every vacuum we tested lasted through an entire cleaning session without needing to charge.
On average, a robot vacuum can clean for up to an hour and a half, with some high-end models lasting a full two hours. Many vacuums will even navigate back to their base stations, charge up and then finish cleaning to get the deed done.
Settle on a budget
Robot vacuums are available in all sorts of shapes and sizes and at varying prices. As with most things in life, the more you spend, the more features you get. For example, higher-end robot vacuums will have better mapping capabilities and include features like keep out zones, single room cleaning, and targeted area cleaning for high traffic spaces. They also have more add-on features such as charging docks with auto-emptying dustbins and sonic mopping attachments.
However, we've found robot vacuums less than $200 that clean just as well, if not better, than models that cost three to four times as much. Just don't expect too many fancy features. Also, keep in mind that many manufacturers will discount older models as they release newer ones.
Robot vacuum buying guide: What you get for less than $200
Low- to mid-end robot vacs will offer long cleaning times, large dustbins and low profiles, but, to save you a few bucks, they often forego such things as Wi-Fi connectivity and sophisticated navigation. So, instead of moving around a room in an orderly fashion, they'll ping-pong around randomly until the job is done.
Our top pick under $200 is the iLife V3s Pro, which is just $118, but was one of the best cleaners of all the robot vacuums we tested. Almost as impressive is the WiFi-connected iRobot Roomba 675, which can be found for $199 and works with Alexa and Google Assistant.
Robot vacuum buying guide: What you get for $200- $600
If you're able to budget more for home cleaner, you'll have a lot of options with features such as home mapping, room-specific cleaning and automatic dirt detection. Mapping is incredibly handy because it increases a robot vacuum's cleaning efficiency and ensures that the vac is cleaning the whole level and not aimlessly bouncing around under kitchen chairs.
Our current overall favorite robot vacuum, the $429 Roborock S4 Max sits right in the middle of this price range and multi-level mapping and room-specific cleaning. Other solid picks in this range are the Neato D4 for $299, the quiet cleaning Eufy Robovac G30 Edge, and the iRobot Roomba i3+ with self-emptying base for $599.
Robot vacuum buying guide: What you get for more than $600
Good help doesn't come cheap. There are relatively few robot vacuums in this price range, and most of the advanced features available in these bots fall under "nice to have" instead of "absolutely necessary." These include the ability to map up to 10 floors, avoid specific areas, empty their own dustbins, and work in partnership with other robot vacuums.
Our top pick in this bracket is the iRobot Roomba S9+, which is not only an excellent vacuum, but also has a recharging base with a dustbin that sucks the dirt out of the vacuum. This means you don't have to empty the vacuum after each cleaning nor do you have to deal with the dust. The S9+ also works in conjunction with the iRobot Braava jet M6 ($399), a robot mop, so that when the vacuuming is done, the mop can take over. However, the S9+ costs $1,099 ($899 without the self-emptying base), so it's a real investment.