If you want to give your robot vacuum cleaner a helping hand, try out one of the best robot mops. These nifty little devices are designed to add the finishing touches to your floors once they've been freshly vacuumed. Essentially, they aim to replace your mop and bucket, applying a damp cleaning cloth to your hard floors as they work their way around your home. But, of course, there can be quite a difference in terms of performance, especially when looking at a hybrid robot vacuum mop design. These don't tend to perform as well in our experience, although there are exceptions.
First, you want a model which leaves your floors quick-to-dry and streak-free. Even if you have that, it's of little use if the robot can't navigate very well, so this is vital too. Then there's ease of operation and accessibility to consider — how easy is it to set up and control? If you want help finding the best robot mop, we've tested a range of models to find those that deliver in every respect. We used them exactly as you would at home to assess each strength and weakness behind the design. These are the best robot mops.
The best robot mops you can buy today
Why you can trust Tom's Guide Our expert reviewers spend hours testing and comparing products and services so you can choose the best for you. Find out more about how we test.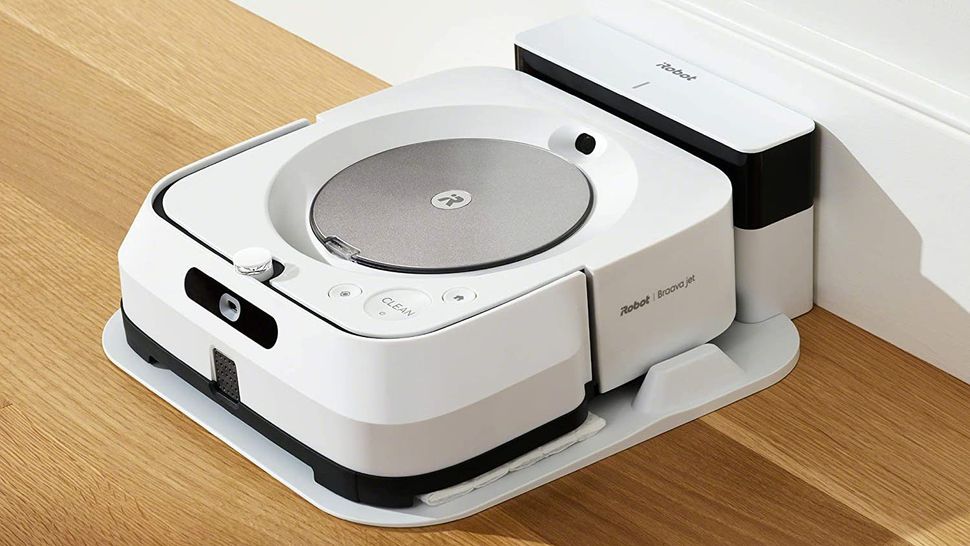 The iRobot Braava jet m6 is the robot mop that does it all. This impressive bot not only cleaned better than every other competitor, but it uses the same advanced navigation found in the Roomba s9 robot vacuum to clean and map your home. Within the iRobot app, you can command the Braava jet m6 to clean specific rooms or areas while avoiding no-go spots such as pet food bowls.
We like the easy-to-fill removable water tank, too. When the mop's battery gets low, it'll head back to its base, recharge, and then get back to work. But perhaps the flashiest feature of the Braava jet m6 is how it works in tandem with the Roomba s9 and Roomba i7. When either of those vacuums has finished cleaning and returned to its base, the mop goes to work. Not only will your floors be vacuumed, they'll be freshly mopped as well. We are truly living in the future.
The Braava jet m6 uses proprietary wet and dry cleaning pads that are available in reusable or disposable versions. The only cleaning solution recommended for use with this bot is proprietary, but you can't have it all. Plus most robots mops can only function with water alone, so this does give you added cleaning power.
Read our full Braava jet m6 review.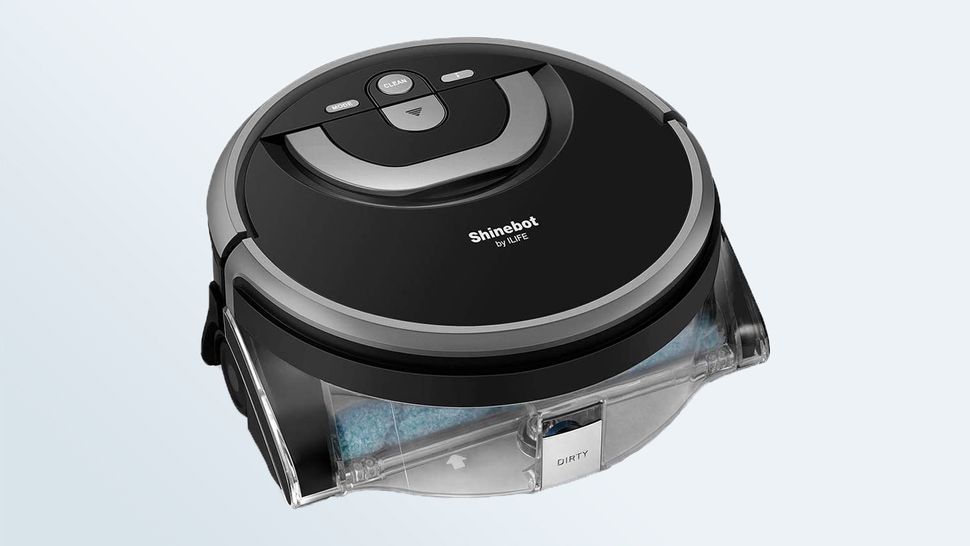 As the best robot mops go, the iLife Shinebot W400 hits the sweet spot between price and performance. Though it just uses plain tap water to clean your floors, we were impressed with how much dirt the mop removed from our floors. Better yet, we could see exactly how much grime was removed thanks to the separate onboard clean and dirty water tanks. The Shinebot W400's mopping prowess is thanks to the twin power of a reusable microfiber brush roll that scrubs dirt away and a rubber scraper squeegee that helps remove dirty water and other debris.
The Shinebot W400 was a well-behaved robot mop as well, never venturing onto even the thinnest rug in our testing. Instead of an app, the W400 is controlled via remote control or the buttons on the bot itself. From here, choose one of four cleaning patterns: Area, path, spot and edge.
While this mopping-only bot offers good cleaning performance, it's a bit tall at 4.6 inches high and might not fit under kitchen cabinets. And, when this robot mop is done cleaning, your cleaning job begins. After each use, iLife recommends cleaning the dirty-water tank, the microfiber brush roll, the scraper and the filter with running water. Then the parts must be left out to air dry. It's a bit of work, but the Shinebot W400 gets the mopping job done.
Read our full iLife Shinebot W400 review.
Until the Roborock S7, most of the hybrid robot vacuums/robot mops we've tested have been good, but not great, at either task. The S7 is the first such device we'd actually trust to vacuum and mop without close supervision. That's because the S7 is smart enough to know when it's on a rug, and can lift its mopping pad so that your carpet doesn't get soaked, although it can still catch on the edges.
As a vacuumer, the S7 was pretty good — it's not the best with pet hair — but it was fast and thorough. It also has niceties such as multi-floor mapping, no-go zones, and scheduling. If you're looking for a robot vacuum that can also mop, the Roborock S7 is worth a look.
Read our full Roborock S7 review.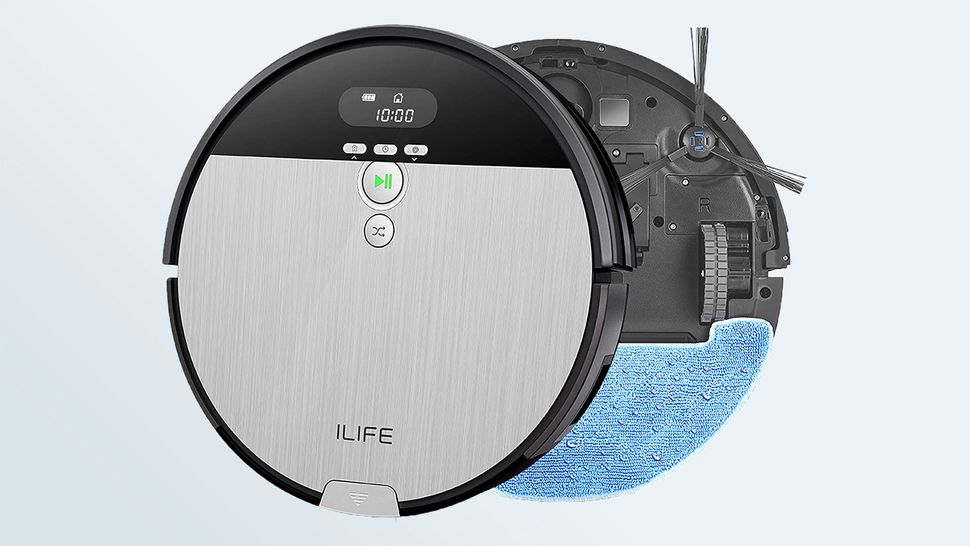 This hybrid robot vacuum and mop won't clean out your wallet, but it will clean up your floors. What the iLife V8s lacks in bells and whistles, it makes up for in cleaning prowess. The iLife V8s has four different cleaning modes that work in both mop and vacuum modes: Classic, which sends the bot bouncing off of walls; Path, a methodical, M-shaped cleaning pattern; Edge, for cleaning along borders; and Spot, for targeted cleaning. As with most robot mops, the company recommends vacuuming prior to mopping.
To activate the mop on the iLife V8s, switch out the dustbin for the water tank, dampen and attach the microfiber mopping pad and choose a mode using the included remote control or on the bot itself. The V8s will get to work. iLife says the 300ml water tank is roughly enough to clean one room and recommends refilling the tank before cleaning the next room. Because it lacks Wi-Fi connectedness and isn't capable of mapping, you'll want to keep an eye on it while it cleans. No one likes a squishy carpet.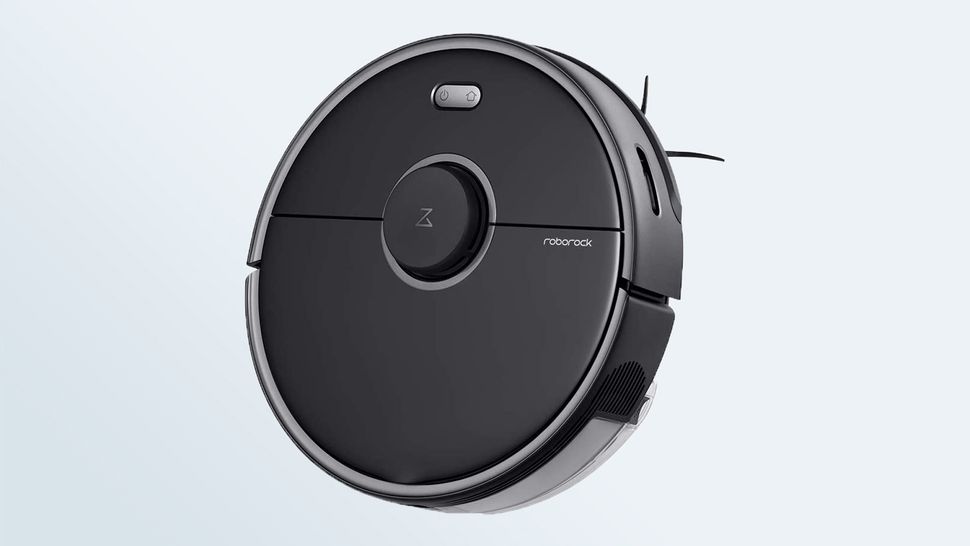 Roborock's update to the S5 hybrid, logically named the S5 Max, put a special emphasis on mopping performance. For starters, there's a larger, 290ml electronic water tank. Plus, the detachable microfiber mopping pad is spring-loaded, meaning the pad will apply consistent pressure on surfaces as it cleans. This is designed to provide more consistent mopping results.
Controlling the S5 Max is as easy as opening the Roborock app on your smartphone. The Wi-Fi-connected bot is capable of creating and saving editable maps of your home. Create a schedule, customize cleaning routes, and demarcate "no-mop" zones from the palm of your hand. This sleek-looking 2-in-1 offers several cleaning modes for vacuuming — Gentle, Silent, Balanced, Turbo and Max — but also offers customizations in mop mode, too. Choose from low, medium, or high water flow depending on the surfaces you're cleaning. Better yet-- the flow level can be adjusted from room to room.
Bear in mind, while this robot mop may be ideal for everyday mopping, it may struggle with heavy spills. Some reviewers found it dusted the floor as it passed more so than scrubbed.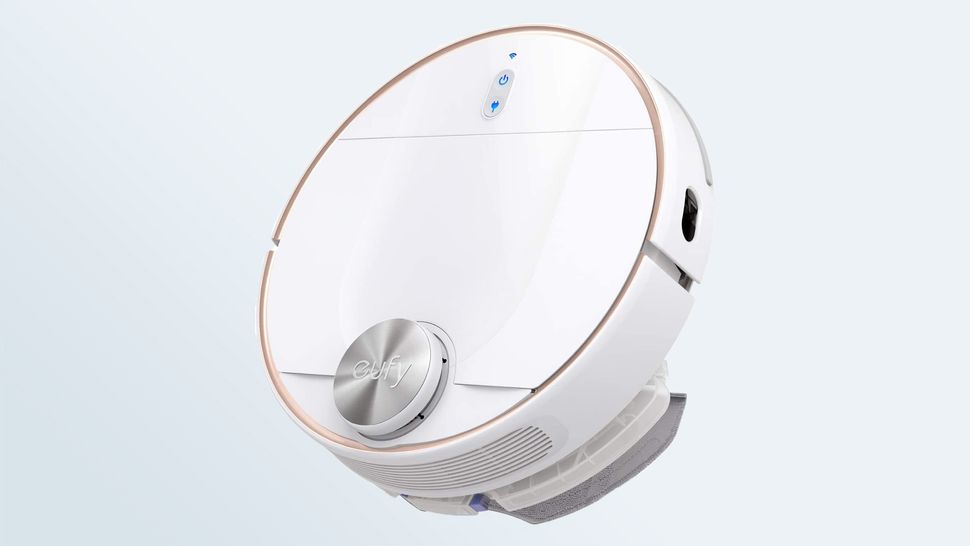 The Eufy RoboVac L70 Hybrid 2-in-1 robot vacuum and mop utilizes an upgraded laser navigation system and is rated for a long, 150-minute runtime. Better yet, should the battery run low, the RoboVac L70 Hybrid will return to its dock, recharge, and then resume cleaning where it left off. The accompanying EufyHome app allows you to adjust mopping power, customize maps, and set virtual boundaries.
Mopping with RoboVac L70 Hybrid is straightforward: Add water to the removable tank that sits just above the dustbin, dampen the microfiber pad and attach it to the bot. The RoboVac L70 Hybrid cleans in a methodical, serpentine pattern that ensures no floor area is untouched — unless, of course, you've set up a no-go zone for it. The only downside with this model is that, at 4-inches tall, it's going to struggle to fit under some cabinets and furniture, which isn't ideal.
How we tested the best robot mops
Be sure to also check out:
Our results are compiled from a combination of in-house testing alongside extensive online research. Those models which are tested hands-on are assessed on performance and design, taking into account how effectively the robot mop navigates as well as cleans. In terms of cleaning performance, we time each robot mop to see how long it takes to clean a 70-square-foot area of hardwood floor, after which we assess how much dirt remains on the surface. We also consider how intuitive each robot mop is to operate, factoring in the layout of its app.
Those which have been selected based on online research must demonstrate highly rated as well as consistent reviews. On top of that, the specifications need to be as good as it gets, with a sizable water tank and ample battery life. We also made sure to consider different types of robot mops to cater to different homes such as hybrid vacuum mops and dedicated models.
Robot mop deals
Looking to buy a new robot mop? Make sure you check out our best robot vacuum deals page first. We update this regularly and robot mop deals are frequently spotted.
How to choose the best robot mop for you
If you're new to the robot mop market, you may have noticed that there are two types to choose from: dedicated robot mops and hybrid vacuum-mop designs. Each vary in price, although you're looking at around $200 as a minimum to over $800 to get one with all of the bells and whistles.
If you already own one of the best robot vacuums, don't bother with a hybrid design. Instead, get a dedicated robot mop to compliment it. You must always vacuum before you mop, otherwise the chore is counter-productive. Some brands sell both kinds of robot which can communicate with one another. In doing this, they clean in the correct order automatically. So, if you own the iRobot Roomba s9+ or Roomba i7+, and you purchase the iRobot Braava jet m6, these will pair with each other and will always vacuum prior to mopping.
If you'd rather not have two separate machines, then a hybrid robot mop might be the way to go. These double up as vacuum cleaners, and can come with added features such as Wi-Fi connectivity, mapping, single room cleaner as well as no-go zones. As they function as mops as well, water flow control and no-mopping zones might be added features too. However, it's worth noting that, in our experience, some hybrid robot mops struggle to detect and avoid carpets and rugs. So, if you own a lot of rugs, look out for the no-mopping zones feature, which is useful in these circumstances.
Are robot mops worth it?
Compared to manually mopping, a robot mop will not apply as much pressure or focus when necessary. However, a robot mop is ideal for everyday cleaning across all of the hard floors in the house and will deal with light spills, such as muddy paw prints. It will also save you from reaching for the mop and bucket and doing the work yourself!
Robot mops will also keep on top of regularly cleaning the floors, which is an easily forgotten or delayed chore. You can also schedule a robot mop to run when you're not at home, which means you won't have to wait around for the floors to dry while boxed into a corner.
However, it's worth bearing in mind that the majority of robot mops will only work with water, with the exception of iRobot, as they sell a separate hard floor cleaning solution. So if you want to use cleaning chemicals, it likely won't be possible. Robot mops can also be an expensive investment, so make sure you have enough hard floors to warrant the cost.
How much should you spend on a robot mop?
Depending on the features and functionality, a robot mop can cost anywhere from $200 up to $1,400 — so it's essential that you start browsing with a budget already in mind. Hybrid vacuum mop designs tend to cost more versus dedicated models because of the additional settings and increased versatility. After all, you're technically getting two appliances in one. If you opt for a robot which comes with a self-emptying base, capable of refilling the water tank and even cleaning the mop cloth, then that's bound to add to the price tag as well.
In the end, you don't have to spend a fortune to get a good robot mop, as our test results show. So, you should only invest in the added features if you intend to put them to good use. We recommend deciding on both your budget and what you want from your robot mop before you start perusing. That way, you can avoid breaking the bank when you don't have to.
Robot mop tips
Clear the area before you mop. Just like robot vacuums, robot mops can get stuck and bump into obstacles as they clean, so move anything out of the way that might cause a problem. For instance, chairs can be difficult to navigate, so stack them if possible.
Don't assume you can add cleaning chemicals to your tank. Always check the manual to see what it recommends, but most robot vacuums can only be used with water. If you want to sanitize your floors, you will need to do this separately. iRobot is one exception, as they sell a separate hard floor cleaning solution for use with their Braava jet line of robot mops.
You should clean the pad regularly following the care label instructions. Use biological detergent on the hottest temperature it allows for a thorough clean.