18 Characters We Want to See in Super Smash Bros. for Switch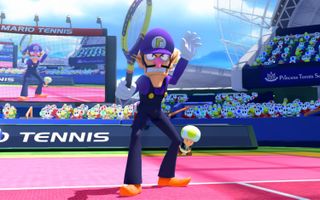 18 Characters We Want to See in Super Smash Bros. for Switch
Now that Super Smash Bros. for Switch is official, there's only one thing left to do: speculate wildly about the game's roster.
Nintendo's flagship fighting-game series has a rich history of pitting Nintendo icons against special guest stars, with Mario, Sonic, Mega Man and even Cloud Strife all having thrown down in 2014's Super Smash Bros. for Wii U. With that in mind, we've compiled the 18 characters we want to see most in Smash Bros. for Switch when it hits later this year, from practical predictions to complete long shots.
Credit: Nintendo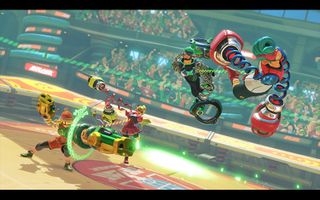 Spring Man and Ribbon Girl
Arms is Nintendo's latest hit franchise and a great fighting game in its own right. As such, a crossover with Smash seems inevitable. Flagship fighters Spring Man and Ribbon Girl would be excellent additions to the Smash roster, thanks to their stretchy long-range punches and myriad unique gadgets. - Mike Andronico
Credit: Nintendo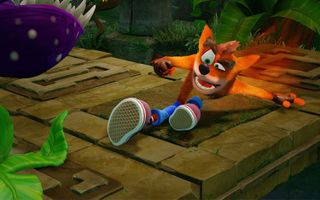 Crash Bandicoot
Smash Bros. already lets Mario, Sonic, Pac-Man and Mega Man duke it out, but there's one big gaming icon missing. If Crash Bandicoot came to Smash, you could finally settle that debate over which '90s console mascot is best. And now that the Crash Bandicoot N. Sane Trilogy is coming to Switch, the former PlayStation star's presence is far from a pipe dream. - Mike Andronico
Credit: Activision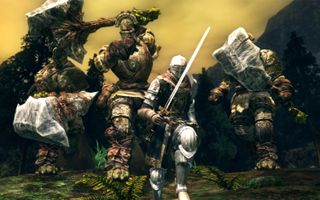 Solaire of Astora
For a series as bleak as Dark Souls, Solaire of Astora has become a surprisingly cheerful mascot. Fans recognize Solaire immediately by the distinctive great helm on his head, the blazing sun emblem on his armor and the jolly "Praise the Sun!" gesture with which he's become synonymous. Since Dark Souls is about to get a Switch release, and Solaire has an amiibo on the way, his inclusion in Super Smash Bros. is not nearly as ridiculous as it may have sounded even a few weeks ago. Let him use his weathered sword — and make him a little sturdier than he is in the Souls games. - Marshall Honorof
Credit: Bandai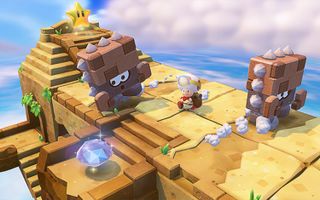 Captain Toad
Captain Toad is a fearless archaeologist, a brilliant puzzle solver and a loyal friend to Mario and crew. Technically, he can't even jump, but his pickax skills would make him deadly against the likes of Donkey Kong and Fox McCloud. Toad has been conspicuously absent from the Smash roster since the beginning of the series, and with the sorely underrated Captain Toad game coming to Switch soon, now seems like his time. - Mike Andronico
Credit: Nintendo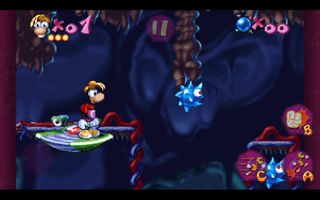 Rayman
Rayman fans feel spited. He's been rumored to come to Smash games since Snake was announced as a guest character, but he never showed up. Even worse, Ubisoft has put him on the bench to focus on those Raving Rabbids that originally showed up in his games. The limbless hero has endless potential for creative short-range attacks, and I'd love to see him power up with some Lums for a final smash. - Andrew E. Freedman
Credit: Ubisoft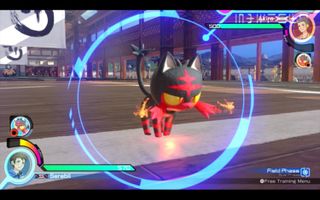 Litten
Every Smash iteration brings new Pokémon characters with it, and we expect Smash for Switch to follow suit. And who better to represent Pokémon Sun and Moon than Litten, the adorable kitten that also happens to shoot deadly flames out of his mouth? - Mike Andronico
Credit: Bandai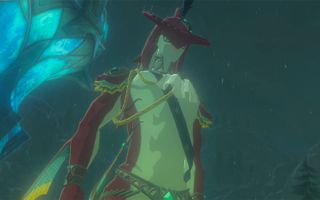 Prince Sidon
That striking physique, that go-getter attitude, that perfect smile — it's no wonder that Sidon, Zora prince from The Legend of Zelda: Breath of the Wild, became a meme sensation overnight. But Prince Sidon isn't just a pretty face; we also know he's a capable spear-handler, and leaper extraordinaire. It's a solid bet we'll see Link and Zelda in Super Smash Bros., perhaps with Breath of the Wild outfits, but Sidon represents an easy way for Nintendo to add a fan-favorite character from its recent history. Even better: We already know what his victory pose would be. - Marshall Honorof
Credit: Nintendo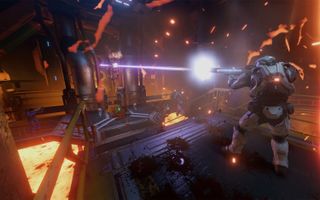 Doomguy
Now that Doom is on Switch, why not let the iconic Doom marine throw down with Nintendo's finest? Sure, Nintendo would have to tone down those face-shredding glory kills, but the Doom Slayer's springy movement and robust weapon arsenal would be great fits for Smash. Just imagine busting out the BFG on Bowser. - Mike Andronico
Credit: Bethesda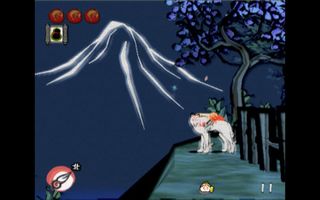 Amaterasu
The star of Capcom's Okami series, Amaterasu is an adorable wolf-goddess that can summon a variety of powerful elemental attacks thanks to her trusty celestial brush. She's no stranger to fighting games, having thrown down in Marvel vs. Capcom 3, and her arrival in Smash would be a great way to celebrate Okami HD's Switch release. - Mike Andronico
Credit: Capcom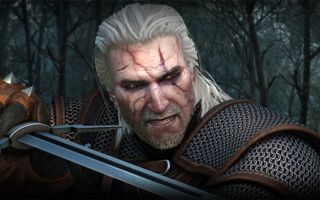 Geralt of Rivia
This one's a longshot, but hear us out. Witcher developer CD Projekt Red teased that Geralt of Rivia, the franchise's beleaguered and bearded protagonist, might show up in a non-Witcher game for the very first time this year. Just a few days later, Nintendo revealed a teaser trailer for the new Super Smash Bros. Coincidence? Well, to be honest, probably. But still, Geralt of Rivia would be a capable fighter, armed with two swords, a crossbow and a world-weary, sardonic wit. Super Smash Bros. has already taken on some weird characters, from Ryu to Bayonetta, so why not one more? - Marshall Honorof
Editor's note: It turns out that Geralt's big guest appearance will actually be in Soul Calibur VI. But hey, we can still dream, right?
Credit: CD Projekt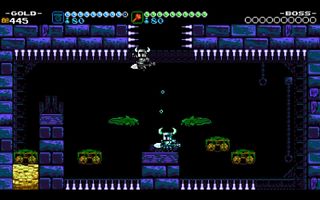 Shovel Knight
Shovel Knight in Smash makes so much sense, I'm surprised it hasn't happened already. The pixelated 2D adventures of this beloved indie icon are a hit on Nintendo systems, and he even has his own amiibo. Shovel Knight's bouncy movement and shovel-based attacks would make him a natural fit for Nintendo's brawler, and seeing him go toe to toe with the likes of Link and Marth would simply be a delight. - Mike Andronico
Credit: Yacht Club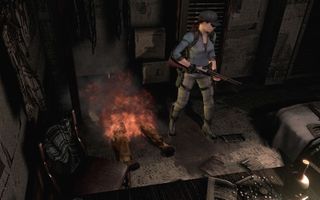 Jill Valentine
Another Capcom star with a long legacy on Nintendo consoles and in fighting games, Resident Evil's Jill Valentine would be an excellent addition to the Smash crew. Jill's wide weapon arsenal and deadly up-close melee skills would make her one of the most versatile fighters in the game, and she'd do a nice job of filling the soldier-size hole that Solid Snake left after Super Smash Bros. Brawl. Her time on Nintendo consoles dates back to the 2002 GameCube remake of Resident Evil, and we've already seen her kick plenty of butt in Marvel vs. Capcom 2 and 3. - Mike Andronico
Credit: Capcom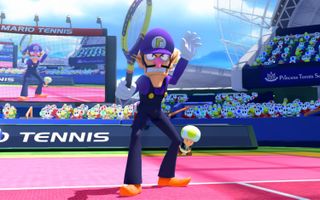 Waluigi
Nintendo, just give the fans what they want — and that's Nintendo's most meme-able character, Waluigi. Because really, if you're going to let Wario literally fart on other Nintendo characters, why not let us see how dastardly Waluigi can be? Without any sort of starring role since his introduction in Mario Tennis back in 2000 (let's forget Dance Dance Revolution: Mario Mix), he's been saving up 18 years of rage that he'd love to take out on Mario. Or Peach. Or the Ice Climbers. You get the point.- Andrew E. Freedman
Credit: Nintendo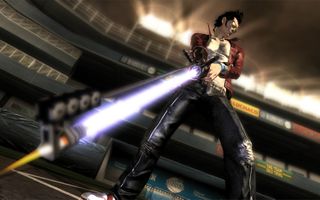 Travis Touchdown
The protagonist of cult Wii hit No More Heroes, Travis Touchdown is a geeky assassin that's deadly with a beam katana. Travis' blend of sword attacks and pro wrestling moves would make him one of the most interesting fighters in the game, and we'd love to see how Nintendo would incorporate his unique post-kill slot-machine mechanic. With No More Heroes: Travis Strikes Again slated to hit the Switch soon, this one seems obvious. - Mike Andronico
Credit: Konami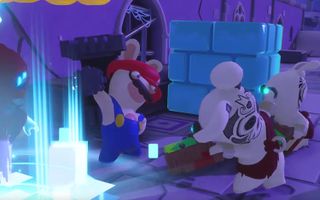 Rabbids
After the unexpected smash success of Mario + Rabbids: Kingdom Battle, it only makes sense for Ubisoft's mischievous, meme-able mascots to team up with Mario and crew again. The Rabbids could be the ultimate characters to troll your friends with, thanks to their small, squirmy statures and the variety of tactical attacks they've picked up since Kingdom Battle. - Mike Andronico
Credit: Ubisoft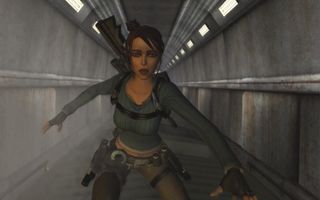 Lara Croft
Square Enix has already let Cloud Strife compete in Super Smash Bros., so would Lara Croft really be that much stranger? Lara has starred in a handful of games on Nintendo consoles, including two well-received Game Boy Color exclusives, so this would hardly be the first time that Great Britain's most famous fictional archaeologist (sorry, Henry Jones Sr.) crossed paths with the Big N. Although she's an explorer first and foremost, Lara would bring her trusty ice ax for melee battles, as well as an assortment of bows, pistols and rifles to inflict long-range damage. - Marshall Honorof
Credit: Eidos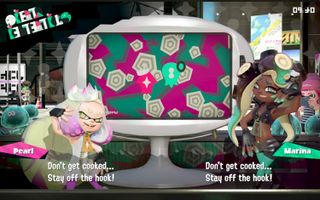 Marina and Pearl
We already know that Splatoon's boy and girl Inklings are coming to Smash, but that's not enough Splatoon, if you ask me. Splatoon 2 announcers Marina and Pearl aren't exactly fighters, but their mic skills alone — which include memorable one-liners and painful puns — would make them formidable and charming additions to the cast. - Mike Andronico
Credit: Nintendo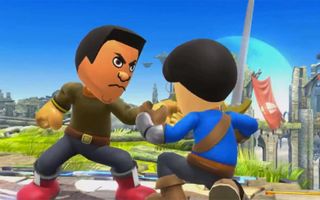 Reggie Fils-Aime
Calls for the charismatic chief of Nintendo of America to appear in a Smash Bros. title date back at least five years, and if you've seen the way the guy commands a stage, it isn't much wonder why. Not only is his body ready, but we know he can fight from his epic skirmish with the late, great Satoru Iwata before Nintendo's E3 event in 2014. - Adam Ismail
Credit: Nintendo