The Google Pixel 3 was our favorite Android smartphone to come out last year, thanks to its clever software, class-leading camera and understated design. That has us plenty excited to find out what Google is planning for the Pixel 4, especially now that we know when we're going to clap eyes on Google's next smartphone.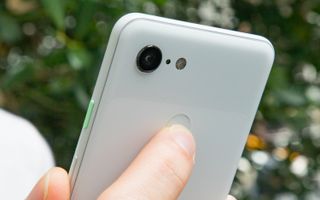 Google is holding a press event on Oct. 15 where it's planning on showing off new hardware, including — presumably — its next flagship phones. Of course, even before that event, Google has given us a head start by teasing the Pixel 4's design, camera and biggest new features,
The Pixel 4 will introduce a complex front-facing camera array that will be used for iPhone-style depth-aware facial identification, as well as an advanced radar sensor to read hand gestures in the air with incredible precision. We're also expecting multiple cameras on the back of the phone — a first for Google.
Here's everything we know to date about Google's next flagship, which will certainly face stiff competition from Samsung's Galaxy S10 models and Apple's newly unveiled iPhone 11 lineup.
Latest Google Pixel 4 rumors (Updated Sept. 16)
Google is holding an Oct. 15 press event, where it's expected to show off the Pixel 4.
A hands-on video for the Pixel 4XL that's surfaced has shown off some of the specs for Google's larger phone, including its 6.23-inch OLED screen with a 90Hz refresh rate as well as some camera specs.
Google may be working on a 5G version of the Pixel 4, as revealed by results posted to the Geekbench site for a 5G-capable Google phone.
Google Pixel 4 release date
One more element of surprise has been removed from the Pixel 4 story. We now know when the new phone is going to make its debut.
Google has scheduled an Oct. 15 press event in New York, and while its invitation doesn't specifically call out the Pixel — all it says is "Come see a few new things Made by Google" — but it's not a big leap of imagination to suggest that the Pixel 4 will be front and center. After all, the Pixel 3 and Pixel 3 XL debuted on October 9, 2018.
If Google follows the same launch pattern as last year, the Pixel 4 will go on sale a little more than a week after Google's event, though we could see sales launch as soon as Oct. 18 if the company wants to get the phone in stores even quicker.
Google Pixel 4 price
One area where we haven't heard a lot of Pixel 4 chatter is the phone's expected price. We expect that to change as we get closer to the rumored launch date, but for now, all we can do is do a little guesswork.
The Pixel 3 debuted at $799, while the Pixel 3 XL debuted at $899. That was an increase of $150 and $50 from the Pixel 2 and 2 XL, respectively, and Google admitted it was having a hard time selling the new phones. (Back in April, the company told Wall Street analysts that the Pixel 3 wasn't selling as well as its predecessor had.)
The Pixel 3's struggles may not convince Google to adjust the price for the Pixel 4, though. Just a few months ago, Google released lower-cost phones, the Pixel 3a and 3a XL, and those have helped smartphone sales double for Google. It's likely that Google will figure customers put off by the higher-price tag of its flagship phones can opt for the cheaper Pixel 3a lineup.
MORE: Pixel 3 vs. Pixel 3a: What's Different?
With that in mind, we'd expect the Pixel 4 to debut for around the same as the Pixel 3, especially given the face-scanning technology Google's adding to the new phone. We're happy to be surprised by a lower price, though.
Google Pixel 4 design
Mere days after a revealing render of the Pixel 4 emerged, which included a prominent, rectangular camera bump on the back (much like the one the iPhone XS successor has been rumored to have), Google went out and confirmed the design on its Made by Google Twitter page.
While Google's given us a good look at the rear of the phone, we know a bit less about the other side. For what it's worth, the company did publish a teardown of the Pixel 4's front-facing camera array when it revealed the Face Unlock and Motion Sense features — so that certainly explains the lack of a fingerprint sensor on the back, as well as the presence of a rather prominent top bezel.
Additionally, an official YouTube video demonstrating the Face Unlock functionality provided us with a peek at the side of the black version of the phone. You can clearly see a matte frame and white-accented power button, and it also appears the that device's screen extends all the way to the bottom of the front glass.
Receiving official design confirmations several months before the handset's eventual launch is unprecedented; perhaps Mountain View was spooked by last year's lackluster Pixel 3 reception?
Meanwhile, a series of mockups, courtesy of leaker Steve Hemmerstoffer (who goes by the moniker @OnLeaks) and Indian tech blog PriceBaba, may offer some clues as to what the entirety of the Pixel 4 XL looks like. The two parties teamed up on renders in the spring that ended up being bang-on accurate concerning the back of the regular Pixel 4, so there's reason to believe their latest mockups are legitimate.
In these images, we can see the larger of the Pixel 4 variants may ditch the third generation's oversized notch, instead opting for the same top bezel as the smaller model to house the front-facing camera, earpiece and wealth of extra sensors necessary to enable mid-air gesture recognition. The bottom front-firing speaker seems strangely absent, indicating Google may have repositioned it to the bottom edge, similar to the iPhone XS' stereo implementation.
If you'd like to get a sense of what the Pixel 4 looks like in everyday use, 9to5 Google posted pictures of what it thinks is Google's upcoming phone out in the wild. It certainly resembles the design we've seen so far, along with the fabric case that Google has released alongside previous Pixels.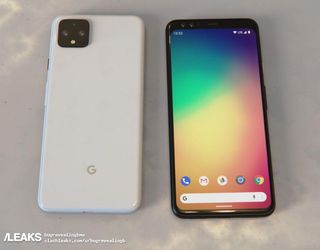 Design is a subjective thing, and the Pixel 3's was admittedly polarizing. Personally, I like the symmetry of the smaller model and find it very simple and clean, though others contend that the bezels — and especially the massive notch on the Pixel 3 XL — make Google's latest flagships rather ugly and dated-looking. It would be great to see the company shake that perception with a slimmer, tighter aesthetic and perhaps even more exotic surfaces beyond glossy, painted aluminum and glass.
So far, leaked images have shown us three colors of Pixel 4 - black, white and orange. All of them have a black camera patch and metallic edges, but it all ties together nicely.
Google Pixel 4 gesture recognition
Google is looking to seriously revolutionize smartphone interaction, thanks to its Project Soli initiative. Introduced at Google I/O 2015 and developed by Google's Advanced Technology and Products division, Soli incorporates a new-fangled radar sensor that can interpret motion at a distance with incredible precision, such that you'll be able to make gestures in the air — like turning an imaginary knob, for example to raise the volume of music — and the device will respond appropriately in real time.
Soli was first linked to the Pixel 4 by a pair of reports from 9to5Google and XDA Developers. And now Google's confirmed the feature via a July 29 blog post officially revealing Soli's implementation in the Pixel 4.
Called Motion Sense, Google says the breakthrough technology will allow users to "skip songs, snooze alarms, and silence phone calls, just by waving [their] hand." It will also be used to ready the phone for facial recognition, before the user picks the device up.
Much like the True Depth camera inside the iPhone XS and XR, the Motion Sense and Face Unlock systems require an array of imaging hardware, including a dot projector, several IR sensors and a flood illuminator, in addition to the conventional front-facing camera. Interestingly, Google appears to be ditching the Pixel 3's dual-lens selfie shooters for single optics on the Pixel 4.
Thanks to YouTuber This Is Tech Today, we've been able to see the settings for Motion Sense, and it confirms much of what we saw rumored. You can swipe left and right to skip music tracks, wave to dismiss alerts and alarms, or put your hand over the phone to display your lock screen and notifications without having to press the screen or a button.
If Google can really pull off Soli in a reliable way, it'll be a breakthrough for technological interaction. LG tried to achieve a similar goal through the use of a time-of-flight sensor in the G8 ThinQ, though the results were inconsistent, and the phone was often unable to read gestures unless the user was extremely precise in the placement and visibility of their hand in relation to the front-facing camera. Radar may allow Google to get around that limitation, but of course we won't know for sure until we get to test the feature in the flesh.
Google Pixel 4 cameras
So what about the rear cameras on the Pixel 4? Given the image Google leaked of the upcoming phone's design, it's pretty clear we can plan on seeing multiple lenses. Leaked specs posted by 9to5Google based on a reliable source suggest the new Pixel will have 12-megapixel and 16-MP lenses on the back of the phone.
There's been some speculation that second lens could improve the Pixel's zoom capabilities, which currently rely entirely on Google's Super Res Zoom feature in which software fills in the details on a zoomed-in shot. Adding fuel to that speculation was an Instagram photo posted by Google's director of design that showed off a 20x zoom; however, that shot was photographed by a Pixel 3a. Still, since that's better than any Pixel 3a zoom we've seen up until this point, it could well be that Google is working on improved software that further takes advantage of the Pixel 4's second lens.
Later leaks seem to have given us an answer. According to leaks posted on Weibo and relayed via XDA Developers, the cameras on the Pixel 4 are now capable of at least 8x zoom. Sadly we don't know whether this figure is all optical or a hybrid of optical and digital, but it's still a noteworthy improvement.
A source speaking to 9to5Google mentions the Pixel 4 will have an upgraded Night Sight low-light photography mode, as well as a new 'Motion Mode' setting for taking pictures of fast moving objects, keeping the subject in focus while the background blurs stylishly. Not as big a deal as the new hardware perhaps, but these are still cool upgrades to an already great phone camera.
Google Pixel 4 performance and battery
Of course, we expect the next-generation Pixel to implement Qualcomm's premium system-on-chip, the Snapdragon 855, as well as even better cameras. But such improvements are really table stakes for the Pixel 4, so we're more interested in the phone's advanced gesture and facial recognition, as they present ways Google could further differentiate the handset from its opposition.
The Pixel 3 is no slouch, but as Android phone makers are continually beefing up their products with increasingly larger amounts of RAM, the Pixel 3's 4 GB of memory feels a bit pedestrian. We hope this is raised to at least 6 GB with the next model, as it would provide a nice boost to multitasking and launching apps from memory.
Apparently, Google might agree, as BGR has reported that the Pixel 4 will introduce 6 GB of memory onboard. That may not be on the same level as the 12 GB of RAM you get from some device makers, like OnePlus and Samsung, though it's better than no increase at all. Hopefully, while Google is at it, it'll make 128GB of storage standard, too; the skimpy 64GB of storage in the new iPhone 11 Pro is one of that new device's most glaring flaws.
Finally, if there's one particular area where the Pixel 3 could really use some help, it's in the battery life department. The 2,915-mAh power pack in the 5.5-inch model is just a bit too small to accommodate stress-free everyday use. For that reason, we'd really like to see a bigger battery closer in size to the 6.3-inch Pixel 3 XL's 3,430-mAh unit.
9to5Google's source on specs hints has good and bad news on the battery — the larger Pixel 4 is likely to get a boost to 3,700 mAh, but the battery on the smaller model will drop to 2,800 mAh.
Other Google Pixel 4 specs
One of the specs in Google9to5's report from August has us pretty stoked. Reportedly, the screen on the new Pixel will have a 90Hz refresh rate. That matches a feature in the OnePlus 7 Pro, and it means a smoother scrolling experience that really makes a difference when you see it in person.
According to that specs report, the Pixel 4 XL's screen is expected to remain at 6.3 inches, which is the same size as the Pixel 3 XL. The Pixel 4 will add some more screen real estate, jumping to 5.7 inches from the 5.5-inch display on the Pixel 3. The Pixel 4 is expected to offer a Full HD+ resolution with the Pixel 4 XL sporting a Quad HD display.
A 5G Pixel 4?
A few phone makers have trotted out 5G versions of their smartphones capable of connecting to the faster networks wireless carriers are rolling out this year and beyond. Samsung has introduced 5G editions of both the Galaxy S10 and Note 10, while LG and OnePlus have introduced 5G phones of their own in the U.S.
It wasn't clear if Google would join the 5G party with this fall's Pixel release, but new evidence suggests it might. The Geekbench website included a listing for a phone called the Google Pixel 4 XL 5G, suggesting Google is developing a 5G variant of this fall's flagship device.
Should a 5G Pixel 4 really be in the works, it would give Google a leg up on Apple. The just-released iPhone 11 and iPhone 11 Pro models don't work on 5G networks, and Apple's not expected to have a 5G-ready phone until 2020. Having a Pixel 4 that can connect to the next-generation of wireless networks would give Google a phone that's still at the cutting edge of network connectivity a year or two from now — a key selling point now that people are holding onto their smartphone longer.
If there's a 5G Pixel 4, we might also hear about Google's 5G plans for its own wireless network. Project Fi uses the networks of Sprint, T-Mobile and US Cellular, so we're interested to hear how their 5G expansion plans will impact Fi customers.
Google Pixel 4 and Android 10
Android 10, formerly known as Android Q back in its beta days, has arrived and it promises lots of improvements, including better control over how you share your location, an estimate of remaining battery life, contextually aware settings menus and a faster-performing sharing sheet. Google continues to tinker with navigation, with a new gesture-based system that more closely emulates Apple's philosophy starting with the iPhone X. Other highlights of Android 10 include easier sharing of Wi-Fi passwords and camera enhancements. Plus, call screening has been improved.
MORE: 7 Android 10 Features to Try Out First
The Pixel 4 is all but certain to run Android 10 out of the box, especially since the software update is currently making its way to all existing Pixels, including the lower-priced Pixel 3a models.