The best Alexa speakers are all excellent, but which one you should buy depends on your needs. Amazon and other third-party audio companies offer a large range of Alexa-enabled smart speakers and displays that cater to different use cases. 
All the best Alexa speakers will listen to your voice and can carry out different kinds of tasks. Whether you're looking to stream music from Spotify, control your smart home devices, change the channel of your smart TV, create a home communication hub, get a report of the weather or order food hands-free, Amazon's voice assistant can help. 
When you know how to use Alexa, having a smart speaker (or three) will let you take advantage of all the best Alexa skills and features. But not all speakers are made the same — that's why we've spent hundreds of hours testing dozens of options for your buying convenience. 
See all of the best Alexa speakers below. 
What are the best Alexa speakers?
The best Alexa speakers come largely from Amazon itself. The Echo device lineup benefits from the deepest assistant integration, and you shouldn't find anything that an Echo can't do as far as Alexa's powers are concerned.
There are a couple new Alexa speakers on the way. The redesigned Amazon Echo, Amazon Echo Dot, Amazon Echo Dot Kids Edition and Amazon Echo Show 10 are arriving later this year.
Until those speakers come out, our top pick among the best Alexa speakers is the flagship, third-generation Amazon Echo. The $99 towering smart speaker sounds superb for the price, is loud enough to fill a large living space and has an attractive cloth-covered exterior.
That's why the $50 Echo Dot is also one of the best Alexa speakers you can buy. The hockey puck-sized smart home device is affordable enough to place in every room, and even comes in a clever 'with Clock' edition that's capable of replacing your dumb, outdated radio clock.
If money is no object, and you take home audio seriously, take a look at the Sonos One. It's a bit pricey at $199, but you won't find a better-sounding Alexa smart speaker out there. The Sonos One works with hundreds of streaming sources through the company's massive library as well. 
The best Alexa speakers you can buy today
The third generation Amazon Echo is our overall top pick among the best Alexa speakers. It's a giant leap from the original both in terms of design and performance. It comes in an attractive fabric-swathed finish and packs improved audio hardware from the second-generation Echo. Like the Echo Plus, the Echo packs a 3-inch woofer, 0.8-inch tweeter and Dolby Audio.
Unlike the previous-generation Echo, this version does not have a swappable exterior, but you can get it in one of five colors. The sandstone model looks great among white and grey decor, while the traditional Charcoal and Heather Grey options are sharp, too. Amazon also introduced a charming Twilight Blue variant exclusive to the new Echo, which is perfect for a summery beach home. This is your best bet if you're looking for the Alexa speaker with the best sound under $100.
Read our full Amazon Echo review.
At $49 — and often on sale for much less — the Echo Dot is the best Alexa speaker for those on a budget. But it's also good for those who are looking for whole-house Alexa coverage, as you can easily pick up multiple Echo Dots and link them together to create a connected intercom system. Although you might not want Alexa in every room, the Echo Dot certainly makes it possible. 
Despite its small size, the Echo Dot has other features that make it well-suited for more than just the cost-conscious. It delivers solid audio in its tiny body, which is covered by a friendly mesh fabric design that's perfect for a living area or bedroom. For those of you who just purchased one, here's how to set up the Amazon Echo Dot.
Read our full Amazon Echo Dot review.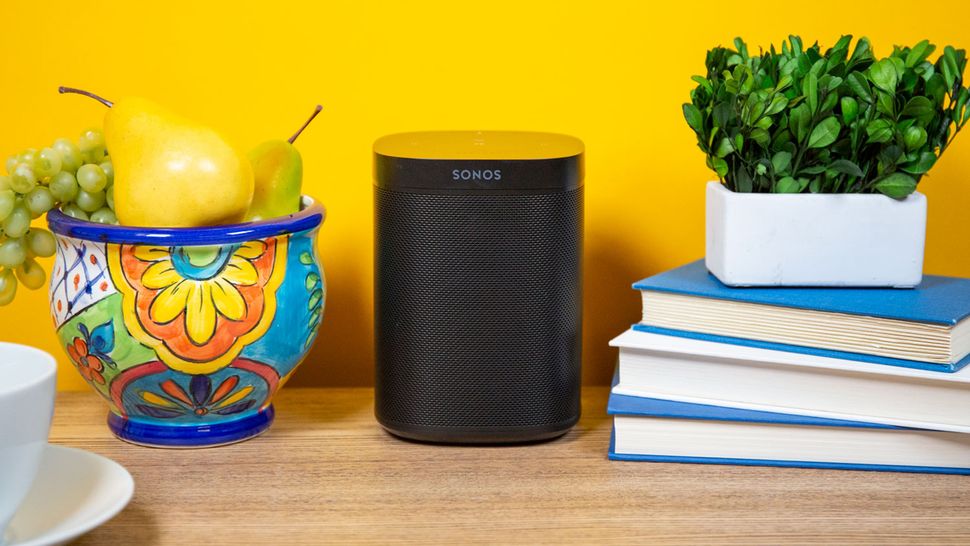 That's right. The best Alexa speaker when it comes to audio isn't made by Amazon. The Sonos One delivers exceptional sound in a compact, yet powerful package. What's more, you can pair two Sonos Ones for true stereo sound, and group multiple devices together for whole-home audio.
But what also makes the Sonos One great is its ability to stream audio from hundreds of sources across the company's library: Not just Spotify and TuneIn, but SiriusXM, MLB, and much, much more. And, you can control it all using Alexa. Should you tire of Amazon, you can also switch the Sonos One to use Google Assistant, which makes this speaker even more versatile. The one caveat is that the Sonos One lacks two of Alexa's features: The ability to use Drop-In and make phone calls. 
Read our full Sonos One review.
The name says it all: This is an Echo Dot with a clever LED clock built in its face. However, this seemingly simple addition adds a ton of functionality to the Echo Dot, making an even better bedside companion. More than just the time, though, the Echo Dot with Clock's display can also show you the current temperature, and also functions as a timer. It also has an ambient sensor that automatically adjusts the brightness of the display based on the lightning of its surrounding environment. 
The Echo Dot with Clock costs $10 more than the Echo Dot, but is a worthwhile upgrade for those who want to know the time without having to ask Alexa. As far as bedside radio clocks go, the Echo Dot with Clock is the best option.
Read our full Echo Dot with Clock review.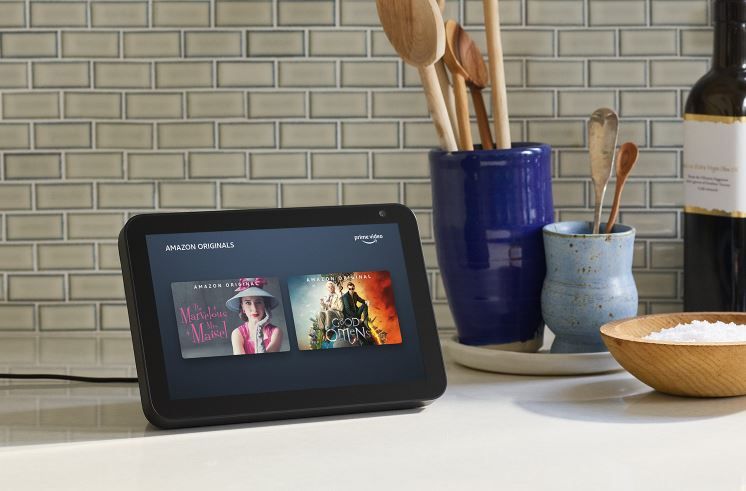 We're as surprised as you, but we think the Amazon Echo Show 8 is by far the best Alexa speaker with a display. That's right: We like it better than its larger sibling, the 10-inch Amazon Echo Show, and miles more than the adorably compact Echo Show 5.
For starters, the Echo Show 8 is much less expensive, yet delivers visuals and audio far better than its price would suggest. The main difference is that the Echo Show 8 has a smaller 1-megapixel camera, but we didn't find that impacting the overall quality of our video chats. It also lacks the Zigbee smart home hub found in the 10-inch Echo Show, but that shouldn't be much of a deterrent for those who want a quality smart display for around $130.
Read our full Amazon Echo Show 8 review.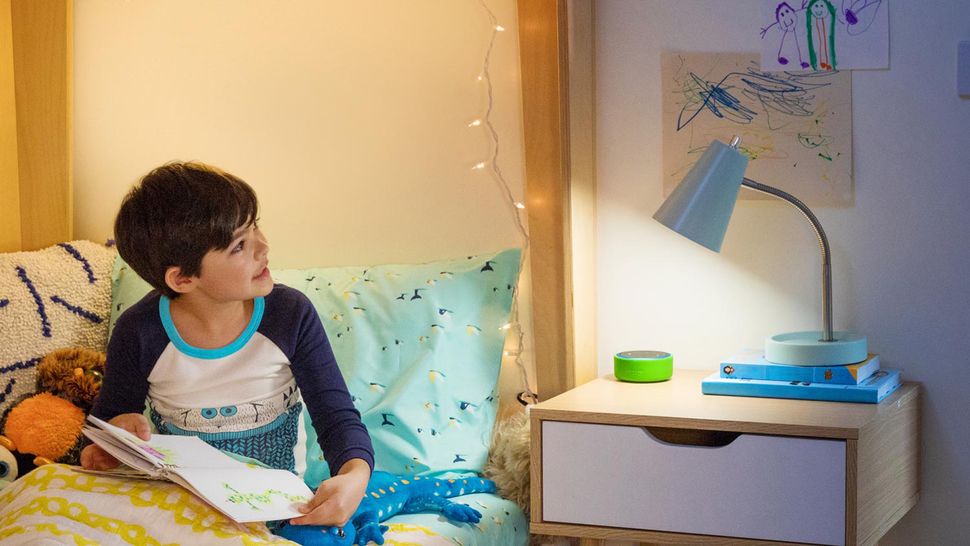 The Echo Dot Kids Edition is the best Alexa speaker for children not because of its hardware, but for what extra features comes with it. When you purchase an Echo Dot Kids Edition, you get a year of Amazon FreeTime Unlimited ($69/year), which gives you access to an exciting collection of kid-friendly content, such as audiobooks, and skills from sources such as Disney and Nickelodeon. 
A parental dashboard also lets you keep track of what your child is doing with the Echo Dot, and allows you to restrict access or certain skills. The Echo Dot Kids Edition comes in six colors, but we think the rainbow model is the best of the bunch. And, it comes with a 2-year warranty, in case junior spills milk all over the device.
Read our full Amazon Echo Dot Kids Edition review.
The  Echo Show is the best Alexa speaker for those who want all of what Amazon's assistant has to offer. The largest of Amazon's smart displays, the Echo Show has a 10-inch touchscreen and a 5-megapixel camera that, among other things, enables you to make and receive video calls between other Echo Shows and Echo Spots, as well as smartphones with the Alexa app. You can also conduct audio calls with other Echo devices, too. 
Dual speakers below the display produce excellent audio much better than the original Echo, so you can rock out to songs. The Echo Show's touchscreen delivers information in a visual format, such as news and weather. It's great for reading recipes, watching videos and live TV, and even surfing the web with Firefox and Amazon's Silk browser.
Read our full Amazon Echo Show review.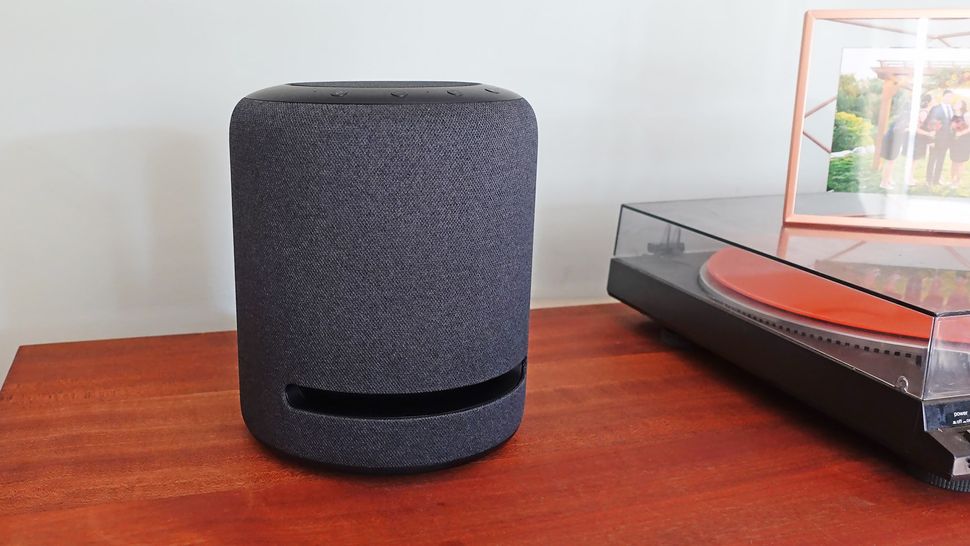 The booming Echo Studio is Amazon's first premium audio hardware product in a never-before-seen package. While it's a notch below the Sonos One in terms of sound quality, it's one of the best Alexa devices for audiophiles that lets you use Alexa calling. It's designed to support Amazon HD Unlimited, Amazon's 3D audio platform, and even has a bass aperture to ensure the fullest possible sound. 
One thing the Echo Studio has that the Sonos One lacks is a 3.5mm audio-in port. So, for example, you can connect a turntable directly to the Echo Studio to elevate its sound. It might not be the best entry-level Echo, but we found that it's worth the $200 price tag if you're looking for a great speaker that makes use of all Alexa's features.
Read our full Amazon Echo Studio review.
The Amazon Echo Plus looks very similar to the Echo, but inside it contains a fully-capable smart home hub that can communicate with Zigbee devices, such as Philips Hue lights. In fact, the Plus can come bundled with a single Philips Hue White bulb, if you're looking to try out some of the best smart light bulbs. It can also locally control smart home devices, which is useful for when your Internet connection goes down, and also has a temperature sensor. 
Alexa has come a long way when it comes to smart home connectivity, too. While not as robust as the best smart home hubs, it's the best Alexa speaker for those who don't want to have to deal with installing yet another device. The Echo Plus comes in three colors: Black, white, or silver.
Read our full Amazon Echo Plus review.
The Echo Show 5 is a small smart display you can use to make calls and video chat, browse recipes, watch videos using NBC and Prime Video visual skills, check the feeds from your security camera, dim your lights and more on its 5-inch screen. 
However, due to its small size, it looks and feels a bit more like a clock than a full-sized smart display. If you don't want something with a camera built-in sitting on your bedside table, you're probably better off with the Echo Dot with Clock at a similar price point. But should you find yourself smitten with the Echo Show 5's adorably compact design, and like the idea of being able to ring up loved ones before you go to sleep, the smart display is worth considering.
Read our full Amazon Echo Show 5 review.
How to pick the best Alexa speaker for you
The key decision you'll have to make while shopping for one of the best Alexa speakers is whether you're looking for a standard, grilled speaker or a speaker with a display. If this is your first smart home purchase, you'll want to opt for the third-generation Echo, Echo Dot or Sonos One. All are simple to set up and lay a foundation for getting your other gadgets connected. The Echo Studio or Echo Plus is a better option down the line, once you've grown accustomed to managing a smart home system.
If you have a large family or spend a lot of time in the kitchen or other shared space, a smart speaker with a display is a better choice. You can check in on your security cameras and video doorbells, get recipe advice and make calls. Video calls can only be made with the Echo Show 8, second-generation Echo Show or Echo Show 5, though.
How we test the best Alexa speakers
When reviewing any of the best Alexa speakers (or any of the best smart home devices, for that matter) we consider several different factors before assigning it a final rating. Here are some things we look for, after spending hours testing available buying options:
Ease of setup: How simple is the device to install? Can anyone, even a first time smart speaker owner, set it up themself?
Features: What features does the device have relative to others in its price range? 
Performance: Does it actually work as advertised? Is its app easy to use, with a sensible layout?
Price: How expensive is it when compared to similar devices? While this isn't the most critical criteria, it is a factor in its final rating.