No product hits the market these days without touting its artificial intelligence bona fides, and that's especially true of the mobile chipsets that power our smartphones. The latest example is the new Snapdragon 8 Gen 3 system-on-chip announced by Qualcomm today (October 24) during the chipmaker's annual tech summit in Hawaii.
Qualcomm and its Snapdragon silicon are no stranger to AI. Last year's Snapdragon 8 Gen 2 release, in particular, touted AI improvements such as a new AI Engine. But for the Snapdragon 8 Gen 3, Qualcomm is adding support for multi-modal generative AI for the first time, and that should open up a world of new experiences on devices powered by the latest Qualcomm silicon.
In addition to those AI improvements, the latest Snapdragon boasts the usual enhancements to both the CPU and GPU, which should translate to better performance overall. Qualcomm is also adding more gaming-centric capabilities to the Snapdragon 8 Gen 3, which also touts an improved Image Signal Processor, or ISP, that power new new camera capabilities.
We should soon find out how these additions translate to real-world benefits for smartphones. Devices featuring the Snapdragon 8 Gen 3 are expected to start shipping "in the coming weeks," Qualcomm said. Phone makers including Asus, OnePlus, RedMagic, Sony and ZTE are among the companies who release handsets in the U.S. that are planning on adopting the Snapdragon 8 Gen 3.
Missing from that list is Samsung, but don't read anything into that — Samsung is rarely mentioned at Snapdragon launches, and yet the new 8 series chipsets always seem to find their way into Samsung flagships. That's expected to continue in 2024 when the Snapdragon 8 Gen 3 should power the new Samsung Galaxy S24 models, at least those released in the U.S. and Asia. And there's a possibility that the Galaxy S24 Ultra will rely on the Snapdragon 8 Gen 3, regardless of which market the phone is sold in.
With the Snapdragon 8 Gen 3 likely to power so many of the best Android phones coming out in the next year, it's worth looking at what's new with the Snapdragon 8 Gen 3, even if you don't normally pay attention to the nuts and bolts of mobile silicon. Here's what we know so far about Qualcomm's latest system-on-chip.
New AI features
Much of the AI improvements to the Snapdragon 8 Gen 3 center around generative AI, in which algorithms are used to create everything from new images to text and more. Specifically, the AI Engine onboard the new chipset has been designed with on-device generative AI at the forefront, to the point where Qualcomm executives are touting the Snapdragon 8 Gen 3 as the "titan of on-device intelligence."
To that end, the AI engine now supports large language models (LLM), language vision models (LVM), and transformer network-based automatic speech recognition (ASR). All of this happens on the phone itself — there's no cloud involved — with support for up to 10 billion parameters.
What that means is a faster-responding on-device assistant, since the LLM models on board the Snapdragon 8 Gen 3 can run op to 20 tokens per second. The on-device generative AI also generates an image in a fraction of a second, according to Qualcomm.
The Qualcomm Sensing Hub, a feature that collects and analyzes data from all around you, sees a particular benefit thanks to the added support for generative AI. You can expect more personalized responses from the on-device assistant, which can draw on data such as location, favorite activities and fitness levels that the Sensing Hub is monitoring. It also helps that the Sensing Hub is 3.5x faster on the Snapdragon 8 Gen 3.
Speaking of speed improvements, the Hexagon Neural Processing Unit on board the Snapdragon 8 Gen 3 is 98% faster than the prior generation. It also sees a 40% boost to efficiency, to there should be less draw on power.
Qualcomm's focus on on-device intelligence could help it stand out from rival chips like the Apple-built chips that power the iPhone lineup. While Apple is reportedly spending $1 billion a year in generative AI research, that's yet to really be evident in Apple's products and may not be for some time. If the generative AI on board the Snapdragon 8 Gen 3 leads to some unique experiences for phones featuring that chipset, that could give the devices an edge over devices like the iPhone 15 and even next year's iPhone 16.
Smart image capture
AI features also impact the Spectra ISP on board the Snapdragon 8 Gen 3, assisting with both image capture and photo processing. For improved image capture, the new chipset adds support for Dolby HDR photo capture and its 10-bit color depth and ability to show off more than 1 billion shades of color. And while Snapdragon 8 Gen 3-powered phones will be capable of using AI to generate images on the fly, Qualcomm is working with TruePic on cryptographic seals that will signify which pictures have been modified with AI-generated content.
Other photo features found on the Snapdragon 8 Gen 3 include semantic segmentation where images can be split up into 12 layers that can be optimized to show off details and vibrancy. Night Vision is coming to video capture for sharper footage captured when the lights are low while a Video Object Eraser feature developed by Arcsoft acts like the Magic Eraser on Google Pixel phones by removing unwanted people and objects from video footage.
Snapdragon 8 Gen 3-powered phones can tap into a photo expansion feature that extends the area captured in a photo. A Vlogger's View tool lets you simultaneously capture video from both the front and main cameras.
Performance improvements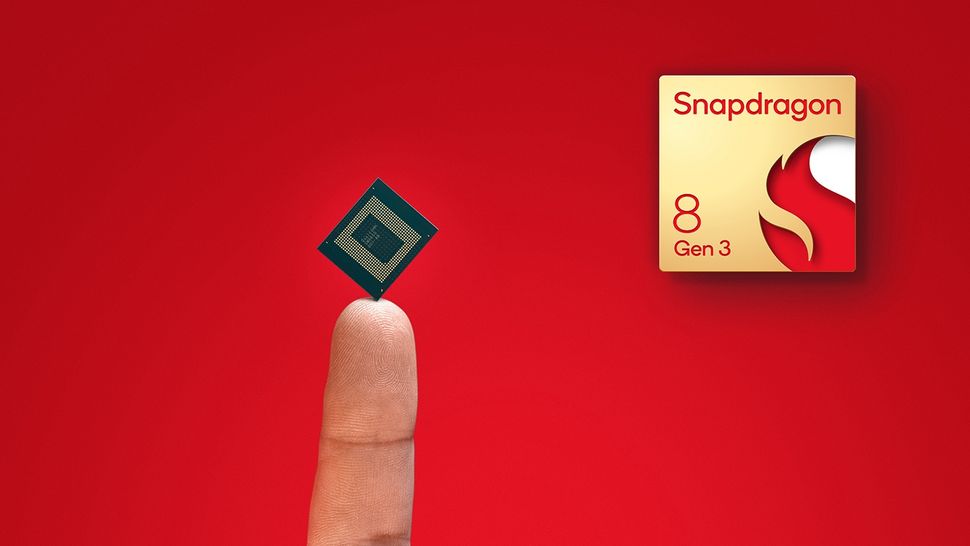 AI may be the focus, but Qualcomm has given the Kryo CPU and Adreno GPU performance boosts for the Snapdragon 8 Gen 3. And that's important since the Snapdragon 8 Gen 2 may have seen impressive performance gains, but it still trailed the A17 Pro powering the latest iPhone 15 Pro models.
The Snapdragon 8 Gen 3's Kryo CPU features a prime core capable of speeds up to 3.2GHz. The now chipset adds a fifth performance core — the Snapdragon 8 Gen 2 had just four of those — while dropping the number of efficiency cores to two.
All of that should translate to a 30% performance boost from the CPU. Considering that the iPhone 15 Pro Max's score on the Geekbench multicore test was 42% higher than the score posted by the Galaxy S23 Ultra, that performance boost should help narrow the gap between Qualcomm's top chipset and the A17 Pro. But it might not close that performance gap completely.
The Adreno GPU also sees a performance gain of 25% with the Snapdragon 8 Gen 3. Snapdragon 8 Gen 2-powered phones were much closer in graphics testing to the A17-powered iPhones, so we could see next year's best Android phones top the iPhone when it comes to graphic performance.
Last year's Snapdragon 8 Gen 2 chipset also delivered strong power management, as many phones running on that silicon appear on our best phone battery life list, highlight devices that turned in the best times in our battery tests. The Snapdragon 8 Gen 3 could also deliver on that front, with the Kryo CPU improving power efficiency by 20% while the Adreno GPU is in line for 10% power savings.
Gaming, sound and connectivity
The Adreno GPU on the Snapdragon 8 Gen 3 is also promising a 40% improvement to ray tracing, but that's not the only potential benefit to mobile gaming that the new silicon could deliver. In addition to hardware-accelerated ray tracing, the Snapdragon 8 Gen 3 also supports global illumination through Unreal Engine 5.2 — that means more reflective surfaces in mobile games.
Snapdragon 8 Gen 3 devices will be able to deliver 240 frames per second gaming and 240Hz refresh rates, making this chipset a likely candidate for the best gaming phones arriving in the next year. A new Adreno Frame Motion Engine can double frame rates without an impact on power consumption. You'll also be able to upscale games to 8K resolution on external monitors thanks to a Snapdragon Game Super Resolution feature.
On the audio front, the Snapdragon 8 Gen 3 supports 24-bit 96 kHz lossless music over Bluetooth, while the chipset features a Snapdragon X75 modem and Wi-Fi 7 support. The X75 was introduced earlier this year, and it uses AI to better manage the 5G beams going to and coming out of your smartphone.
Snapdragon 8 Gen 3 outlook
That's a lot of features to unpack, and we're going to need to get our hands on Snapdragon 8 Gen 3-powered phones to see how device makers take advantage of the AI capabilities built into the new silicon. Getting a hold of phones with the new chipset will also let us confirm how the new Snapdragon performs relative to Apple's mobile chips.
One thing's quite clear at this stage, though — AI's outsized role in tech at the moment isn't likely to get reduced any time soon.
More from Tom's Guide