Gaming can be an expensive hobby, which makes Black Friday deals all the more enticing. Black Friday doesn't officially kick off until November 24 but many retailers have already slashed prices on many products — especially video games and video game consoles. If you're looking to save big on the latter, we just found an Xbox Series X deal that's hard to pass up.
Right now, the Xbox Series X is on sale for $399 at Best Buy. You also get a free $50 Best Buy gift card. This deal is only available to My Best Buy Plus ($49/year) and My Best Buy Total ($179/year) members, but considering the savings you get as a member, it's worth signing up for. You can sign up for My Best Buy via this link. As for the Xbox Series X itself, it's a great console that's capable of playing both modern and older games. With Xbox Game Pass, the system gives you a wide selection of titles from throughout the Xbox's 20+ year history. For $399, this is a deal worth taking advantage of.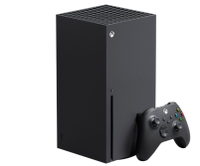 Xbox Series X: was $499 now $399 @ Best Buy
Best Buy member price! My Best Buy Plus ($49/year) and My Best Buy Total ($179/year) members can get the XSX for just $399 in this unprecedented deal. The Editor's Choice console represents the pinnacle of Microsoft's gaming efforts. The Xbox Series X packs 12 teraflops of graphics power, 16GB of RAM, 1TB SSD and a Blu-ray drive. It runs games at 4K resolution and 60 frames per second with a max of 8K at 120 fps. Plus, you get a free $50 Best Buy gift card to boot. You can sign up for My Best Buy via this link.
Price check: XSX w/ Diablo IV for $449 @ Microsoft
In our Xbox Series X review, we called this system the "pinnacle of Microsoft's gaming efforts." We also praised it for its high-powered specs, fast loading times, and cool design. While not on par with the best gaming PCs in terms of overall performance, the Xbox Series X delivers experiences comparable to last-gen gaming PCs. Microsoft's console packs a fast SSD, 4K resolution and can even run many titles at 60 frames per second.
The best Xbox Series X games include the likes of Halo Infinite, Forza Horizon 5 and of course, Starfield. Backward compatibility is another highlight, and you can play many classic titles going back to the original Xbox. Of course, the system also has third-party titles from publishers like Capcom, EA, Ubisoft and more. And as you may well, Microsoft now owns Bethesda and Activision, which will serve to bolster its considerable gaming library.
We also can't forget about Xbox Game Pass, which is arguably the best subscription service in gaming due to the sheer abundance of titles it offers — not to mention access to first-party Xbox games at launch. You get all of that for a low monthly fee starting at $9.99/month.
This sale will only stick around while stocks last for Best Buy members so make sure to snag the Xbox Series X while you can.