Sony's annual Days of Play sale has returned for 2023, and it includes big savings on loads of the best PS5 games as well as the first discount of the year on a PlayStation Plus subscription.
Until June 12, you can get 12 months of PlayStation Plus Essential for $45 at PlayStation Store. Alternatively, if you'd rather score a subscription to one of the higher tiers, 12 months of PlayStation Plus Extra is now just $75 (was $100) and 12 months of PlayStation Plus Premium has dropped to $90 (was $120). These deals are available to new, existing and former subscribers to PlayStation's online membership service.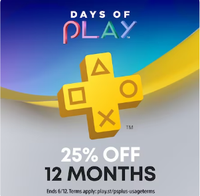 PlayStation Plus: 25% off @ PlayStation Store
As part of its annual Days of Play sales event, Sony has sliced 25% off annual PlayStation Plus subscriptions. This deal drops a 12 months Essential membership to $45 (was $60). Meanwhile, 12 months of Extra is now $75 (was $100) and 12 months of Premium has dropped to $90 (was $120). These discounts are available to new, existing and former PlayStation Plus members.
If you're not entirely sure which PlayStation tier is right for you, we've got a handy Essential vs Extra vs Premium guide. In summary, Essential is the most basic tier giving you access to online play, cloud storage and a rotating selection of monthly games. Extra gives you all that alongside access to a larger library of PS5 and PS4 games. And, finally, Premium includes all of the above and throws in a selection of classic games from the PS1, PS2, PS3 and PSP. Extra is probably the best value for money, but if you just want to play online multiplayer games, opt for Essential.
As this deal is available to current PlayStation Plus members, you can use it to extend your existing membership. Even if you've got a few months remaining before needing to renew your subscription, it's worth grabbing another year now at this discounted price rather than waiting until a later date and having to pay full price.
Also, if you have an ongoing membership at a certain tier, Sony is also offering you the chance to upgrade to another tier at a discount rate. This is especially great if you've got an Essential membership but want to try out Extra or Premium. Just make sure you switch off auto-renewal, otherwise, you will be automatically billed for the higher tier when your current PlayStation Plus subscription ends.