I've worn a few iterations of the Adidas Terrex AX4 shoe, and I still can't work out how a hiking shoe can be so lightweight yet so durable, but here we are. And with 41% off and still available during Cyber Week, I wouldn't miss this Cyber Monday deal as we head toward those wet winter months.
The best part? You can access discounts In the UK and US, but the deals differ between locations.
I take the dog out on countryside walks wearing the Terrex AX4 GORETEX hiking shoes and have also done some light hiking in them, and I've got no complaints about fit, comfort, or waterproofing. The shoe handles all three with total ease. I'm shocked you can save over $51 during Cyber Monday deals.
You can choose from a variety of colors and sizes (my favorite is all black) and grab the Adidas Terrex AX4 hiking shoe for just $39 @ Amazon.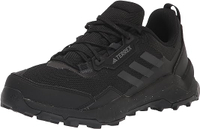 Adidas Terrex AX4 hiking shoe: was $120 now $70 @ Amazon
The Adidas Terrex AX4 hiking shoe is currently 41% off during Cyber Monday, but why should you buy a pair? Well, this shoe has been made specifically for outdoor wanderers, using abrasion-resistant overlays to boost durability during rougher terrain. The Continental Rubber outsole enhances traction during wet weather and the EVA midsole provides soft cushioning underfoot. I love them because despite how durable they are, the shoes remain lightweight for travels afar. And they look good. You can find the women's Adidas Terrex AX4 sneaker for 40% off here.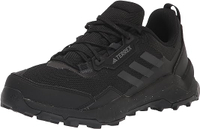 Adidas Terrex AX4 hiking shoe: was £94 now £70 @ Amazon
Based in the UK? You can still save on the Terrex AX4 for a limited time on Cyber Monday. Remember to select your size and color for the relevant discount while stocks last.
The Adidas brand isn't the first place I'd turn to when looking for hiking gear, but I have been pleasantly surprised by this hiking shoe over and over again. I recently hiked the Alps for 3 days wearing the Columbia Facet 75 Alpha's, and I switch between both if I need grip and durability during wet and rough outdoor terrain.
Also, access the best Cyber Monday Patagonia deals and Nike Cyber Monday sales.
I would probably size up if you plan to buy these shoes during the Cyber Monday sales. I like to wear a thick pair of warm socks underneath, and while the shoe is true to size, the toe box can feel quite tight. That comes down to personal preference, and you might prefer a lighter sock when hiking.
You won't need much time to wear in the Terrex hiking shoe, but a few laps around your local park can help you get a feel for the tread and traction of the AX4s before taking any long hikes or big trips. All in all, this is a reliable and hardy hiking shoe that is also surprisingly lightweight and easy to pack. The shoes look more cumbersome than they feel, and I would highly recommend them for outdoor adventures.
It's worth noting that the shoe cuts below the ankle, which I love. Some might prefer a different design for more ankle support, but I had no problem on uneven ground and my ankles still felt supported.
If you're looking for more great deals on outdoor apparel and activewear, this year's Cyber Monday deals have been epic so far. You can find my favorite The North Face running jacket for 49% off during Cyber Monday sales and save on Under Armour workout T-shirts for a limited time.