I get to sleep on some of the world's best mattresses as part of my job at Tom's Guide, and I've also suffered from insomnia and hip and back pain (the latter due to pregnancy). If you're struggling to sleep because you can't get comfy, and you have the budget to buy a new bed, there are three specific Black Friday mattress deals I'd recommend looking for.
The first is the Saatva Classic luxury innerspring. This is our top-rated hybrid mattress of the year and one that has scored consistently high marks with all of our testers. It's an instant salve for joint and back pain – to the point where you should notice a difference in sleep comfort after the first night.
Saatva is having an early Black Friday sale right now, offering 15% off purchases worth $1,000 or more. That means you can get a queen size Saatva Classic for $1,696 (was $1,995). That's a good price for a handcrafted luxury bed that you'd pay a lot more for in store, plus it comes with a year's trial, lifetime warranty and free old mattress removal.
Here's more about why I recommend buying a Saatva this Black Friday, plus two alternatives that have proven to us during testing that they can make an instant difference to both sleep quality and duration.
Black Friday mattress deals: Quick links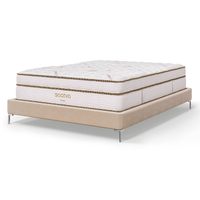 The Saatva Classic by Saatva
Was: from $1,095
Now: from $931 at Saatva
Saving: up to $418
Summary: Hip, back and joint pain can quickly derail your sleep – you'll have trouble dropping off and you'll wake up frequently through the night. The Saatva Classic is the perfect mattress to tackle this situation because my testers discovered when creating Tom's Guide's Saatva Classic mattress review that it offers a near-perfect balance of support and comfort. More importantly, the pressure relief is next-level, so all pressure points on your back, shoulders and hips will be instantly reduced. I love the addition of a lumbar crown, which adds extra support to your lower back when you're lying down. That's a must for back and stomach sleepers with pain. This is the best Saatva mattress for most people as it comes in three firmness levels and two heights, but I would actually recommend the Helix Midnight Luxe (see below) as a great mattress for side sleepers with joint pain.
Price history: There are Saatva mattress sales and deals most months to save you money on this highly sought after hybrid mattress, with the higher discounts reducing a queen size to around $1,696. That's the price I'm seeing right now, making today a good time to buy. That said, in previous years I've seen a $400 discount from Saatva just before Black Friday, reducing a queen size Classic to $1,595. I'm hoping to see the same again this year, but if you'd rather not risk it or avoid potential pre-Christmas shipping delays, this is a good price for the Saatva Classic.
Benefits: 365-night trial | Lifetime warranty | Free White Glove Delivery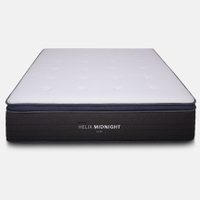 Helix Midnight Luxe
Was: from $1,373
Now: from $1,099 at Helix Sleep
Saving: up to $574
Summary: The Helix Midnight Luxe is the newer, plusher version of the Helix Midnight, Tom's Guide's best mattress in a box recommendation for people who sleep solely on their side. One of my team is currently testing the Midnight Luxe (you can read our Helix Midnight mattress review for test data on the original model), and from what I've seen so far, this is a well-made side sleeper mattress with superb contouring comfort. That means it will gently mould around your curves, adding softness to your shoulders, hips and knees – those key areas where your body dips down into the mattress. If you're being woken several times a night because you have to switch sides to feel physically comfy again, definitely consider the Helix Midnight Luxe. If overheating is another one of your big sleep issues, you have the option of upgrading to a GlacioTex cooling mattress cover for an extra $249. Do that and you knock out two big sleep problems in one go.
Price history: As with Saatva, there are monthly Helix mattress sales and deals to lower the price on a wide range of Helix Sleep mattresses. Since it was released, I've been seeing 20% off the Helix Midnight Luxe most months, but I hope to see a slightly bigger saving come Black Friday itself. My professional advice is to bookmark our Black Friday mattress sales guide to see if there's any bigger discounts announced from Helix. If you need a new mattress urgently though and you want this one, it's still a good price and you'll get two free pillows worth up to $150 with your order.
Benefits: 100-night trial | 15-year warranty | Free shipping and returns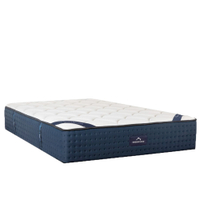 The DreamCloud Hybrid
Was: from $839
Now: from $529 at DreamCloud
Saving: up to $1,480
Summary: If you love the sound of the Saatva Classic but your budget doesn't stretch that far, I'd recommend the DreamCloud instead. This is a tall, plush and well-made hybrid mattress made from premium memory foam and coils, so it'll remain fairly cool during sleep to prevent overheating. Every product tester I've asked to review this mattress has loved it, which is why it gained such high marks in our official DreamCloud Mattress review. Only one member of my testing panel didn't rate the DreamCloud, and she was a very lightweight side sleeper who adores super-soft mattresses. I'm not surprised she didn't like it, as the DreamCloud Hybrid feels surprisingly firm at first. After around three weeks though it starts to soften and that's when the deep sleep magic happens. This is an excellent coil and memory foam mattress for stomach and back sleepers of any build, and most side sleepers should enjoy it too unless you weigh under 150lbs. In that case, I'd point you in the direction of the Helix above or the Saatva Classic Soft.
Price history: Again, each month there are DreamCloud mattress sales to save you money on these luxury yet affordable beds. The best saving was last month's 50% discount, and we're unlikely to see that again this side of Black Friday and Cyber Monday. Therefore I'd recommend buying the DreamCloud now and making the most of that year's free trial at home.
Benefits: 365-night trial | Lifetime warranty | Free shipping and returns
How to make your current mattress comfier
We're still in the middle of a cost of living crisis, so not all of us can afford a new mattress right now – although there are some great cheap mattresses on sale right now.
If your mattress is less than eight years old, has no deep staining, signs of mattress mold or sagging (dips in certain places), then you can probably boost its comfort or firmness with one of the best mattress toppers for instantly changing the feel of your bed.
For extra firmness, look for latex toppers at least two inches thick. For extra sink-in softness and contouring, look for foam toppers at least three inches thick. That should tide you over until you can budget for a new mattress.