It's easy to have your hands full when you're playing games on one of the best gaming PCs or even when you're just working on one of the best computers. This is where the Elgato Stream Deck Pedal can help since it's a foot pedal you can use to control your PC.
Right now, the Elegato Stream Deck Pedal is just $59 at Amazon. This is its lowest price yet and 33% off its normal price of $89. Even without Black Friday pricing, this unique accessory for your computer is worth the price, especially if you're a streamer or a PC power user.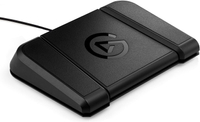 Elgato Stream Deck Pedal: was $89 now $59 @ Amazon
The Elgato Stream Deck Pedal is a foot pedal with three separate switches that you can use to control apps and software like OBS, Twitch, YouTube and more on either your PC or Mac. Besides an extra long USB-C cable, it also comes with interchangeable springs which you can swap out to make the Elgato Stream Deck Pedal easier or more difficult to actuate.
I'm not a streamer myself but I picked up the Elgato Stream Deck Pedal earlier this year to see if using a foot pedal could increase my productivity at work. I use a lot of keyboard shortcuts to get things done faster while working from home and with Elgato's Stream Deck software, I was able to remap my favorite ones to the three pedals on the Stream Deck Pedal.
You also don't have to limit yourself to using just one as you can actually connect two Stream Deck Pedals to your PC or Mac at the same time. This way, you can have one for each foot and go from three customizable buttons all the way up to six.
Whether your hands are tired from typing all day or you want to keep them firmly planted on one of the best PC game controllers, then the Elgato Stream Deck Pedal could be for you. It has certainly helped me do more while working from home but it's also just plain fun to stomp on it to close apps, start a recording and more.