If you're shopping for a new mattress because your current bed is either causing back pain or not easing it, head to the new DreamCloud sale where you can buy a queen size DreamCloud mattress for just $799. That's $100 cheaper than we've seen in months, making now the best time to buy this top-rated hybrid bed.
DreamCloud is one of the best mattresses for all sleepers, and is especially suited to people who prefer a medium-firm bed with a focus on comfy back support. When we tested the memory foam and coil DreamCloud we found it slept cool, with consistent pressure relief across the back and hips.
It normally costs $899 for a queen size, but this excellent Memorial Day mattress sale knocks an extra $100 off. All the usual perks are still included: free shipping, a lifetime warranty and a year's free trial. Considering it's nearly $1,000 cheaper than luxury rival the Saatva Classic, this is a bargain well-worth considering while the 40% off sale is running. Returns are free too.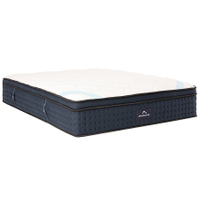 DreamCloud mattress: from $599 $499 at DreamCloud
The new DreamCloud mattress sale is offering the biggest price drops we've seen in months. This 14" hybrid is breathable, plus it's supportive for most sleep positions, easing pressure points so you feel less discomfort when lying down. The 365-day free trial and lifetime warranty are excellent value for money.
Our team of expert mattress testers found little to fault with the DreamCloud. While we noted that it's perhaps too firm to be truly comfortable for lighter weight bodies, and the edge support could be stronger, otherwise this is an excellent mattress for the price. It's highly rated in our best mattress for back pain guide.
The first thing you'll notice is the height – the DreamCloud stands at 14" tall, which is around the same height as the tallest Saatva Classic mattress.
Above we talked about how it eases back pain and relieves pressure upon your main impact points, and that's thanks to a range of technologies including 8" springs that adapt to your body's curves.
A 1.5" layer of comfort foam on the top of the mattress offers more contouring without making you feel as though you're getting sucked into the bed. Our full DreamCloud mattress review covers everything you need to know about the build and performance of the mattress.
We often suggest the DreamCloud as a budget alternative to our top-rated mattress, the Saatva Classic, so if you want luxury hotel comfort for just $799 (a queen size), the DreamCloud should be top of your list. If you have a bigger budget and you've read our Saatva Classic mattress review and need help choosing between them, check out our DreamCloud vs Saatva comparison.
As with Saatva, you'll get a 365-day free mattress trial at DreamCloud, plus free shipping and a year's free warranty. There are plenty of other great mattress sales around this month, but this is an excellent mattress at the cheapest price we've seen in months.