10 Star Wars Games You'll Never Get to Play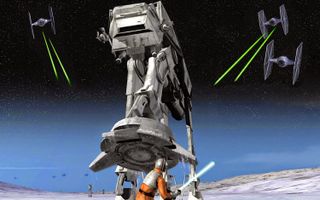 Lucasfilm Had a Bad Feeling About These Games
Thanks to Disney, we currently live in a golden age of new Star Wars movies and TV shows. Prior to 2012, however, the only ways fans could enjoy new Star Wars stories were through the novels, comics and games from the original Expanded Universe. As great as the books and comics were for delivering narratives, they weren't as immersive as the games from LucasArts and its third-party partners. However, for every Knights of the Old Republic and Rogue Squadron, there was an equally intriguing Star Wars game that never made it out of development. These are the Star Wars games we wished we could have played.
Credit: Factor 5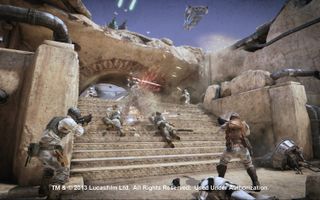 Star Wars: First Assault
Disney's purchase of Lucasfilm led to a number of casualties of games that were in development at the time. Perhaps none was more disappointing than the loss of First Assault. Developed with the Unreal Engine to be a multiplayer-only shooter, First Assault was well on its way to release on the Xbox 360 and PlayStation 3. This downloadable game was the planned first salvo in a supposed resurrection of the Battlefront franchise, too, as LucasArts had already planned for a vehicle-based follow-up to arrive one year later. Sadly, all that exists today is footage of First Assault's technical beta.
Credit: LucasArts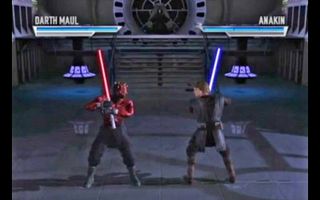 Untitled Star Wars Fighting Game
Star Wars doesn't exactly have the strongest track record for fighting games, but that didn't mean developers weren't willing to try. Prior to 2008's Soul Calibur IV, which featured Yoda and Darth Vader on the Xbox 360 version, Studio Gigante was working on a 3D arena fighter for the Xbox in 2005. The developers revealed some early footage featuring Darth Maul fighting Anakin Skywalker, but the game never made it out of the gate, as Studio Gigante folded in the summer of 2005.
Credit: Studio Gigante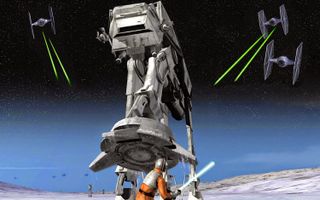 Rogue Squadron: Rogue Leaders
Factor 5's Rogue Squadron series was a big hit on the Nintendo 64 and GameCube platforms, so it made sense that the developer would also create a sequel for the Wii. Rogue Leaders would have revisited the first two games in the franchise and updated them with better graphics and frame rates, thanks to the more powerful Wii hardware. Additionally, the game would have included new lightsaber battles that made use of the Wii's motion controls. Similarly, players could have flown ships with the remote and the balance board for a "true" cockpit feel. Sadly, Factor 5's legal and monetary woes prevented the developers from completing game.
Credit: Factor 5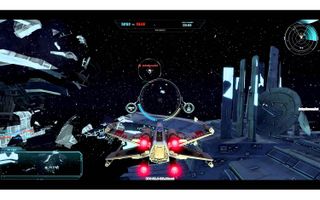 Star Wars: Attack Squadrons
Developed by Area 52, Attack Squadrons would have been a free-to-play dogfighting game set during the Rebellion years of the Star Wars saga. The game was so far along in development that there was even a closed beta of the 16-player game available for a short time in 2014. Players could customize X-wings and TIE fighters, as well as other familiar ships from the classic films, and fight it out above the Death Star and familiar planets from Outer Rim. After Disney purchased Lucasfilm, however, development on Attack Squadrons halted, as the House of Mouse granted EA the rights to develop all core games in the Star Wars franchise.
Credit: Area 52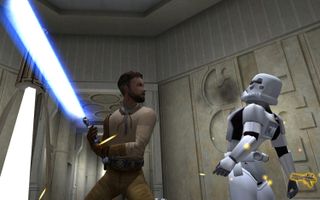 Jedi Knight III: Brink of Darkness
Kyle Katarn was a fan-favorite Expanded Universe character, thanks in large part to his role in the Dark Forces and Jedi Knight video games. A former Imperial soldier, Katarn defected to the Rebellion and helped secure the plans to the first Death Star, at least in the EU canon. The sequel, Jedi Knight, saw Katarn develop Force powers on his way to getting revenge on the Dark Jedi who killed his father. Jedi Knight III would have concluded Katarn's journey, picking up after his time as a teacher at Luke Skywalker's new Jedi Academy. Brink of Darkness didn't make it out of the early conceptual stages, but the franchise's influence is still evident in games like BioWare's Knights of the Old Republic today.
Credit: Activision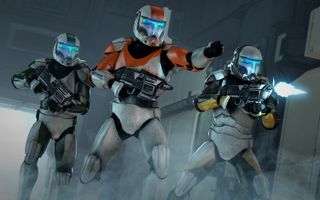 Imperial Commando
Delta Squad made a name for itself in the Xbox/PC exclusive title Republic Commando. The squad-based first-person shooter took place between Attack of the Clones and Revenge of the Sith, and gave fans some insight into the life of a clone trooper. Imperial Commando was only just beginning development when LucasArts abandoned it. But the promise of the game's narrative, which would have seen former clone trooper Sev defect and begin the Rebellion, certainly makes us sad it never came to fruition. If only most of the development team hadn't moved on to other projects, Imperial Commando might have seen the light of day.
Credit: LucasArts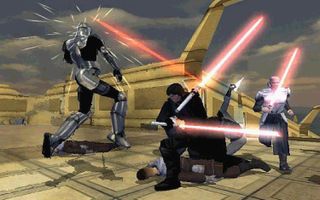 Knights of the Old Republic III
BioWare and Obsidian's Knights of the Old Republic action/RPGs are some of the most fondly remembered Star Wars games ever created. To this day, players speak with reverence about each and every one of their moral choices, their character builds and their moments of camaraderie with the virtual cast. That's why it's so sad that Knights of the Old Republic III never made it very far along in development. Fans, and the developers, would have loved to finish up the story of Darth Revan. However, BioWare's MMO, Star Wars: The Old Republic, is where all of the pre-prequel priorities lie for Disney and Lucasfilm.
Credit: LucasArts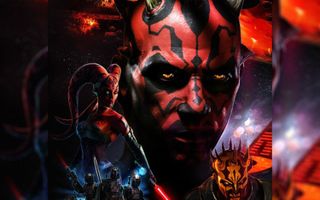 Battle of the Sith Lords
Uncovered just a few years ago, Battle of the Sith Lords was in development at Red Fly, and would have focused entirely on Darth Maul. The development team put a lot of work into crafting gameplay around Maul's powers in a post-Phantom Menace world; at one point, the game was like a Sith version of the Batman: Arkham games. Unfortunately for Red Fly, no matter how interesting the gameplay loop was, it was nearly impossible to nail down a cohesive narrative due to a number of factors. Chief among them was George Lucas' insistence on Maul teaming up with Darth Talon, a character who arrived in the Star Wars mythos more than 170 in-universe years later.
Credit: Red Fly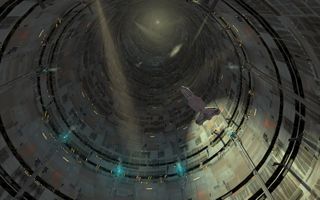 Star Wars 1313
In the world of Star Wars video games, perhaps no game's fate is publicized more than that of Star Wars 1313. For the longest time, 1313 was a mysterious action game whose lead characters and plot were a subject of speculation for just about every industry publication. One constant throughout the game's many possible iterations, however, was the idea that 1313 referenced a neighborhood of Imperial planet Coruscant, where all the worst characters thrived. Just before the game's cancellation, the developer revealed that Boba Fett would be the star, making the Disney deal that led to 1313's demise all the more disappointing.
Credit: LucasArts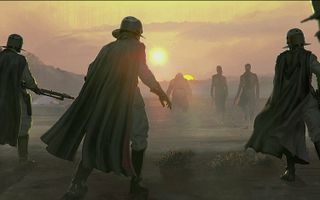 Visceral's "Ragtag"
With a development team headed up by Uncharted writer Amy Hennig and the minds behind the iconic Dead Space series, the project called "Ragtag" seemed like it would make it through development unscathed. Though the narrative and gameplay were still in flux early on, we know that "Ragtag" would have followed a group of smugglers as they took on a heist of epic proportions during the Rebellion era. Each member of the team would have been playable. Despite the prowess of its creators, "Ragtag" never escaped the development phase. To make matters worse, EA shuttered Visceral as a result of the publisher's change in direction, which is one of the most heartbreaking twists in any of these canceled adventures.
Credit: Visceral