Apple TV Plus shows and movies keep on coming. It's been more than half a year since Apple TV Plus first launched and the streaming service continues to roll out new series, films, documentaries, miniseries and children's programming.
Streaming services have been a blessing to us all during these pandemic times, and while Apple TV Plus doesn't offer as much content as Netflix or Disney Plus, its all-originals lineup provides welcome options for home entertainment.
When Apple TV Plus first debuted in November 2019, it did so with several high-profile projects like The Morning Show with Jennifer Aniston, Reese Witherspoon and Steve Carell and See with Jason Momoa. Since then, the streamer has put out some truly great programs, like the Beastie Boys Story, Spike Jonze's live documentary film where Mike D and Ad Rock finally get the chance to do a live deep dive on their formation.
While the service doesn't have as many movies and shows as its competitors, Apple's deep pockets ensure that high-profile projects keep coming down the pipeline. At WWDC 2020, Apple unveiled the first teaser trailer for the Isaac Asimov adaptation Foundation.
Here's a guide to all of the TV shows and movies released so far, as well as the ones coming soon and in development.
Apple TV Plus shows
Amazing Stories
Starring: Edward Burns, Kerry Bishe, Robert Forster
Steven Spielberg reboots his own 1985 sci-fi anthology series, which tells supernatural stories involving time travel, magic and phenomena.
Central Park
Starring: voices of Kristen Bell, Titus Burgess, Josh Gad
The animated musical comedy is told through the eyes of a busker named Birdie, who chronicles the adventures of the Tillerman-Hunter family who live in Edendale Castle in Central Park, New York City.
Dear...
Docuseries
This star-studded documentary shows how one person's story can change the world through the people whose lives they've inspired. Each episode is in the form of a letter to a famous person, such as Spike Lee, Oprah Winfrey and Gloria Steinem.
Defending Jacob
Starring: Chris Evans, Michelle Dockery, Jaeden Martell
Chris Evans leaves behind Captain America for a limited drama series based on a best-selling William Landay novel. Evans portrays a lawyer named Andy Barber whose 14-year-old son Jacob is accused of murder. Evans serves as executive producer, and the show is directed by Mark Bomback (Planet of the Apes, Total Recall remakes).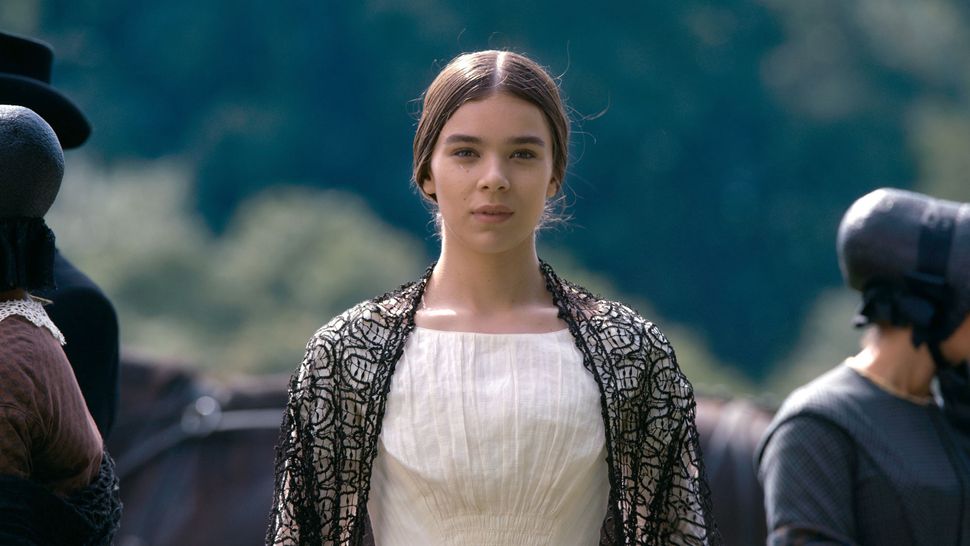 Dickinson
Starring: Hailee Steinfeld, Jane Krakowski, Matt Lauria
This period-piece comedy is set in the 1800s, where it tells a coming-of-age story for the poet Emily Dickinson, but with a more-modern feel for a younger audience.
For All Mankind
Starring: Joel Kinnaman, Shantel VanSanten, Michael Dorman
Ronald D. Moore, the famed writer and producer known for the Battlestar Galactica reboot, is bringing a show that investigates a world where the space race didn't end. At WWDC 2019, Apple revealed footage that shows how the show depicts an alternate reality where the USSR won the race to the moon.
Home
Docuseries
Think MTV's Cribs, but on the highest scale yet. Variety reports Apple ordered a full season, comprised of 10 hour-long episodes of this documentary show that gives viewers inside peeks from the most extravagant homes. Status: Could arrive this summer, according to a New York Times report.
Home Before Dark
Starring: Brooklynn Prince, Jim Sturgess, Abby Miller
A young girl moves from Brooklyn to the small lakeside town her father left behind. While there, her dogged pursuit of the truth leads her to unearth a cold case that everyone in town, including her own father, tried hard to bury
Little America
Starring: Melanie Laurent, Zachary Quinto, Bill Heck
This anthology series goes beyond the headlines to look at the funny, romantic, heartfelt, inspiring and unexpected lives of immigrants in America, at a time when their stories are more relevant than ever
The Morning Show
Starring: Jennifer Aniston, Reese Witherspoon, Steve Carell
This show, currently referred to by its stars who are also doing double duty as executive producers, is a behind-the-scenes program taking place a morning talk show. According to Aniston and Witherspoon, the show will focus on male-female dynamics at work. (Read our The Morning Show review)
Mythic Quest: Raven's Banquet
Starring: Rob McElhenney, Charlotte Nicdao, Danny Pudi
The show is set in a video game development studio and explores the intricacies of the human condition through hilarious and innovative ways
Oprah's Book Club
Docuseries
Yes, Oprah Winfrey is bringing her literary recommendations to Apple TV Plus. The first episode focused on Ta-Nehisi Coates' new book The Water Dancer.
See
Starring: Jason Momoa, Alfre Woodard
Aquaman himself Jason Momoa stars in this futuristic drama written by Steven Knight (Peaky Blinders) and directed by Francis Lawrence (The Hunger Games films). Blindness will be central to the show's experience, as a million survivors of a calamity emerged without sight.
Servant
Starring: Lauren Ambrose, Rupert Grint, Nell Tiger
M. Night Shyamalan's having something of a resurgence these days, and he's executive producing this thriller series featuring parents who hire a young nanny to care for their newborn. Of course, things get creepy.
Truth Be Told
Starring: Octavia Spencer, Aaron Paul
True crime podcaster Poppy Parnell is called to investigate the case of convicted killer Warren Cave, a man she painted as the murderer of the father of identical twins. Soon, Parnell must decide where the lines between guilt and innocence lie when Cave claims that he was framed for the crime.
Trying
Starring: Rafe Spall, Esther Smith, Imelda Staunton
The series follows Nikki and Jason, a couple who really want to become parents but struggle with conceiving a child. In order to have the baby they want they decide to adopt, only to face a whole list of new challenges that come with the adoption process
Visible
Docuseries
Directed by Ryan White, the limited documentary series focuses on the representation of LGBTQ+ people in television, both on-screen and behind the camera. Directed by
Apple TV Plus movies
The Banker
Starring: Samuel L. Jackson, Anthony Mackie
Inspired by true events, "The Banker" centers on revolutionary businessmen Bernard Garrett (Anthony Mackie) and Joe Morris (Samuel L. Jackson), who devise an audacious and risky plan to take on the racist establishment of the 1960s by helping other African Americans pursue the American dream.
Beastie Boys Story
Documentary
Director Spike Jonze is at the helm as living Beastie Boys Adam Horovitz and Mike Diamond reflect on the hip-hop group's rise to fame. The pair also pay tribute to the late Adam Yauch (aka MCA).
Dads
Documentary
Dads explores the modern meaning of being a father and combines interviews with celebrities and the general public. The documentary gives the audience an insight into the father and child relationships of famous faces and juxtaposes them against stories of non-celebrity families from Brazil, Japan, and the United States.
The Elephant Queen
Documentary
Victoria Stone and Mark Deeble's The Elephant Queen focuses on the pair embedding themselves for four years with the family of a giant elephant, Athena. Narrated by Chiwetel Ejiofor (12 Years A Slave).
Hala
Starring: Geraldine Viswanathan, Jack Kilmer, Gabriel Luna
Seventeen-year-old Pakistani American teenager Hala (Geraldine Viswanathan) struggles to balance desire with her familial, cultural and religious obligations. As she comes into her own, she grapples with a secret that threatens to unravel her family.
Apple TV Plus children's programming
Ghostwriter
When a ghost haunts a neighborhood bookstore and starts releasing fictional characters into the real world, four kids must team up to solve an exciting mystery surrounding the ghost's unfinished business. Armed with secret messages only they can see, the young heroes chase down the truth — and become friends in the process.
Helpsters
Meet Cody and the Helpsters are a team of vibrant monsters who love to solve problems — planning a party, climbing a mountain, mastering a magic trick and more. The Helpsters can figure anything out.
Snoopy in Space
Snoopy has a chance to fulfill his dreams of being an astronaut when he's chosen for an elite mission into space. Snoopy and Woodstock go through astronaut training, while Charlie Brown and the rest of the group assist their friends from mission control.
Fraggle Rock: Rock On!
The Fraggles might be apart in separate caves, but they can still find ways to have fun together! Join Gobo, Red, Boober, Mokey, Wembley, and Uncle Traveling Matt for stories and songs that show everyone how we're all connected.
Apple TV shows and movies coming soon
Greyhound
Status: Premiering July 10
In this true life tale, Tom Hanks plays a Navy commander on his first war-time assignment defending a merchant ship convoy under attack by submarines in early 1942 during the Battle of the Atlantic, only months after the U.S. officially entered World War II.
Little Voice
Status: Premiering July 10
A music-focused half hour series, executive produced by J.J. Abrams (Lost, Felicity) and featuring original music by Sara Bareilles, Little Voice will focus on a singer-songwriter trying to get her start in the world.
Ted Lasso
Status: Premiering August 14
This comedy stars Jason Sudeikis as a small-time college football coach from Kansas hired to coach a professional soccer team in England, despite having no experience coaching soccer.
Foundation
Status: Scheduled for 2021
Isaac Asimov's Foundation series is one of the most influential works in the world of sci-fi, the kind of content that will come with massive expectations and a high degree of difficulty. The Dark Knight writer David S. Goyer is an executive producer and showrunner.
Plus, Apple TV Plus has a ton of shows in various stages of development. Some have been given series orders, some have already begun production, while others have only inked their deals.
On the Rocks
Status: Reportedly started production in Feb. 2019.
One of the first feature films reported to be in production for Apple's service, On the Rocks will reunite Lost in Translation's director Sophia Coppola and star Bill Murray. The show is reportedly about a young mother (Rashida Jones) reuniting with her playboy father (Murray) in NYC.
Untitled Brie Larson Drama
Status: Straight-to-series order.
Apple's got Captain Marvel signed on to portray Amaryllis Fox in an adaptation of her memoir Undercover: Coming of Age in the CIA. This drama will focus on what it's like to be a young woman in the ranks of the CIA.
Untitled Damien Chazelle Drama
Status: Straight-to-series order.
La La Land writer/director Chazelle is going to write and direct each and every episode of an upcoming hourlong series.
Untitled Simon Kinberg and David Weil sci-fi series
Status: 10 episodes ordered
Simon Kinberg, a writer and producer known for his work on the Fox X-Men films is delivering a 10-episode season of a sci-fi show, with a huge budget. He's working on the series with David Weil, who's created a forthcoming Amazon Prime Video show dubbed The Hunt.
Shantaram
Status: 10 episodes ordered
According to Variety, Apple's got the rights to develop Shantaram, the Gregory David Roberts novel that focuses on a convict who escapes from a maximum security prison in Australia.
Calls
Status: 10 episodes ordered
An English-language adaptation of a popular French short-form series of the same name, Calls will supposedly provide innovative storytelling. A combination of found, real-life audio and minimal visuals will provide audiences with a new way to experience short stories.
My Glory Was I Had Such Friends
Status: Series reportedly ordered
An adaptation of a memoir, telling the story of a woman waiting for a heart transplant, and the friends who supported her during this tough ordeal. Star Jennifer Garner will co-executive produce with J.J. Abrams.
Pachinko
Status: Series reportedly ordered
An adaptation of the Min Jin Lee novel focusing on four generations of a Korean immigrant family. Told in three languages: Korean, Japanese and English, the show will be executive produced and written by Soo Hugh (The Terror).
Swagger
Status: Series reportedly ordered
NBA superstar Kevin Durant's shining a spotlight on his backstory with this new drama show that focuses on his early days playing basketball. Focusing on players, their families and coaches, this show seems to be Friday Night Lights for hoops.
Time Bandits
Status: In development
Adapting the cult fantasy film for TV, Apple's brought on Time Bandits director Terry Gilliam to executive produce, and Taika Waititi (What We Do In The Shadows, Thor: Ragnarok) is co-writing and directing the pilot.
Losing Earth
Status: In development
A TV series based on Nathaniel Rich's New York Times magazine story and book about the history of climate activism.
Untitled Billie Eilish documentary
Status: Filmed
The film has already been shot and follows the superstar singer in the wake of her hit debut album When We All Fall Asleep, Where Do We Go?
Swan Song
Status: In production
Mahershala Ali will star in this genre-bending drama, which explores how far someone will go, and how much they'll sacrifice, to make a happier life for the people they love.
Sharper
Status: In development
Julianne Moore is set to play a con artist in Manhattan's billionaire echelon
The Sky Is Everywhere
Status: In development
The adaptation of the young adult novel centers on American high school girl Lennie Walker, as she works through the loss of her sister and accidentally falls in love.
Killers of the Flower Moon
Status: In development
Martin Scorsese and Leonardo DiCaprio will team up again for this adaptation based on David Grann's book of the same name and has a script by Eric Roth. Set in 1920s Oklahoma when the Osage Nation discovered oil under their land, the Native Americans found themselves being murdered one by one. As the death toll rose, the newly created FBI took up the case and unraveled a chilling conspiracy and one of the most monstrous crimes in American history.