At its Xbox Games Showcase on Sunday, Microsoft announced that it's finally launching a revamped Xbox Series S with 1TB of storage nearly three years after the release of the original. It's a big upgrade and, in my opinion, it's the console that Microsoft should've started with.
That's because, at launch, the Xbox Series S was a tough value proposition. It didn't have the disk drive or faster processor of the Xbox Series X, and the measly 512GB SSD filled up fast with games like Gear of War 5 and Forza Horizon 4 each taking up more than 100 gigs.
The lack of space was my biggest issue with the console when I wrote my review for TechRadar (Tom's Guide's sister site) and it's kept me from gaming on it ever since.
Need a console to store all the best Xbox Game Pass games on? The new Xbox Series S is the solution you've been waiting for.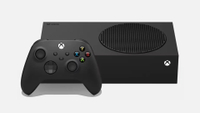 Xbox Series S (1TB): $349 @ Microsoft
Pre-Order The new Xbox Series S will launch on September 1, 2023 for $349. It will come in a new color (Carbon Black) and, most importantly, come stocked with the larger 1TB solid state drive. If you can live without a disc drive, this is the all-digital console worth buying.
Here's the problem with the '512GB' Xbox Series S
First off, we have to clear up a huge discrepancy between how much space Microsoft advertises with the Xbox Series S and how much space you actually have to work with.
On the side of the box, the Xbox Series S says it comes with 512GB — which, in their defense, is the size of the solid state drive inside the console.
The problem here, however, is that the old Xbox Series S only has around 364GB of usable space once you account for the operating system. With most new AAA games reaching upwards of 100GB and some others *cough* Call of Duty Modern Warfare *cough* reaching 200GB, you'll need to constantly rotate games in and out of your library.
If you have a slow internet connection, or simply miss the days of playing games without waiting for them to download, a 512GB console with 364GB of storage just doesn't pass muster.
Will 512GB of extra space make that big of a difference?
In short, yeah, it absolutely will. That's why I'm sold on it: you're actually getting the amount of storage space Microsoft promised in the original console. Once the 148GB operating system is accounted for, the 1TB console will have 850-ish gigs of storage to play around with.
That's important because, as we've seen, the size of games are only increasing due to higher resolution assets (assets, in case you don't know, are the artwork and animations that show up in the game). Because we now play games in 4K resolution, those assets have to be more detailed than they were in the 1080p days.
Admittedly, not every game is going to be a 100GB behemoth like Gears or Halo, but most are going to be between 30GB and 60GB. With over 800GB of storage, you could at least store 15 to 20 games at a time — double what you could store on the original Xbox Series S SSD.
There were fixes for this — my personal favorite being the expandable memory storage from Seagate — but at its launch price of $219, it was almost the same cost as the Xbox Series S. It was a good fix, sure, but a pricey one.
But does the extra storage space justify the extra cost?
Clearly, there's a real benefit to having a system with more storage space — but is it worth buying the Series S, or splurging for the $499 Xbox Series X and/or PS5? That, my friend, is the $350 question that most gamers will now have to reckon with.
I think you can make the case that it's worth upgrading (and I think my coworkers will) but $150 is no small chunk of change. If you don't just want to pocket the savings, you could use it for six months of Xbox Game Pass Ultimate and still have enough to buy a new $60 game.
It makes sense that Microsoft didn't want to launch with the larger SSD — it might've been confusing to see two Xbox consoles on store shelves with such similar specs. Now, though, the Xbox Series X has differentiated itself from the Xbox Series S that most folks know the difference between them, which now allows Microsoft to dial up the specs of the Series S.
Still, I'm not going to tell you that there's not much of a difference between the two Xbox consoles — because there certainly is and I think gamers who notice frame rate speed will appreciate the higher processing power of the Xbox Series X — but there's a huge swath of folks out there who want both an Xbox and PS5 and can't pay full price for both.
If that's you, the new Xbox Series S with a 1TB SSD looks like a great compromise between price and performance. I just wish it would've arrived a little sooner.
More from Tom's Guide