The Steam Deck OLED makes the best handheld gaming console even better. The new OLED display is the main selling point, but this updated device also introduces a lighter design, runs cooler and promises better battery life. As I said in my Steam Deck OLED hands-on preview, Valve has done it again.
While the Steam Deck OLED improves on its predecessor in meaningful ways, it might not be for everyone. There's no noticeable performance boost despite the updated APU. Installing third-party apps is also trickier than on Windows 11 handhelds like the Asus ROG Ally and Lenovo Legion Go.
So, is the Steam Deck right for you? Here's 3 reasons to buy and 2 reasons to skip Valve's new handheld console.
Steam Deck OLED: Reason to buy
Awesome OLED display
Let's start with the big one: the new OLED display. I thought the original Steam Deck's 7-inch 1,280 x 800 LCD was great, but now it's hard to go back to it after experiencing the vivid OLED panel upgrade.
The contrast between dark and light elements is stunning thanks to the OLED and HDR-capable display. This is especially true in Cyberpunk 2077, where retina-scorching neon lights bathe the grimy streets and alleys. Thanks to the thinner bezels, the screen is now 7.4 inches wide compared to 7 inches. That might not sound like much, but trust me, the difference is stark.
Swipe to scroll horizontally
| Header Cell - Column 0 | Steam Deck OLED | Steam Deck | Asus ROG Ally | Lenovo Legion Go |
| --- | --- | --- | --- | --- |
| Nits (brightness) | 597 | 169 | 465 | 476 |
| sRGB | 143.7% | 68.5% | 108.6% | 151.8% |
| DCI-P3 | 101.8% | 48.5% | 76.9% | 107.5% |
| Delta-E | 0.22 | 0.25 | 0.17 | 0.21 |
In our lab tests, we found that the Steam Deck OLED achieved 597 nits of standard brightness and 969 nits of HDR brightness. As you can see in the table above, Valve's handheld shines brighter than its predecessor and competitors. The device also delivers solid (if somewhat oversaturated) colors.
The high-end $649 model's display features anti-glare etched glass. I own the old 256GB Steam Deck (which is now the entry-level model), and I can tell you that not seeing my face reflected on the handheld's screen is a game-changer. That, combined with the OLED panel, makes for a wonderful visual experience when gaming.
Smart design changes
The new Steam Deck OLED appears virtually identical to the old model. It has the same controller layout, ergonomic handgrips and port placement. The all-black plastic chassis looks and feels as great as ever. Despite its similarities, there are some subtle (and smart) changes introduced with the OLED version.
The Steam Deck OLED is as large as the original at 11.7 x 4.6 x 1.9 inches. However, it's now lighter at 1.4 pounds. 1.5 to 1.4 pounds doesn't sound like much difference but it makes the system comfortable to hold for longer periods. The analog sticks are more concave, which makes them easier to grip. The face and back buttons are subtly different too, though they feel the same to me.
The Steam Deck is a masterwork of ergonomic design so it's good that Valve didn't mess with a winning formula.
Bigger battery, and faster Wi-Fi 6E
Valve claims the new Steam Deck has 30-50% more battery life than the older models thanks to its larger battery and how the OLED display draws less power. The updated and more efficient AMD APU (6nm compared to 7nm) is another factor that saves battery life, according to Valve.
We'll see if the company's claims are true once we've completed our battery tests. Based on my own experience with the Steam Deck OLED, I can say that it isn't nearly as noisy as my old 256GB model. Even when I've played for long stretches, the fans never went above a soft and gentle whir. That's a far cry from the jet engine-like fan noise of the original Steam Deck. The system also runs cooler, based on my anecdotal experience.
Another welcome upgrade is Wi-Fi 6, which delivers faster downloads compared to the Wi-Fi 5 of the previous models. On my Verizon Fios home network, I downloaded Marvel's Spider-Man, Doom Eternal and Cyberpunk 2077 in a little over 30 minutes, which is pretty zippy. But if you're connected to a slower network, don't expect such results. Still, if you do have a solid internet connection, you'll enjoy much faster downloads on the Steam Deck OLED.
Steam Deck OLED: Reasons to skip
You already own a Steam Deck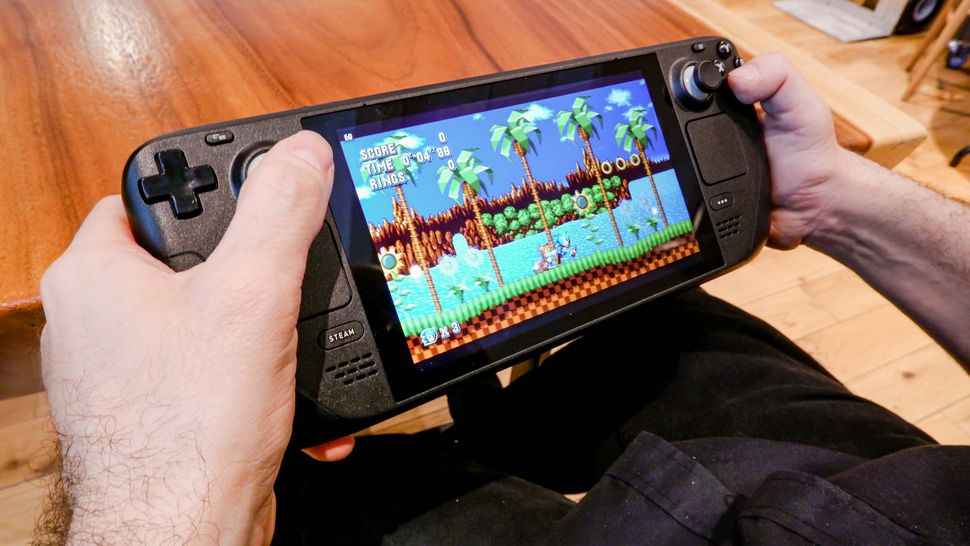 As much as I adore the Steam Deck OLED, I haven't rushed out to buy it (though the FOMO is pretty strong). If you're like me, you might find yourself in a similar situation.
The OLED display is incredible and I love how much lighter it feels to hold. However, I don't play on Steam Deck nearly as much as I do on my PS5 or my gaming PC. Even if I can afford it, it's hard to justify paying between $500 to $700 for something I'll occasionally use. If you're a casual Steam Deck user, you don't have to upgrade.
The other reason I haven't pulled the trigger is because the Steam Deck OLED delivers the same performance as the old model. Every game I tested on the new system runs almost the same as before — generally within the 35 to 45 fps range on each title's respective medium settings. There's little reason to spend so much money for the same basic performance. You're better off waiting for a Steam Deck 2 which will no doubt have a newer APU.
If you prefer Windows 11
The Steam Deck runs on SteamOS, which is optimized for both the hardware and the games you can play. Verified Steam games generally run as well as they would on a console, though playable and (some) unsupported titles should also run fine. This level of compatibility is one of Steam Deck's biggest advantages over Windows 11 handhelds. However, it can also be a hindrance for modders.
You're free to install Windows 11 and numerous other apps via Steam Deck's desktop mode. However, the process isn't exactly streamlined — especially if you're using touchscreen controls to visit websites or trying to input commands. Desktop mode also generally runs sluggishly, which can make an already cumbersome experience more frustrating.
Windows 11 doesn't yet have a dedicated gaming UI for handhelds similar to SteamOS. Because of that, trying to launch games on systems like the Asus ROG Ally or Lenovo Legion Go isn't as seamless as on Steam Deck. Accessing and launching Windows games on the best gaming PCs or best gaming laptops is far more intuitive than on a Windows handheld.
Despite the limitations Windows 11 presents on handhelds, it's a great OS for modders and for general compatibility. For the most part, any app or program that works on Windows will work on a Windows-based handheld. In fact, if you connect them to any of the best gaming monitors, best gaming keyboards, or the best gaming mice, you can use an ROG Ally or Legion Go as effectively as a normal PC.
If you can live with some clunkiness when trying to play games, you might find the greater freedom afforded by Windows 11 handhelds as a fair trade-off.
More from Tom's Guide