Unlike with the other gadgets and gizmos in your home, choosing the best streaming device can be a bit more difficult as you need to find something that works for everyone in your household.
Sure, you could just use what's available on your smart TV and leave it at that but personally, I've always found standalone streaming devices do a much better job. Plus, you can always upgrade to a new one without having to swap out your current TV.
Although I've been using a Google Chromecast as my main streaming device since 2018, last year, I had a chance to test out Roku's new security cameras. As they're designed to work with all of the best Roku devices, I needed one of my own. Alongside the Roku Indoor Camera SE, Roku also sent over a Roku Ultra for me to play around with.
I had initially planned to use the Roku Ultra while testing out the security camera but now, almost a year later, it's still plugged into my TV. In fact, my family hasn't even booted up our Chromecast with Google TV since.
Here are the three main reasons both my family and I fell in love with Roku and aren't planning on switching back to Chromecast anytime soon.
It keeps things simple
What initially drew me to Google's Chromecast was its simplicity. It didn't have a menu to navigate and there weren't any apps to install or manage. However, that all changed with the release of the Chromecast with Google TV in 2020, which added unnecessary complexity along with a remote that's a bit too small for my taste.
As the owner of a Chromecast Ultra and several other Chromecast devices throughout my home, I gave the Chromecast with Google TV a chance. It didn't take though, and I was more than happy enough to swap it out with a Roku Ultra instead.
Although it may seem overly simple to some, one of my favorite things about Roku is its interface. Instead of curated content filling up its home screen, you just have a menu on one side and apps for the best streaming services on the other. As there isn't a lot going on, Roku's menus load quickly and navigating between them is also quite fast.
While you can now find free ad-supported streaming television or FAST services on most streaming devices, my first introduction to this kind of content was with The Roku Channel on the Roku Ultra. I haven't felt the need to sign up for one of the best cable TV alternatives yet, but with Live TV on The Roku Channel, I can still channel surf when I don't know exactly what I want to watch.
A remote you won't want to put down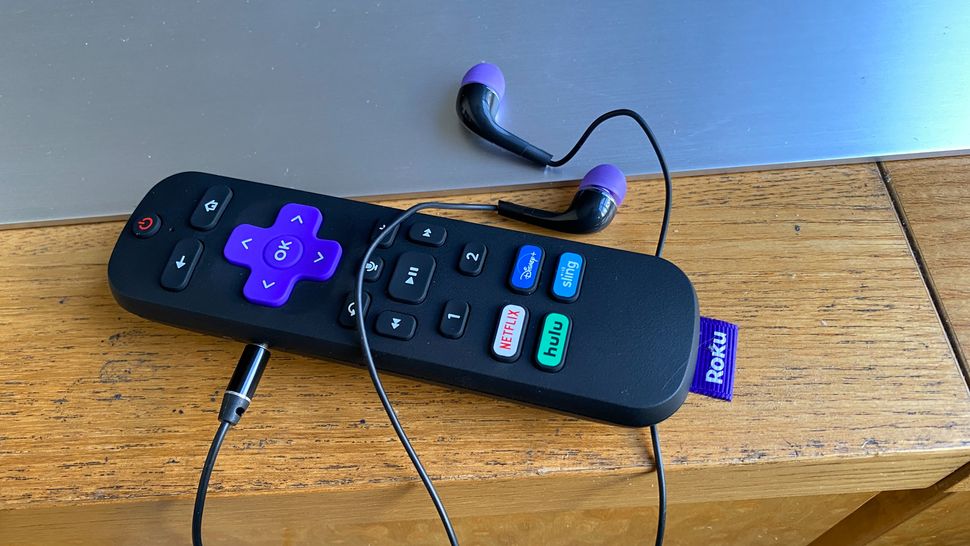 The long-awaited Chromecast remote was one of my biggest gripes with the Chromecast with Google TV. It's not only small but it's also slippery and not the easiest to hold in your hand. Fortunately, the Roku Ultra now comes with the Roku Voice Remote Pro.
The Roku Voice Remote Pro is much easier to hold in your hand as it has a cutout on the back for your index finger. It also has a microphone button so that you can use your voice to control your TV and there are two customizable buttons, just like on the Alexa Voice Remote Pro.
To help you find your remote when it gets lost, there's a button on the side of the Roku Ultra that you press to have the speaker on the back of the remote chime until you can locate it. The Roku Voice Remote Pro also has a 3.5 millimeter audio jack which you can plug wired headphones into to use Roku's Private Listening feature — great for when you don't want to wake up everyone else.
Size is the biggest factor for me when it comes to the remote for my streaming devices. As you can see in the picture above, the Roku Voice Remote Pro is not only longer but it's also thicker than the Alexa Voice Remote and the remote that comes with the Chromecast with Google TV.
No hub necessary
As their name suggests, streaming devices are meant to be used with Netflix, Disney+, Hulu, Max and other streaming services. However, you can also use many of them to watch content locally from one of the best USB flash drives, though there's often a catch: you need to plug in a hub, which certainly complicates things.
In addition to an Ethernet port, there's also a USB port at the back of the Roku Ultra. While my family mainly streams TV shows and movies, sometimes we like to break out our old home videos and the Roku Ultra's USB port is perfect for this as I have them all loaded up on a flash drive. With the Roku Media Player app, I can navigate through all of the different videos stored on my flash drive and watch old home movies to my heart's content.
Plenty of other little surprises
I've been using the Roku Ultra exclusively on my game room TV since November of last year and even after all that time, it still surprises me.
For instance, one day I left the TV on to go do something in another room and when I came back, I was greeted with an old-fashioned screensaver. As I have a toddler at home who's really into fish, we've sat together and watched the Roku fish tank screensaver for more time than I'd like to admit.
Just like my toddler, my wife has also taken a liking to the Roku Ultra as she absolutely hated using the Chromecast with Google TV's remote. Using it is now second nature for her and even when we have guests over, they manage to figure out how to use it in no time at all despite never having tried a Roku before.
I can also still cast videos from my phone or computer right to the Roku Ultra just like I used to with my Chromecast. This is really handy when you find something you want to watch on your computer but don't want to have to find it again on your TV.
If you're looking for an inexpensive streaming device that rests nicely in your entertainment center as opposed to hanging from the side of your TV, I highly recommend the Roku Ultra. It doesn't get bogged down with updates and you won't have to waste time freeing up storage space like on the Chromecast with Google TV.
Although I only meant to use the Roku Ultra temporarily, I've since replaced my Chromecast with it for good and don't see myself going back anytime soon. From the remote to its puck-shaped form factor and simple interface, it's become my favorite streaming device yet.
More from Tom's Guide