I spend a lot of time comparing and reviewing the best NBN plans to find the deals and options that provide the biggest bang for your buck. Some NBN plans might be low cost, but they may also be low quality. Conversely, there are some high cost plans that may come from the best NBN providers, but there may be more affordable plans that offer a comparable service.
It always pays to shop around for an NBN plan and I have yet to find a better deal than this Superloop NBN 1000 plan. Setting you back just AU$99 for the first six months and AU$109 each month thereafter, no other 1,000Mbps NBN plan comes close in speed or price.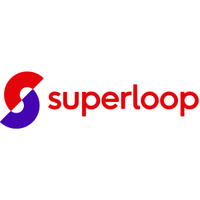 I've previously conducted a full Superloop review and found that the customer support could use some improvement, based on genuine customer feedback. But ultimately I found its low cost plans and low latency — a big boon for gamers — were in its favour.
The Ultrafast NBN 1000 tier is theoretically capable of delivering up to 1,000Mbps download speeds. The only criteria for signing up to this plan is that you need to be connected via fibre-to-the-premises (FTTP) or hybrid fibre coaxial (HFC) as only these two are capable of handling the required bandwidth.
Currently, no NBN provider advertises the maximum speed during the busier evening hours between 7pm to 11pm. Telstra quotes the fastest of 700Mbps, but as I said just above, Telstra's plan is AU$912 more over the course of the first year than Superloop's. Saving this significant sum of money far outweighs the sacrifice of 100Mbps in my opinion.
Australia's consumer watchdog, the Australian Competition and Consumer Commission (ACCC), also reports favourable results for Superloop. Each quarter, the ACCC releases performance data for a number of NBN providers, and in the most recent, it found Superloop delivered 97.5% of advertised plan speeds during the busy evening hours. While this figure isn't 100% — four providers did reach 100% or higher — it's not far off the magic number and the difference is likely to be negligible in a real world setting.
If 1,000Mbps speeds sounds like overkill for your home, you can check out Superloop's other very competitively priced NBN plans in the widget below.