The Coros Vertix 2 has incredible battery life and can track a huge number of outdoor activities. However, it's very large, yet has a smaller screen than the Apple Watch Ultra.
For
Good battery life
Swappable wristbands
Customizable watch faces
Compatible with Strava (and other 3rd party apps)
Against
Bulky on the wrist
Can be uncomfortable over long periods
Proprietary charging cable
The Apple Watch Ultra has a fantastic, large display and gets you all the advantages of a smartwatch in a rugged package. However, its battery life is far shorter than other adventure watches.
For
Added Action Button
Emergency siren
Precision start option
Makes a good diving watch
Against
Too large for petite wrists
Battery life still doesn't compare with competitors
No offline maps
No recovery metrics
The first thought I had when I swapped the Apple Watch Ultra for the Coros Vertix 2 was I clearly have a thing for titanium watches with orange straps. The rugged Vertix 2 comes with the silicone strap as standard; it's a slightly darker hue than the Alpine Loop band I favor for the Apple Watch Ultra. What can I say? Orange and silver works.
Despite a long and prosperous relationship with the Apple Watch Ultra, I was keen to switch things up and opted for the Vertix 2 because of its battery life, additional fitness metrics and compatibility with Android. Any time you switch up your gear, there's a breaking-in period where you need to get accustomed to the device.
All of us have different requirements for our wearables and I'm still finding my groove with the Vertix 2. But the change has thrown into focus the core functionalities that I rely on and given me a much better idea of what I need — and what I don't — from a GPS smartwatch.
Apple Watch Ultra vs Coros Vertix 2: what's different?
The most obvious difference between the Apple Watch Ultra and Coros Vertix 2 is the first is a smartwatch with adventure properties and the second is an adventure watch with smartwatch properties. There's no equivalent to the Ultra's watchOS App Store on the Vertix 2, but the lack of functionality means you've got a battery life that'll stretch into weeks, not days.
Both watches feature dual-frequency (L1 and L5) satellite connectivity and are compatible with GPS, GLONASS, Galileo, Beidou and QZSS navigation systems. They use this to offer accurate tracking (even while in deep forest or surrounded by buildings) as well as mapping and navigation. While the Ultra syncs up well with Apple Maps and uses the Compass app to provide backtracking, the Coros boasts a topographical mapping option that hikers and trail runners will no doubt appreciate.
And it goes without saying the biggest differentiator is the ecosystem these two watches live in. While you can use the Vertix 2 with either Android or iOS, don't bother investing in an Ultra if you're using one of the best Android phones.
Here's a table summarizing the main technical differences.
Swipe to scroll horizontally
Apple Watch Ultra vs Coros Vertix 2: the specs

| Header Cell - Column 0 | Apple Watch Ultra | Coros Vertix 2 |
| --- | --- | --- |
| Case size | 49mm | 50mm |
| Display | 1.92-inch | 1.4-inch |
| Resolution | 502 x 410 | 280 x 280 |
| Storage | 32GB | 32GB |
| Sensors | ECG, Heart Rate, SpO2, Temperature | ECG, Heart Rate, SpO2, Temperature |
| Battery life | Up to 36 hours (GPS enabled) | Up to 140 hours (GPS-enabled) |
| Weight | 61.3 grams | 72 grams |
| Price | $799 | $699 |
With the numbers out of the way, let's dive into the soft, squishy subjective thoughts I had after using the Coros Vertix 2 as my daily smartwatch for a week.
Judging the book by the cover
Watches, whether smart or dumb, are a tool designed to help us navigate through the day — but that doesn't mean style and design shouldn't come into it. Call me old-fashioned but I much prefer a circular face over the rounded rectangle Apple has given us since the first Apple Watch back in 2015. The company has a vested interest in sticking with the design; it's both uniquely Apple Watch — immediately identifiable on someone's wrist — as well as necessary for apps designed to run on the device.
But I can't help enjoying the look of the Coros Vertix 2 more. The watch face I ended up using takes advantage of its circular surroundings with a digital second counter that crawls its way around the circumference.
The only wrinkle here is the Coros Vertix 2 is a big watch with a case diameter of 50.3mm and overall dimensions of 50.3 x 50.3 x 15.7mm. Despite a bigger case, the display is actually smaller than the Ultra's — at 1.4-inch vs 1.9-inch. During exercise, I want the biggest display I can get for glanceability reasons. But having a watch this big means it's not ideal for wearing to the office or when you're going to sleep. Which makes things tricky if you want to try and track your metrics 24/7. To that end, I actually found it easier to go without the Vertix 2 as the fitness notifications are far less pushy than what Apple offers. It's the main reason I disable all fitness notifications on my Apple Watch Ultra.
Apart from size and design, the last aspect is customizability and that comes down to a draw. While Coros offers more watch faces (90) than Apple (49), the Ultra certainly has a wider array of strap styles and patterns to choose from. And since all Apple's straps are interoperable, you can recycle any old ones you've got from Apple Watches past.
What's your use case?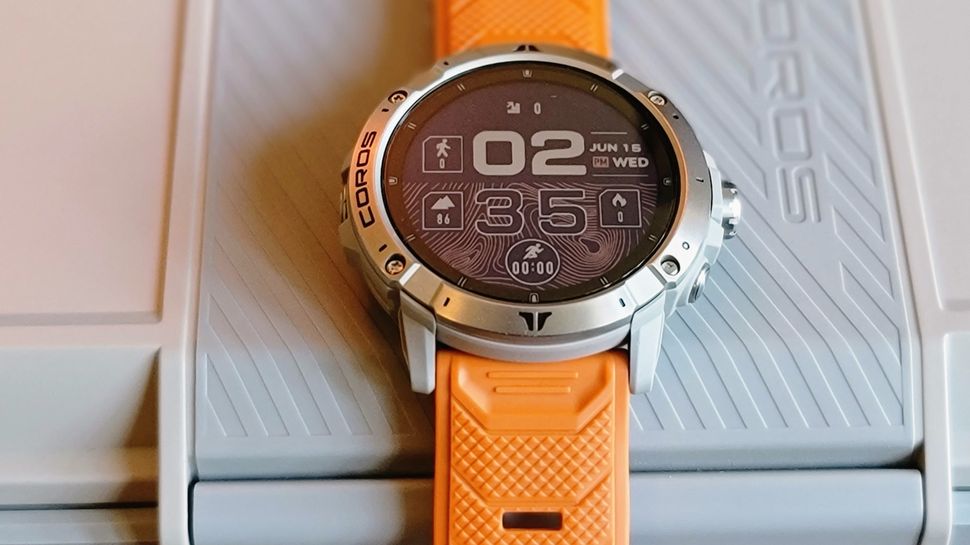 It's easy to get sucked into the advertising and marketing when it comes to wearables and I'm as guilty as the next person. I'd love to think strapping a rugged adventure watch to my wrist means I can suddenly conquer an Ironman or take up trail running but, sadly, it's highly unlikely. Figuring out your use case is one of the reasons the wearables team at Tom's Guide may recommend choosing the Apple Watch Series 8 over the Apple Watch Ultra. On the Android side, you may not require the feature-set of a Garmin Fenix 7 Pro or the Coros Vertix 2 when you can get by sufficiently with the Forerunner 265 or even a Fitbit Charge 5.
That being said, there's a glaring omission on seemingly all fitness wearables that crops up for me no matter which one I try. Whenever I go out for a run, I almost always stop along the route and throw down some bodyweight exercises. If you can fit in ten sets of 20 push-ups (ten with your hands wide to work the chest then ten close together to bust the triceps) then that's 200 by the time you're home. The only problem is it messes with your run time and I don't want to pause (manually or automatically) the run every time I do this because I'm still breathing hard and burning calories. I counteract this by often using the "Mixed Cardio" workout setting on the Apple Watch Ultra or the "GPS Cardio" one on the Coros Vertix 2.
But it's far from ideal and I'd love to see some smart folks at Apple or Coros come up with a hybrid mode that accurately switches and captures data from both running and weights in a single workout and parcels it up accordingly.
Battery vs functionality
The biggest revelation I've found since switching to the Coros Vertix 2 is the battery life lasts for ages. I've been wearing it consistently for ten days, executed half-a-dozen workouts and I've only spent 20% of the battery life. The Vertix 2 is rated for up to 60 days of power for normal use (Garmin's Fenix 7 quotes 57 days) which makes the Apple Watch Ultra's 36-hour mark laughable in comparison. I hate having to charge tech all the time, so this is great. Of course, the trade-off is the stripped-back functionality of the Vertix 2 mentioned earlier. While I only use a handful of Apple Watch apps with any regularity, I really missed them when they weren't there. For example, the simple act of having a world time option so I could check at a glance what my U.S. colleagues were up to is missing on the Vertix 2.
Music playback is another area that I found to be tricky after swapping to the Vertix 2. On the Apple Watch Ultra, I can send music playlists or podcasts directly from my iPhone or download from Spotify to listen to offline while out running. The Vertix 2 requires users to sideload MP3 files over from a computer via the smartwatch's proprietary charging cable. There's also no way to form a different playlist based on whether you're running, cycling or weightlifting. At least both devices boast a rock solid Bluetooth connection when you pair them with the best running headphones before heading out.
Battery life gets affected by all kinds of things. The Apple Watch Ultra has a sharper, brighter display and far more bells and whistles, but I'd be happy for Cupertino to try and scythe some of this back if it meant approaching a battery life closer to what Coros has managed.
Obviously, these are my thoughts based on a bit of time with each product. If you want to dive even deeper into these two wearables, check out our reviews of the Apple Watch Ultra and the Coros Vertix 2 to learn more.
More from Tom's Guide