It's no secret that the best iPhones are getting more and more expensive, and that's now reflected in the average selling price of new models, according to an analysis by CIRP (seen by 9to5Mac).
The average iPhone sold between January and March of this year cost $988, the highest average value yet for new iPhones, a figure which has been steadily rising since June of 2022. This is odd since normally you'd expect to see iPhone average prices spike in the fall and winter each year when the new models arrive, then drop off. However this time, the price has gotten higher over the past nine months.
It's worth noting that this average is based on the MSRP of the iPhone models. It doesn't account for discounts, promotions, bundled items or trade-in offers, but it still points to users selecting more expensive iPhones than in previous years.
This makes sense given earlier reports of how well the iPhone 14 Pro and iPhone 14 Pro Max were selling compared to the cheaper vanilla iPhone 14, and particularly the iPhone 14 Plus. However, both of these basic models still outperformed the iPhone 13 mini, a notoriously poor-selling model. CIRP also noticed more users paying for extra storage above the 128GB Apple offers as standard, a sensible choice given how many photos, files, apps and games the average user has gathered over their smartphone-owning years.
CIRP points to previous reporting that indicates that iPhones are some of the best-performing second-hand and refurbished phones, too. This, it believes, helps encourage users to spend more on their phone now since they can rely on getting more of their money back when it's time to trade in or upgrade.
Of course, all of this could change this September, when the iPhone 15 series is assumed to arrive. In addition to introducing tempting rumored upgrades such as USB-C charging, a more ergonomic curved back, Dynamic Island cutouts on all models and more powerful Pro cameras, it'll likely also impact which iPhones Apple continues to sell, and at what price. Take a look at our thoughts on the Fall 2023 iPhone line-up to see which models we think will be discontinued and which will survive.
There's another wrinkle here, too. The iPhone 15 Pro Max has been tipped to get a $100 price hike, which would bring the starting price to $1,199. This may be due to a new periscope zoom camera.
$1,000 too much for you? Here are your options
Just because the average iPhone buyer is spending nearly a grand on a new model doesn't mean you need to spend that much. Here are our top picks for cheaper alternatives.
iPhone 13 ($699)
The iPhone 13 still packs a punch, especially since Apple was light on the upgrades for the iPhone 14. This 6.1-inch handset features an OLED display, 12MP main, ultrawide and selfie cameras, and a powerful 5G-ready A15 Bionic chipset. The only major sacrifices are the SOS Emergency via satellite and Crash Detection safety features, plus some camera software improvements.
Apple also sells the iPhone 13 mini and iPhone 12 as cheaper options. Those may be better if you want to save another $100, but the mini's poor battery life and the 12's more limited features mean the regular iPhone 13 remains our budget favorite.
Samsung Galaxy A54 ($449)
If your quest for value isn't exclusively for an iPhone, the Samsung Galaxy A54 is our current phone value champion thanks to its generous array of features and a reasonable price. It's not a powerful phone, as Samsung did save money by using a middling Exynos chipset. But it's still got good cameras, led by the new 50MP main sensor, a big and beautiful 6.4-inch 120Hz display, and a long-lasting battery.
Google Pixel 7 ($599)
For maximum flagship value, we present the Google Pixel 7. Google's entry-level flagship phone retails for just $599, while still offering some of the best cameras on a phone right now and many ingenious features that you won't find on other Android phones like live translation and Photo Unblur.
The limited battery life may be an issue for you though. Plus, we'd also point out that we're expecting the Pixel 7a to debut in mere days. This should share many of the Pixel 7's specs, but cost $100 less based on the rumors.
OnePlus 11 ($699)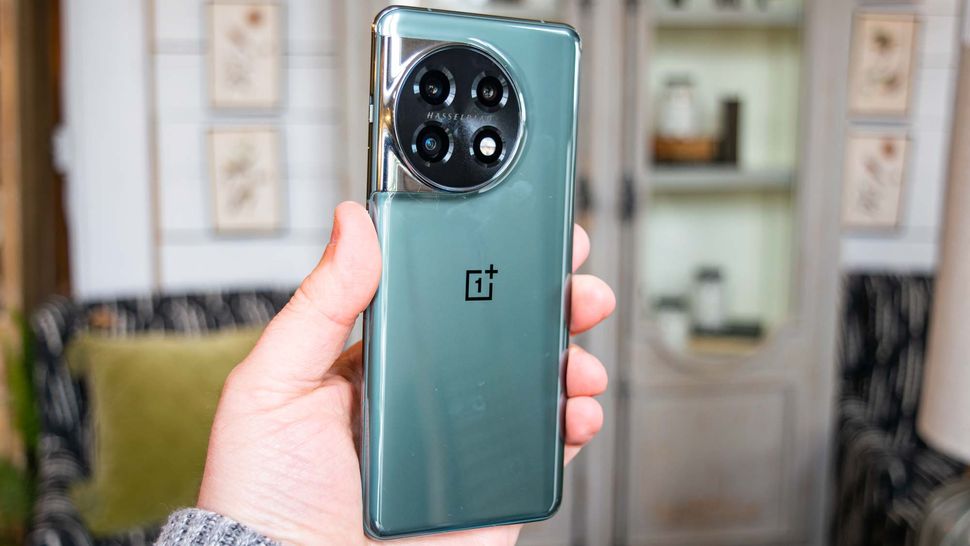 If you've got some more money to play with, and want more cameras, more display and more power than our previous options, than the $699 OnePlus 11 is the best use of your money if you're after a premium experience.
You don't get wireless charging, and there's only a 2x zoom camera instead of a more typical 3x one. But with great performance, a top-quality display, a long-lasting battery and overall good photography, you have all your bases covered.
Samsung Galaxy S23 ($799)
We're getting more expensive again with this recommendation of the Galaxy S23, but the phone's overall quality, as well as its compact 6.1-inch size, could be just up your alley.
It outperforms other Android phones thanks to an exclusively-customized Snapdragon 8 Gen 2 chipset, wows with its display and photography, and finally brings decent battery life again after a few years of disappointing results. It'll cost you just as much as an iPhone 14, but you do get much-improved hardware, like a 120Hz display and triple rear cameras.
More from Tom's Guide