Samsung Galaxy Unpacked: All the latest Galaxy S22 and Galaxy Tab S8 news
Find out the latest on the Galaxy S22 and Galaxy Tab S8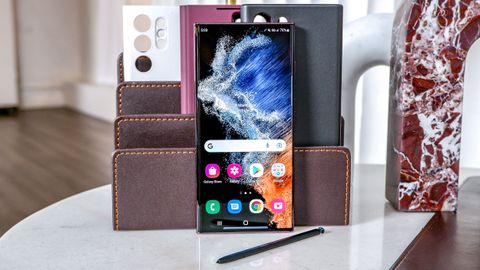 (Image: © Future)
Samsung shook up both its smartphone and tablet lineup today (February 9), introducing the Galaxy S22 lineup along with the Galaxy Tab S8 series of tablets. Each product line gets three new versions, highlighted by an Ultra model that packs in what Samsung is touting as the latest and greatest features.
All this took place during the hour-long Galaxy Unpacked event that served as our official introduction to the new products. Of course, if you've been keeping tabs on rumors surrounding the Galaxy S22 and Galaxy Tab S8, Unpacked didn't reveal many surprises, though it's still good to get the official word straight from Samsung.
Pre-orders of the Galaxy S22 range are also live, and you can get up to $200 in credit depending ono the model of phone you go for.
Here's a recap of the products Samsung announced during today's event, along with our live blog and an embedded replay of Galaxy Unpacked.
What Samsung announced at Galaxy Unpacked 2022
Galaxy S22 and Galaxy S22 Plus: The Galaxy S22 and Galaxy S22 Plus ushered camera improvements, including a beefier main sensor and better optical zoom on their respective telephoto lenses. The phones feature a Snapdragon 8 Gen 1 chipset in the U.S. and come with slightly smaller screens than their Galaxy S21 predecessors; prices haven't changed from the S21, however.
Read our Galaxy S22 hands-on review
Read our Galaxy S22 Plus hands-on review
Galaxy S22 Ultra: The highlight of the lineup is the Galaxy S22 Ultra, which adopted many Galaxy Note features, as had been anticipated. There are camera improvements here, too, such as a clear lens that cuts down on glare and lens flare and 45W charging.
Read our Galaxy S22 Ultra hands-on review
Galaxy Tab S8 and Galaxy Tab S8 Plus: The Galaxy Tab S8 and Tab S8 Plus both include an S Pen. The Tab S8 offers an 11-inch LCD with 120Hz refresh rate, while the Tab S8 Plus ups that to a 12.4-inch OLED. Both are powered by the Snapdragon 8 Gen 1 chip.
Read our Galaxy Tab S8 hub
Galaxy Tab S8 Ultra: The Galaxy Tab S8 Ultra is the crown jewel of Samsung's tablet lineup, and it could finally give Samsung a formidable competitor for Apple's iPad Pro. You get a 14.6-inch screen, included S Pen and dual front cameras for video calls. People who've invested in other Samsung devices will appreciate the interoperability of the Tab S8 Ultra.
Read our Galaxy Tab S8 Ultra hands-on review
Get the Tom's Guide newsletter!
Instant access to breaking news, the hottest reviews, great deals and helpful tips.
Thank you for signing up to Tom's Guide. You will receive a verification email shortly.
There was a problem. Please refresh the page and try again.