What can a Witcher watch after a Witcher watched The Witcher season 3? Quite a lot!
For three seasons, The Witcher followed title character Geralt of Rivia (initially played by Henry Cavill, soon to be replaced by Liam Hemsworth), a solitary monster hunter. His destiny is tied to the part-elven sorceress Yennefer (Anya Chalotra) and princess-on-the-run Ciri (Freya Allan).
Based on the book and story series by Polish writer Andrzej Sapkowski, The Witcher has become one of Netflix's biggest shows. But with The Witcher season 3 recently ending with an anti-climactic finish, fans may feel a bit bereft.
If you're craving more fantasy action and adventure, here are nine shows like The Witcher to watch while you wait for new episodes.
The Magicians
For a sorcery-laden tale rated R for violence and sex, check out The Magicians. It's mostly set in the modern era, though the story takes the characters to a fantastical realm. Quentin Coldwater (Jason Ralph) enrolls at Brakebills University for Magical Pedagogy, where he and his budding magician friends discover that Fillory, an enchanted land from a series of books, is real.
When Quentin's love interest Alice (Olivia Taylor Dudley) misuses her powers, she accidentally summons the Beast, a terrifying monster from Fillory that could wreak untold damage. The Brakebills bunch must band together to defeat the creature and save the world, both magical and human.
Watch on Netflix
Carnival Row
Fantastical beings? Check. Tension and war broiling between races? Check. A disturbing plot against one kind? Check. Carnival Row is a spiritual cousin to The Witcher, with a Victorian steampunk vibe rather than a medieval one. Mythological creatures, including faeries and faun, have fled their homelands and are now struggling to co-exist with humans in an increasingly intolerant city.
Human police inspector Philo (Orlando Bloom) is drawn into investigating a string of gruesome faerie murders. His efforts are complicated when he runs into a former lover, the fae agitator Vignette (Cara Delevingne), who has a secret that could destroy the uneasy peace.
Watch on Prime Video
Game of Thrones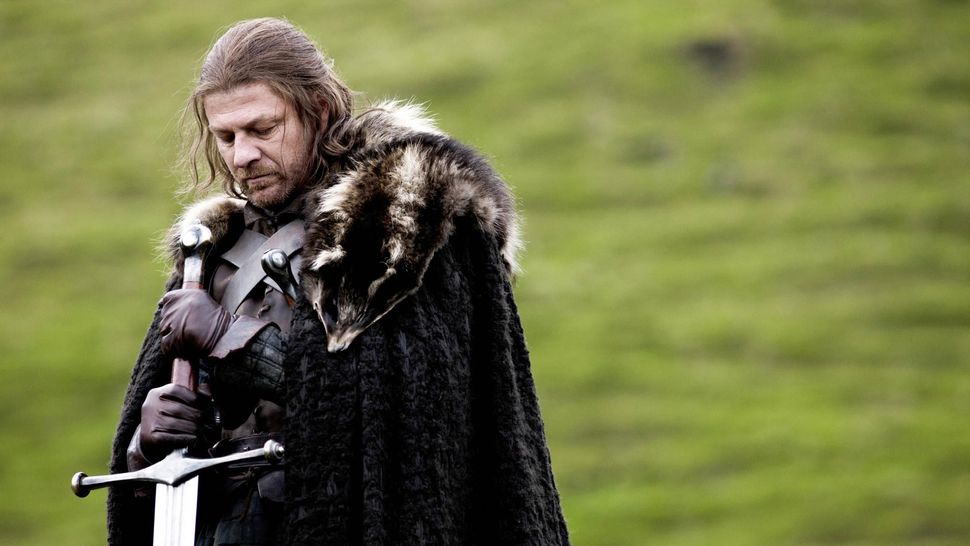 Arguably the most successful fantasy TV series of all time, Game of Thrones set the bar that the likes of The Witcher endeavor to meet. It has all the hallmarks of the genre: hero quests, politicking, mythical creatures, magical phenomena and an epic clash between good and evil. As the Starks say, "Winter is coming" — and this one is bringing masses of undead White Walkers to wipe out Westeros.
Then again, the humans of the Seven Kingdoms may destroy themselves with infighting, as the death of the king sets off a battle among the noble families for control over the Iron Throne. In the midst of this is Ned Stark (Sean Bean) and his children, who are soon scattered to the winds on their own journeys.
Watch on Max
Shannara Chronicles
Elves, gnomes, druids and demons engage in epic battle in this adaptation of Terry Brooks' bestselling trilogy. Like The Witcher, a trio anchors the story: fierce elf princess Amberle (Poppy Drayton), half-human/half-elf Wil (Austin Butler) and human Rover thief Eretria (Ivana Baquero).
With the help of the last druid Allanon (Manu Bennett), they team up to save the dying magical Ellcrys tree and prevent bloodthirsty demons from invading their world. Many of The Witcher's elements can be found in this short-lived series, including action/adventure, inter-fantastical race politics and romance.
Watch season 1 on Tubi (in Spanish)
Rent/buy seasons 1 and 2 on Amazon or Apple
His Dark Materials
The use of magic for malevolent purposes drives the action in both The Witcher and His Dark Materials, which is the most recent attempt to adapt Philip Pullman's bestselling books. In the former, various parties scheme to find beings with Elder Blood, a rare source of immense power; in the latter, the mysterious phenomenon Dust is highly coveted.
The story kicks off when an orphan girl named Lyra (Dafne Keen) embarks on a quest to find her missing friend. That leads her to make discoveries about Dust, encounter other worlds and make a fated connection with teen Will Parry (Amir Wilson).
Watch on Max
Shadowhunters
Like Ciri, Clary Fray (Katherine McNamara) is a young woman who must grapple with her burgeoning magical powers. On her 18th birthday, Clary discovers she comes from a long line of human-angel hybrids who hunt down demons. When her mother is kidnapped, Clary works to save her with Shadowhunters like the handsome, narcissistic Jace (Dominic Sherwood).
The show spends a good deal of time in careful world-building, incorporating vampires, werewolves and warlocks into the mix. Geared toward older teens and young adults, it has more romantic angst than The Witcher: prepare for love triangles galore.
Watch on Hulu
The Last Kingdom
While The Last Kingdom is a historical epic with no fantasy elements, it bears many similarities to The Witcher — the medieval setting, violent clashes between opposing factions and a hardened warrior who could be the key to ending the conflict.
Based on Bernard Cornwell's historical fiction novels The Saxon Stories, the drama chronicles the struggle between the Saxons and Danes to rule 10th century England. Uhtred of Bebbanburg (Alexander Dreymon), is a Saxon noble kidnapped and raised by Danes. When he returns to England seeking to reclaim his birthright, his unique perspective on both sides puts Uhtred into the thick of things.
Watch on Netflix
Grimm
Just as Geralt of Rivia comes from a long line of witchers, Nick Burkhardt (a homicide detective in Portland) is descended from a line of guardians known as Grimms. They are charged with keeping the balance between humans and mythological creatures.
After Burkhardt (David Giuntoli), learns of his heritage, he's drawn into cases involving the Wesen — creatures visible to only the Grimms. To get things done, he relies on help from his partner Detective Hank Griffin (Russell Hornsby), and his wolflike friend Monroe (Silas Weir Mitchell), a Blutbad.
Watch on Prime Video or Peacock
A Discovery of Witches
War between supernatural races powers much of the plot in both The Witcher and A Discovery of Witches, which is based on the books by Deborah Harkness. Historian Diana Bishop (Teresa Palmer) is also a reluctant witch who's drawn back into the magical world when she discovers a bewitched manuscript in Oxford's Bodleian Library.
As she unravels its secrets, she encounters the roguish vampire Matthew Clairmont (Matthew Goode). Their relationship, and Diana's blooming powers, threatens the fragile peace between witches, vampires and daemons.
Watch on AMC Plus (via Prime Video)
More from Tom's Guide