Traveling during the holiday season is no easy feat. Long lines at airports coupled with changing flight schedules, cancellations because of the weather and the risk of losing your luggage in the airport chaos are all real possibilities, as anyone who tried hopping on a Southwest Airlines flight recently can attest.
There's not much you can do about abrupt flight cancellations, but using some of the best trackers to keep tabs on your luggage can at least help keep some of the travel stress at bay. Believe me, I know.
I jumped at the opportunity of buying myself an Apple AirTag during the Black Friday sales a couple months back. I was planning to travel from the US to India and I knew that having a tracker would help me keep tabs on my luggage especially since I had to change planes during my travels.
Traveling with an AirTag
Setting up an AirTag with an iPhone is very simple, as it pops up on the iPhone's home screen. I gave my AirTag a moniker of my name and "Luggage AirTag" just in case I decided to buy another one for my keys in the future. The Find My app on your iPhone shows you the exact location of your AirTag.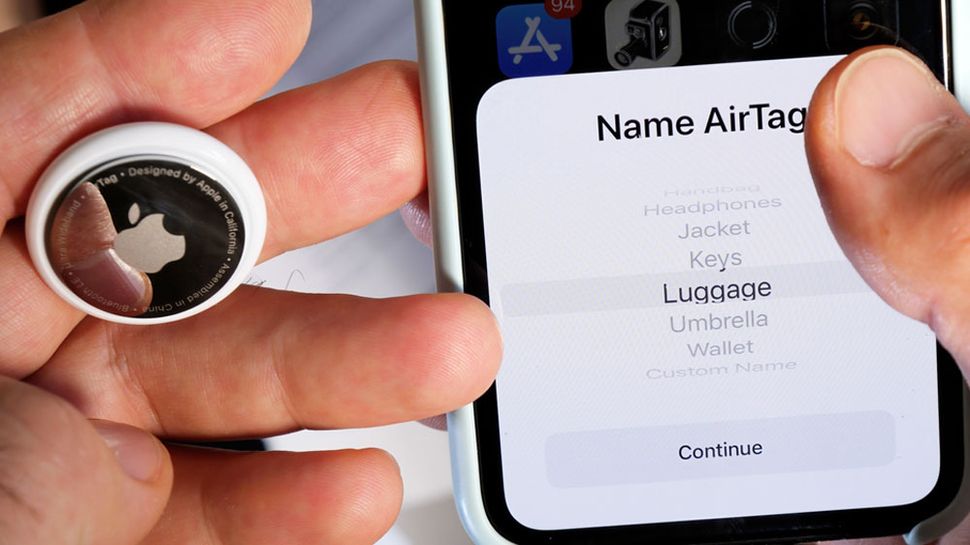 Apple's tracker has many very useful features. Firstly, it is small and pretty inconspicuous so it can easily be slipped into a bag or a suitcase. In fact, leaving it inside my monstrously large suitcase, I was almost worried I might lose it, ironically. Of course, my iPhone would make sure that I didn't.
The AirTag can emit a beeping sound when you want to find the device around you. This is perfect for a set of keys, wallet or even a purse. Inside a suitcase, though, it can difficult to hear it beep. I put this to the test at home after packing my bag, just to check and it was too faint to hear between all my clothes. There was no chance I was going to hear the AirTag's alert at a noisy airport.
The Find My app also lets you switch on notifications to notify you when the AirTag is left behind. You can choose to switch this on or off within the app. I toggled this on as I prepared for my trip.
If you have an iPhone 11 or later, you can take advantage of a Precision Finding feature for the AirTag that pinpoints the exact location of the AirTag by providing directions toward it in augmented reality. This feature is extremely handy in noisy places where the beep can't be heard.
I was excited to try out all the features and see if I could track the real time location of my bag as I flew halfway across the world.
Once I checked in my suitcase, I promptly got a notification saying that my AirTag was left behind. On my first flight, before taking off, I opened my Find My app to see that my suitcase was around my location which meant it made it to the right flight. I breathed a sigh of relief. The same thing happened when I took my second flight and I could see the AirTag was around my location again.
Here's what AirTag's missing
On my way back to the US from India, I realized that the Apple AirTag misses out on a handy feature I wish Apple had included. While waiting for my luggage at the airport carousel, I checked my AirTag's location. It was at the airport, obviously, but I couldn't use Precision Finding to guide myself toward my bag. I had no option but to wait for it to appear at the baggage carousel.
After waiting for a good 20 minutes, I noticed that my suitcase hadn't moved. I was also running out of battery on my iPhone and had to close my Find My app before my phone died.
After a 24-hour journey, I was tired and went and sat on a bench, where I thought I could keep an eye on the carousel as well. I wished there was a way for Apple to notify me when my bag was closer to me and I would have known when to go to the carousel to pick it up.
Considering Apple has an option to notify you when the AirTag is no longer with you, this seems like it could be a simple update to let a user know when the tracker is now closer to you.
Precision Finding is a handy feature, but in my experience ,it is only useful when looking for a smaller object in a more contained space or if something gets lost somewhere. People are using trackers in their luggage now more than ever, and I wish Apple would bring travel specific features for the AirTag to make it even more useful.
I finally saw my bag in the distance and walked toward it. Checking my iPhone, I noticed the Find My app said that my AirTag was now with me. But that was too little, too late.
AirTag impressions
Overall, an AirTag is extremely useful in tracking bags or especially finding lost items. Had my luggage been left behind in another airport or misplaced, I would have been able to track it and even tell the airline exactly where it was. If you are planning any travel this year, I would highly recommend a good tracker to keep tabs on your suitcases and travel without the stress of misplaced stuff.
Next: How to find your lost or stolen iPhone. Also check out: iPhone 15 may get USB-C, but here's why the world isn't ready for USB-C yet.