This AirPods Pro vs. AirPods 2 face-off isn't intended to decide a "winner," per se. These are, after all, pretty significant differences between the two: the Apple AirPods is the crowd-pleasing, relatively affordable original, whereas Apple spared few expenses in making the AirPods Pro worthy of the best noise-cancelling earbuds around.
Even with the AirPods 3 rumored to launch this year, and the AirPods Pro 2 potentially coming in 2022, both current-gen pairs still stand up today. So, despite their differences, it's worth knowing how they stack up in terms of performance, features, comfort and battery life.
To be truthful, we find these two models to be some of the best headphones in town. However, should you be torn over which to buy, check out our AirPods Pro vs. AirPods 2 comparison to get the full lowdown.
AirPods Pro vs. AirPods 2: Specs compared
Swipe to scroll horizontally
| | | |
| --- | --- | --- |
| | AirPods Pro | AirPods 2 |
| Price | $249 | $159 |
| Wireless Charging Case | Yes, included | Yes ($40 extra) |
| Chip | H1 | H1 |
| Rated Battery Life | 4.5 hours (with ANC on), 5 hours (with ANC off), 24 hours (with charging case) | 5 hours, 24 hours (with charging case) |
| Water Resistance | IPX 4 (can withstand sweat and water, but not for use in water sports) | Not rated for sweat- or water-resistance |
| Case Size | 2.4 x 1.8 x 0.9 inches | 2.1 x 1.7 x 0.8 inches |
| Case Weight | 1.6 ounces | 1.4 ounces |
| Special Features | Active noise cancellation, transparency mode, adaptive EQ, spatial audio, automatic switching, customizable fit, audio sharing, Fast Fuel charging, announced messages with Siri, "Hey Siri" voice-activated assistance, wireless charging case | Audio sharing, "Hey Siri" voice activation, auto switching, customizable sound via iPhone settings, Live Listen, smart controls |
AirPods Pro vs AirPods 2: Price
There's no denying that the AirPods Pro is pricier than its predecessors, not least on simple MSRP terms. The AirPods 2 is listed for $159 without a wireless charging case and $199 with one — so even the latter represents a more affordable option than the $249 AirPods Pro.
Since both have been on sale for a while, prices have dropped, but the standard AirPods remain much cheaper. If you can go without wireless charging, you could pay as little as $119, while the AirPods Pro seldom drops below $189. We have also seen the AirPods Pro for as low as $179, which is an unbeatable value.
You can check out our AirPods sales page for the latest sales and discounts.
Winner: Draw
AirPods Pro vs AirPods 2: Design
Most sweat-resistant Bluetooth earbuds look like tiny buds that you stick in your ear and are so unobtrusive that some people might not even notice you're wearing them. Not the AirPods Pro. Apple has stuck with the AirPods' signature style, complete with gleaming white stems that drop down from the ear. At least the stems are shorter compared to the AirPods 2. On top of that, you'll notice some detailing on the AirPods Pro that isn't present on the regular AirPods, such as black grilles, a longer sound port, and an indentation near the bottom of the stem that acts as a button.
Again, this is Apple's first pair of sweat- and water-resistant AirPods and remains the only one of its kind today. As reviewers who have shorted out the battery of their first-gen AirPods by running outside (and getting caught in a few downpours), the Pro's IPX4-rated protection is a welcome change. If you don't like the hooked design of the Powerbeats Pro, from Apple-owned Beats, the AirPods Pro is some of the best sport headphones to offer a similarly-featured alternative.
With no IPX rating, the AirPods 2 offers no protection. Moisture buildup can damage the buds when exposed constantly to sweat and water. Also, the plastic frame cracks easily if stepped on or dropped from a high distance.
Besides the different shape, not much has changed between the AirPods 2 and AirPods Pro charging case, at least from an aesthetic POV. Each case is built from solid plastic with a matte finish that scratches and scuffs easily. We do prefer the AirPods Pro version for its distinctive look (the rectangular design is more eye-catching) and slightly stronger magnetic closure to keep the buds locked in safely during charges.
Winner: AirPods Pro
AirPods Pro vs AirPods 2: Comfort and fit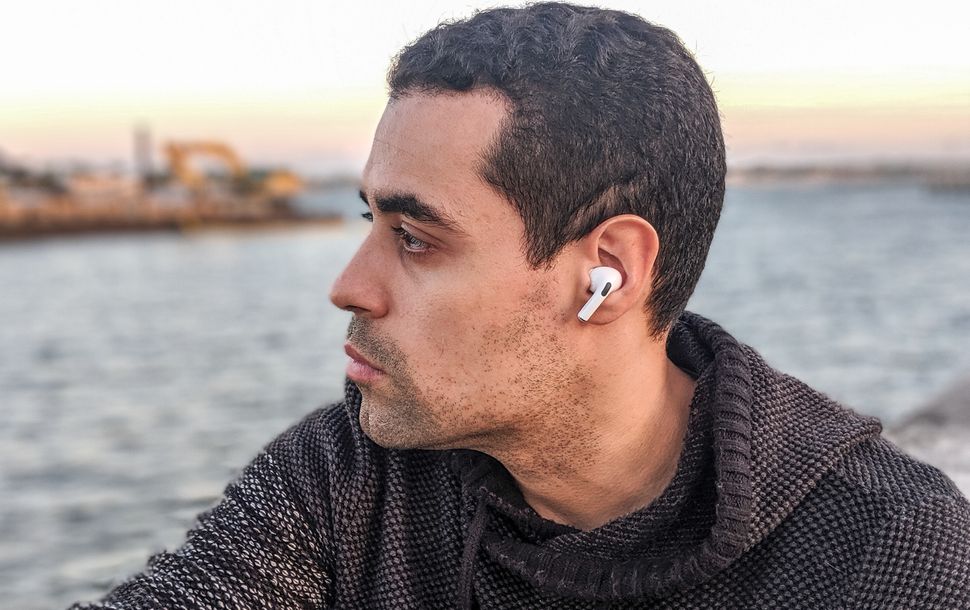 The AirPods Pro is also customizable, a first for Apple, so you can ensure a perfect fit. Three sizes of silicone tips — small, medium, and large — are included in the box. If you're unsure which size fits best, Apple went as far as creating the Ear Tip Fit Test to calibrate the AirPods Pro and determine which tips are the best ones for you. The tips click in, so you don't have to struggle to swap them out.
We also appreciate that the AirPods Pro comes with a new vent system for equalizing pressure. This provides more relieve on your ears whenever using noise cancellation, something not many ANC models do well.
The AirPods 2 has what Apple calls a "universal" fit. There are no customizable silicone tips, and these buds aren't designed to nestle in the ear canal. Instead, they sit just outside of it, so you can still hear the world around you. Unfortunately, they also provide poor on-ear stabilization and slip off easily when jogging.
Winner: AirPods Pro
AirPods Pro vs AirPods 2: Controls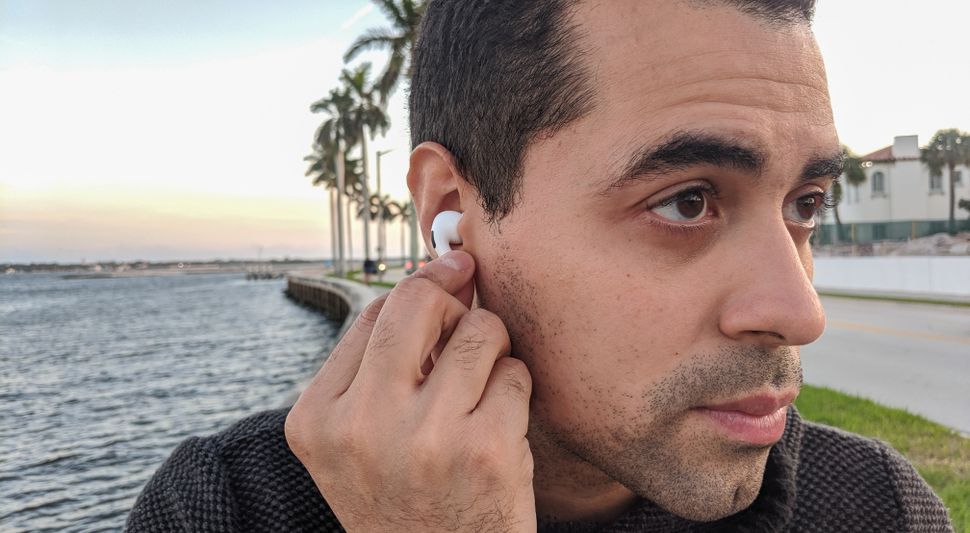 Apple switched things up on the AirPods Pro, developing an all-new Force Sensor that is embedded to toggle between ANC and transparency modes, as well as manage calls and playback. You can feel for the sensor with your fingertip, because the AirPods Pro's stem is grooved. Squeezing the groove again resumes ANC. If you've already got an iPhone in your hand, you can also use the volume slider in Control Center to switch between ANC and transparency mode instead of using the Force Sensor. Know that everything functions smoothly, and that every press of the Force Sensor produces nice tactile feedback to assure you commands are being received.
The AirPods operates on double-taps and hold gestures. Apple's touch sensors aren't perfect and there will be moments when you need to perform the same action two or three times to enable a function.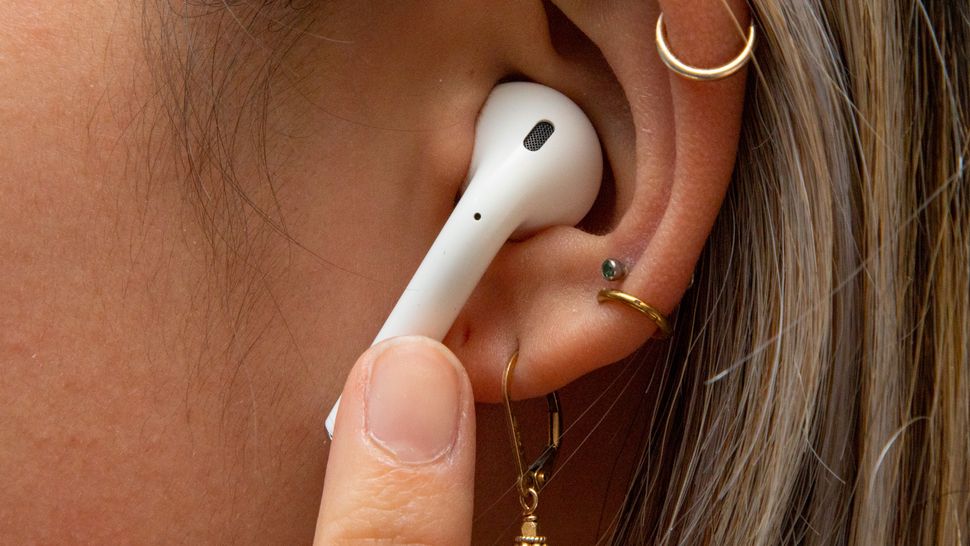 Each of these models comes with on-ear detection to auto-pause/play whenever taking off or placing the earbuds back on your ears.
Then there is "Hey Siri" wake-word voice activation, which is available on either set of AirPods and works flawlessly. Speaking the phrase out loud will automatically fire up Apple's AI bot and let you execute numerous voice commands. While we find the mics to be stronger on the AirPods Pro, the AirPods 2 does a solid job of picking up every word and recognizing long-winded verbal inquiries. Siri also shoots back results as quickly as it receives them.
Apple has a tendency of making audio products that don't play well with other platforms. However, you can use the AirPods 2 or AirPods Pro on Android devices and enable the digital assistant for use. It just won't be Siri. You'll also need to download a third-party app like Assistant Trigger to enable the feature.
Winner: AirPods Pro
AirPods Pro vs AirPods 2: Audio quality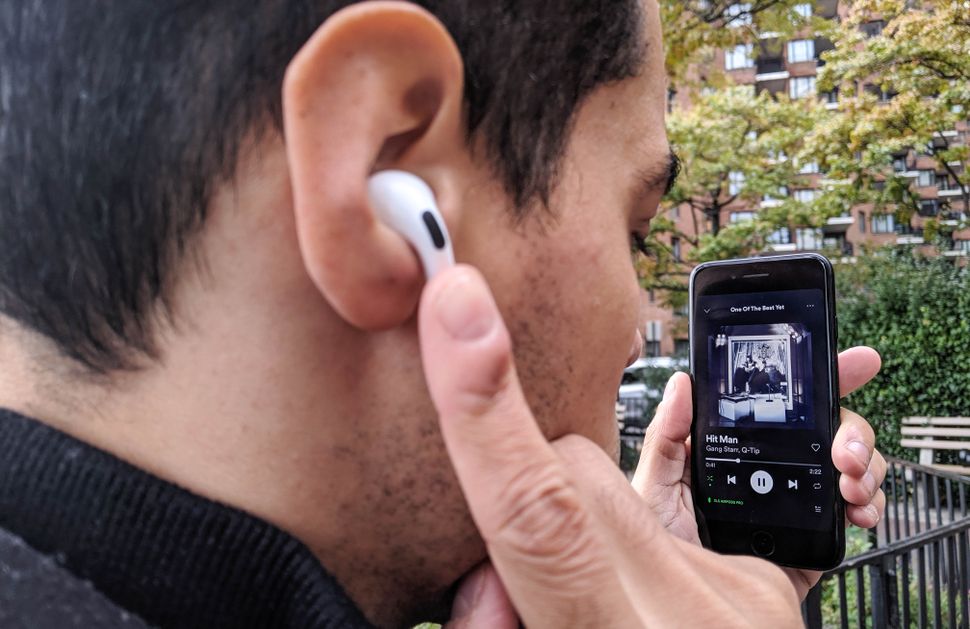 Apple made specific design changes to the AirPods Pro, betting on superior sound with a suite of new features exclusive to this model, some of which we will explain further in our analysis.
For this section, let's touch on one of the biggest upgrades Apple brought to the AirPods Pro: the adaptive EQ. Other Bluetooth earbuds, including the Sony WF-1000XM4 and Sennheiser Momentum True Wireless 2, let you manually adjust the EQ levels in a companion smartphone app. The AirPods Pro is designed to adjust on the fly, according to the shape of your ear and the audio you're listening to. Furthermore, if you're one who wants to switch up the sound signature, Apple allows for this by selecting from over 20 different presets via iPhone settings.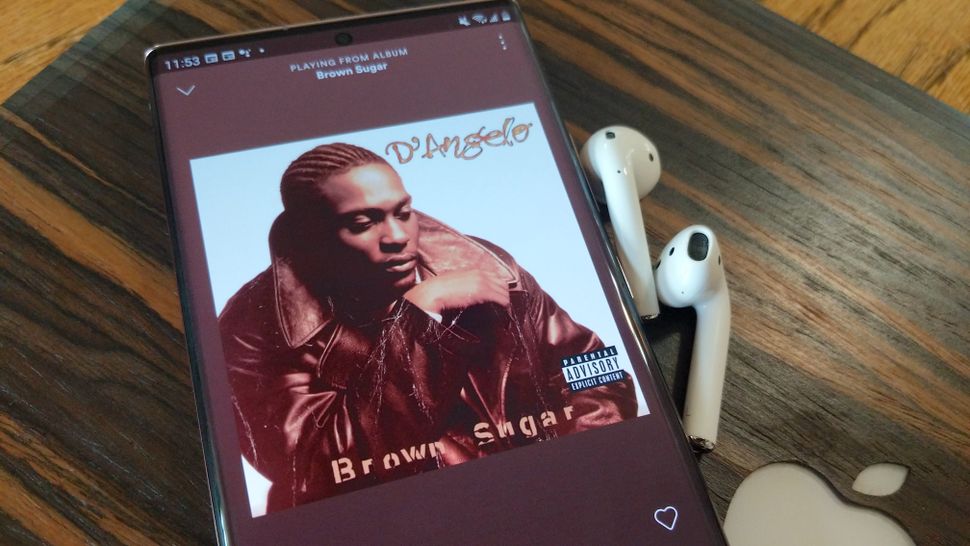 Several months after launching the AirPods Pro, Apple made their spatial audio feature available on these buds through an iOS update. This mode creates immersive, 360-degree sound that can be enjoyed on video calls, movies, and select songs on Apple Music. There is also the Headphone Accommodations mode to adjust audio levels for anyone with hearing impairments.
The AirPods 2 doesn't have many unique audio features by comparison, though it does offer solid sound. Like the AirPods Pro, these second-gen buds come with audio sharing, so you can listen to a song or podcast from the same device with a friend who also has AirPods, and have Siri announce new text messages. You can also access Headphone Accommodations and the EQ to personalize sound.
Winner: AirPods Pro
AirPods Pro vs AirPods 2: Special features
Some of the features we've already discussed apply to both the AirPods 2 and AirPods Pro, including audio share, EQ, "Hey Siri," and Headphone Accommodations. There are a few more worth mentioning such as automatic switching between Apple devices, Live Listen to hear conversations clearer, battery life indicators, and 50% more talk time than the original AirPods.
This is due to Apple's H1 chip, which is the horsepower underneath the hood of each model and has 10 audio cores, resulting in faster Siri responses. In the case of the AirPods Pro, it powers real-time active noise cancellation (ANC) — without sacrificing battery life.
Speaking of which, the AirPods Pro has an outward-facing microphone that listens for sound and then works to counter it before it reaches your ear. An inward-facing mic also listens for sound, and similarly works to cancel it. Along with the sealed fit of the Pro's design, you'll be able to completely tune out the world around you. A transparency mode is also available, so you can still listen to your playlists and podcasts while hearing what people say to you (or the outside world while exercising outdoors).
The AirPods 2 has no noise neutralization or transparency mode.
Winner: AirPods Pro
AirPods Pro vs AirPods 2: Call quality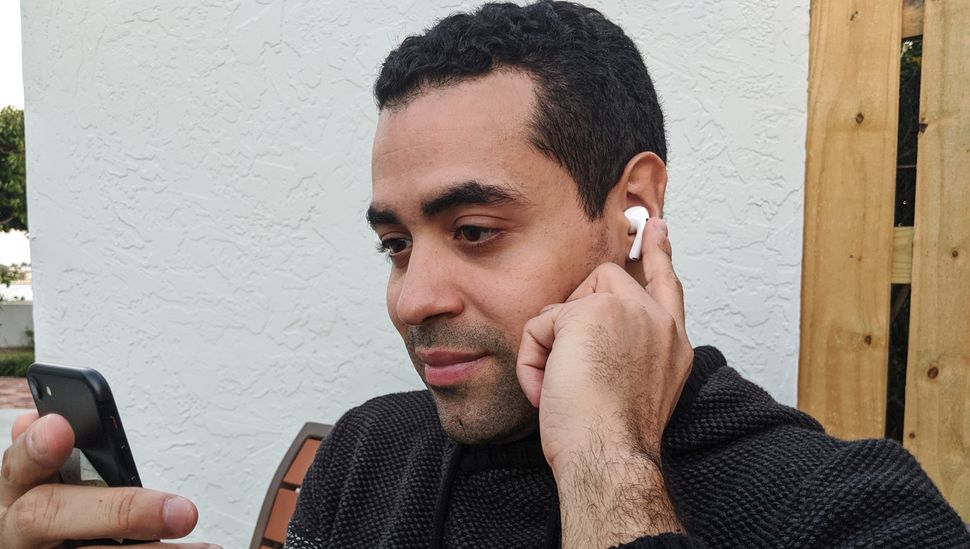 Apple has always nailed call quality, so it comes as no surprise that these are two of the best headphones with a mic for voice and video calls. Period. You'll enjoy clear-sounding phone calls and FaceTime chats no matter which AirPods you choose. Although, if you're one who is constantly chatting outdoors, the AirPods Pro has the noise-cancelling mics to minimize background interference and better wind resistance.
Winner: AirPods Pro
AirPods Pro vs AirPods 2: Battery life
Both the AirPods 2 and AirPods Pro have wireless charging cases, which are compatible with Qi-based wireless charging mats. As mentioned, you can buy a pair of AirPods 2 without a standard charging case for $40 less than the premium version. The AirPods Pro doesn't offer a choice of charging cases.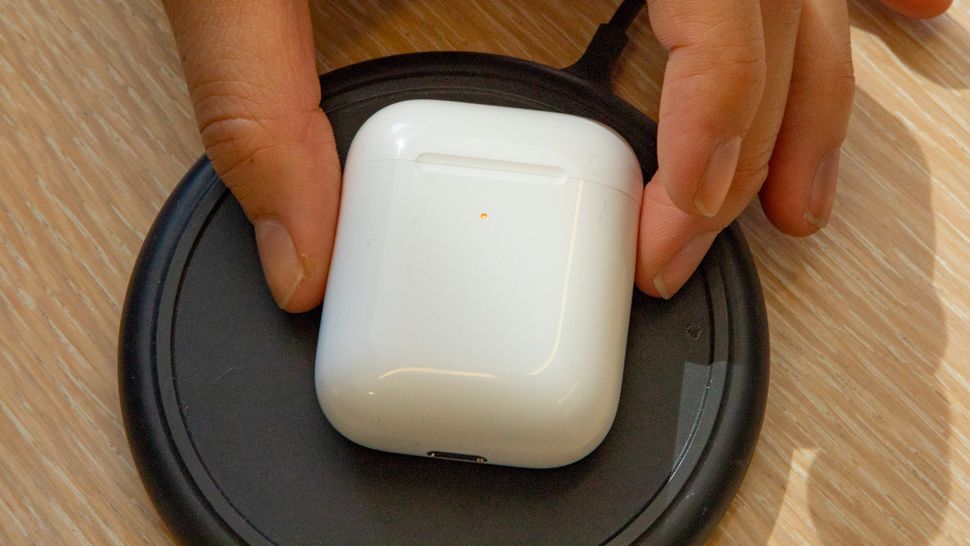 The AirPods Pro delivers 24 hours of battery life, with 4.5 hours in the 'pods and an additional 19-20 hours in the case. If you disable active noise cancellation, you can squeeze up to 5 hours of listening out of the AirPods Pro before sticking them back in the charging case. The AirPods 2 is rated at 5 hours, and though it obviously doesn't have ANC, it lasts longer and offers similar battery optimization to squeeze every bit of juice out of the battery.
Winner: AirPods 2
AirPods Pro vs AirPods 2: Verdict
If you want ANC, a customizable fit, and a sweat-resistant package, AirPods Pro will fit your needs much more closely. Apple didn't skimp on special features either, continuing to update its wireless earbuds with new listening modes and other services that tie into Apple's fantastic ecosystem. The adaptive EQ also gives these tiny noise-cancellers some fantastic sound that is even better when enabling spatial audio.
Swipe to scroll horizontally
| | | |
| --- | --- | --- |
| Row 0 - Cell 0 | AirPods Pro | AirPods 2 |
| Price and value (5) | 4 | 4 |
| Design (10) | 7 | 6 |
| Comfort and fit (10) | 8 | 7 |
| Controls (10) | 10 | 8 |
| Audio quality (25) | 22 | 19 |
| Special features and apps (20) | 18 | 15 |
| Call quality (10) | 10 | 8 |
| Battery life (10) | 5 | 6 |
| Total score (100) | 84 | 73 |
For those who just care about satisfying sound and a relatively affordable price, the AirPods 2 is still better than most wireless earbuds — especially if you can get them on a sale. All the extra features, while not as many as its premium sibling, are still serviceable in numerous ways, plus you can enjoy other perks like wireless charging by spending a little extra.